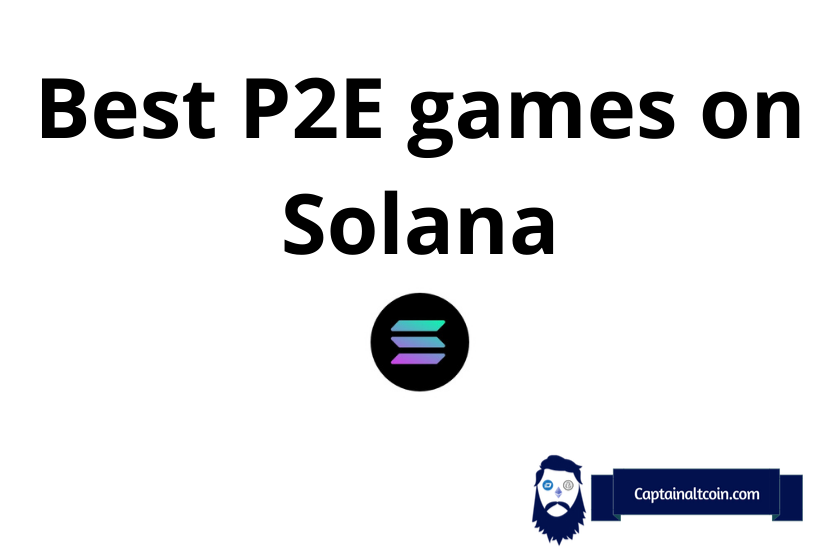 With cryptocurrencies becoming increasingly popular, with more and more investors worldwide, a new model emerged called Play-To-Earn or P2E for short. Play-To-Earn combines cryptocurrencies with gaming. And these games allow players to earn cryptocurrencies while simply playing.
Intro
---
Solana is a programmable blockchain network that is one of the fastest and safest out there. It can have up to 50,000 transactions per second, making it extremely fast. From its launch back at the start of 2020, it gained a lot of attention, attracting new investors. Solana aims to become a platform for decentralized applications that allow users to do business without the intermission of a bank or a broker.
Here we will talk about several play-to-earn games on Solana and without any further ado, let's dive right into the review.
Best NFT play2earn games built on Solana blockchain
---
Here are the nine best and most popular play-to-earn games on the Solana blockchain network.
StarAtlas
---
StarAtlas is an MMO that takes place far into the future in the year 2620. It represents a colonized and divided universe where three factions have control over everything. With valuables all around the universe, players can earn the in-game currencies ATLAS and POLIS. With this, they can buy new ships to go on missions, space stations for a base where they can land, and much more.
What separates StarAtlas from other similar MMO space games is that it is powered by blockchain technology, and anything you buy or win in this game, it becomes your property.
The game is built on its two tokens, ATLAS and POLIS. First, we will talk about ATLAS. It represents a standard in-game currency that can be obtained through numerous activities such as mining ores and selling them on the in-game market. Everything in the game is an NFT, meaning the player base owns most of the game.
On the other hand, the POLIS token is earned through other means. StarAtlas has its own politics controlled by players. The government system is represented by guilds, local corporations, or large decentralized autonomous organizations or DAOs for short. This ultimately means that if a player has enough POLIS tokens, he can outvote other players and maybe outvote the creators.
ProjectSEED
---
ProjectSEED, a Play-To-Earn game built on the blockchain system that doesn't focus on PCs but rather on mobile phones. Like other games, its focus is to make blockchain gaming more popular, bringing it into the mainstream. It offers an extraordinary storyline and amazing art created for the player's maximum enjoyment.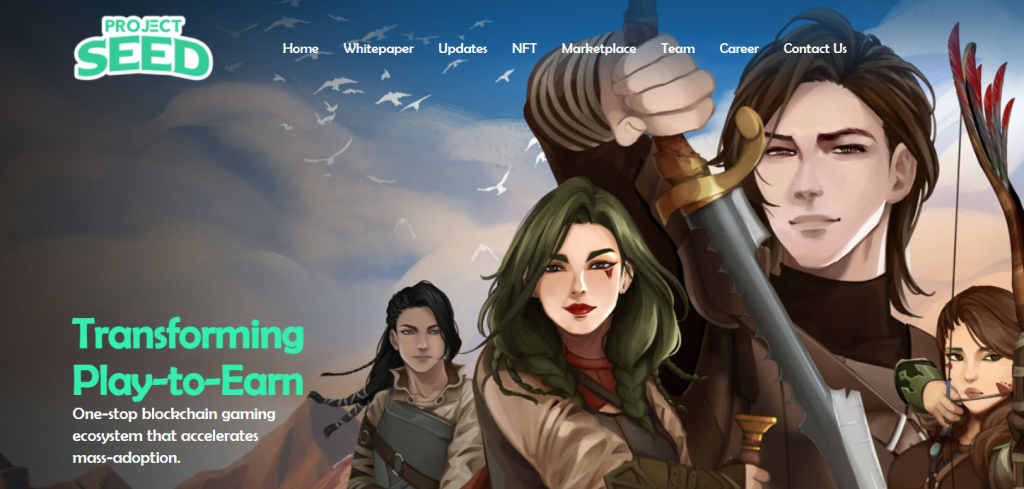 The game is an ARPG where the story revolves around Keepers of Existence, creatures so powerful that they can save the world from extinction. Players must discover the truth by fighting and defeating enemies. The story starts in a small western city called Hunters Haven.
Here players pick a class of their choice and a special beast called Zed. The combat system is simple yet well designed; it consists of attacking, using spells and special abilities, dodging, and positioning making combat a fun experience.
ProjectSEED's attention is towards making maximum use of the NFT technology to keep its transparency and fair play in the game. Equipment in the game, for instance, weapons, armor, or skills your characters possess, are all encrypted by NFT, making cheating next to impossible for players.
The platform offers a native token called the SHILL token. Players will acquire these tokens through playing as a form of EXP after completing tasks such as quests, after defeating enemies, or simply by leveling up. After amassing enough SHILL tokens, they can be used for staking in the game or as assets like investing or simply exchanging them for money.
Genopets
---
Genopets, a P2E, Free-To-Play mobile game on Solana blockchain developed a new gaming model for NFT mobile games. It adapted a Move-To-Earn model where you progress through the game and earn money simply by moving.
This helps you keep a healthy and active lifestyle while earning money. All you have to do is have your data tracked by your smartphone or other fitness devices. For every step in real life, you take one in the game, and with that, you earn XP and progress the game.
This way, with the Move-To-Play model, not only are you staying active, but you are also playing the game and earning money wherever you go. Genopet is your digital self; it represents an NFT spirit that progresses further and further the more you stay active. Genopets is the one and only MMORPG that gives you rewards for training your mind and body.
It offers a competitive playground called a battle arena where you can participate against other players in fun mini-games. Doing good in the arena not only helps with your cognitive functions but allows the most competitive players to fight for the title of the Arena Champion. There are plenty of other ways to earn money apart from the arena, such as trading items, land, move-sets, and accessories on the marketplace.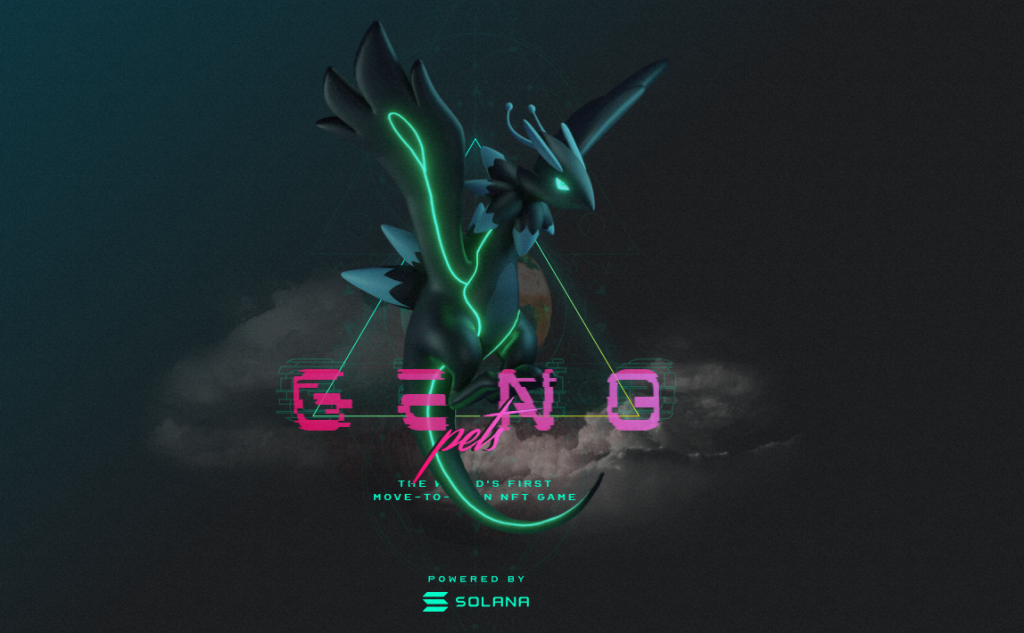 CryoWar
---
CryoWar is a blockchain gaming project, a sci-fi genre with real-time multiplayers PVPVP in which players accumulate and trade items for profits. The game uses peak gaming technology. The high-end graphics are a product of The Unreal Engine and AAA Graphics.
At first glance, the CryoWar website showcases the eye-catching state-of-the-art graphics used in developing the game. Here you will get a short tutorial for all the game modes and the rules you need to know.
Before you start each match, you will have to clear several different and unique level goals prior to the start of every match. The game allows you to fight friends and enemies alike over the immersive line-up of maps and battle modes that will keep you in suspense throughout the whole experience.
CryoWar's gameplay is restricted to 3-minute combat sequences. This allows the players to play and enjoy the game no matter where they are or how much time they have for gaming. The platform presents an extremely competitive setting for its players.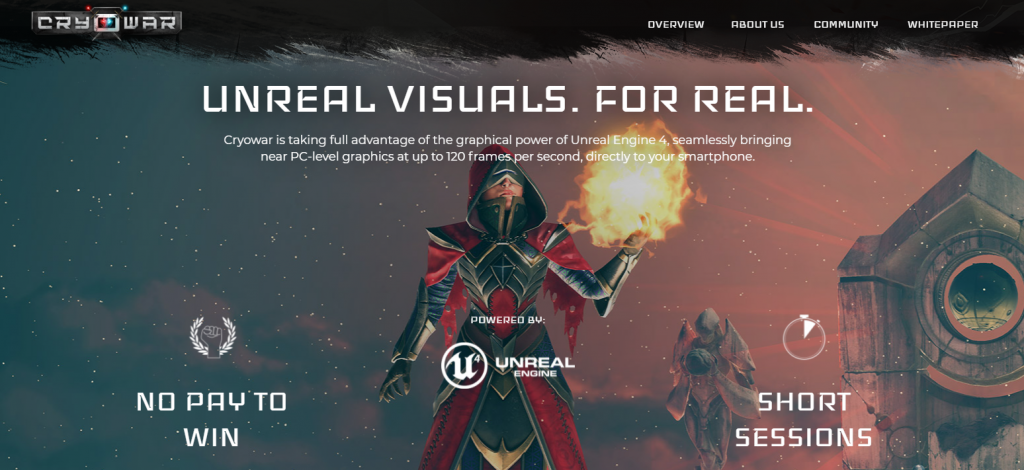 The combat itself is very exhilarating and thrilling, with its many different game modes such as; PVP 1v1 duels on player-owned land, PVP last man standing, PVE co-op epic boss fights, VP deathmatch PVP top score in 5 minutes, PVP battle arena, and PVE co-op survival mode. This versatile selection offers something for everyone to enjoy and earn rewards.
CryoWar has an in-game token called CWAR Token. With it, you get access to the in-game Exchange Trade Utility, DeFi Staking, Yield Farming as well as Governance Voting. When it comes to NFT Staking, you can win random rewards every month, such as CWAR Tokens, Arena and Tournament Tickets, NFTs, and many more. As a token holder, you are given an opportunity to give liquidity, obtain additional tokens or stake them for rewards.
Aurory
---
Aurory is a Play-To-Earn Japanese RPG game. It is a fantasy action-packed game set in the future with two different worlds called Antik and Cryptos that you can explore and enjoy. While immersing into the gameplay, you will meet so many different mystical creatures called Nefties.
Currently, the game only has a PvE aspect, but the development team has a goal to also implement PvP gameplay where you can build your own team of different Nefties to fight against other players.
From what we have seen so far, Aurory is very similar to a typical pet-raising RPG but with breathtaking and surreal artwork which is inspired by Studio Ghibli as well as Disney animations.
Aurory will allow its players to acquire NFTs as well as in-game tokens called AURY. Even though the game is still young and early in development, it is expected that it will become a AAA game on the Solana blockchain.
As a player, you will have an option to stake your AURY tokens that you have acquired while playing, which will make you eligible to receive NFT drops, additionally granting you a possibility to earn yield corresponding to the capacity of the market. AURY tokens will be required to participate in the multiplayer mode.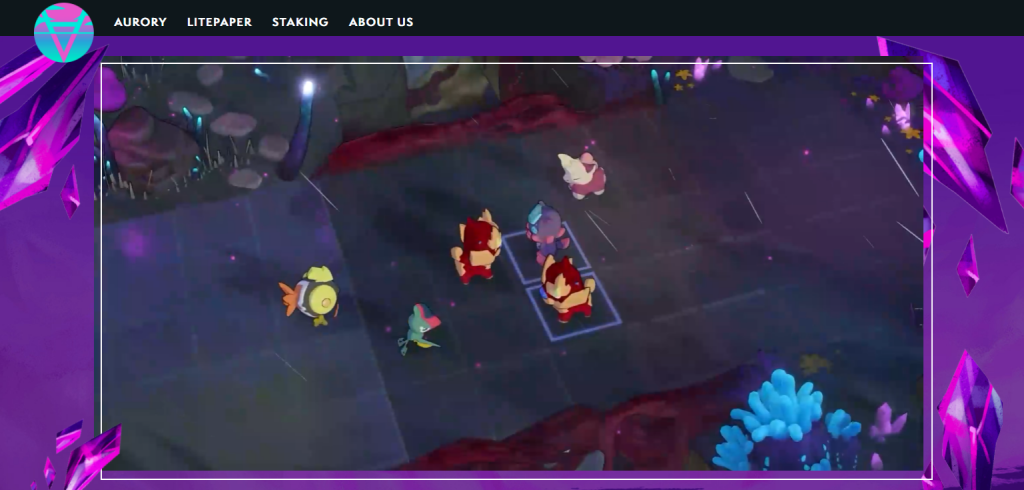 Kaiju Cards
---
Kaiju Cards is a P2E game on the Solana blockchain that takes place in the world called Good Earth. It is filled with a vast array of different types of creatures and factions with which you can befriend, go on adventures with, compete against your friends, and gather materials for crafting various items that are in the game.
The game's main goal is to build up a team that you can take into battle and dungeons. Kaiju Cards offer four unique dungeons with different difficulty levels.
The easiest is Hooligan's Bluff, after which comes The Matcha Caves, then Fort Skeleton. Lastly, the most difficult and dangerous one is The Ninth Trash Hole of Hell. The more difficult the dungeon is, the better loot you can receive, however, if you happen to die while in a dungeon, you will lose the majority of the loot acquired.

The cards all have a point value representing their power rating, which is important because every dungeon has a power limit.
The development team is currently trying to implement a ranking system and a leaderboard. There will be several leaderboards with unique categories and different rewards, which will introduce a competitive aspect to the PvE game.
Also, there is an in-game economy in the making where players will be able to trade items, in-game currency as well as cards between themselves.
Lastly, the game is still in development, and we can expect changes in most aspects of the game.
Read also:
SOL Survivor
---
SOL Survivor is a messaging app that also functions as a fighting game similar to Mortal Kombat and other games alike. The game is quite simple. There are four options or moves when it comes to fighting, you can choose to attack, block, counter or even taunt your enemy.
When both players select their move, they can reveal their choices. After the first player reveals the choice they have made, the other player has 10 seconds to reveal their choice as well.
SOL Survivor has implemented Live Auctions as well as a Secondary Marketplace where you can trade. There is also an option to see Ended Auctions if you so desire.
There are NFTs in the form of Artworks that represent and give a brief background story for every fighter available in the game at the current time.
OpenEra
---
OpenEra is a MMORPG P2E game in early development. It is based on the Solana blockchain while also being supported by Serum. The game draws its inspiration from a popular MMORPG called RuneScape.
The main objective of OpenEra is to make a virtual space in which you can live, create and explore to your heart's content. While playing OpenEra, items or materials you gather will represent NFTs, and you can either trade them or keep them to be used later.
It has been said that the game will have various tournaments like mini-games for players to compete, for instance, a battle royale type mode or a simple fishing contest. Furthermore, the money in the tournaments is set as liquidity that earns interest as the tournament progresses.
This interest is later used as a reward for the players that won the tournament, on the other hand, the investment you made at the start of the tournament, provided you did not win, is refunded completely.
Playing the game and leveling up is an important factor. As you do so, all of your player's skills will be recorded in the Solana blockchain.
Another thing that OpenEra developers mentioned is that the game will have different eras you can progress throughout. They also plan to implement an option for you to stay in your present era if you wish to do so. Every era will have unique items you can obtain.
Finally, developers are trying to find a way to apply the possibility that will allow players to make their characters into tokens, making them tradable.
As we said, OpenEra, still being early in development, has plans to mainly focus on the PC through the web browser but also cover the android mobile devices.
Shodown
---
Shodown is the first Crypto-Tokenized P2E game on the Solana blockchain. Shodown is a single-player game with a competitive atmosphere that will push your skills and perseverance to their utmost limits no matter how experienced you are when it comes to gaming.
The story of Shodown is simple. You play as the COPE swordsman that is on an adventure looking for mystical lanterns that assist you into the crossing and completing level after level, with each subsequent level being harder and harder to complete than the previous one. Your job is to overcome your enemies and avoid traps while collecting said lanterns.
If you are looking for instructions on how to play the game, you can find them in the main menu before starting the game.
Shodown has an in-game token called COPE that is used to play the game. The important thing to know is that if you fail to finish the game, you lose all the COPE from that run. Accordingly, if you manage to finish the game, you will be awarded COPE tokens as a prize.
Conclusion
---
As a programmable blockchain, Solana has displayed a noteworthy amount of potential in the past several years. With that said, apart from the games we have covered in this review, we can expect a lot more projects to come in the near future as the blockchain technology, and Play-To-Earn model becomes more and more present in the gaming industry.
For now, we can only wait and see what the future holds, enjoying the games while also earning crypto.

CaptainAltcoin's writers and guest post authors may or may not have a vested interest in any of the mentioned projects and businesses. None of the content on CaptainAltcoin is investment advice nor is it a replacement for advice from a certified financial planner. The views expressed in this article are those of the author and do not necessarily reflect the official policy or position of CaptainAltcoin.com