Crypto.com Loans & Lending Review – What Are The Rates, LTV, Collateral, Supported Coins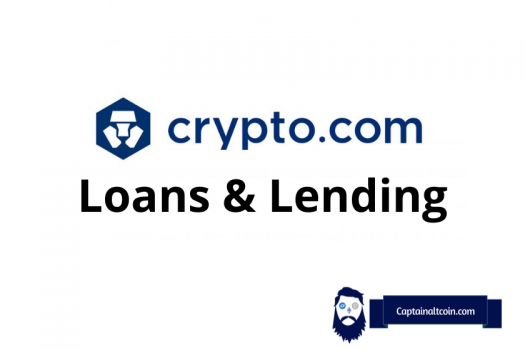 Crypto.com Loans & Lending Review – What Are The Rates, LTV, Collateral, Supported Coins
Most people want to take out a loan at some point in their lives. Until recently, your options were limited by your FISA score, the US version of China's Social Credit Score. Your previous financial behavior is used to approve or deny a loan application. It's also used to justify larger fees and higher interest rates, for those with less money to start with. 
Being poor is expensive! Short-term loan companies often charge hundreds of percent in yearly interest and load up the deals with outrageous initiation fees and commissions. It has been described as "interest rate apartheid" by our old friend and Bitcoin prophet, Max Kaiser. Once again, cryptocurrency comes to the rescue, leveling the playing field, and empowering those left behind by the legacy financial system. Here's how. 
What is Crypto.com credit and how does it work?
---
Rich people borrow against their digital assets. It's much cheaper, and there's no requirement for a third party to assess their banking history. They use their assets as collateral. For example, a wealthy individual's stock portfolio can be put up as collateral for a loan, and as long as the underlying stock values rise by more than the interest rate, you are making money.
The key to the process is never selling your assets. Let them appreciate in value and work for you at the same time. 
Crypto.com leverages the trustless nature of the blockchain to enable all crypto holders to do the same. This is great news for personal financial sovereignty, but of course, wherever there's a reward, there's also a risk. Let's take a look at the whys and wherefores of the whole process.
What coins can you borrow on Crypto.com?
---
Crypto.com loan drawdowns are paid in a choice of stablecoins. The options are USDT, USDC, PAX, or TUSD. These are easily transferred around crypto exchanges and DeFi applications for use in other projects, or for withdrawal as fiat to your bank account.
What are the interest rates on Crypto.com lending?
---
It depends on which tokens and how much you stake – the interest rates are described here, The recommended coin to stake is CRO, Crypto.com's native token as this accesses the best rates and most favorable deals.
First, we need to understand the LTV ratio, (Loan-to-Value). However much CRO you stake, you can borrow varying amounts against it. When you borrow a small proportion, you pay less interest. When you borrow a higher proportion, it will cost you more as the risk of the loan defaulting is higher – more of which later. The interest is calculated at the moment a loan is agreed upon, and the money is transferred to your account.
For example, if your LTV is 25%, you will pay 2% APR for a standard loan when staking fewer than 100k CRO ($19,000 at today's prices). At 33% LTV, you pay 6%, and borrowing the maximum 50% of the value of your assets will cost you 8% APR. By the way, these are fantastic rates compared to credit cards and retail banks. So, the higher the risk, the more interest you'll pay. But what exactly is the risk? Surely the risk lies with the lender?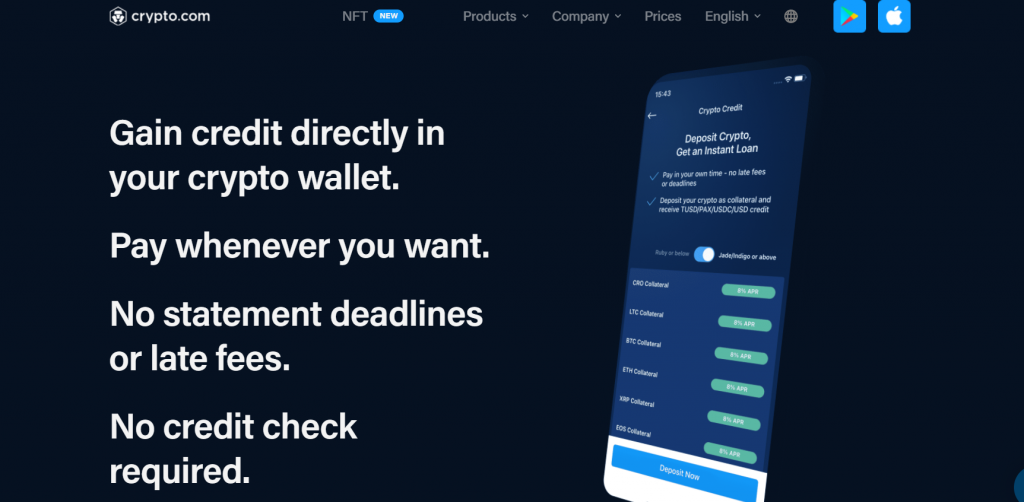 Well, there's the rub. These are not typical unsecured loans from your bank. Your collateral is at risk if you don't repay the loan. But there's more. The value of your loan must not climb above 85% of the value of your collateral. If it does, you get liquidated and lose everything. You get warnings, margin calls, opportunities to repay the loan, and an option to increase your collateral. But in the end, you have to pay or you'll lose your assets.
In practice, if the price of CRO falls dramatically, you will either have to cover the loss or be wiped out. This goes for any other coin or tokens you stake, so be careful. Several of the tokens you can borrow against are notoriously volatile. Borrowing at 50% LTV would require a price dip of only around 58% of the underlying asset to reach the 85% LTV ratio threshold – at which point a margin call would be triggered and you would be summarily REKD! 
What coins can you lend on Crypto.com?
---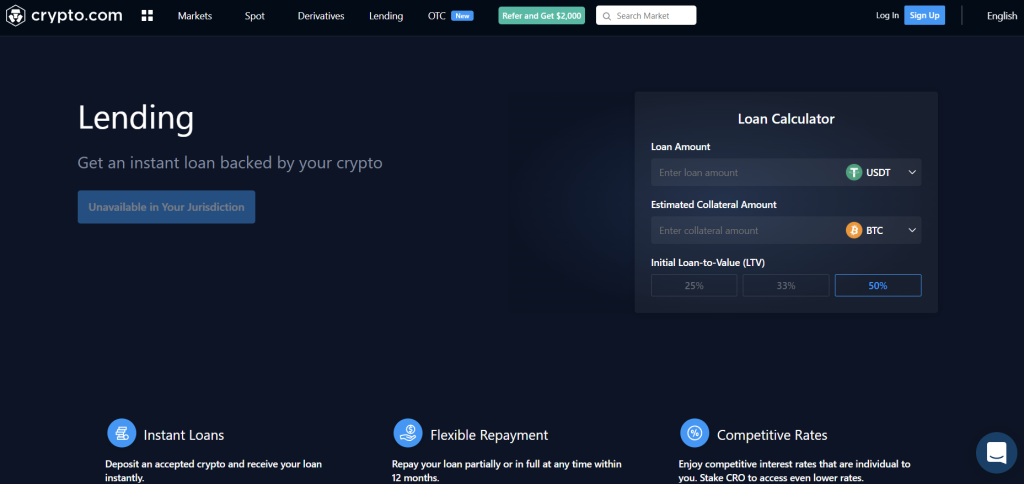 There's a fair selection of coins and tokens you can borrow against at Crypto.com. The advertised list is BTC, ETH, LTC, EOS, CRO, ADA, UNI, ATOM, XLM, DOT, LINK, WBTC, XRP, MATIC, FIL, XTZ, DAI, ALGO, PAXG, VET, DOGE, and BCH. 
What is the minimum collateral for a Crypto.com loan?
---
The minimum loan amount is $100 in stablecoins, so the least you would need to offer as collateral would be twice this amount (in CRO), which is $200 or approx 1050 CRO.
Overall, the minimum collateral is twice the amount you wish to borrow. This is considered risky and attracts higher interest fees. It's far safer to work with an LTV ratio of 25%, which would require posting collateral of four times the amount you would like to borrow.
FAQs
---
Read also:
Conclusions and Thoughts
---
The rich stay rich by leveraging their assets. They rarely sell their land or property, but bequeath them to their heirs to maintain the lineage of family wealth. Now we can all start behaving like rich people. Borrow against your crypto assets, don't spend them. Leave them to your grandchildren. As a wise investor once put it,  "I'm acquiring crypto assets for my last name, not my first name." 
Traditionally, a house was the only hard asset that most people could ever hope to own. These days, even homeownership is out of reach for the median average salary employee. Then along came Bitcoin, a truly hard asset with incredible growth that could not be debased or corrupted by the legacy financial system.
Everyone can own Bitcoin and start building a secure financial future, immune to the capricious contingencies of central banks and government apparatchiks.
It's revolutionary, and therefore likely to be attacked by the financial establishment. This makes me a little cautious in these early stages as it's impossible to know which platforms will be left standing in a few years.
My hope is that the (relatively) free-market economics of DeFi will soon declare the winners and losers. Until then, I wouldn't lend or borrow against any asset that I wasn't prepared to lose. You never know what the SEC will try to declare a commodity next! Conspicuously, Coinbase recently chickened out of their lending scheme at the last minute, under SEC pressure.

CaptainAltcoin's writers and guest post authors may or may not have a vested interest in any of the mentioned projects and businesses. None of the content on CaptainAltcoin is investment advice nor is it a replacement for advice from a certified financial planner. The views expressed in this article are those of the author and do not necessarily reflect the official policy or position of CaptainAltcoin.com