SpectroCoin (ex. Bankera) Loans Review – A Legit Crypto Lending Platform?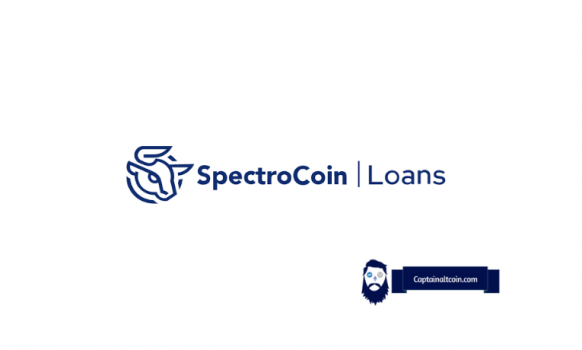 SpectroCoin (ex. Bankera) Loans Review – A Legit Crypto Lending Platform?
Very low entry bar
Low LTV ratio
No penalties on early repayment
Bankera Loans has been rebranded to SpectroCoin Loans. It is another crypto lending provider that has joined the race in the lucrative crypto loans and lending sector. This Spectrocoin Loans or Bankera review will take a closer look at how Bankera/Spectrocoin works, is it safe and legit place to get a crypto loan and what do you need to get a loan on Spectrocoin platform.
But, first, a quick intro to the blooming crypto lending ecosystem.
The lending industry has recently started to feel the effect of blockchain technology. The idea of allowing investors to use their cryptocurrency as collateral to secure a loan has come a long way in just a few years. The crypto-based lending market is already worth more than $5 billion, and it is still increasing.[1]
It comes with no surprise that more companies are starting to offer crypto-backed loans. The popularity of the service is growing, and so more and more companies are springing up regularly. With so many companies to choose from, it can be challenging to decide where to apply for a loan. Today we will be looking at Spectrocoin loans, providing a breakdown of their services to determine if they are a good option for someone who is considering taking out a crypto-based credit line.
What is Spectrocoin (formerly Bankera) Loans?
---
Bankera Loans (now Spectrocoin loans) launched back in 2017 as a part of the Bankera crypto ecosystem alongside a token, exchange, and a debit card. It is a lending platform that allows customers to secure a loan using cryptocurrency as collateral. This kind of setup is a very efficient way for anyone who is looking to open a crypto credit line without giving-up the actual ownership of their cryptocurrency.
The entire Bankera's ecosystem traces back to what is now one of its most successful products – SpectroCoin – an all in one crypto platform.
London-based SpectroCoin (not to be confused with a ERC20 token called SpectreCoin) was founded in 2013 by a group of Lithuanian developers as an all-in-one Bitcoin solution to provide frictionless financial services. Spectrocoin is an exchange, wallet service, payment processor, and crypto card issuer all in one. It accepts more than 30 fiat and cryptocurrencies on its platforms and you can deposit money with 15 different payment methods. It is, however, linked with numerous scam accusations back in the day but these have significantly gone down in recent years and SpectroCoin enjoys a better reputation nowadays.
As of now, more than a million users enjoy a variety of services that SpectroCoin provides.
Bankera is a soft fork of SpectroCoin that launched June 2017.
BNK Coin – Bankera ICO review
---
BNK is the native token of Bankera ecosystem. The total supply is 25,000,000,000 BNK, and it is an ERC-223 token launched on the Ethereum blockchain.
The Bankera pre-ICO occurred from August 28, 2017, through September 19, 2017, at which time 2,500,000,000 were sold to accredited private investors. The ICO was held from November 27, 2017 through February 27, 2018, and it was one of the most successful ICOs ever as it raised approximately 150,949,194 EUR.
According to the white paper, 20 percent of Bankera and SpectroCoin transaction revenue will be paid to BNK holders on a weekly basis. This makes it "mineable" through Proof-of-Stake revenue sharing.
The SpectroCoin wallet is the official BNK wallet, although third-party ERC223-compatible wallets will accept BNK too. Because ERC-223 is backward compatible with ERC-20, this includes ERC-20 wallets too. So any of the popular wallets like Atomic Wallet, Guarda, Lumi, Trust Wallet, Coinomi, etc will be able to store your BNK coins.
Features
---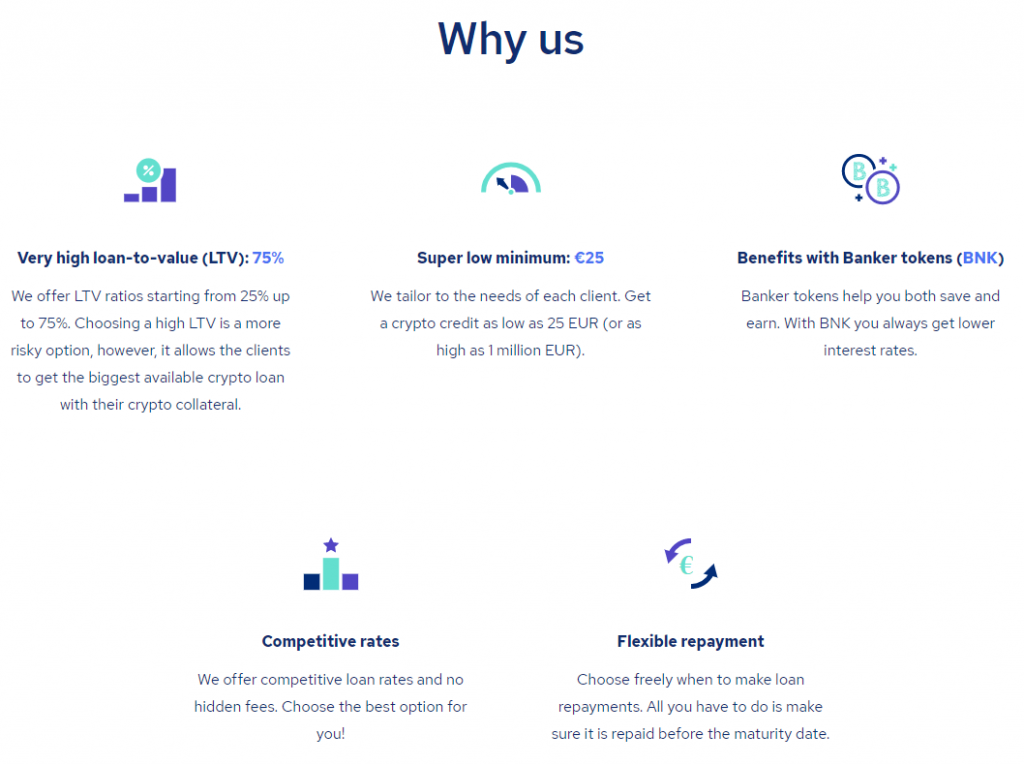 Flexible Loan Plans
Bankera launched its crypto-backed loans back in 2019, to provide its exchange users with flexible and accessible loans. The company aims to provide loans suitable for anyone's needs; the company does so by offering an entry limit of only 25 EUR. This entry point is incredibly low compared to the competition, as most other cryptocurrency loan providers require an entry limit of at least $500.
One of the standout features with Bankera Loans is that they offer multiple different loan plans alongside one of the highest loan-to-value (LTV) ratios in the market.
A quick reminder that the LTV is the ratio between the loan amount and the collateral market value. In simple terms, an LTV ratio determines the amount of cryptocurrency that one is required to use as collateral to secure a loan.
As an example, if you are holding $10,000 worth of Bitcoin and apply for a loan with an LTV value of 75%, you will be able to borrow $7500.
Bankera offers loans ranging from as little as $25 to $1 million with multiple different plans with interest rates making them a suitable option no matter how much the user is looking to borrow.
In 2020, the platform made an official rebranding from Bankera Loans to Spectrocoin loans. Nothing else but the name and aesthetics changed, loan processes on their platform work just as before.
No Credit Checks
Traditional loans often require lengthy and somewhat invasive credit checks. However, when lending with Bankera, no credit checks are required as you will be using your cryptocurrency as collateral, so Bankera does not care what is your credit score since your crypto is offsetting their risk. This is great for anyone who may have a bad credit history or someone who simply doesn't want to borrow from the bank.
Safe
Bankera has been in operation for over three years. Since its launch, it has held funds for over 1 million clients. The company provides multiple levels of security to ensure the integrity of any funds they are holding on behalf of their clients.
Flexible Repayment Schedule
When taking a loan with Bankera interest payments are made monthly; however, the user has the freedom to pay the credit line back whenever they want. There are no additional fees as long as the loan is paid back in full before the maturity date. Bankera will also extend the loan period for any customers who are having issues paying back their loans.
How does it Work?
---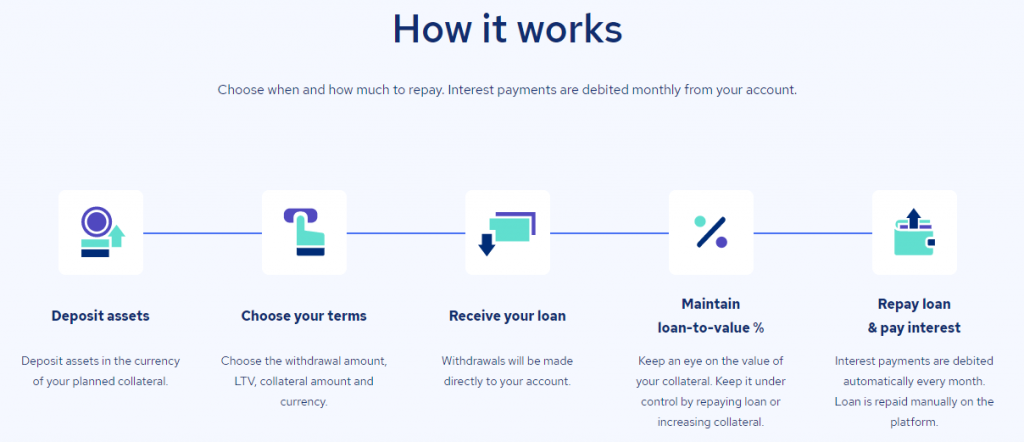 Sign up Process
To get started, you'll need to make an account on the Bankera Loans platform. After creating an account, you must complete the KYC process before being able to apply for a loan. This Identification process usually takes somewhere between 1-2 days.
Both processes are easy and straight-forward, you just need to follow the instructions.
Deposit Collateral
After your account is fully verified, you will be able to deposit cryptocurrency into your account; this is what you will be using for collateral when you apply for a loan. The time taken for the funds to reach the Bankera wallet will vary depending on what cryptocurrency you choose to deposit as they all have different transaction speeds.
Choose a Loan Which Suits Your Needs
The next step is to choose a loan plan. It's essential to check the LTV value, interest rate, and loan term for each of the plans. Only borrow what you can afford and make sure you fully understand all of the terms before making an application. A breakdown of the rates is available in the table below. The interest rates shown here are applicable when paying interest with Bankera Tokens. If paying through another currency, the interest rates are 3% higher on each package.[2]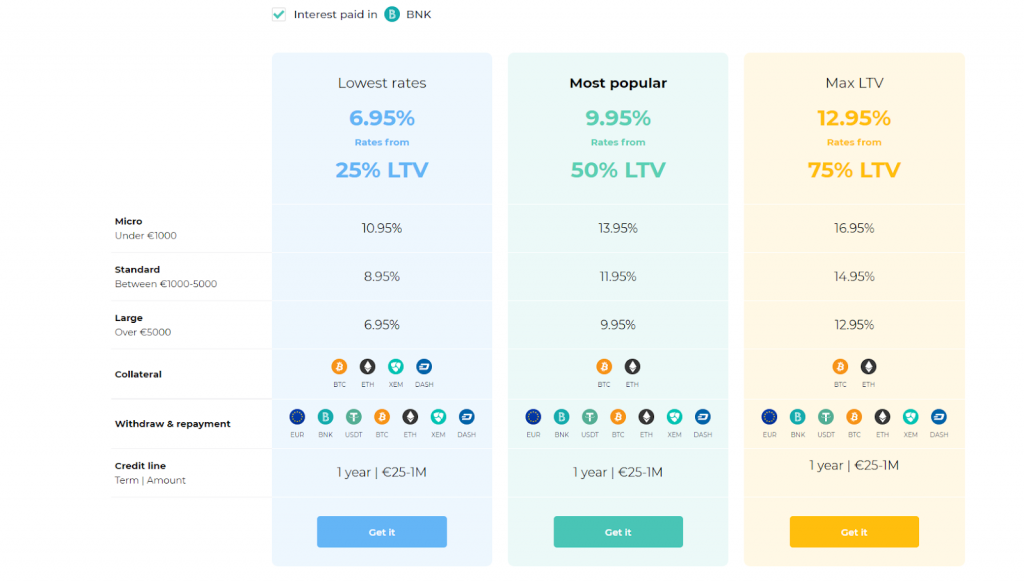 Receive Loan
If your loan application is accepted, which is likely, you will receive funds in your account immediately. Users can choose to get paid in either Euro or through a choice of cryptocurrencies.
Maintain LTV
You must keep up to date with the value of your collateral to maintain your LTV. It essential to keep the value of your collateral equal to or less than the agreed LTV; this can be done through either making repayments or adding more collateral to your account.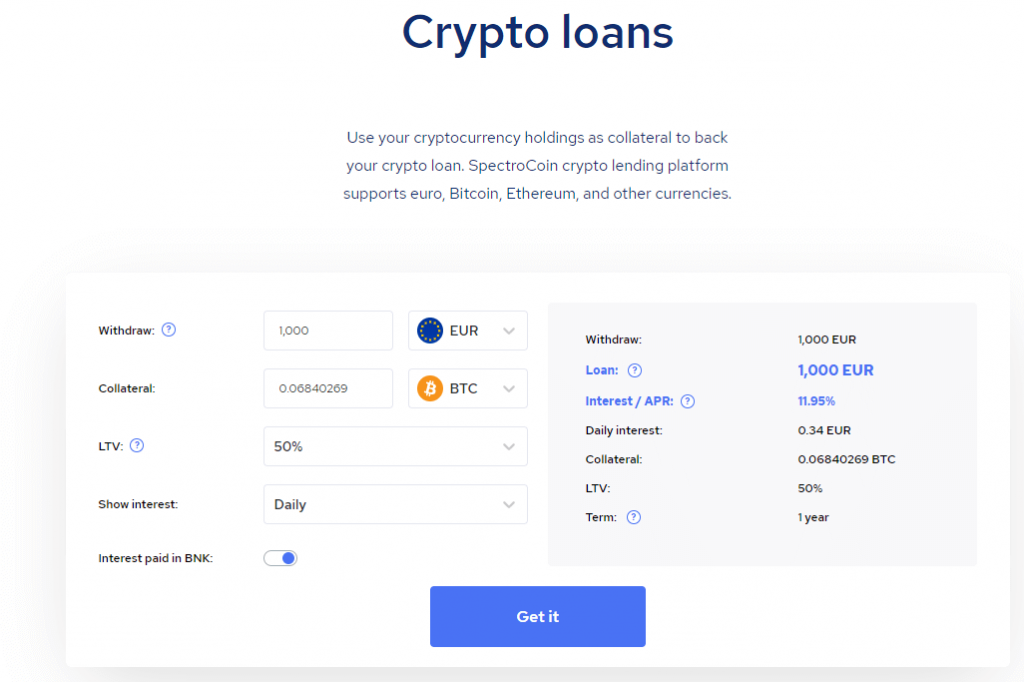 Repay
Users pay interest monthly, and the user can receive discounted interest rates when using Bankera tokens (BNK) as collateral or repayment currency. The credit line itself is extremely flexible and can be repaid any time by the user, with no penalties. The user can choose to make repayments as they please. The loan must be paid back in full before the maturity date. There are also no penalty fees for early repayment, and if you are struggling to pay back, your loan Bankera will allow you to extend the loan agreement.
Withdraw Collateral
After successful repayment of the loan, the user is free to withdraw the collateral in their account.
Who Can Use Bankera Loans?
---
Crypto Holders
Bankera allow anyone investing in cryptocurrency to get financing without having to sell their cryptocurrencies. Users can use cryptocurrency as collateral in order to receive hassle free low interest loans with flexible repayment schedules.
Businesses & Companies
Businesses can take advantage of these loans by using them to free up liquidity on any cryptocurrency they may have.
Exchanges
Exchanges can use these loans to invest in growth, or to cover operational expenses.
Why Choose Spectrocoin Loans?
---
Even though competitors like Blockfi, YouHodler, Nexo, Coinloan or Celsius Network are more popular, Bankera/Spectrocoin has its horse for the race as well:
Low entry bar – loans at Bankera start from $25/€25 (from what we know – the lowest minimum in the market), payouts are almost instant, and clients are serviced globally – so nearly every crypto holder can get financed.
Loans can be paid out in Euros or cryptocurrencies (BTC, USDT, …).
Loans are issued for one year but can be repaid earlier (with no penalty) or can be extended for a more extended period. Interest rates start from 6.95% with no hidden fees.
Is Spectrocoin legit
---
Spectrocoin is more than 7 years old company with an all encompassing crypto offer: from their exchange, wallet, debit card and payment processor to the loans we just reviewed. As we mentioned earlier, there were some complaints by their users back in the 2013-2016 period, mostly on Reddit. Users were claiming fraud through sudden account bans and frozen funds, never-ending verification process etc.
Important note: this was a hectic period for the whole crypto industry and there is almost no crypto service that doesn't have similar user complaints on different forum boards. More recently, BNK token holds are unhappy with the price action of their assets but that is out of control of the SpectroCoin company so we can't count that as a minus for them.
Is Spectrocoin safe
---
Yes. The company is registered in London and in the EU, exists for 7 years which makes it much older than majority of other popular crypto services.
Summary
---
There are many options for someone looking to get a crypto-backed loan. The high LTV values and relatively low-interest rates offered through Bankera make them an attractive option. The low minimums offered by Bankera make is easy to get a crypto-backed loan of any amount. The simple application process means that you can receive a loan within two days and the friendly repayment schedule gives the user to pay back the loan on a flexible basis without worrying about hidden fees or increased interest.
FAQs
---
PROS
Very low entry bar
Low LTV ratio
No penalties on early repayment
CONS
A lot of negative reviews from 2013-2017 period

CaptainAltcoin's writers and guest post authors may or may not have a vested interest in any of the mentioned projects and businesses. None of the content on CaptainAltcoin is investment advice nor is it a replacement for advice from a certified financial planner. The views expressed in this article are those of the author and do not necessarily reflect the official policy or position of CaptainAltcoin.com