Cake DeFi Review – Is Cake Defi Safe & Legit?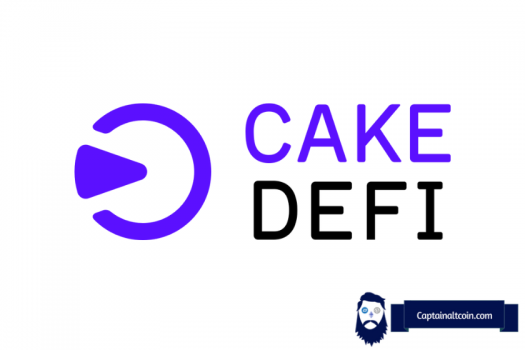 Cake DeFi Review – Is Cake Defi Safe & Legit?
Beginner-friendly and extremely ease to use
You stand to earn larger rewards by locking your crypto up for longer periods.
Highest APRs on the market on BTC, ETH and stablecoins (up to 25% via liquidity mining)
What Is CakeDefi?
---
There seem to be lots of cuisine-based projects emerging in the realm of DeFi. There's PancakeSwap (CAKE), BakerySwap (BAKE), SushiSwap(SUSHI), but today we look at Cake DeFi (DFI). It's yet another decentralized finance platform, complete with its own token, but what sets Cake DeFi apart from the crowd? You might be surprised.
Quick summary: Is Cake DeFi legit?
| 📌 Feature | Description |
| --- | --- |
| 🌐 Wide range of financial services | Cake DeFi offers methods like lending, staking, liquidity mining, and borrowing to invest digital assets. |
| 🪙 Cake DeFi Tokens | Partners with DeFiChain and uses DFI Coin. Rewards are primarily in DFI, and many products are DFI-compatible. |
| 🔍 High transparency | Provides detailed information on performance, services, and plans. Users can access quarterly reports and view blockchain contract addresses. |
| 🚀 Variety of earning opportunities | Offers products and services for various crypto expertise levels and risk tolerances, including lending, staking, liquidity mining, and the freezer. |
| 🔐 Security measures | Implements measures like asset segregation, cold wallet storage, multi-signature approvals, and an emergency fund for user protection. |
| 🖥️ User-friendly platform | Aims to offer a simple user experience and be a comprehensive platform for financial asset management. |
| 🌟 cakeELITE membership | An exclusive plan for serious crypto investors, granting access to additional benefits and returns not available to regular users. |
| 🤝 Accessible to all users | Designed to be user-friendly, catering to both beginners and experienced crypto investors. |
We'll take a closer look to see if we can find a compelling reason to get involved.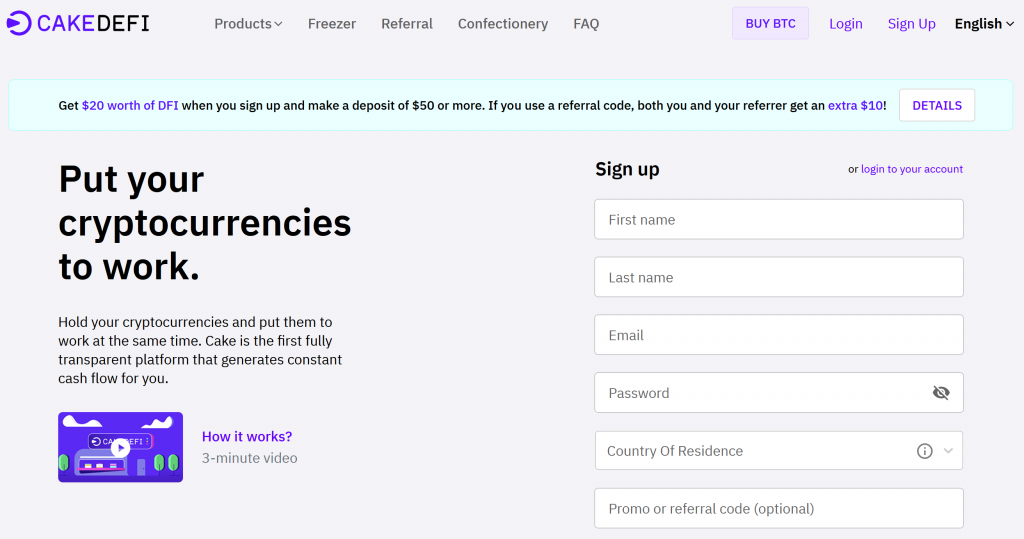 What Can You Do on CakeDeFi?
---
Cake DeFi offers staking, lending (here is a deep analysis by CryptoStudio), and liquidity mining. There's no borrowing option, which might not be a bad thing as we shall see. You can earn a yield from swap-fees and mine DFI, the proprietary platform token. According to CoinMarketCap, the DFI Chain token is currently worth around $3.15 with a market cap of around $1.3 billion, ranking as the #210 altcoin.
Cake DeFi offers a user-friendly interface so that you can access services like staking, liquidity mining and lending without having your own wallet. Currently, with the help of DeFiChain, rewards of up to 100% APR are still possible.
Liquidity Mining
---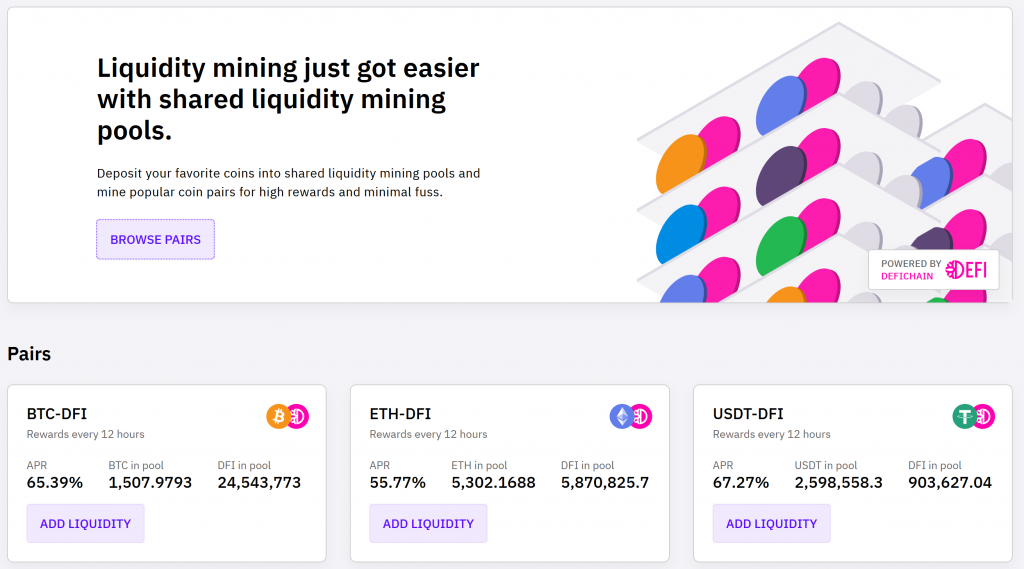 Lend your crypto to a Shared Liquidity Pool to receive block rewards in Cake DeFi native DFI token, and earn swap fees in your chosen cryptocurrency. At the moment the community is limited to lending Bitcoin, Ether, USDT, LiteCoin, Bitcoin Cash, and Doge. If something sounds too good to be true, it probably is, and with claims of over 80 and 90% APR, I am naturally skeptical.
So what's the catch? Simple, the interest is paid in the native DFI tokens that Cake DeFi control. There's no guarantee your DFI tokens will be worth anything when you decide to cash them in. There are limited exchanges where you can trade DFI, so an exit plan is required before you get involved.
The market value of DFI tokens depends on the success of Cake DeFi, and the success of Cake DeFi depends on the market value of DFI. This co-dependency hints at potentially unstable economics. Runaway effects are likely should Cake DeFi need to release excessive volumes of DFI to support their guaranteed returns in the event of a sustained market crash.
Staking
---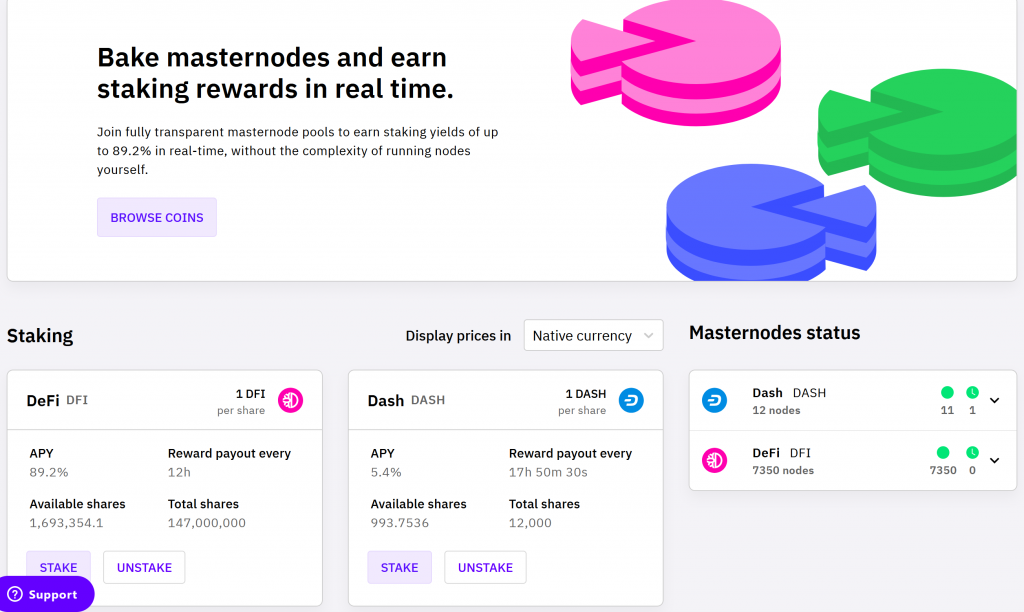 Stake your DFI or DASH by buying shares in a master-node pool. You earn 1 token per share with twice daily payouts for DFI and more or less daily for DASH. DFI and DASH are the only staking options, so perhaps they will add more in the future. Again, the returns look better than one could reasonably expect, at 85.1% APY for DFI – so what's going on here? Let's take a closer look at the 85.1% claim.
Nodes are the computer engines that work to provide security, stability, and functionality to a network. It's expensive and time-consuming to set up a full node, and only experienced crypto fanatics should attempt this. Proof of Stake nodes can be a very lucrative enterprise for those that have both the funds and tech skills.
Cake DeFi Master Node Pools allow entry to everyone by selling shares, each of which will pay out 1 token at regular intervals. It sounds great, but they are paying you in DFI tokens, which cost Cake DeFi nothing to release, being a proof of stake platform.
The more DFI tokens they release, the less they become worth, and with only 400 million out of the 1.2 billion in circulation so far, there's potential for extreme inflation. The bottom line is that your actual yield depends entirely on the current price of the DFI token.
Lending
---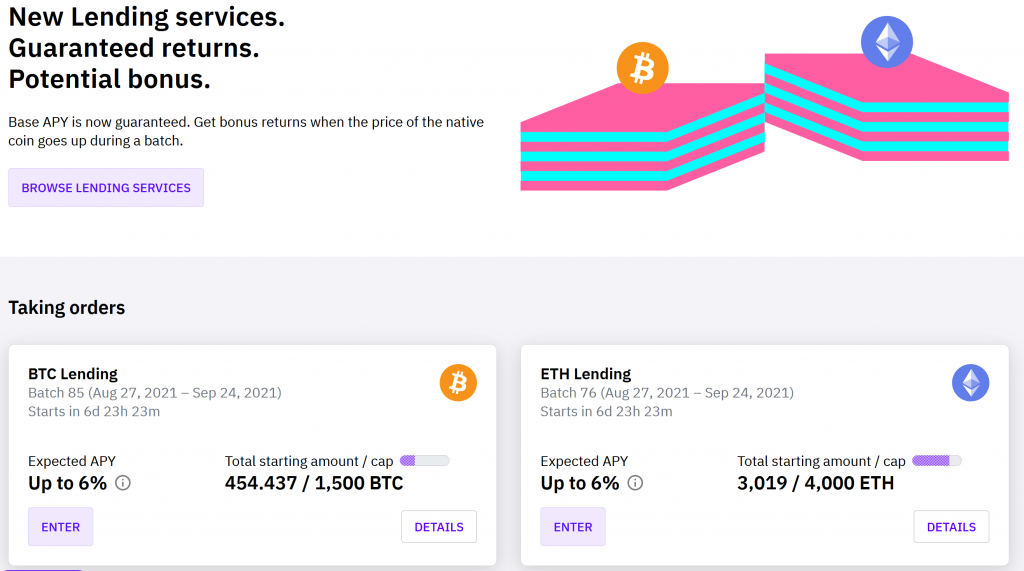 Their lending service promises guaranteed returns plus a potential bonus, should the price of your asset increase over the time of the contract. It works like this –
There are fixed-term 'Batches' for BTC, ETH, and USDT that last 28 days. Once the 4 week period starts, you may not withdraw your funds until the end. The returns are quoted 7.5% to 8% APY which sounds like a more attainable ambition. There's a capped total starting limit for each Batch, and once fully subscribed, it's locked until the contract expires.
4-week contracts start every Friday at 4 pm Singapore time for each asset (BTC, ETH, and USDT). We can see that the upcoming BTC Batch had a 30% take-up on the last day. The ETH Batch is over 90% subscribed with USDT only pulling in 16.3% of the potential million USDT.
A bonus kicks in when the underlying cryptocurrency's price exceeds a predetermined threshold. So for example, on top of your guaranteed 5% interest payment, you would receive a further 2.5% APY. If the price stays the same or decreases, you only receive the 5% guaranteed portion of your rewards. At the end of a contract, all your released funds plus rewards are compounded automatically into the following 4-week contract.
The Interest Rates at CakeDeFi
---
The yield from Cake DeFi translates into annual interest rates ranging from the sublime to the ridiculous. While 5% is about 25 times what you might expect depositing cash in a high street bank, it's peanuts compared to some of their quoted rates.
BTC / DFI APR 83.54%
ETH-DFI APR 79.82%
USDT-DFI APR 94.13%
LTC-DFI APR 88.87%
BCH-DFI APR 85.67%
DOGE-DFI APR 23.83%
Again, the interest is paid in DFI which you can sell on Bittrex or KuCoin, but there is no guarantee of the price.
How to Earn the Highest Interest Rates With Cake
---
On the face of it, locking your assets up for the longest period possible, and hitting your bonuses yields the best interest rates. In the long run, the best results will be attained by ignoring Cake DeFi and visiting genuinely decentralized lending and borrowing platforms.
What Is CakeDeFi Freezer?
---


Lock your assets deeper in the Cake DeFi ecosystem by using their Freezer service. By compounding rewards and rolling your balance into much longer contracts, you pay reduced fees. This creates a yield curve that outperforms their regular lending and staking services.
The extra benefit of the Freezer seems to be based entirely on the reduction of fees that Cake Defi extract for their other services. As they say, "A dollar saved is a dollar earned!"
Registration Process
---
Your name and email address are required before setting a password. You select your country of residence and click the verification tab on the email you receive. There's further KYC style verification required to transact on CakeDeFi, including your address and a passport/identity document.
But hang on… isn't this Cake DeFi? Why am I sending personal information to a DeFi company? There's a massive red flag here! Without exception, the DeFi wallets I use, the DeFi AMMs for swapping tokens, all the staking, lending, and borrowing platforms I joined in the name of research – not one of them has ever asked me to prove my real-world identity.
You can earn decent amounts from cake defi referral codes and referral bonuses.
That's the whole point of DeFi, surely? Isn't personal financial sovereignty undermined when I need to send a government validated mug-shot to transact? This does not feel good to me. Nor does their GitHub, with 'No Public Projects' and no Code, Issues, or actions. Compare it to a real decentralized project like AAVE on GitHub.
All is not as it seems.
Is CakeDeFi Regulated by the MAS?
---
The scary answer is 'no,' but quite frankly, they should be! They control their secret proprietary code, they hold sensitive personal data, and they are releasing tokens without any community-led governance.
Cake DeFi Pte Ltd currently holds an exemption from The Monetary Authority of Singapore (MAS) to continue operations until they acquire a license. There is a risk warning at the top of the Cake DeFi terms and conditions explaining to potential customers that they are not licensed by MAS. It says investors may not be able to recover their funds in the event of a platform failure.
On the bright side, the license is pending. I wouldn't invest significant amounts of crypto until the license is in place, but for a speculative punt of a couple of hundred bucks, I wouldn't be too concerned.
What Fees Will I Incur Using CakeDeFi?
---
There is information on the website about fees but it is not clear and hides some real potential shockers. Take a look for yourself and see if you can figure it out.
At first glance, lending incurs no fees as the borrowers pay a commission. Fine.
For staking in the Master Node Pool, there is a 15% fee on all rewards plus a $10 fee for each node you are involved with. So is that a monthly $10 fee per node pool, or a one-off? That could be a very substantial amount of fees.
Are the guaranteed interest rates net of all these fees? That would be a massive difference, but I can't tell from the website. Curiously, I've never yet had a pleasant surprise when I miscalculated fees.
There's no deposit fee for transferring your crypto to Cake DeFi. Really? I should hope not! I've never seen a deposit fee for merely receiving crypto on any platform. I've only ever paid the standard network fees.
Further down the page, they mention a one-off $70 fee for creating an ETH, USDT, or ERC20 address. I have never come across this before and again, it makes me suspicious.
There's a fee for withdrawing your crypto, but it's not clear whether this is on top of the usual network fees. If it is, then that too is shocking. If not, then they should make that clear. Either way, moving BTC, ETH, or USDT out of Cake DeFi is expensive.
Dash – 0.003 DASH = $0.56
DeFiChain – 0.2 DFI = $0.61
Bitcoin – 0.0005 BTC = $20
Ethereum – 0.012 ETH = $33.60
Tether – 25 USDT = $25
Litecoin – 0.01 LTC = $1.74
Dogecoin – 5 DOGE = $1.85
Bitcoin Cash – 0.001 BCH = $0.66
What Makes CakeDeFi Different?
---
The standout difference with CakeDeFi is that they are not DeFi. They're an unregulated centralized staking platform posing as a DeFi project. They also have a complex fee structure that appears to double-gouge customers. That makes CakeDeFi different, but not in any positive way.
Is CakeDeFi Legit?
---
Yes and no. They are not a legitimate DeFi platform, but their business is partly legitimized by the Singapore regulatory authorities granting them a temporary license exemption. Their branding suggests decentralized finance, but this is misleading. I trust CakeDeFi to be competent and compliant, but not at what they advertise.
The truth is, you have the worst of both worlds here – a centralized platform that isn't regulated.
What Are CakeDeFi Alternatives?
---
Firstly, I recommend something decentralized. Secondly, it shouldn't be custodial. Thirdly I want to see the code is open source and has been inspected. None of these apply to CakeDeFi, but there are several genuine DeFi lending and staking platforms out there.
The most notable that fulfill these criteria are AAVE, Compound, and Maker. Venus Protocol, Cream Finance, and Kava are also worth a look for comparison.
---
It is in the ballpark with them. Rates are similar, they are all centralized, somewhat regulated, require KYC, funds are insured.
Judging by the interest rates, CakeDefi is also better than decentralized lending protocols, but by every other standard, no. It's difficult to compare CakeDeFi with serious decentralized finance projects as it has none of the key elements.
If you're looking for a centralized, regulated (eventually), corporate-run platform to stake your crypto assets, then yes. If it's a DeFi project you need, then no.
PROS
Beginner-friendly and extremely ease to use
You stand to earn larger rewards by locking your crypto up for longer periods.
Highest APRs on the market on BTC, ETH and stablecoins (up to 25% via liquidity mining)
CONS
To see any real benefit, your crypto needs to be locked up for a very long time.

CaptainAltcoin's writers and guest post authors may or may not have a vested interest in any of the mentioned projects and businesses. None of the content on CaptainAltcoin is investment advice nor is it a replacement for advice from a certified financial planner. The views expressed in this article are those of the author and do not necessarily reflect the official policy or position of CaptainAltcoin.com