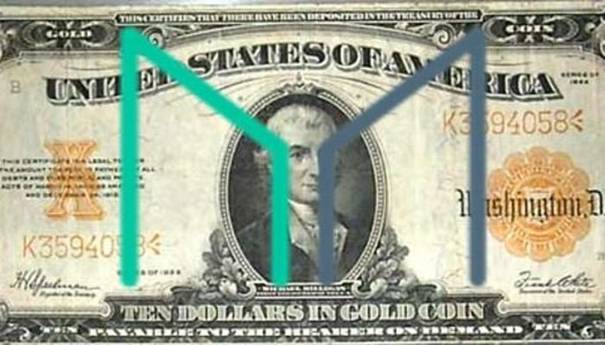 MakerDAO lets people collateralize their crypto holdings to secure long term low interest loans. Just as you can take a loan out against your home, you can currently take out a loan against your ETH holdings. Locking away your Ethereum in a loan of this kind can lower the total supply of the cryptocurrency and potentially help control its price. As such, the project has the potential to play an important role in the future of cryptocurrency markets. We'll have to wait and see if they are capable of achieving this potential.

Excitement around Maker and its stablecoin DAI is not letting up, just the contrary. More and more voice from Ethereum community are touting this "decentralized finance app" as THE killer app for the Vitalik Buterin's brainchild. Here are some of the perspectives on what Maker could do, not only for Ethereum, but for the whole altcoin market:
" CDPs are changing the supply structure of ETH Last few weeks have been incredible to witness this all play out. Volatility and movement will become more and more exaggerated. "
"Decentralized finance applications are creating a natural demand for ether. As these platforms grow, and the supply rate of eth is reduced, each day new demand will outstrip new supply pushing prices higher. "
" What this turns into could be a monster. In both directions. And certainly could lead to an alt season of which has yet to have been seen. (ie BTC dominance <20%) "
BloqBoard analyzed the market of decentralized finance apps and established that MKR grew by 31% in the last month:

data source: Loanscan.io
Pumping the brakes a bit
Even though Maker CDP's and usage is through the roof, there are some renown Ethereum community members that are trying to prevent a full sized exultation that point out that such Maker popularity is a function of the bear market:
Conner continues:
" Yes, my assumption is this will be the next "lesson learned". Hype as more and more is locked up while people ignore the compounding problem. We moon and everyone is thrilled then as it crashes back, tons of CDPs are called the the lockup dips hard. Much like ICOs "
Decentralized finance dApp could be the actual, real Ethereum killer dApp
Paolo Rebuffo writes on his blog how MakerDAO deflates ETH supply, creating scarcity and ultimately leading to the value increase of the ETH token. If we take into account that:
"
the DAI project is in its infancy and currently there is only one stablecoin created with this system, the U.S. dollar, however many more will be created.
By the end of the year Ether's monetary inflation will decrease significantly (by 33%), from 3 Ether per block to 2 Ether per block plus a reward for uncle blocks.
We can understand the enormous deflation potential of the DAI project regarding Ether, and in perspective on all those tokens that will be acceptedas additional collateral. here are no limits to the type of stablecoin that can be guaranteed on the Ethereum Blockchain: in the future we will see in addition to the main currencies, metals and stock prices. This is a market with an infinite capitalization, and several orders of magnitude greater than that of Ethereum as a whole.
For this reason MakerDAO today is without a doubt ethereum's Killer Dapplication, as well as being probably the Killer Dapp of the entire environment related to the concept of Blockchain."

CaptainAltcoin's writers and guest post authors may or may not have a vested interest in any of the mentioned projects and businesses. None of the content on CaptainAltcoin is investment advice nor is it a replacement for advice from a certified financial planner. The views expressed in this article are those of the author and do not necessarily reflect the official policy or position of CaptainAltcoin.com