Haru Invest Review – Crypto-backed Loans, Interest Rates, APRs, LTV Ratio, Security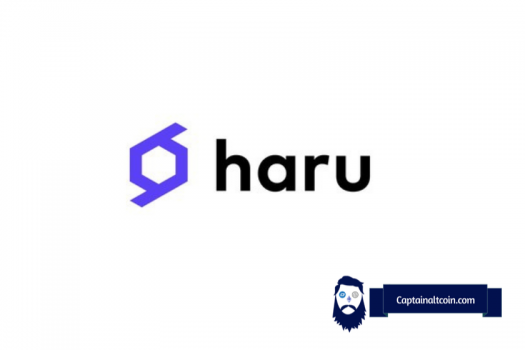 Haru Invest Review – Crypto-backed Loans, Interest Rates, APRs, LTV Ratio, Security
It has one of the highest returns on investment in the crypto world
Most of the process is automated. Thus, users just need to register and deposit and expect their rewards.
It provides access to everybody regardless of the size of your portfolio
It has an insurance policy with the BitGo wallet
It has a mobile app that works flawlessly
Drawing from a wealth of information across multiple sources, let's delve into the world of Haru Invest, a digital asset management platform that is making waves in the crypto space. Haru Invest has carved out a niche for itself by enabling users to earn interest on their cryptocurrency holdings, offering an attractive proposition in today's volatile market.
17/07/2023 Update
South Korean digital asset management platform, Haru Invest, has recently been embroiled in multiple issues. The firm suspended withdrawals on June 13, 2023, due to complications with a service partner.

This led to the termination of over 100 employees' contracts to mitigate potential damage. Amid an ongoing fraud investigation, Haru Invest filed a criminal complaint against consignment operator B&S Holdings, accusing them of fraudulent practices.
In addition to the criminal proceedings, the company is considering pursuing legal action against B&S Holdings.

Meanwhile, South Korean prosecutors have imposed a travel ban on Haru Invest executives. These incidents have stirred controversy and speculation around the firm's operations.
Haru Invest is more than just a crypto wallet; it's a comprehensive investment platform that caters to both seasoned crypto enthusiasts and newcomers alike. With its user-friendly interface and a wide array of features, Haru Invest has something to offer for everyone. Whether you're looking to grow your Bitcoin holdings, diversify with altcoins, or explore the potential of DeFi, Haru Invest has got you covered.
In this Haru Invest review, we'll take a closer look at the platform's offerings, its security measures, and how it stands out in the crowded crypto landscape. We'll also touch upon the Haru Wallet, a key component of the platform that allows users to earn interest on their crypto holdings.
Quick summary – Haru Invest Review
| Topic | Summary |
| --- | --- |
| 🔐 Security | Haru Invest is a centralized digital asset management platform that has maintained a robust security record with no breaches, missed earnings payouts, or unsuccessful withdrawals. It collaborates with BitGo, a leading secure crypto wallet solution provider, to manage all user deposits. Every deposit or withdrawal undergoes several security protocols, including BitGo cold wallets, before being transferred to Haru Invest's algorithmic trading system. |
| 💼 Core Features | Haru Invest offers various services, including interest-bearing crypto deposit service, algorithmic crypto trading, and portfolio management. The platform's core features include Haru Earn, Haru Wallet, Haru Switch, and Haru Freeze. Haru Earn allows users to earn interest on their locked coins, Haru Wallet lets users earn interest on their tokens without withdrawal penalties or lockup periods, Haru Switch is a community-driven pool where users can contribute their assets and earn from swap transactions, and Haru Freeze allows investors to sell their locked assets and withdraw early in case of urgent needs. |
| 📈 Asset Management | Haru Invest generates returns through an algorithmic trading model that capitalizes on distinctive inefficiencies in the crypto market and price discrepancies across exchanges. The platform routinely evaluates asset management strategies from various perspectives, taking into account both profits and risks while avoiding directional trading methods that could subject members to the volatility inherent in the cryptocurrency market. |
| 👥 Team and Partners | Haru Invest manages 100% of users' deposits with their internal trading team and global asset management partners. They maintain two in-house trading teams and collaborate with over ten global asset management partners who employ a low-risk portfolio strategy, distributing assets across various categories. |
| 🔒 Safety Measures | Haru Invest has implemented various security measures to protect its users' investments and personal information, including KYC/AML, 2FA authentication, alerts for suspicious activities, BitGo partnership, automated protocol, and cold wallet storage. |
| 🌐 Regulatory Compliance | Haru Invest holds a Money Service Business (MSB) license for US operations, Virtual Asset Service Provider (VASP) authorization for EU operations, and is a British Virgin Islands (BVI) approved fund. |
| 📞 Customer Support | Haru Invest offers a variety of customer support channels, including a help center, request submission, official announcements and updates, account setup support, live chat, a blog, and social media channels. |
| 🏆 Track Record | Since its inception, Haru Invest has handled over $2.27 billion in total transaction volume from over 80,000 users across 140 countries. It has successfully distributed earnings more than 9.8 million times. |
OVERVIEW
---
It is no news that investing in cryptocurrencies can turn out to be a very profitable endeavor. If you ignore the noise and extreme crypto market reactions that cause drastic portfolio changes, diamond hands and simply holding crypto pays out eventually. Especially if you keep it in interest-paying wallets like Haru wallet. I mean, getting a 25% APY on your BTC, ETH or USDT is not a bad deal, is it? This is something all crypto investors like to see.
Let us now take an in-depth look at Haru Invest service and how it can benefit you personally.
WHAT IS HARU INVEST CRYPTO LENDING PLATFORM?
---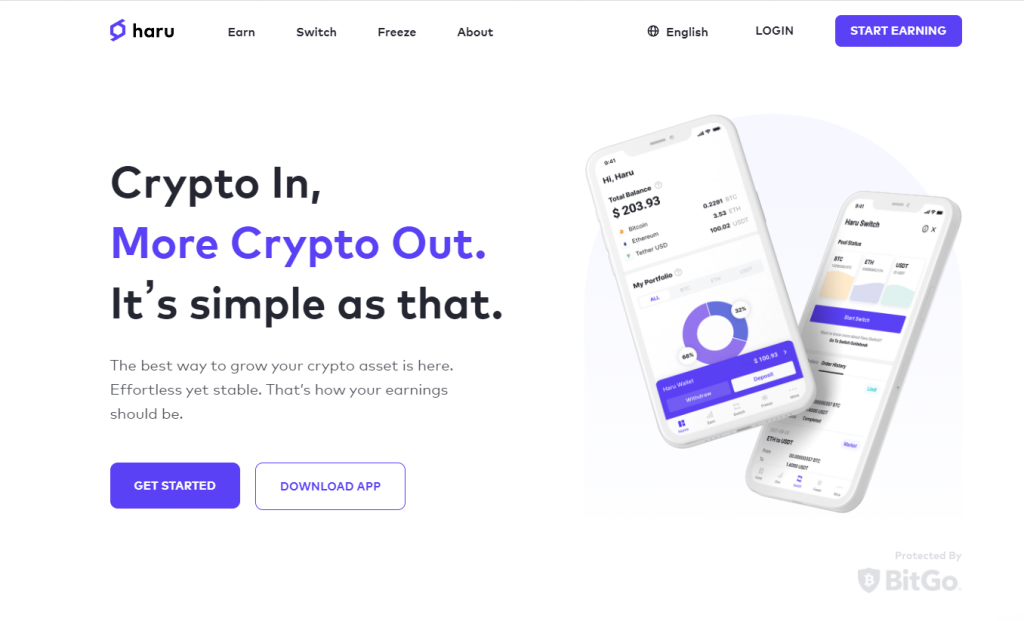 Haru Invest, also known as Haru, is a digital asset management platform created on September 1, 2019, with its headquarters in southeast Asia. The platform was launched by Block Crafters. It is a crypto investment platform that not only offers users the ability to make automated crypto investments but also rewards them handsomely with a high savings rate.
Due to its high rate of returns and the ease with which anybody can invest on the platform, it has seen impressive growth ever since it started operations. The platform has already accrued more than one billion dollars in total locked transaction volume.
Apart from the fact that Haru Invest offers automated investments and high returns, it has also launched Switch, a service that enables users to be able to swap some cryptocurrencies and earn more rewards through providing liquidity to the Switch pool. This feature is already available on its website and already includes both market order swaps and limit order swaps.
WHAT CAN YOU DO WITH HARU INVEST?
---
Crypto Savings Account
---
These Crypto savings accounts are denoted as Haru Earn Explore and Haru Earn Plus. With these programs, you can earn high interest on your locked coins. It is basically like the staking program offered in many protocols and crypto exchanges. The major difference is that you earn much more with Haru Invest.
What are the differences between Haru Earn Explore and Earn Plus? When you subscribe to Earn plus, you can get earnings with a fixed APR of up to 15%. Also, the lock-up period is between 15 and 365 days. On the other hand, Earn explore targets up to 25% APR with rates fluctuating every two weeks. Also, the lock-up period is between one and three months.
Crypto Investment Accounts
---
Haru Invest also offers automated crypto savings that take care of the whole investment process for you. Thus, once you subscribe to the program, you can take your hands off the wheel and rest assured that smart investment choices are being made for you.
HOW HARU INVEST WORKS
---
There are three different investment plans on Haru Invest. They are the Haru Earn, Haru Earn Plus, and the Haru Earn Explore. How does each of them work?
HARU EARN
---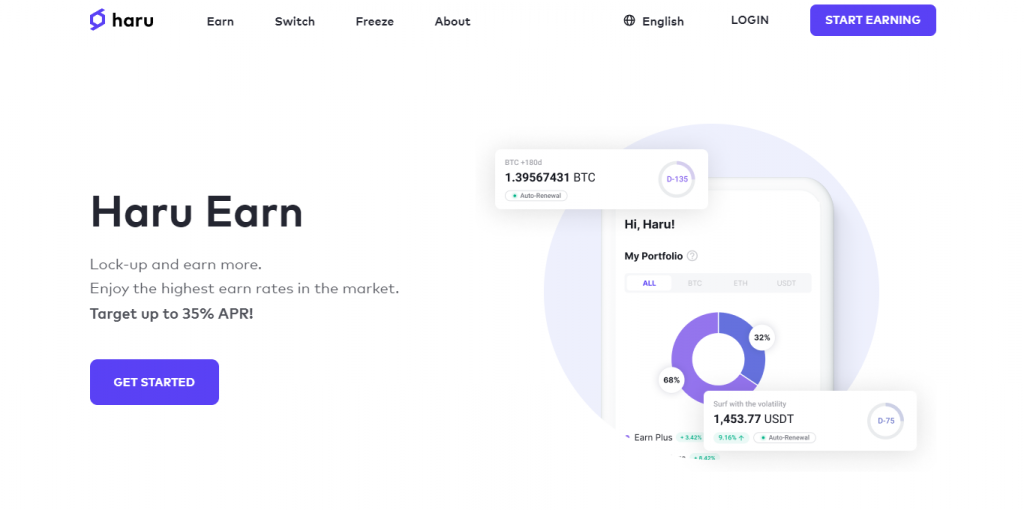 This is a flexible earning program with no lock-up period that generates up to 8% APR interest on savings. Its main advantage is that it allows you to withdraw whenever you want. This program supports Bitcoin, Ethereum, and USDT with a minimum deposit of 0.0001 BTC, 0.005 ETH, and 1 USDT, respectively. Earnings are paid out weekly with a maximum amount of 5 BTC possible per person.
HARU EARN PLUS
---
This fixed savings product offers users investment options that bring up to 16% APR. Just as in Haru Earn, the supported coins are BTC, ETH, and USDT with the same minimum deposits required. You can lock up your assets between 15 and 365 days and expect compound payments daily. During the lockup period, you can withdraw your earnings, but not your capital. Your capital will stay locked up until the term ends.
The deposits at Earn Plus are controlled by Haru Invest's global asset management partners, which generates stable profits using various strategies.
HARU EARN EXPLORE
---
This is also a fixed savings product but with different parameters. Here, users can partake in three different investment options:
Earn like the best: A minimum of 3 months investment in BTC
Surf with the volatility: A minimum of 1 month's investment in USDT
Beyond Staking: A minimum of 3 months investment in ETH
This product offers the highest-earning APR in Haru Invest with up to 25% APR for grabs. However, rewards are not paid out daily like the others; they are paid out 3-5 business days after the maturity date of the product.
TOP PERKS
---
Earn interest on your holdings: This must be one of the major things that have inspired the exponential growth of Haru Invest over the years. After all, why would you let your crypto assets just sit there accumulating dust until when the market tells you to sell? With Haru invest, market conditions do not need to be right before you make some profit on your crypto assets.
Automate your Crypto investments: Yeah, it takes care of the entire process for you. You don't need to be checking charts or monitoring entry and exit points; the professionals handle that for you.
No Requirements: You don't have to be a financial guru or a crypto whale before being able to invest with Haru Invest. The minimum deposit threshold of one dollar worth of crypto makes it very possible for everyday people to partake in this provision. Many other crypto savings platforms require a high capital before allowing you to partake in their plans with high APR, not Haru.
Zero Fees: Yes, you heard it right. Haru Invest charges no performance fee (industry averages are around 2%) to access its products. All you need to do is deposit your BTC, ETH, or USDT and start earning! As simple as that.
Hands-Off Trading: Any crypto trader who has been in the business for a while knows how stressful it can be. With Haru Invest, you don't have to worry about all that. Just make your initial deposit and relax as the Haru team and algorithms take care of the rest for you.
Limitless withdrawals 24/7: This feature comes with the Haru Earn feature. There is no lock-up period, and you are free to withdraw your capital and earnings as much as you would like. With Haru Earn Plus, you can only withdraw your earnings before the maturity date while there is no such feature for Haru Earn Explore.
Lock it up and earn more: With the Haru Earn Explore feature, you can earn as much as 25% APR if you're ready to lock up your capital for a minimum of one month or three months, depending on the coin you decide to invest. Do you have the stomach for it? Juicy Rewards await.
Earning compounds every day: This is a feature of the Haru Earn and Earn Plus program in which rewards are compounded and released every day. For the Haru Earn Explore, though, your rewards are not released daily; rather they are compounded and released 3-5 business days after the maturity date.
HARU INVESTCRYPTO INTEREST ACCOUNTS
---
There are three interest accounts on Haru Invest, as stated. They are Haru Earn, Haru Earn Plus, and Haru Earn Explore.
IS YOUR CRYPTOCURRENCY SAFE WITH HARU INVEST? IS HARU INVEST SAFE?
---
There is an unequivocal YES to that question. The Haru Platform ensures the safety of your assets. Why do we say so? Consider:
Together with BitGo, a digital asset custody, Haru Invest ensures the highest level of security through the internal security system.

Haru also works with Sumsub, a reliable data processing platform, to verify users of its platform.

With the help of two-factor authentication, the platform makes it easier to safeguard your assets by yourself.
HOW COME THE EARN RATES OF HARU ARE SO HIGH?
---
This is because the Haru platform does not engage in lending and borrowing your assets as other platforms do. Instead, they invest in low-risk trading strategies to get the best from them. Some of the strategies they use are:
Arbitrage trading: This trading strategy exploits little differences between the prices of the same asset in different assets or exchanges. Thus Haru Invest preys on the gap between ETH and BTC prices on different exchanges.
Market Neutral Strategy: With this strategy, traders take advantage of both price increase and decrease while just managing to steer clear of the risk involved.
Spread Trading: This trading method rides the spread volatility of the ETH/BTC futures contract.
You may have heard of the terms above in the crypto markets, or this may be your first time. The point is that these market investment strategies have low risks and are executed by professionals. Thus, you can rest assured that your capital will keep growing.
HOW TO GET STARTED WITH HARU INVEST
---
Haru Invest's registration process is very simple. The homepage of the website contains a button that says 'start earning.' Once you click that, it takes you to a sign-up page where you provide your email address and a strong password to start your registration process. It is on this page that you would also choose whether you're opening a personal or corporate account.
After completing that process, you will be asked to confirm your email address by clicking the link that will be sent to it. Clicking on that link automatically activates your account.
After activation, the next step is to complete your KYC (Know Your Customer) registration in compliance with the Anti-Money Laundering Policy. This step is non-negotiable. All users of the platform need to complete their KYC registration. Thus, users who have not completed KYC registrations have had their accounts suspended since October 1, 2021.
The KYC process is as follows:
---
After registration, log in with your details, go to your profile page and click on the 'Unverified' icon.
A registration page comes up. Select your Government-issued ID type and your nationality.
Upload the selected ID document
Then upload a selfie that clearly shows your face and your ID document. Both of them must be clearly visible for it to hold ground.
Upload a clear document to verify your address. The document can be any one of the following:

A Government-approved license document. An example of this is the Driver's License
A bank statement stating your name, address, and other useful information
Utility bills for water, electricity, etc
Mails from recognized agencies that contain your address

To verify that you uploaded the documents by yourself, you would need to write down details about the documents you have uploaded. Those details must correspond with the uploaded documents to fast-track the verification process.
IS HARU INVESTING LEGIT?
---
Yes, Haru Invest is legit. It was launched by Block Crafters, a reputable blockchain industry based in South Korea. In addition, it launched a Government-approved fund on February 23, 2021, as a testament to its authenticity. Block Crafters is highly-respectable blockchain industry in Asia.
Lastly, the team is not hidden. Information about them, including pictures, is generously shared on their website and social media pages. Thus, you are sure they are not frauds.
n case you are looking for more cryptocurrency lending and borrowing platforms, below is our list of reviews:

CaptainAltcoin's writers and guest post authors may or may not have a vested interest in any of the mentioned projects and businesses. None of the content on CaptainAltcoin is investment advice nor is it a replacement for advice from a certified financial planner. The views expressed in this article are those of the author and do not necessarily reflect the official policy or position of CaptainAltcoin.com