Celsius Network offers a wide range of products and services to help you manage your money, pay bills or send/receive payments. It also provides an easy-to-use interface that allows users to view their accounts in real time as well as make transfers between different currencies using its own stablecoin called CELIOS. The company has been around since 2014 and was founded by the same team behind popular cryptocurrency exchange platform Changelly.
On the other side is Voyager crypto that started operations back in 2017. This project aims at providing people with fast transactions and low fees. Its native token VYGR can be used on all its platforms including mobile apps, web wallets, hardware devices and desktop applications. In addition, it supports over 100 cryptocurrencies such as Bitcoin, Ethereum, Litecoin, Dash, Ripple, etc.
The main difference between these two projects lies in how they are designed. While Voyager thrives on simplicity, Celsius focuses more on security and stability. Both have their pros and cons but which one should you choose? Let's find out!
Celsius vs Voyager: Key Information
---
| | | |
| --- | --- | --- |
| | Celsius | Voyager |
| Site Type | Crypto lending app with borrowing and lending | Crypto exchange and crypto interest account |
| Beginner Friendly | Yes | Yes |
| Mobile App | Yes | Yes |
| Buy/Deposit Methods | Crypto deposits, debit card, bank transfer | Debit card, credit card, bank wire, external crypto transfer |
| Sell/Withdrawal Methods | External crypto wallet transfer | External crypto wallet transfer |
| Available Cryptocurrencies | Bitcoin, Ethereum, Link, and several others | Bitcoin, Ethereum, Litecoin, and around 60 others |
| Company Launch | 2017 | 2017 |
| Location | London, England | Jersey City, New Jersey, United States |
| Community Trust | Great | Great |
| Security | Good | Unclear |
| Customer Support | Great | Okay |
| Verification Required (KYC) | Yes | Yes |
| Fees | Excellent | Excellent |
Main Features
---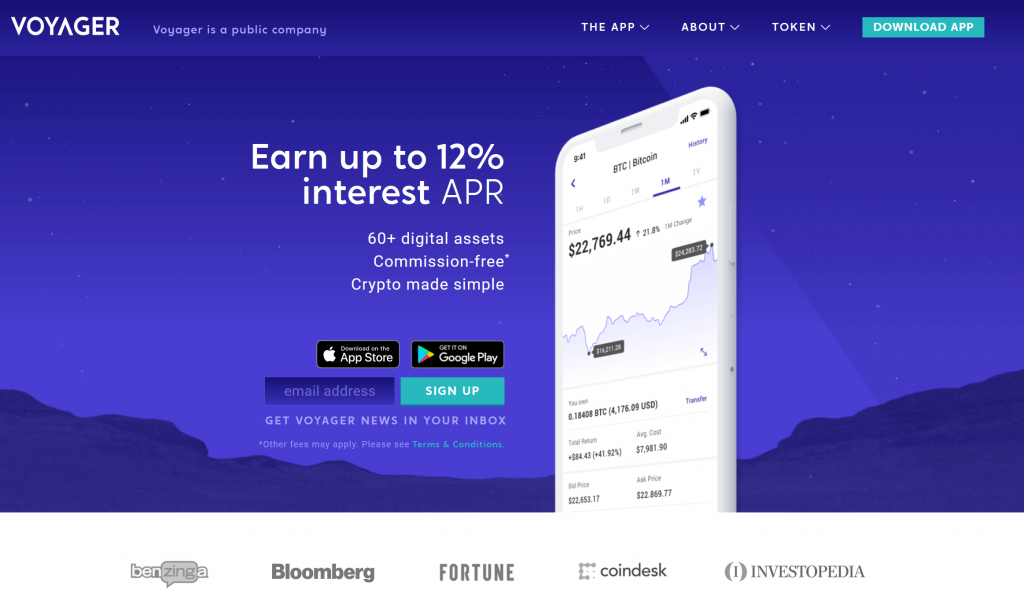 While Voyager:
Voyager allows the purchase of cryptocurrencies from a wide array of exchanges,.
The platform is commission-free
Celsius main features are:
Celsius allows for the lending and borrowing with crypto collateral.
With Celsius you'll earn a high interest on your deposited holdings.
Interest Rates: Who'll earn you more, Celsius or Voyager?
---
Firstly, a word of advice. Interest rates on both platforms fluctuate based on demand, so these are at time of writing. Also keep in mind that Celsius updates its yields once a week, while Voyager once a month.
Bitcoin
---
Celsius offers 6.2% APY for your first BTC and 3.51% for any additional BTC.
On Voyager you'll earn 5.75% APY on your BTC, but you have to maintain a minimum balance of 0.01 BTC to qualify to earn any interest.
Ethereum
---
On Celsius you'll earn a 5.35% APY on your first 100 ETH and 5.05% for any amount over that.
Voyager gives investors 4.6% APY on ETH for a minimum of 0.5 ETH balance.
Altcoins
---
Stablecoins
---
| | | |
| --- | --- | --- |
| Coin | Celsius Network | Voyager |
| Tether | 8.88% | N/A |
| GUSD | 8.88% | N/A |
| USDC | 8.88% | N/A |
This round is close but Celsius comes out on top providing higher yields around 1-3% over the board. This is most notable with staples like Bitcoin and Ethereum.
However Voyager does offer coins not available on Celsius. So it may in some cases be the platform of choice.
Payouts and Withdrawals
---
Celsius will pay investors interest once a week, every Monday. But what's great is the fee-free withdrawals whenever you wish.
Similarly also Voyager pays out interest to investors monthly and even offers free withdrawals. However there's a catch, users have to first convert their crypto to USD, which unfortunately is a taxable event.
The winner here is clearly Celsius. Withdrawals are always free and interest is compounded once a week.
Security
---

Celsius uses a security system called multiparty computation (MPC) to keep your holdings safe. This is what you would expect in the cryptocurrency interest account industry.
Voyager does disclose it's security protocol, but we can assume it's similar.
Additionally both companies have no additional insurance on the funds and only offer a government backed $250k on USD and not crypto.
Ease of Use
---
Both platforms excel in their simplicity. Allowing debit, credit and bank transfers making it very accessible to beginners. They also offer their service on a mobile app so you access them wherever you are.
Supported Coins
---
Voyager
---
Voyager currently supports the following crypto:
Cardano (ADA)
Band Protocol (BAND)
Basic Attention Token (BAT)
Bitcoin Cash (BCH)
Bitcoin Satoshi's Vision (BSV)
Bitcoin (BTC)
Celo (CELO)
Compound (COMP)
Dai (DAI)
Dash (DASH)
Dogecoin (DOGE)
Polkadot (DOT)
Enjin (ENJ)
Celsius
---
Celsius currently supports the following crypto:
DAI
Binance USD
Paxos Standard
Bitcoin SV
The Pros
---
Voyager
---
Some of the best Voyager features are:
Ease of trading
The Voyager app is designed to be easy to use, accessible and straightforward. It looks especially designed for beginners, as placing an order can be done in just a few seconds. A couple taps and you just have to wait for the order to complete.
Free crypto education
Voyager is tailored to all traders, in particular beginners. That's why it also offers free crypto education, so that traders know what they're getting into. The best example of their commitment to education is Node, their blog as well as their newsfeed.
Easy signup
Continuing their insistence of accessibility, even opening an account with Voyager is laughably easy. All you need to start trading is a couple minutes. Insert your personal details through the app and you're good to go.
Interest Account
Like we already discussed in detail Voyager also provides users the opportunity to earn interest with their crypto holdings.
The Voyager Token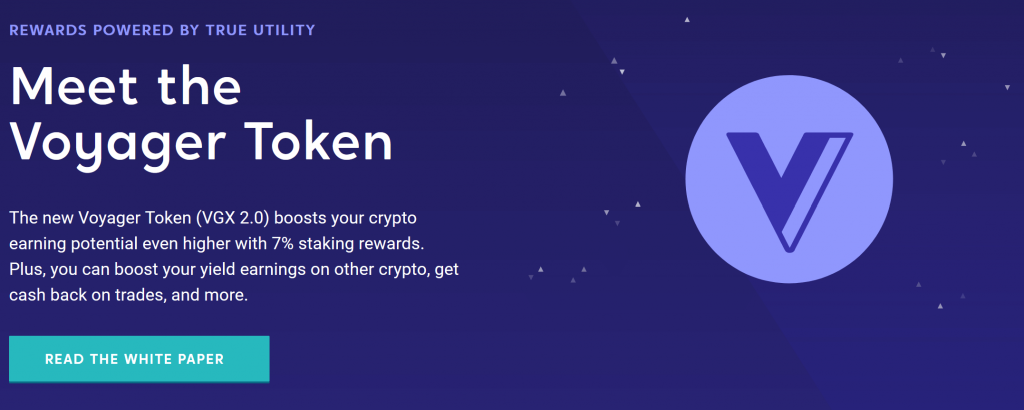 Voyager also comes with their own native Voyager Token. It allows traders to use their Smart Order Routing technology and make the most of every trade by taking advantage of the discrepancies between different exchanges. The technology automatically connects with dozens of other exchanges and allows you to pick the best.
What this essentially means is that you can compare different spreads and liquidity among crypto exchanges. 
Celsius
---
Celsius Token

Similarly to Voyagerm, Celsius has its own CEL token. Built with the ERC-20 standard and running on the Ethereum blockchain.
Here are the main CEL use cases:
By staking CEL you'll earn up to 30% on your deposit.
Send and receive payments.
CEL allows for discoscounts up to 30% on loan interest.
CEL holders receive in airdrops 80% of the networks profits
It's important to note that Celsius rewards CEL holders with a proportional share of 80% of its profits.
Zero Withdrawal Fees
Zero fees, we all love the sound of that. On Celsius you can withdraw anytime and anywhere, without worrying about fees or penalties.
No Deposit Requirements
Unlike competitors on Celsius, investors can deposit as little as they wish. Lending platforms always set their minimum deposit amount way to high, but not Celsius. You can start earning interest on a $1 deposit any time you wish. The same goes for maximum deposits. Although higher value deposits such as over 1 BTC or 100 ETH will receive lower rates.
Compounding Interest — On Celsius your interest earn will also earn interest, thus compounding. And interest is paid out weekly, a clear advantage over competitors who do it monthly.
The Cons
---
Voyager
---
No Web App
Unfortunately Voyager only offers a mobile app which is bummer for those who'd rather trade on their computer. Trading if professional cannot be done on a small sized screen like a mobile phone, Voyager clearly cuts a substantial part of the market out by not offering this functionality.
Limited Customer Service Channels
When it comes to money, there's no joking around. Unfortunately with Voyager if there's an issue with your money, you'll have to jump through hoops to talk to someone that might help. As the company only offers customer service through their live chat and email, a hot line would work a lot better.
Celsius
---
Weekly Rate Fluctuations
On Celsius interest rates are not fixed, but fluctuate based on demand on a weekly basis. This isn't ideal as investors look for consistency when earning passive income on a platform. By changing interest so often investors who for example were expecting a 10% interest and end up with 8% are going to be let down.
Slow Support
Whenever you have a problem and call for Celsius customer support, they will be very slow to respond. However I should add that problems are usually resolved; they just take way more time than you'd expect from such reputable companies.
The Fees
---
Let's start with saying that both platforms excel at keeping fees low. Voyager offers a lot lower fees for the trading of cryptocurrencies, one of the lowest on the market. However withdrawal fees could be better and are quite standard, coming in at $5-10.
Meanwhile Celsius has awful trading fees as it's not what the company specializes in. They use a third-party app exchange for it, so it's to be expected. But other than that Celsius is fee-free and withdrawals are unlimited.
Simply don't use Celsius to buy and sell crypto, as it wasn't designed for that. It's safe to say that this round is a draw.
In case you want to check out other exchanges, below is our list of comparisons:
The Verdict
---
Choosing a winner between Celsius and Voyager is easier said than done, as both companies have different pros and cons, appealing to very different users. Voyager is tailored towards the mobile trading crowd, the zoomer buying crypto on his phone. While Celsius excels at being a lending platform, providing users with the higher yield.
Both Voyager and Celsius have their native tokens, which can be seen as investments. Both have unique and different use cases and should be considered based on fundamentals. Additionally both platforms have lackluster customer service, so there's no winner in that field.
So it all boils down to personal choice. What platform appeals to you, Celsius or Voyager?

CaptainAltcoin's writers and guest post authors may or may not have a vested interest in any of the mentioned projects and businesses. None of the content on CaptainAltcoin is investment advice nor is it a replacement for advice from a certified financial planner. The views expressed in this article are those of the author and do not necessarily reflect the official policy or position of CaptainAltcoin.com