Introductions
---
Today we'll be comparing two huge crypto service companies, Nexo and BlockFi. Nexo is born in 2017 with ambition to become the go-to place for crypto collateralized loans and interest accounts.
And the company has seen massive success, processing more than $12 billion with over 1.5 million clients.
Nexo works in over 200 countries and offers over 45 FIAT currencies. It maintains such high standards thanks to its partnership with Credissimo, a giant in the FiTech market. Malta regulates Nexo, another point in the company's favour, as it is a country known for its friendly crypto and banking regulatory status.
The main selling points are offering of collateralized loans available without users having to sell the crypto and high-yielding crypto interest accounts that offer returns as high as 12%.
BlockFi on the other hand is a US based CeFi company offering high-yield interest accounts for your BTC, ETH and USDC. And just Nexo it also works as a crypto-lender. It's become a staple in the cryptoverse providing clients with an exchange, interest account, and credit card that are all interconnected.
BlockFi vs. Nexo: Key Information
---
| | | |
| --- | --- | --- |
| | BlockFi | Nexo |
| Service | Interest account, trading account, crypto-backed loans | Interest account, exchange, crypto loans, token, crypto-backed loans |
| Company Launch | 2017 | 2017 |
| Location | Jersey City, New Jersey, US | London, England, UK |
| Beginner Friendly | Yes | Yes |
| Mobile App | Yes | Yes |
| Available Cryptocurrencies | BTC, ETH, GUSD, 10 others | BTC, ETH, USDC, 33 others |
| | Visit Blockfi | Visit Nexo |
Main Features
---
BlockFi is best described as Crypto Lending Platform, its three main offering are:
High-yield crypto savings accounts
All you have to do is deposit your funds to BlockFi and you'll earn monthly compounded interest from them. Just like with a bank account, but fortunately with a lot higher yearly returns.
Crypto collateral for loans
On BlockFi your crypto can be used as collateral for loans, without needing to sell any.
Cryptocurrency Trading
BlockFi also offers an exchange on which you can trade BTC, LTC, ETH, USDC & GUSD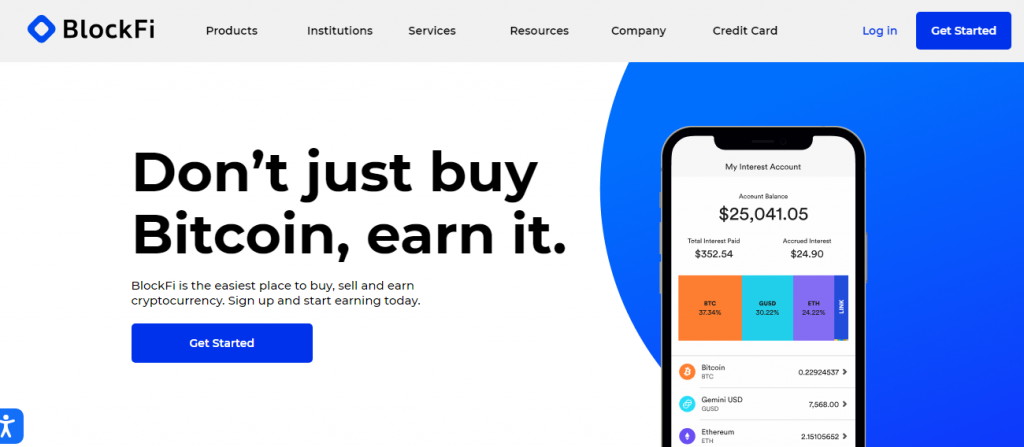 Nexo follows a similar business model to BlockFi. The company offers interest accounts that can yield from 6 to 12% on a variety of crypto assets such as BTC, ETH, LTC, BCH, EOS, XLM, TRX, and XRP. and not only that users can also receive interest returns on their FIAT currencies such as USD, EUR and GBP.

Nexo is a cryptocurrency interest account and lending platform that offers between 6% and 12% APY for a variety of digital assets, including BTC, ETH, LTC, BCH, EOS, XLM, TRX, and XRP. It's a unique cryptocurrency interest account offering because it offers daily payouts, as well as upwards of 12% for popular fiat currencies like USD, EUR, and GBP.

Another distinguishable factor is their offering cryptocurrency loans starting at 5.9%.
Both platforms offer loans with crypto collateral. Your digital assets will be unlocked when the loan is paid.
So for example you deposit BTC and take out a loan USDT. So if BTC appreciates, the value of the BTC collateral will too, allowing you to take a bigger loan.
Nexo and BlockFi make their money from the difference between the interest paid and what it charges borrowers.
Read also:
Interest Rates: Who'll earn you more, BlockFi or Nexo?
---
First of, BlockFi excels in its simplicity. This is a huge pro as users simply deposit their funds to calculate their saving yields. Additionally your holdings are not time bound, you can retrieve them at any time.
Bitcoin
---
BlockFi uses a tiered interest-rate system for Bitcoin. In other words, returns depend on how much Bitcoin you hold. Although they slightly fluctuate, rates are around:
4% for 0 – 0.25 BTC
1.5% for 0.25 – 5 BTC
0.25% for more than 5 BTC.
Nexo offers returns of 6% APY on BTC deposits.
Ethereum
---
BlockFi uses a tiered interest-rate system also for Ethereum. Current rates are:
4% for 0 to 5 ETH
1.5% for 5 to 50 ETH
0.25% for over 50 ETH.
Nexo offers returns of 6% APY on ETH deposits.
Stablecoins:
---
On BlockFi users can expect a 7.5% APY on stable coin deposits until 50 thousand such as USDT, USDC, GUSD, PAX, BUSD. If over 50 thousand then 5%. You can also expect a 8.5% APY on Dai deposits between 0 and 50,000, then 6%.
Nexo provides a 10% APY on USDT, USDC, DAI, TUSD, HUSD stablecoins and 6% on PAXG. And a 10% APY on EUR, GBP and USD FIAT. You get 2% on top of that if you take your payout in NEXO token. So, overall 12% APY on stablecoins – not bad, huh?
Unlike most other accounts, Nexo also allows its users to earn interest on fiat. Users can make 10% APY on EUR, GBP, and USD.
And these rates increase by 2%, from 6 to 8% for crypto and from 10 to 12% for FIAT, if you choose to receive your rewards in their native NEXO token. However this option is not open for US citizens.
Nexo wins this round, offering a lot higher rates in particular if you choose to receive them in NEXO. But it does come with a downside, as the NEXO token is like all crypto, extremely volatile. Not ideal for risk free passive income. But more on that later.
Payouts and Withdrawals
---
The interest users earn on BlockFi is earned daily and paid out once a month. This is slightly different then other competitors that payout the interest earned on a daily basis. These funds can then be withdrawn in stablecoins once a month. But if you go past this trehold you will incur a charge.
Your assets in BlockFi will begin accruing interest the day after you make your deposit. Interest is compounded monthly.
Nexo on the other hand compounds interest on a daily basis, a clear advantage over BlockFi.
And they also offer 1 to 5 free withdrawals based on their Loyalty tier.

Security
---
Both platforms take security as a priority. Neither has even suffered a breach or any other major security issues.
BlockFi holds almost all users' funds 95% in cold storage. These are managed by Gemini which holds a SOC certification, the risk of any external breaches is low to none.
Nex keeps users' funds with custodians such as BitGo, Ledger, and Fireblocks. All of them are well known and reputable companies in the space.
Additionally the platform is insures $375M, about 3% all assets under management. That may not seem a lot but it's more than BlockFi which does not insure any funds.
According to Nexo's Terms and Conditions, the company is liable but not fully to protect it from hacks, tampering, or other security breaches. Although this may seem like a red flag it's the standard for custodial crypto services.
The Trust Factor
---
It is safe to say that both platforms are as legit as they get. Neither are scams and reliable platforms with millions of active users.
But it is good to keep in mind that neither are as risk free as traditional saving accounts. In fact due to regulations earning interest on your crypto is not FDIC insured. So if the companies fail, your funds are as good as gone, the Nexo insurance will not be enough to protect you completely.
Furthermore it is their business model to lend your crypto to other third parties. These are used in non risky investments and with extreme precautions but it does add a layer of risk raising questions about the benefits of custodial services.
A Look at the NEXO Token
---
The NEXO token is an essential part of the loan and deposit ecosystem. Holders of the coin are entitled to a 30% share of the company's profits that they receive via a dividend.
On top of owning a stake in the company NEXO holders benefit from the following benefits:
Earn 2% more APY on all deposits, bringing it up to 12% for stablecoins and 8% for crypto
Borrow 5.9% for Nexo's Instant Crypto Credit Lines.
NEXO can be compared to other competitors' tokens, Celsius's CEL, ICrypto.com's CRO. This way of running a crypto service platform is meant to incentivize a loyal following. But it does come with a lot of downsides. Because we all know just how crazy the crypto markets get sometimes. Us investors are used to those scary 60% drops we witness during bear markets, but this may be a huge con for their business model.
Earning interest on your deposits is a dull, boring and as much as possible risk free investment strategy. But if you're earning returns in the volatile NEXO token, those 12% returns are not enough to justify all the risk.
So you should consider the added risk and look at NEXO as an investment. Does it have a future? Is the use case unique? The Nexo platform certainly shines through, but is that enough to justify the investment?
That's for you to decide.
Visit BlockFi Now Visit Nexo Now
Comparing The Cards
---
Let's start with the Nexo Card.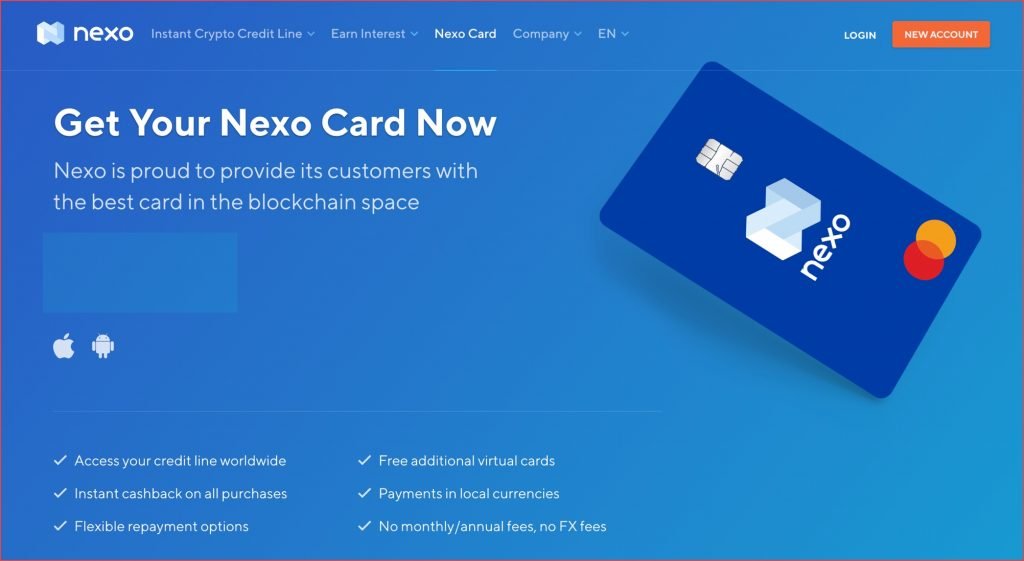 Its main selling point is that you can spend your crypto without having to first sell your holding. And the best is that when you do, you'll receive an instant 2% cashback on all purchases, this can be in NEXO or BTC.
The card is also already accepted with more than 45 million merchants. And on top of that you can also use the virtual card and pay even less in charges.
On top of that with the Nexo card, you'll also pay no fees on international transactions, and yes, that also includes "hidden fees."
Nexo Card comes with all of the features customers would expect from any reputable credit card. With their Nexo App, you can:
Easily freeze or unfreeze your Nexo Card
Have full control of your account security, see and change your PIN at any supported ATM
Create virtual cards free of charge to make secure online purchases
Monitor all transactions in detail and in real-time
The Nexo Card is both beginner friendly and accessible, giving yout crypto real world use case. Now let's take a look at the BlockFi card.
The BlockFi Credit card works much in the same way. The cash back is actually "Bitcoin back" as users will receive it at every purchase. The reward structure may be a little more complicated to grasp so we'll break it down for you.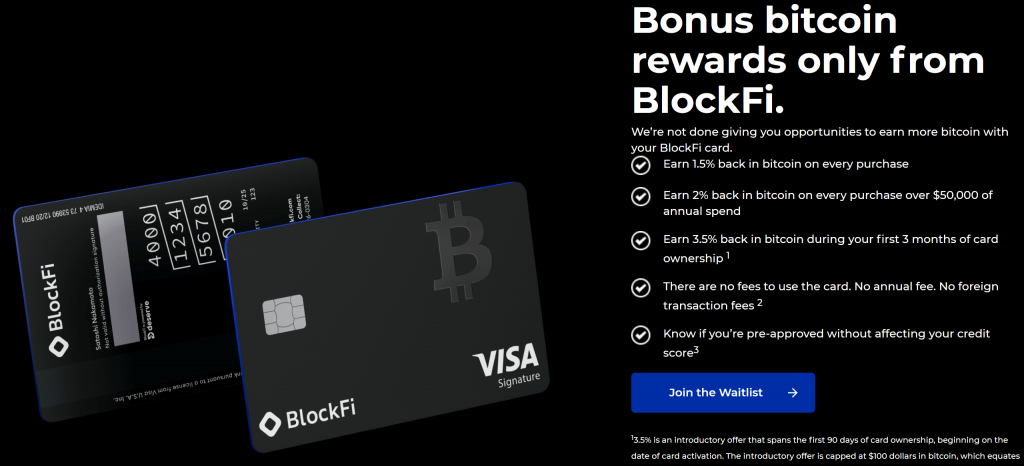 Intro Bonus: A 3.5% Bitcoin rewards for the first 90 days on all your purchase and upto $100 in Bitcoin. But keep in mind that to reach that $100 threshold you'll have to spend more than $5000, so that's covered.
Trading bonus: 0.25% back in Bitcoin on your trades, to a maximum of $500 in per month.
Spend bonus: You'll receive 2% back in Bitcoin on purchase over $50,000 of annual spend. Rewards rate below that will be 1.5% and resets on the card anniversary date every year.
Both cards are great options. The NEXO may have a higher yield but it doesn't offer a trading bonus. So it's up to the preference of each user to decide.
The Verdict
---
It is honestly difficult to choose a winner between these two great companies. So I won't, because it all boils down to personal choice. Although the interest rates offered by NEXO are higher, that's not the whole picture. The cards for instance have different characteristics that may or may appeal to you.
The most important consideration should be SAFETY when considering these services.


BlockFi has Fidelity, The Winklevoss twins, Pomp, and Peter Thiel's VC fund as its investors. That's as legit as you can get. No other competitor comes even close to that.
So in conclusion both are great and reliable services that are doing a great job at bringing crypto to Main Street. The rest is up to you.
Visit BlockFi Now Visit Nexo Now

CaptainAltcoin's writers and guest post authors may or may not have a vested interest in any of the mentioned projects and businesses. None of the content on CaptainAltcoin is investment advice nor is it a replacement for advice from a certified financial planner. The views expressed in this article are those of the author and do not necessarily reflect the official policy or position of CaptainAltcoin.com