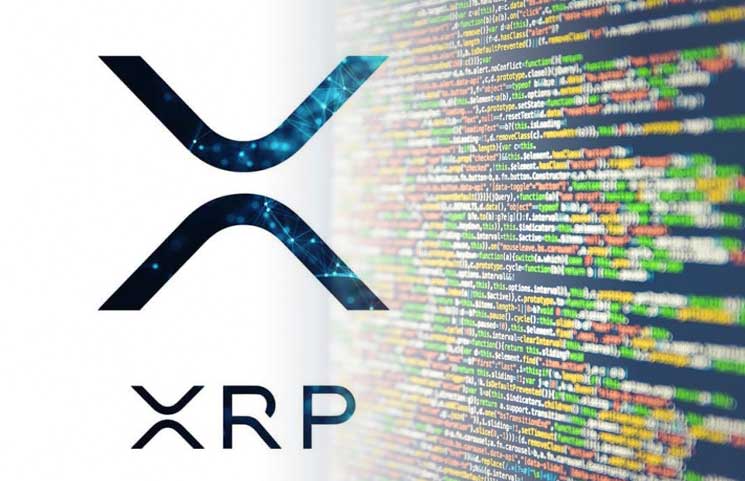 The top five cryptocurrencies by market cap need no introduction.
And if you see, out of the top 5, Ripple, or the XRP, was the least talked about cryptocurrency for a very long time, because it is a cryptocurrency specifically designed for banks. And you know that banks and cryptos don't go hand in hand, nevertheless Ripple has grown over 18000% since January 2017 and keeps on growing.
If you are in a hurry, here is a quick rundown of options:
| Exchange | Fees | Supported Countries | Payment Method |
| --- | --- | --- | --- |
| Binance | .05%-.1% | All | BTC or ETH Only |
| Coinbase | 3.99% | Almost all | Directly with Fiat |
| Changelly | .25% | All | Fiat and Crypto |
| eToro | 2.45 % | Almost all | Credit Card, PayPal, Neteller |
| Coinmama | 5% | Almost all | Credit Card, Wire Transfer |
Ripple has made a phenomenal shift in price at the end of last year and has been featured on CNBC. It can be purchased from a number of exchanges and websites, and after you purchase Ripple make sure to store it securely in some popular XRP wallets.
In this article, we are going to talk about where to purchase your XRPs from. If you want to read about ripple wallets – this article is for you.
Where to buy Ripple – Top 9 Best Websites
Coinbase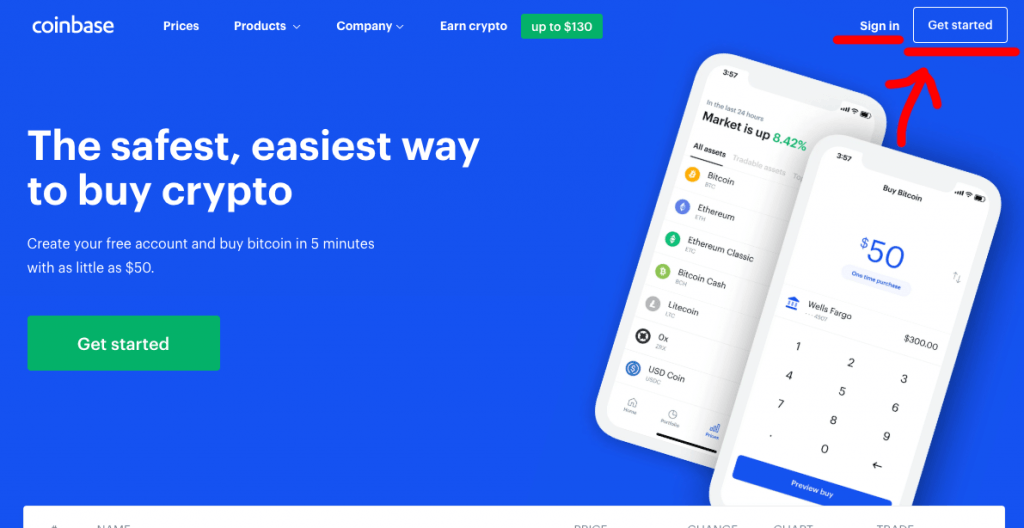 Finally, after years of clamoring from XRP fans, Coinbase added Ripple token to their exchange
How to buy Ripple on Coinbase?
Very easy.
To get started, sign up for an account on Coinbase. They will ask for your personal information for verification purposes.
Once you are done, add a payment method, and go to the buy tab.
From here, you can buy Ripple for US Dollars. Coinbase removed credit cards as option for purchasing cryptocurrency, but bank accounts and buy ripple with debit card are still supported.
If you want to save on fees, it's recommended to use a bank account to purchase Ripple on Coinbase.
CEX.io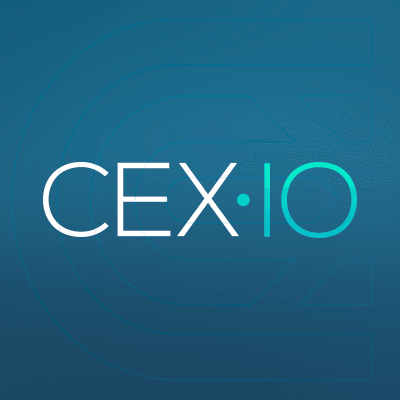 Another well known and established crypto exchange that keeps expanding their offering. XRP was one of the most prominent additions. Cex.io is the best place to buy XRP in our opinion.
How to buy XRP on Cex.io?
Similarly to Coinbase, you will need to register on the platform and go through the verification process.
After that, you go to the buy tab and choose XRP. CEX.IO allows for the buying of crypto for low fees via credit card, a wire transfer or a SEPA transfer (if you live in the EU).
The fee model on CEX.IO is one of the priciest in the market with a 7% fee for the service which is charged from the amount of fiat currency you pay.
eToro
eToro is now one of the most popular platforms for trading all kinds of assets. They have inluded cryptocurrencies to their platform in the recent years and work on expanding their offer of coins. XRP was one of the first that was listed on eToro.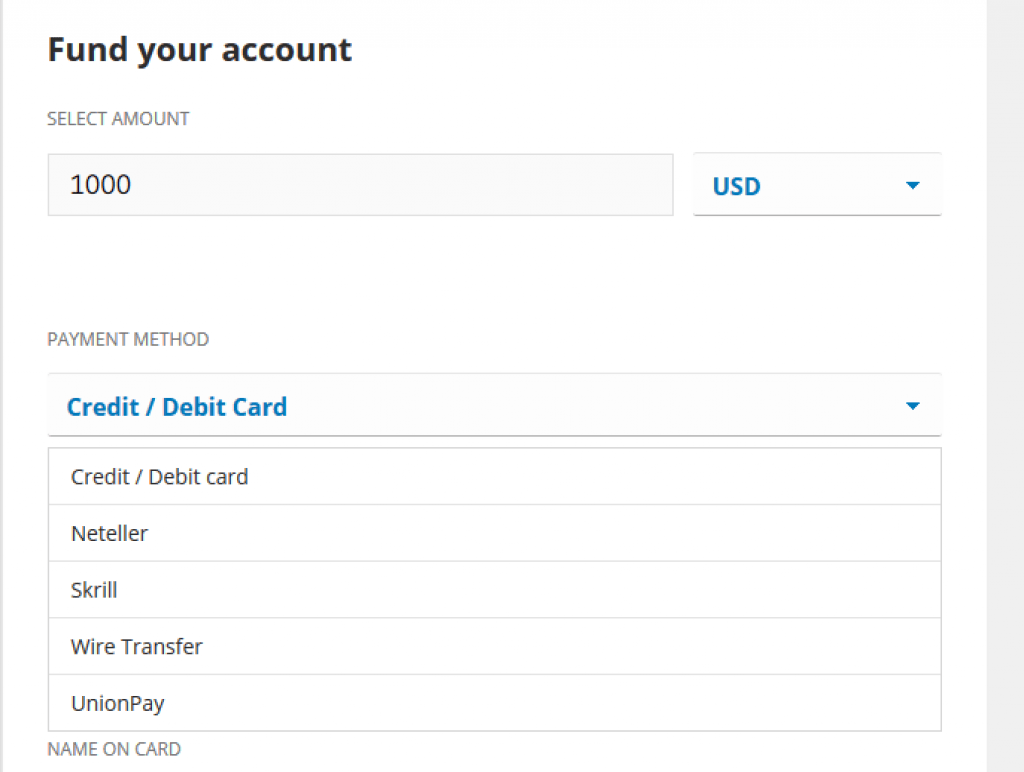 The registration process on eToro is very simple. After sign up, you need to confirm your email and go through the process of verification so you can use the platform to buy coins. Their KYC procedure is industry standard as they require upload of official government ID.
Of course, before you can buy Ripple, you have to deposit money. There are different options for this: from PayPal, SEPA, wire transfer and also you can buy XRP with credit card. The first deposit may not be less than the minimum amount of $200. All other payments have a minimum deposit of $50.
75% of retail investor accounts lose money when trading CFDs with this provider. You should consider whether you can afford to take the high risk of losing your money
Cryptoassets are highly volatile unregulated investment products. No EU investor protection.
Coinmama
Coinmama is one of the first exchanges in the cryptocurrency world and recently has been expanding their coin offer, as they added XRP as well.
After creating an account, use the navigation bar to find Ripple. Next, choose a package! You can choose one of these four, or make your own at below these.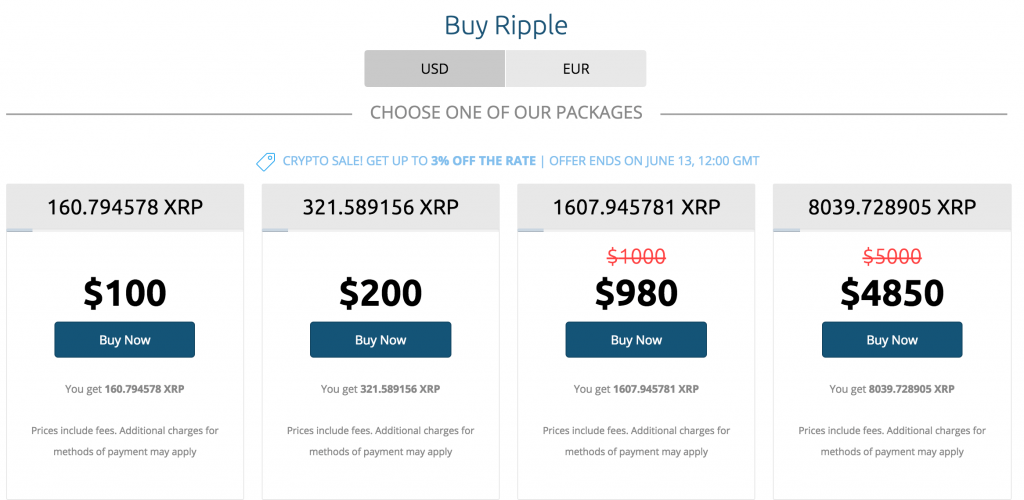 Since Coinmama doesn't hold your coins on their servers, you will have to setup your own wallet where Coinmama will send the coins to.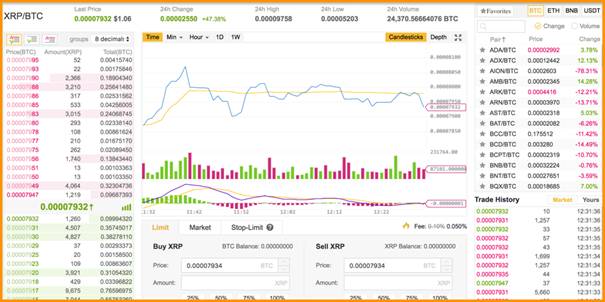 All price predictions in one place: click here.
---
Binance is a popular cryptocurrency exchange that has managed to gain a lot of popularity thanks to its impressive number of Initial Coin Offering (ICO) listings, but also because of its low trading fees.
While the company is still fairly new on the market, it has quickly managed to attain a high level of trust from its users and the digital currency community. One more thing worth noting is that that Binance offers multiple-language support in English, Chinese, Korean and Japanese.
It is safe to say that Binance is one of the cheapest exchanges to use if you are using Binance tokens to pay the exchange fee. Binance charges an average fee of 0.1% on each trade that a user makes, but those who choose to pay via the Binance token can get a 50% discount on the trading fee.
Binance is also one of the best exchanges to buy/sell crypto on the go given their mobile app, which is very user friendly (but uses a lot of mobile data). It's important to note that the volume is also pretty decent for huge orders.
Ripple (XRP) can be purchased and sold on Binance in following trade pair:
Supported XRP Pairs: XRP/BTC, XRP/ETH
You need to transfer BTC or ETH and then exchange it for XRP, but if you don't have access to Bitcoins, you can get it from CoinMama or Cex.io using a debit or a credit card.
Register & Buy Ripple From Binance Now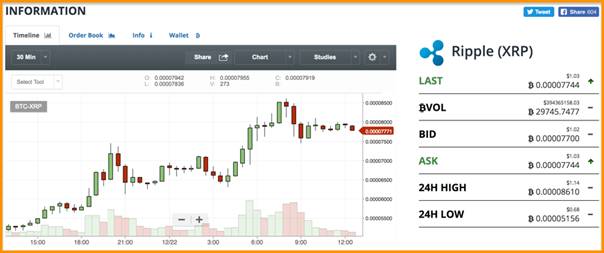 Read our updated guide on best crypto trading bots.
---
Based in Seattle, USA, Bittrex is one of the Internet's largest cryptocurrency exchanges and also my personal favorite cryptocurrency exchange. Bittrex has been in operation since 2014 and has more than 200 crypto coins to choose from, including Ripple.
Bittrex was started by Co-Founder and CEO Bill Shihara, who was motivated by security breaches and reliability issues experienced by exchanges and users and wanted to provide a much more reliable service. Shihara drew on his experience as a security engineer at Amazon and Blackberry when creating the exchange. Bittrex comprises a stellar team that pride themselves on providing a secure platform and employ the most reliable security technologies available. The team combines over 50 years of security and development experience from companies including Amazon, Microsoft, Qualys, and BlackBerry.
The site has a good reputation and aims to deliver the fastest and most secure trading service available. Bittrex handles one of the largest BTC trading volumes out of all the exchanges in the world and sees itself as a next generation cryptocurrency trading platform. Bittrex charges a standard 0.25% for trading on their platform and this allows customers to easily calculate the fees accrued on any trade.
You need to register and log in through your email ID in order to get started with Bittrex. However, to withdraw funds, you need to do a KYC (Know Your Customer) by submitting your identification documents and phone number, while for higher limits, you need to enable two-factor authentication (2FA).
The good thing about Bittrex is the fact that the basic verification, which allows you to withdraw up to 3 BTC equivalent per day, is usually a very easy and fast process.
Visit Bittrex and follow this official step by step guide here to open a Bittrex account.
Supported XRP Pairs: XRP/BTC, XRP/ETH, XRP/USTD
Register & Buy Ripple From Bittrex Now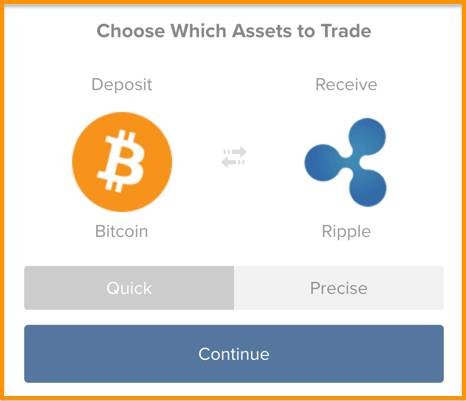 Founded in 2013, ShapeShift is quick, reliable and very user-friendly cryptocurrency exchange platform.
ShapeShift is one of the easiest ways to get your favorite cryptos because you don't need to do any registration or KYC to start using this site, which is really useful if you want to quickly and anonymously exchange your crypto! Swiss-based ShapeShift is often described as an "instant" cryptocurrency exchange that provides access to the world's leading cryptos (including Ripple). There are more than 50 cryptocurrencies available on ShapeShift which is very attractive for those looking to really broaden their digital portfolio with ease. ShapeShift only facilitates crypto-to-crypto exchanges, which means that you can only exchange one token for the other because fiat currency is not enabled.
If you want to purchase Ripple on ShapeShift, you need some bitcoins/altcoins to exchange for Ripple and your Ripple address where you would like to get your Ripple tokens.
Buy Ripple From ShapeShift Now


Read our updated guide on best cryptocurrencies to mine.
---
Based in Hong Kong, Bitfinex is the largest Bitcoin exchange with most volume for BTC/USD pair. The exchange was founded in 2012 by Raphael Nicolle and was one of the pioneers in supporting Ripple cryptocurrency for its users.
With the second highest volume in XRP, liquidity is never a problem for this exchange and it also offers a wide coin selection with numerous trading pairings, low fees, and a robust interface.
However, their registration process is free of cost but quite lengthy and takes time. It typically takes 15-20 business days after submitting valid ID proof before you're accepted into the platform, but when a user gets access by registering at this site, he can make use of all the tools available in the site for trading. You need to register, verify your ID, and authenticate yourself in order to get started on Bitfinex.
Also, you can use Bitfinex's Android and iOS mobile apps when you want to trade on-the-go or get bored with the web version.
Supported XRP Pairs: XRP/BTC, XRP/USD
Register & Buy Ripple From Bitfinex Now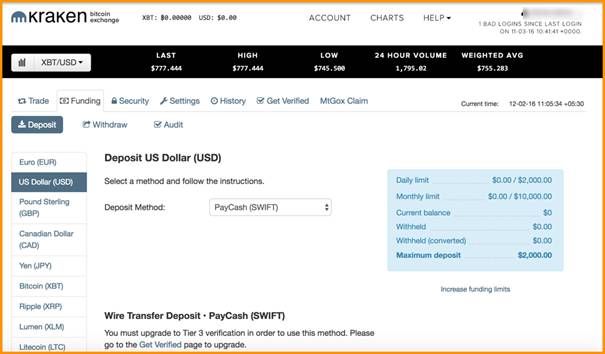 Based out of San Francisco, Kraken is a real industry leader, and one of the largest Bitcoin/Altcoin exchanges in the United States. Kraken landed in the international scene in 2011, and is considered the largest bitcoin exchange based on the euro volume, liquidity, and the trading of US dollars, Canadian dollars, British pounds, and Japanese yen.
Kraken handles the most volume in EUR currency and they were also pioneers in supporting the Ripple cryptocurrency.
Owned by Payward, Inc. and having received millions from investors, Kraken has a fairly large variety of cryptocurrencies (more so than Coinbase), and makes it easy for international traders.
Kraken has spent a relatively long time establishing its reputation in the cryptocurrency world, and is a relatively secure platform and has been a major player in the evolution of the cryptocurrency world.
You need to get verified by Kraken in order to get started. The verification process is straightforward, but, because of the recent surge in demand for cryptocurrencies, the process can take up to days.
Kraken is in the second largest exchange that has the most volume of Ripple for Euro pairs. However, it also supports others:
Supported XRP Pairs: XRP/BTC, XRP/EUR, XRP/USD
Register & Buy Ripple From Kraken Now
Conclusion – Best place to buy Ripple
These were the top 5 websites to from where you can purchase Ripple coins (XRP). It's important to note that these centralized exchanges are always prone to threats, so you should never use these exchanges as your wallets to store a significant amount of Ripple in it.
If you are someone who is a serious buyer and HODLer of Ripple, I would strongly recommend you to get Ledger Nano S wallet, which is a hardware wallet and it will definitely help you securing your cryptocurrencies.
Important Note: Whatever platform you choose to use, you will be required to deposit at least 20 XRP in order to protect against low level spam attacks. This 20 XRP is also one time kind of fee for using that particular ripple address.

CaptainAltcoin's writers and guest post authors may or may not have a vested interest in any of the mentioned projects and businesses. None of the content on CaptainAltcoin is investment advice nor is it a replacement for advice from a certified financial planner. The views expressed in this article are those of the author and do not necessarily reflect the official policy or position of CaptainAltcoin.com