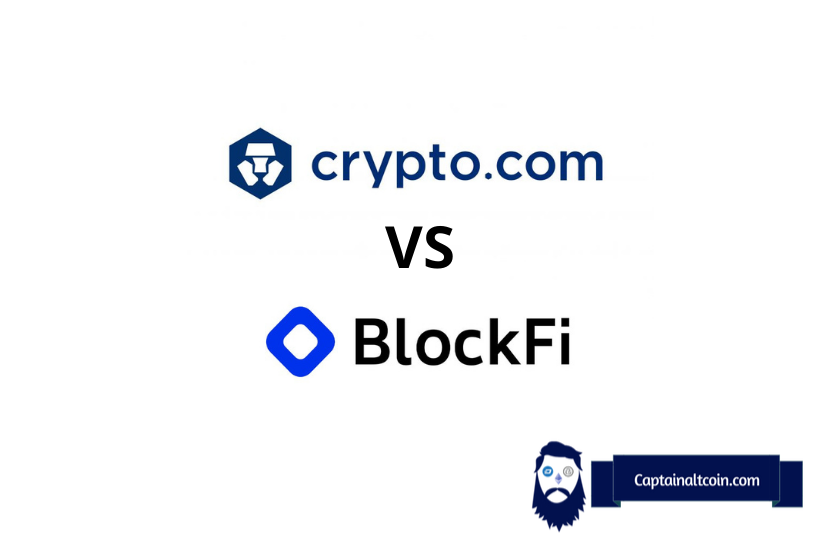 Just like in the FIAT world, also crypto offers a wide array of interest account options. Today we'll be comparing two main players in the space Blockfi and Crypto.com.
Introductions
---
BlockFi is a US based CeFi company offering high-yield interest accounts for your BTC, ETH and USDC. It's become a staple in the cryptoverse providing clients with an exchange, interest account, and credit card that are all interconnected.
Crypto.com is a BlockFi competitor and also offers a huge selection of crypto services and products. Most notably am exchange, interest account, staking platform, NFT storage platform, credit card, and so on. The whole ecosystem works via their native CRO token.
Comparing
---
BlockFi vs. Crypto.com: Key Information
| | | |
| --- | --- | --- |
| | BlockFi | Crypto.com |
| Reviews | BlockFi Review | Crypto.com Review |
| Site Type | Cryptocurrency interest account + basic exchange | Crypto exchange + crypto interest account + NFT exchange |
| Beginner Friendly | Yes | Yes |
| Mobile App | Yes | Yes |
| Card | Yes (Blockfi card review) | Yes |
| Buy/Deposit Methods | ACH, wire transfers,crypto deposits | ACH, wire transfers, PayPal, credit or debit card |
| Sell/Withdrawal Methods | External crypto wallet, bank account | External crypto wallet transfer, ACH |
| Available Cryptocurrencies | Bitcoin, Ethereum, Litecoin, Link + stablecoins | Bitcoin, Ethereum, Dogecoin, stablecoins, other altcoins |
| Company Launch | 2017 | 2016 |
| Location | Jersey City, NJ, USA | Hong Kong |
| Community Trust | Great | Great |
| Security | Great | Great |
| Customer Support | Good | Great |
| Verification Required (KYC) | Yes | Yes |
| Fees | Medium | Average |
| Site + Promo | Earn up to $250 on BlockFi | Earn up to $25 on Crypto.com |
Main Features
---
BlockFi is best described as Crypto Lending Platform, its three main offering are:
High-yield crypto savings accounts
All you have to do is deposit your funds to BlockFi and you'll earn monthly compounded interest from them. Just like with a bank account, but fortunately with a lot higher yearly returns.
Crypto collateral for loans
On BlockFi your crypto can be used as collateral for loans, without needing to sell any.
Cryptocurrency Trading
BlockFi also offers an exchange on which you can trade BTC, LTC, ETH, USDC & GUSD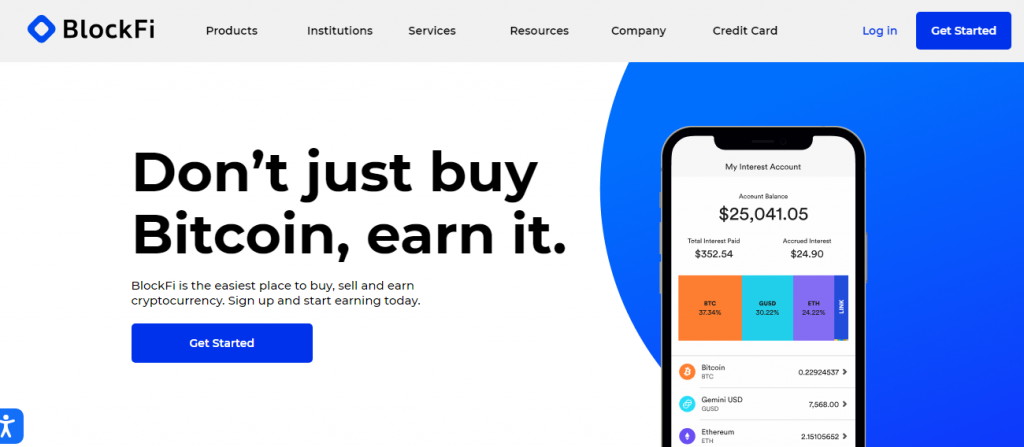 Crypto.com is on the other side a platform with even more crypto services Through the Crypto.com app you can:
Buy or sell crypto including stable coins (Wallet)
Deposit you crypto holdings and earn interest (Earn)
Buy everyday products with crypto (Pay)
Use crypto as a collateral for loans (Credit)
Receive cashbacks and free services (Crypto Visa Cards)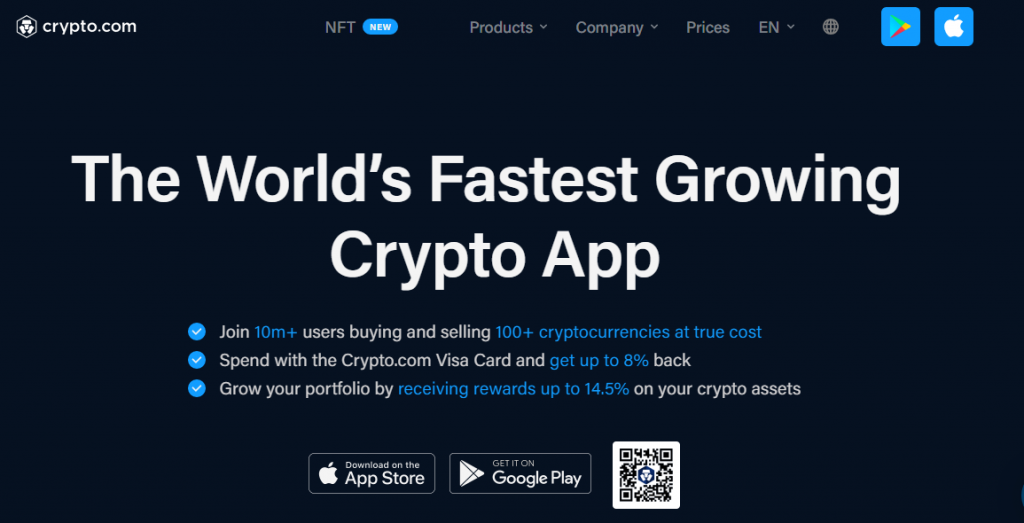 Interest Rates: Who'll earn you more, BlockFi or Crypto.com?
---
First of, BlockFi excels in its simplicity. This is a huge pro as users simply deposit their funds to calculate their saving yields. Additionally your holding are not time bond, you can retrieve them at any time.
Unlike Crypto.com that has chosen a more complex route. Their rates in fact vary based on the term chosen, be it flexible, 1-month, or 3-month term. On top of that users have to own the native CRO token to earn maximum interest, which makes everything more of a headache.
In other words, rates on Crypto.com depend on how much CRO you own. There are 4 tiers:
$400 or less in CRO
$401 to $4,000 in CRO
$4,001 to $40,000 or more in CRO
$40,001 to $400,000 in CRO
Sounds complicated? Let's dig deeper.
Bitcoin
---
BlockFi uses a tiered interest-rate system for Bitcoin. In other words, returns depend on how much Bitcoin you hold. Although they slightly fluctuate, rates are around:
4% for 0 – 0.25 BTC
1.5% for 0.25 – 5 BTC
0.25% for more than 5 BTC.
Crypto.com's Bitcoin ranges from 1.5% for accounts with less than $400 CRO to over 8.5% if you hold more than $40,000 CRO.
Ethereum
---
BlockFi uses a tiered interest-rate system also for Ethereum. Current rates are:
4% for 0 to 5 ETH
1.5% for 5 to 50 ETH
0.25% for over 50 ETH.
Crypto.com offers Ethereum rates from 3.5% for users with less than $400 in CRO and over 8.5% for users that hold more than $40,000 in CRO.
Altcoins
---
| | | |
| --- | --- | --- |
| Coin Name | BlockFi | Crypto.com |
| Chainlink | 3% (0 – 750 LINK), 0.5% (>750 LINK) | 0.5% – 5% |
| Bitcoin Cash | N/A | 0.5% – 5% |
| Compound | N/A | 0.5% – 5% |
| Cosmos | N/A | 0.5% – 5% |
| UNI | 3.75% (0 – 750 UNI), 1.5% (> 750 UNI) | 0.5% – 5% |
| Dogecoin | N/A | 0.5% – 5% |
| Litecoin | 4.5% (0 – 100 LTC), 2% ( >100 LTC) | 0.5% – 5% |
| Polkadot | N/A | 6% – 14.5% |
Stablecoins
---
| | | |
| --- | --- | --- |
| Coin | BlockFi | Crypto.com |
| Tether | 7.5% (0 – 50,000), 5% (> 50,000) | 6% – 8.5% |
| GUSD | 7.5% (0 – 50,000), 5% (> 50,000) | N/A |
| USDC | 7.5% (0 – 50,000), 5% (> 50,000) | 6% – 14% |
BlockFi is undoubtedly a lot easier to use and accessible to all investors, even rockies. And not only that, the returns are usually higher if you do not hold huge amounts of funds.
Crypto.com asks a lot from its users. The entry bar is set high when the platform reserves the highest yield to people holding $40,000 to $400,000 in CRO tokens. Besides, there's also the added risk of CRO depreciating. Your $40,000 invested in CRO could be worth only $35,000 one month from now, and you'll have to buy more.
In conclusion BlockFi wins this round, it is the better and less complex platform at least for people who can't afford huge CRO investments.
Payouts and Withdrawals
---
The interest users earn on BlockFi is earned daily and paid out once a month. This is slightly different then other competitors that payout the interest earned on a daily basis. These funds can then be withdrawn in stablecoins once a month. But if you go past this trehold you will incur a charge.
Alternatively, Crypto.com withdrawals are done on-chain. But users have the option to avoid these fees by simply using the withdraw to app function.
Crypto.com interest out daily, but it unfortunately does not compound.
This round again goes to BlockFi. It is miles ahead with its free withdrawals and compounding. The only redeeming quality of Crypto.com's function is that interest is paid daily instead of monthly, but this is not in my opinion enough to justify the rest.
Security
---
Both platforms take security as a priority. Neither has even suffered a breach or any other major security issues.
BlockFi holds almost all users' funds 95% in cold storage. These are managed by Gemini which holds a SOC certification, the risk of any external breaches is low to none.
Crypto.com partnered with Ledger to keep almost all of the user's funds in cold storage. On top of that it is audited by Bureau Veritas on a regular basis and uses hardware security modules and multi-signature technologies.
BlockFi and Crypto.com use additional user security checks like the 2-factor authentication. They also have FDIC insurance up to $250 thousand in FIAT.
In conclusion there's both offer impeccable security. Crypto.com nuggets it as it keeps 100% of users' funds in cold storage.
CRO Token Analysis
---
As already mentioned, to earn rewards on Crypto.com you need their native CRO token. The token is the basis of the whole ecosystem, without it you cannot do much on Crypto.com.
And CRO is very volatile and risky, much like all crypto. And considering the yield you receive is based on how much CRO in dollar value you hold that's less than ideal. If for example you purchased CRO in August 2020 you'd experience a 60% drop in the months to come. And again in March 2021 it spiked to the heights of $0.24 and in May crashed right down to $0.10.
We of course know that crypto is one crazy rollercoaster. But is it worth it in this case?
In this article we've mainly been comparing Crypto.com Earn features with BlockFi, so in that key the CRO token is a huge liability. Earning interest on your crypto should be a risk free way of crypto passive income and a stable way of making money in the space, CRO flips that concept on its head. By holding CRO in fact we make gaining interest arguably too much of a risk.
This is the biggest problem I found with Crypto.com.
The whole concept along with the custodial nature of Crypto.com goes against the ethos of crypto. And would be my number one reason to stay away from the platform.
Although it has to be said that with higher risk comes higher rewards, with Crypto.com offering the highest yield in the space. But that doesn't make up for all the additional risk.
Besides, the CRO token holds no real fundamental investment value. The use case of the token is pretty much nonexistent outside the Crypto.com. I wouldn't recommend it, not even as an investment on its own.
The Trust Factor
---
It is safe to say that both platforms are as legit as they get. Even though there obviously some issues, particularly with Crypto.com it is safe to say that they are not scams, but reliable platforms with millions of active users.
But it is good to keep in mind that neither are as risk free as traditional saving accounts. In fact due to regulations earning interest on your crypto is not FDIC insured. So if the companies fail your funds are as good as gone.
Furthermore it is their business model to lend your crypto to other third parties. These are used in non risky investments and with extreme precautions but it does add a layer of risk raising questions about the benefits of custodial services.
Read also:
Extra Features
---
Crypto.com and BlockFi both offer a credit card. These allow for users to earn interest on everyday purchases.
However the BlockFi card is again, a lot easier to use. It is free to apply for and does not charge any annual fees. The card is the same for all and it's not difficult to understand how it works.
The Crypto.com credit is a headache. There's different tiers we mentioned earlier and rewards are based on how much CRO you hold. They vary between 1-8%, but you'll need at least $400 thousand to access the highest yield.
The Verdict
---
BlockFi and Crypto.com are both good and reliable platforms. But BlockFi is the better option for most people. The platform is easy to use, does not have complex rules and is accessible to everyone. All while offering high yields.
The most important consideration should be SAFETY when considering these services.


BlockFi has Fidelity, The Winklevoss twins, Pomp, and Peter Thiel's VC fund as its investors. That's as legit as you can get. No other competitor comes even close to that.
The downside of Crypto.com is that it requires users to own their native CRO token to access the best yields. It comes with the additional risk of owning a volatile asset that depreciates from time to time. But if you look past that and are willing to take that risk, buying a lot of CRO, the pros are undeniable. When the tokens and lockup period are maxed out the yield is the highest in the CeFi crypto space.
But beware both of the platforms are custodial, meaning that users do not hold their crypto. Giving a central institution your funds goes against the whole idea of crypto and leaves you vulnerable to all sorts of power abuses.

CaptainAltcoin's writers and guest post authors may or may not have a vested interest in any of the mentioned projects and businesses. None of the content on CaptainAltcoin is investment advice nor is it a replacement for advice from a certified financial planner. The views expressed in this article are those of the author and do not necessarily reflect the official policy or position of CaptainAltcoin.com