The National Digital Asset (NDAX) Review – Fees, Deposit Methods, Supported Coins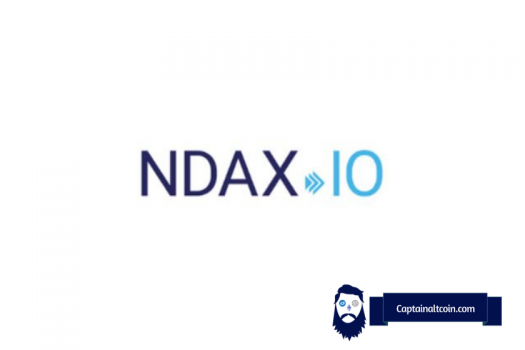 The National Digital Asset (NDAX) Review – Fees, Deposit Methods, Supported Coins
✅ Low trading fees of 0.20%
✅ Free of charge deposits
✅ Quick ID verification
✅ Fast processing times for both deposits and withdrawals
✅ Good customer support
✅ Referral program full of benefits
✅ Advanced order types including stop orders, stop-limit orders, trailing stop orders, and more
The National Digital Asset Exchange (NDAX) is a Canadian cryptocurrency exchange. It offers trading services for all major digital assets such as Bitcoin, Ethereum, Litecoin, XRP, Cardano, and even stablecoins like Tether.
The platform is designed for Canadian traders looking to buy crypto with their Canadian dollars.
But as we all know, there are thousands of other big and small cryptocurrency exchanges, so what makes NDAX unique, and how does it compare with competitors?
Let's take a look!
What is NDAX?
---
NDAX is a crypto-trading platform founded in 2018 based in Calgary, Canada.
The value proposition of NDAX is the extremely low trading fees.
In addition to the trading platform, another exciting feature is NDAX Wealth, an Over-The-Counter trading service ideal for users who want to buy at a fixed rate.
NDAX – Summary of Features
17 coins are available on NDAX, including Bitcoin, Dogecoin, Ether, Cardano, USDC, and more
The trading service is ideal for both beginners and experienced traders
Free of charge deposits and competitive fees for both trading and withdrawals
The company is registered as a Money Service Business (MSB) and subject to applicable FINTRAC regulations.
Customer support via email, chat, and phone hotline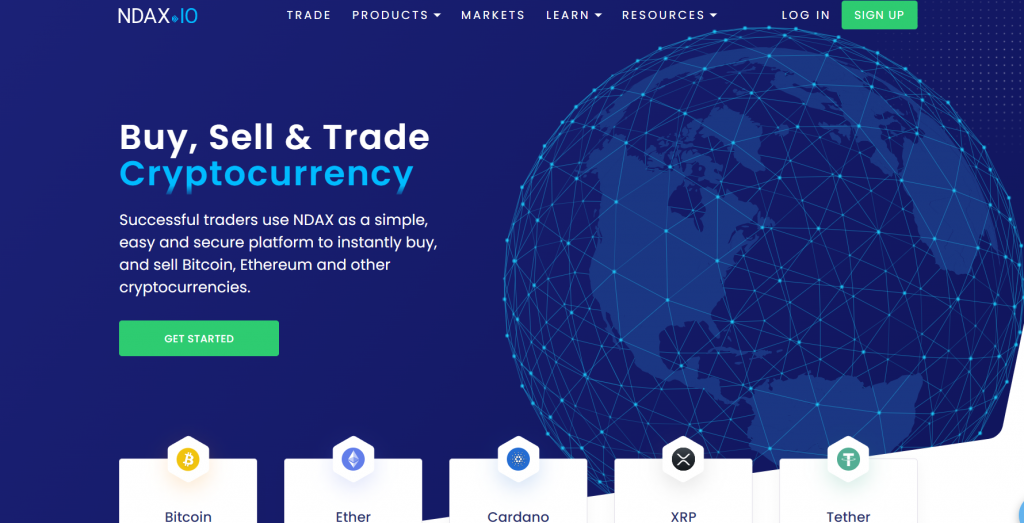 KYC procedure
---
To start trading on NDAX, you as expected have to complete KYC verification. All though it does offer quick ID verification so that the step won't take much time.
You'll need a valid government-issued ID is required, and you can upload a passport, driver's license, or ID Card. And to verify it all, you'll have to submit a selfie-
KYC is standard for centralized crypto exchanges as they all have to ask for verification, but NDAX takes it a step further. The platform, complying with Canadian law, users cannot trade even small amounts without going through KYC.
The strict rules are detrimental to anyone who values privacy and wants to trade without these restrictions. Having to prove your identity to trade your crypto goes against the decentralized ethos of crypto. The institution, as well as the government, see all your transactions.
Crypto Assets Available on NDAX
The coins available on NDAX are:
Tether (USDT)
The Graph (GRT)
USD Coin (USDC)
The list is not satisfying. NDAX offers little choice compared to the competitors' selection. Some big names are missing, such as Litecoin, Bitcoin Cash, Monero, and so on, making the selection not even enough for intermediate-level traders looking to invest in top-50 projects.
For a platform to be competitive nowadays, it cannot miss out on so many staples, even for beginners. The lack of cryptocurrency choice is the biggest issue I found with NDAX. Hopefully, more will be added in the future.
NDAX Fees
---
NDAX has notoriously low trading fees and commissions. As a result, the company places itself among the cheapest Canada-based cryptocurrency trading platforms. The processing time for withdrawals and deposits is also very competitive.
Traders face a flat fee of 0.20%. And unlike many other crypto sites, there's no fee for deposits.
Let's take a look:
| | | | | |
| --- | --- | --- | --- | --- |
| Funding Method | Deposit | Withdrawal | Fees | Processing Time |
| Interac e-Transfer | No min/max | N/A | $0 | 0-30 minutes |
| Wire Transfer | No min/max | No min/max | Free for deposits; $25 flat fee withdrawals | 0-1 business day |
| Bank draft | No min/max | No/max | Free for deposits; $25 flat fee for withdrawals | 0-1 business day |
Cryptocurrency deposits are free and occur instantly.
For crypto withdrawals, you pay:
Bitcoin: 0.000399 BTC
Litecoin: 0.0499 LTC
Ether: 0.0099 ETH
XRP: 3 XRP
EOS: 1 EOS
Stellar: 8 XLM
Dogecoin: 10 DOGE
Cardano: 3 ADA
Chainlink: 0.35 LINK
Tether: 3.5 USDT
Polkadot: 0.3 DOT
Tether: 16 USDT
Uniswap: 0.3 UNI
Compound: 0.015 COMP
Aave: 0.025 AAVE
Is NDAX Safe?
---
NDAX is a safe and legit company registered with the Financial Transactions and Reports and Analysis Centre of Canada (FINTRAC) as a Money Service Business.
Users' funds are safe as the majority are held in offline cold storage. What this means is that the funds are essentially unstealable as no hacker can gain access to them.
The platform also uses standard industry practices to keep your funds safe, such as 2-factor authentication and DDoS mitigation.
But remember, the platform is custodial, so your funds will be kept by the centralized institution. This can potentially mean that your funds are not in safe hands. And as they no your keys, not your coins.
NDAX Referral Program
---
NDAX also offers a generous referral program that pays up to $25 per referral. The program has three tiers: Avid, Ambassador, and Partner.
The tier each user falls into is decided based on how many users join the platform via the link on a monthly rolling average basis. Therefore, the higher the tier, the more you earn.
Avid (0-10 users); you both get $10
Ambassador (10-20 users); referral gets $10, you get $15
Partner (20+ users); referral gets $10, you get $25
NDAX has a good referral program that is quite competitive. Rewards are decently high, and it doesn't take too much to get to a higher tier. 
Features of NDAX
---
User-friendly interface
---
NDAX has an easy-to-grasp and user-friendly interface ideal for beginners. As you can see from the photo below, it only takes a glance to see where everything is.
Mobile app for iOS and Android
---
NDAX has a mobile app available for iOS and Android. On it, users can trade anywhere they are. Keep an eye on prices, track your portfolio, use advanced trading features, securely store your crypto, and send crypto to friends, all from within the app.
OTC Desk for large trades
---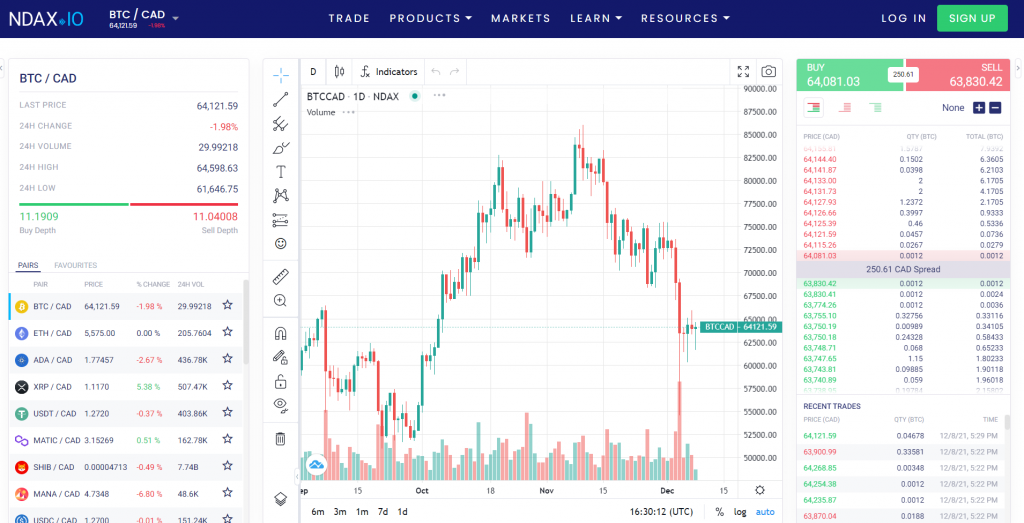 Ideal for large institutional investors and High Net Worth Individuals, Over The Counter (OTC) trading desk is available on NDAX Wealth.
The feature is reserved for trades of over $200,000, with the benefit that the assets can be bought off the market at a fixed price without suffering from price volatility.
Using NDAX, wealth users gain access to a deep liquidity pool to enable quick transactions and no price slippage. On top of that, clients transacting receive customer service assistance from NDAX with all their large orders.
Quick Buy/Sell feature
---
NDAX makes selling easy, designed for users unfamiliar with trading on the market. Click on the coin you want to buy or sell, choose the amount available both in fiat or cryptocurrency, and go on to buy or sell, just like that.
Advanced charts and order types
---
NDAX also offers features for more experienced crypto traders. The professionals can access advanced charts with analysis tools such as trend lines, measurements and predictions, and annotations. Additionally, there are many order types such as market, limit, stop loss, trailing stop market, fill or kill and IOC (immediate or cancel).
24/7 Customer Support
---
NDAX excels at providing customer service, offering 24/7 support for anything you need, even via a hotline. Additionally, the Live Chat, as well as email, offers generally relatively quick responses.
What I Don't Like About NDAX
---
Limited range of cryptocurrencies: NDAX only offers 19 cryptocurrencies, way less than other competitors. Some investors may not see any issues with this, but most will. The selection isn't even enough for beginner crypto as some big names such as Litecoin and Bitcoin Cash are still missing.
So if you're looking for smaller unique coins to invest in or even just a complete name of large-caps, you'll find a better selection with other competitors. Binance, for example, offers over 300+ coins, making it better for both beginners and non.
Expensive withdrawal fees: NDAX charges way too high fees for withdrawing CAD when increasingly competitors are charging less. A whopping $25 is charged for every withdrawal, without a doubt not a tiny amount for the average retail trader who doesn't withdraw thousands every time.
No staking available on the platform: Unfortunately, you read that right. If you are a long-term investor, you'll be sorry to hear that there's no option to stake your coins on NDAX. If you want to earn passive income on your crypto, you'll first have to send them to another wallet, a bit lacking by the part of NDAX. All exchanges should have and usually do include a staking service.
NDAX vs. Competitors
---
Let's take a look at how NDAX compares to other popular Canadian crypto exchanges.
NDAX VS Newton
---
Newton is a Toronto-based crypto trading platform launched in 2018. The platform has since grown to over 200 thousand users.
Similar to NDAX, fiat currency and crypto assets deposits are free of charge. In addition, CAD withdrawals are also free with Newton, unlike NDAX that charges $25 for them.
Mining fees on Newton are up to $5, while NDAX charges a flat fee.
Newton also offers a trading spread between 0.5-0.7%, higher than NDAX, which charges a 0.20% trading commission.
Newton offers traders over 20 cryptocurrencies, one more than NDAX but still nothing special.
Overall, both platforms are more or less the same quality ways. But for smaller investors, the $25 NDAX withdrawal fee is a big drawback.
NDAX vs. Bitbuy
---
Founded in 2016, Bitbuy is another famous Canadian crypto exchange.
The platform offers nine crypto assets, including Bitcoin, Bitcoin Cash, Ethereum, EOS, Litecoin, Stellar XLM, and XRP. Comperetavely NDAX has 19.
Bestbuy's fees are higher than NDAX. They charge for CAD deposits: 1.50% for e-transfers and 0.50% for bank wires. And the withdrawal fee for either e-transfers or bank wires is 1.50%.
NDAX, on the other hand, offers free deposits but a just as high flat fee of $25 for withdrawals. So by this comparison, NDAX's offering is superior to Bitbuy's.
NDAX vs. Coinsquare
---
Coinsquare lists 10 of the biggest cryptocurrencies such as Bitcoin, Ethereum, and Dogecoin.
Founded back in 2014, Coinsquare is one of the first Canadian cryptocurrency platforms in Canada.
But not without its fair share of controversies, in 2020, Coinsquare was charged OC market manipulation charges.
Work has been done since, but dishonesty is undoubtedly not what you want to see when talking about cryptocurrency exchanges.
Additionally, funding your account can be pretty costly as wire transfers come with a fee of 1%-2%.
The withdrawal fee is a big con, given that many other crypto platforms allow free CAD withdrawals.
And similarly to NDAX, the trading fee is between 0.1% and 0.2%. Coinsquare's spreads on the other side are slightly higher than the NDAX's. When compared, NDAX comes out on top, offering lower spreads, fees, and a more intuitive and user-friendly platform.
Verdict
---
Compared to its Canadian competitors, NDAX is probably among the best-centralized exchanges. The platform offers lower fees, more choice, and an intuitive design than other companies in the market.
But it's an entirely different story when comparing NDAX to global cryptocurrency exchanges such as Binance or Coinbase. The NDAX selection of only 19 cryptocurrencies compared with the hundreds offered by other platforms does not go unnoticed. The selection is not enough for experienced traders looking for small-cap gems and not even beginners, as some top 20 big projects are also missing.
Another issue is the lack of a staking service, a feature that all market leaders include. In today's ever-changing crypto space offering a way for investors to earn passive income with their coins is essential when competing with traditional finance.
Put the high withdrawal fees into the mix and what comes out is one mediocre platform. In conclusion, NDAX does well in the Canadian space but cannot compete with multinational crypto exchanges. 
If you are not fond of the NDAX exchange, make sure to check out our guides on other cryptocurrency exchanges:
Deposits & Withdrawal Methods
7.5
PROS
✅ Low trading fees of 0.20%
✅ Free of charge deposits
✅ Quick ID verification
✅ Fast processing times for both deposits and withdrawals
✅ Good customer support
✅ Referral program full of benefits
✅ Advanced order types including stop orders, stop-limit orders, trailing stop orders, and more
CONS
❌ Accepts only Canadian Dollars as FIAT payments
❌Only available to Canadian residents
❌ Few Coins Available

CaptainAltcoin's writers and guest post authors may or may not have a vested interest in any of the mentioned projects and businesses. None of the content on CaptainAltcoin is investment advice nor is it a replacement for advice from a certified financial planner. The views expressed in this article are those of the author and do not necessarily reflect the official policy or position of CaptainAltcoin.com