Mandala Exchange Review – Fees, Supported Countries & Coins, Deposit & Withdrawals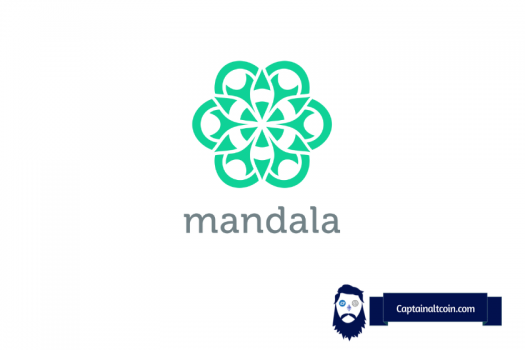 Mandala Exchange Review – Fees, Supported Countries & Coins, Deposit & Withdrawals
Extremely easy to use an exchange (not laggy, you can find everything you need easily)
Trading fees lower than the world's average (0.10%)
Collaboration with Binance cloud highly increases the security and legitimacy of the exchange
A complete list of withdrawal fees for each token (over 100 supported tokens)
No deposit fee
Has a decent native wallet
Decent rewards for owning and locking their native token (MDC)
Great FAQ section and efficient customer support (at least based on users' experience)
Available on desktop, iOS, and Android systems
Mandala Exchange Overview
---
As the crypto market is constantly growing, the number of exchanges crypto investors and traders can use to increase their profits grows as well. But, it is not an easy task to find the exchange that suits your goals.
In this article, we will take a look at one of the ambitious exchanges that have a high-quality team and a decent number of users. The name of the exchange is Mandala.
Mandala is a cryptocurrency exchange that traders can use to buy and trade various crypto. When I started investigating Mandala, one of the first impressions I had was that the platform offers high speed, efficient interface, security, and nice trading experiences. Mandala Exchange is based in Valletta, Malta.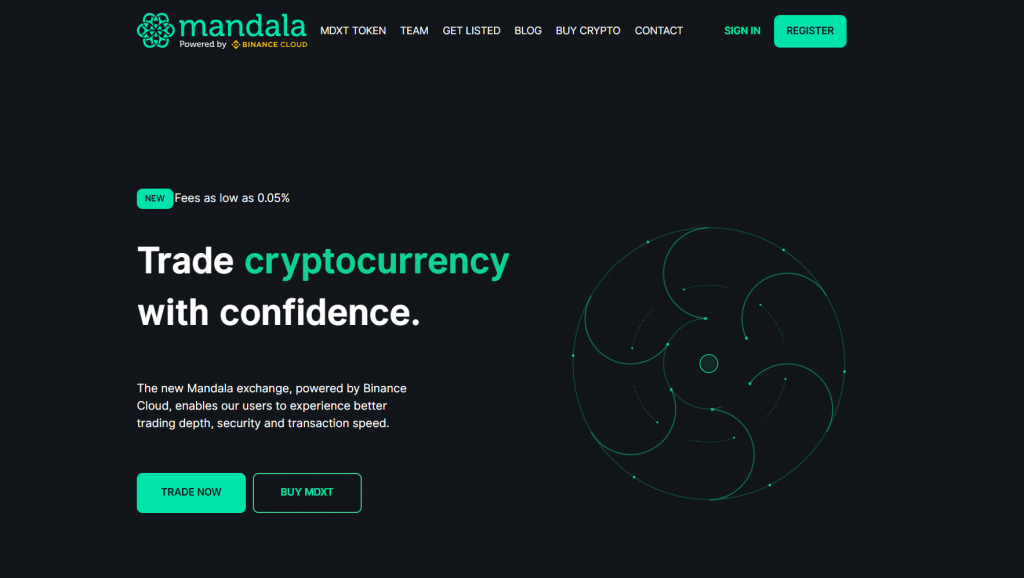 Furthermore, one of the vocal advantages of the exchange is its collaboration with Binance. In fact, the Mandala exchange is powered by Binance Cloud with a liquidity pool that automatically separates the platform from its direct competitors.
Binance is the largest crypto platform in the world. Binance Cloud is just one of the many projects created and supported by the platform. For those of you who do not know, as per Binance's official website, Binance Cloud is "an all-in-one solution for partners to launch digital asset exchanges quickly. Leveraging Binance's technology, security, and liquidity, Binance Cloud provides the exchange infrastructure while enabling partners to focus on business development and operations."
Besides Binance Cloud, another fact I heavily liked about Mandala is that the exchange is pretty easy to use. Also, the platform is not laggy at all, which is always a good sign.
This is where it becomes interesting. So, let's go into the details.
Services & Features
---
Mandala exchange offers a limited number of features and services to its users, and this is one of the main disadvantages of the platform. However, even though services are limited, the ones that are available on the exchange work pretty nicely.
"Trade with confidence" is the first sentence you see when you open the exchange.
Before actually using any of the features, you have to create an account on Mandala. The process is pretty straightforward; all you need to do is:
Enter an email
Enter a password
Verify that you are not a robot
Verify an email with the code they instantly sent you
That's it; you are done in less than 2 minutes
Now, let's investigate the main feature of the Mandala, which is simply called "Trade now."
Exchange/Trade now
---
The section for trading is called "Trade now." The location of the button is on the top left corner of the homepage. With Mandala, you can start trading with pairs and compare currencies for both fiat and cryptocurrencies.
The design of the section seems fine, and the charts look understandable as well. When I looked at Mandala's competitors (such as the ZT exchange), these charts know to be pretty confusing, especially for beginners. But, with Mandala, that's definitely not the case.
Moreover, Mandala offers time indicators (15m, 1H, 4H, 1D, 1W, or 1M) that you can use to better understand price movements and make a decision. Traders can look at current orders, order history, trade history, and funds in the "Trade now" section.
Of course, there are buy green and sell red buttons, but this is a standard thing for all exchanges and nothing innovative for Mandala. Finally, Mandala has a token of its own called "Mandala Exchange Token," which can be used to reduce trading fees. But, more about their token later in the article.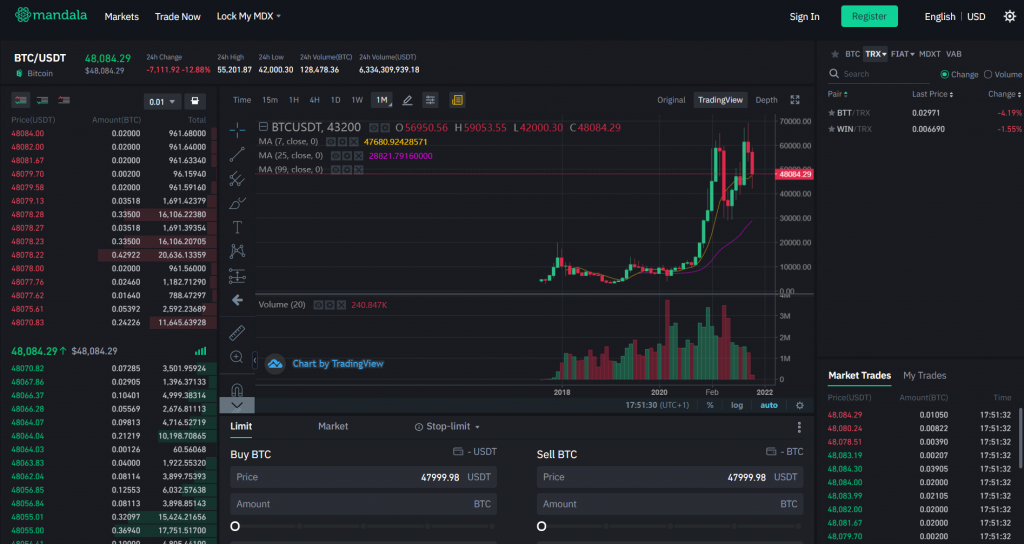 Mandala Exchange supported coins
---
In the "Trade now" section, coins that you can check and see their price movements are Bitcoin (BTC), Ethereum (ETH), Ripple (XRP), Binance Coin (BNB), and Tron (TRX).
However, when you check the "Markets" section (located next to the trade now), you can see that Mandala actually supports more than 100 cryptocurrencies such as DOGE, AVAX, LTC, WBTC, DOTA, LUNA, VET, ICP, ETC, CAKE, EOS, SOL, ALGO, and many others.
All of these are instantly compared to BTC, and once you click on it, charts similar to the ones on the "trade now" section will appear where you can check the coin movement in the past few hours, days, or months as well as market cap, and 24-hour volume.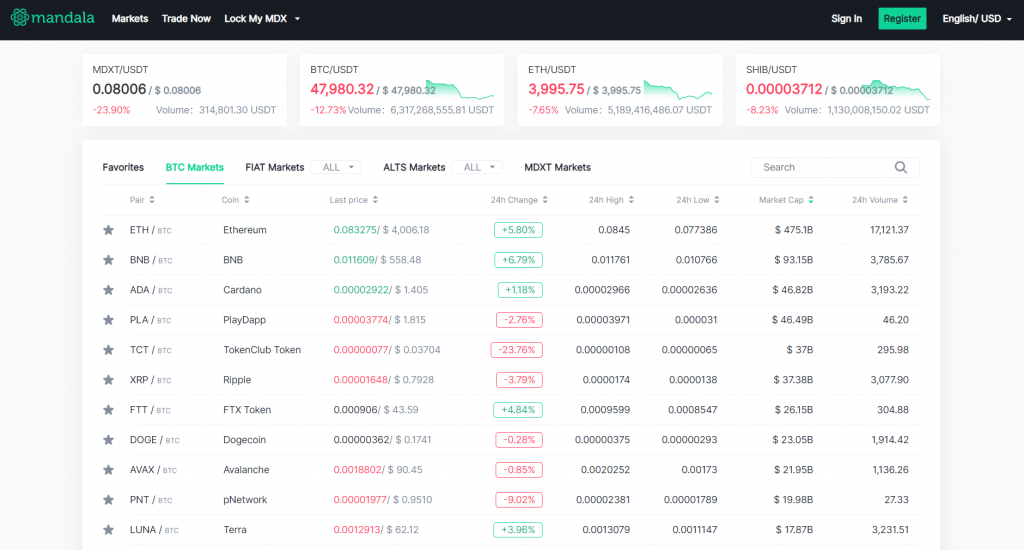 Mandala Exchange deposits & withdrawals
---
Keep in mind that if you want to use Mandala exchange and deposit some funds to your account, you have to own some cryptocurrency. Once I opened the deposit section, I found out that only crypto can be put into your account. This is a negative side of the exchange since complete beginners (who do not own any kind of crypto) can't start with Mandala.
On the other hand, the positive thing with Mandala deposits is that you can literally choose from more than 100 cryptocurrencies you can deposit to your account. You have to select a type of crypto, of course, then the network and Mandala will show you the address where you need to send the funds.
👉 The address is the most important thing in this process. Even Mandala is warning you, "Sending coin or token other than BTC to this address may result in the loss of your deposit." So, make sure to double-check the address when you copy it and to send the correct crypto as well.
Once you complete these steps, the funds will appear in your Mandala wallet.
When it comes to withdrawals, the process is pretty much the same. You just need to select a cryptocurrency you wish to withdraw, copy the address where you want to send it, and type the amount. My advice here is to tick the "save address" box if you want to send coins frequently to that address (so that you do not have to copy it each time).
So, as far as I saw, Mandala does not support fiat deposits and withdrawals.
Fees
---
Mandala does not have any deposit fee; in other words, the deposit is cost-free. When it comes to withdrawal fees, they vary from token to token. Mandala did a good job here and provided a complete list of fees for each token.
For example, the withdrawal fee per Bitcoin is 0.00088 BTC. When you compare it to the world's average (around 0.0006 BTC), it is actually higher. If you want to check a complete list of fees for each token on Mandala, please click here.
A complete list of fees for each token is another positive thing about Mangala (their competitors rarely provide this kind of info with so many details).
Mandala Exchange Trading Fees
---
If Mandala's withdrawal fee, we can conclude that it is higher than the world's average, the situation with the trading fee is quite the opposite. To be precise, the trading fee on the Mandala exchange is 0.10% which is lower than the world's average.
What is also worth noting is that you can decrease your trading fees by locking the required amount of MDXT in their Mandala Exchange wallet for a period of 30 days. Once the 30-day locking period finishes, you will receive your rebates via a credit to your Mandala Exchange wallet in USDT.
Here's the system how the process of reducing your trading fee works:
Lock 20,000 MDX – Rebate 0.01%
Lock 40,000 MDX – Rebate 0.02%
Lock 80,000 MDX – Rebate 0.03%
Lock 160,000 MDX – Rebate 0.04%
Lock 320,000 MDX – Rebate 0.05%
An offer seems reasonable, and Mandala urges you to own their native token this way which is not anything innovative.
Does Mandala Exchange have mandatory KYC?
---
Mandala exchange does not have a mandatory KYC (Know Your Customer) verification system. However, if you want to increase your withdrawal limit and make yourself a legit Mandala user, my suggestion is to verify your account.
Mandala Exchange supported countries
---
Mandala has provided a list of countries that the platform currently does not support. Here is a complete list:
USA
Albania
Belarus
Bosnia
Burma
The Central African Republic
Democratic Republic of Congo
Democratic People's Republic of Korea
Cote D'Ivoire
the Crimea region of Ukraine
Croatia
Cuba
Herzegovina
Iran
Iraq
Kosovo
Lebanon
Liberia
Libya
Macedonia
Moldova
Serbia
Somalia
Sudan
South Sudan
Syria
Venezuela
Yemen
Zimbabwe
Province of Ontario
Are US investors allowed on Mandala Exchange?
---
A big part of the crypto exchanges does not allow US citizens to use their platform due to the SEC (the Securities Exchange Commission). Mandala is one of those exchanges that are not available in the US since US citizens can not use Mandala exchange.
Does Mandala Exchange have Fiat Deposit?
---
No, the Mandala exchange does not have a fiat deposit. When you open the "deposit" tab in your Mandala account, the only way to deposit funds is if you own some kind of crypto.
In other words, if you wish to use Mandala but you do not own any form of crypto, you have to first buy it on some of the exchanges that do support fiat deposits. Since Mandala does not have fiat deposits, it is not suitable for complete crypto beginners.
Does Mandala Exchange have a Native Token?
---
What I noticed while investigating various exchanges around the world is that there are no rules when it comes to their native token in terms of "Do they have it or not?". However, more often than not, an ambitious and robust exchange does have a native token.
Mandala has a native token, and its name is Mandala Exchange Token (MDX).
Mandala urges its users to own MDX since you can have significant advantages like trading fee discounts, referral rewards, and specialized trading capabilities. This is a standard procedure for all exchanges that have a native token.
If you are an owner of Mandala's native token (MDX), you can receive discounts and unlock advanced features.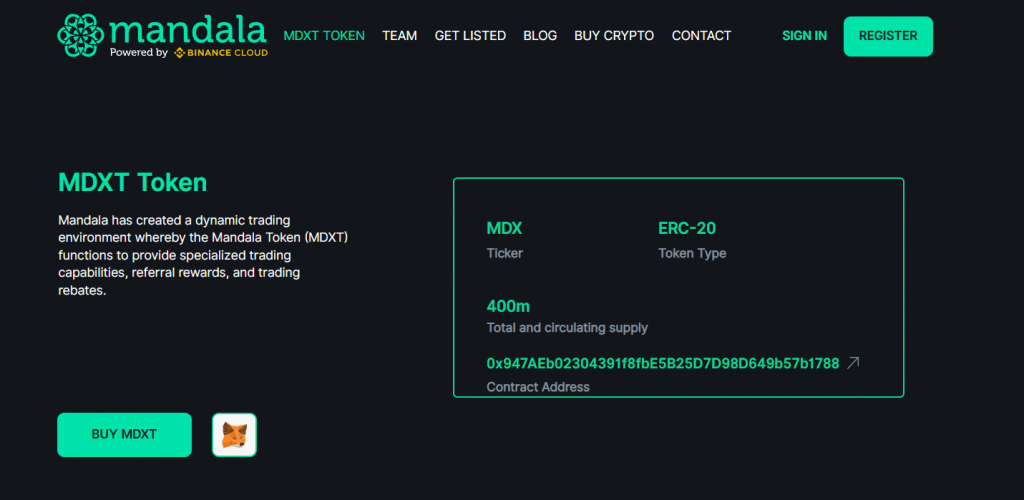 Is Mandala Exchange legit and safe?
---
Mandala exchange does not have a mandatory KYC (Know Your Customer) verification system. But, as always, I highly recommend verifying your account since you are not only increasing your withdrawal limit but also making yourself a completely legit user of the platform.
The verification process is pretty straightforward. First, you have to enter some personal information (first and last name, your address, etc.) and then start the ID verification by providing a valid photo of the accepted document. Furthermore, you can secure your account with a 2FA (two-factor authentication) system.
When it comes to security in general, I would consider Mandala a completely secure platform. First of all, I have not found negative reviews about the exchange. Secondly (and probably most importantly), Mandala is protected by Binance's cutting-edge security. Collaboration with a platform like Binance means only one thing – you can trust Mandala, and it is legit.
Finally, users' funds are also secured by SAFU (secure asset fund for users), which is an emergency insurance fund and is considered a safe method.
Conclusion
---
Mandala exchange is a cryptocurrency platform that has a collaboration with Binance. To be completely honest, I have mixed feelings about Mandala. Collaboration with the Binance cloud is probably the biggest plus of the platform. The second thing I liked is the fact that the platform is extremely easy to use and, therefore, it is suitable for beginners in the crypto world.
However, there are quite a few negative sides of the platform that have to be mentioned. When the exchange is not available in the US, that's always a red flag for me. The reason is pretty simple; the US market is still the largest crypto market in the world. When some particular platform is not available in the US, they are highly limiting their potential.
Furthermore, you have to own some crypto before actually using the exchange. So, even though Mandala is easy to use, complete crypto beginners have to first buy assets on some other exchange and then come to Mandala.
Keep in mind that these are only my opinions based on my thorough investigation of the exchange. Please do your own research before deciding whether you want to use the Mandala exchange or not.
At this point, it is good to note that all opinions and suggestions written in this article are not considered financial advice.
BEWARE of the fact that Mandala is available in only limited number of countries and they are a bit obnoxious with their native token promotion, it is being forced on their users a bit too much.
If you are not fond of the Mandala exchange, make sure to check out our guides on other cryptocurrency exchanges:
FAQs
---
Let's look at some of the frequently asked questions when it comes to the Mandala exchange.
Deposits & Withdrawal Methods
7.5
PROS
Extremely easy to use an exchange (not laggy, you can find everything you need easily)
Trading fees lower than the world's average (0.10%)
Collaboration with Binance cloud highly increases the security and legitimacy of the exchange
A complete list of withdrawal fees for each token (over 100 supported tokens)
No deposit fee
Has a decent native wallet
Decent rewards for owning and locking their native token (MDC)
Great FAQ section and efficient customer support (at least based on users' experience)
Available on desktop, iOS, and Android systems
CONS
Not available in the US
It cannot be used in more than 30 additional countries
Forcing their native token (MDX) can be overwhelming for some users
A limited number of services and features
No fiat deposits

CaptainAltcoin's writers and guest post authors may or may not have a vested interest in any of the mentioned projects and businesses. None of the content on CaptainAltcoin is investment advice nor is it a replacement for advice from a certified financial planner. The views expressed in this article are those of the author and do not necessarily reflect the official policy or position of CaptainAltcoin.com