BW Exchange Review – Fees, Deposit Methods, Supported Coins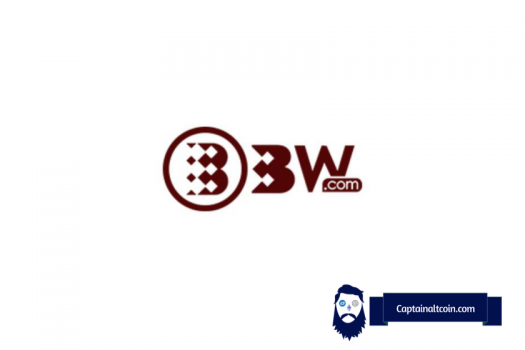 BW Exchange Review – Fees, Deposit Methods, Supported Coins
✅ It offers leveraged trading
✅ It has some attractive staking programs with some high returns
✅ It allows the purchase of coins using bank cards
✅ It offers Initial Exchange Offerings
The BW(meaning Bitcoin Website) exchange was created in January 2017 after having functioned as a Bitcoin Mining Pool for three years before that. In its heydays, the exchange was one of the top ten exchanges worldwide by market volume. It has since fallen out of popularity and currently sits below the top 200 according to CoinmarketCap rankings.
Even though the cryptocurrency exchange is not as popular as it once was, it still holds its ground, raking in about 60 million dollars worth of trade volume per month. Therefore, we will treat the various features of this exchange in this article and examine why it may or may not be a good choice for you.

OVERVIEW
---
It was initially a Bitcoin Mining pool before being converted to exchange in 2017
It offers both spot and margin trading.
They have a presence on many social media handles
It has a mining pool incorporated into its features.
To date, the mining pool has mined approximately 300,000 BTC, 1.5M LTC, and 2M ETH, quite impressive.
It offers Initial Exchange offerings through its Launchpad feature.
It supports 39 digital currencies as well as three fiat currencies
It has a function through which users can deposit fiat using bank cards
It has a decent mobile application
It has a decent customer service
SERVICES AND FEATURES
---
BUY AND SELL CRYPTO
---
This is one of the most prominent features of the exchange, as expected. The exchange currently supports 39 coins traded in 45 markets, with BTC, ETH, and USDT taking the lead among them. These coins can be traded against themselves and also bought with any of the three fiat currencies present on the platform. The three currencies are United States Dollars(USD), Chinese Yuan Renminbi(CNY), and the South Korean Won(KRW).
The OTC(Over The Counter) function of the exchange allows the user to buy crypto directly with USD, KRW, and CNY. More fiat currencies will be supported in the future.
EXCHANGE
---
SPOT TRADING: The spot trading feature of the exchange offers both limit and stop-limit orders. Limit orders are orders that are executed at preset conditions. They sit on the order book and are not immediately executed. Stop-limit orders are put in place to mitigate immense losses when the market turns unfavorable. They sell off the tokens at a predetermined price before it goes down further.
MARGIN TRADING: This is a popular trading feature where you borrow funds from the exchange to maximize your trading position. This trade option allows you to go with the market in either direction. Thus, you can make a profit even if there is a price dump in the market at that point. On the BW exchange, six coins can be traded with margin; they are Bitcoin, Ethereum, Ripple, Litecoin, EOS, and Tron. The maximum leverage on the margin trading function of the exchange is 20x.

BW EXCHANGE STAKING
---
The staking function of the exchange can be accessed from the 'Finance' tab on the homepage of the website. It is also known as the BW pool and presents a way to earn passive income with little stress. The coins that are supported for staking at the time this article was written are outlined in the table below:
| | | |
| --- | --- | --- |
| COIN | ESTIMATED APY | MINIMUM AMOUNT |
| MAT | 36.5% – 109.5% | 10 |
| CLG | 15% – 40% | 30,000 |
| PAZZI | 25% – 45% | 1 |
| MACPO | 18.25% – 30.42% | 50,000 |
| VLX | 18.25% – 20.1% | 1 |
| ORMEUS | 26% – 49.7% | 10,000 |
| SPYCE | 17.4% – 22.8% | 500 |
| VSYS | 2% – 7.3% | 300 |
| NULS | 3% – 10% | 500 |
| USDT | 1% – 3.3% | 15 |
| AAT | 11.2% – 16.7% | 2000 |
| EOS | 2.8% – 4.9% | 10 |
| ATOM | 3.15% – 6.55% | 10 |
BW EXCHANGE IEO
---
IEO means Initial Exchange offerings. Also known as Launchpads, they are improved forms of ICOs that come with more credibility since they are backed by exchanges, hence the name. Some projects successfully launched through BW IEOs are Grabity, Pantheon X, Futurepia, Link by Blockmason, Blockbuster, and V Systems. Projects can freely apply to be part of BW's launchpad by clicking the 'Apply Listing' tab on the front page of the website.
BW EXCHANGE SUPPORTED COINS
---
There are currently 39 coins supported in the various features of the BW exchange. They are Ethereum, Bitcoin, Velas token, Ripple, Cardano, Gem exchange and trading, Dogecoin, Tron, EOS, Chia Network, ABBC coin, MetaMUI, Gera coin, G999, XcelDefi, TNC coin, XWT, TOKAU, CON, ORMEUS, BURN, ECO, Bit World Token, KYSC token, Juiice, Rapids, Bridge Oracle, Syscoin, Homeros, SaTT, Weblock, Safex Cash, Safex token, HollyGold, Klever, XWC, EnterButton, and XcelToken Plus.
The 39 coins are traded against BTC, ETH, and USDT in about 45 markets. Most of those coins are traded frequently, with the exception of Bridge Oracle, which seems to be a little low on liquidity.
It would be good to note that these are the coins formally traded on the exchange as displayed by Coinmarketcap. However, on the BW exchange website itself, there is mention of deposits and withdrawals allowed for more coins, including DYDX, Ethereum Classic, Shiba Inu, Smooth Love Portion, Solana, etc.
BW EXCHANGE DEPOSITS AND WITHDRAWALS
---
Cryptocurrency deposits are free of charge, as is the case with most exchanges. However, withdrawals of coins are usually accompanied by certain trading fees which are determined by the exchange. For BW exchange, the withdrawal fees are outlined on the website's help section, together with the withdrawal status( Whether open or closed), daily withdrawal limits, withdrawal limits per transaction, and the minimum number of coins.
Regarding fiat deposits and withdrawals, the minimum deposit amount is $1 or its equivalent in any of the three supported fiat currencies. The currencies are the United States Dollars, The Chinese Yuan Renminbi, and the South Korean Won. The exchange supports deposits through Visa cards and Mastercard, while there is a P2P function through which users of the platform can exchange cryptocurrencies for fiat.
BW EXCHANGE TRADING FEES
---
The trading fees on the BW exchange are outlined in the FAQ section of the website. For spot and margin trading, a flat fee of 0.1% is charged across both maker and taker orders. This fee is for regular members of the exchange, while market makers are not charged for both maker and taker orders.
Market makers are traders that contribute a significant trading volume of trade to the exchange per month. To be a market maker, one must have an account portfolio greater than or equal to 80 BTC worth or a 30-day trade volume of 1000 BTC or more. Those who meet such requirements should email the customer care to be upgraded to the market maker trading tier. 
What are maker and taker orders? Maker orders are orders that make liquidity for the exchange. These orders sit on the order book and are not executed immediately. Taker orders, on the other hand, are orders that take liquidity away from the exchange. They do not sit on the order book and are executed immediately.
DOES BW EXCHANGE REQUIRE KYC
---
Like most exchanges in the crypto world right now, the BW exchange requires that users complete KYC verification in compliance with Anti-Money Laundering Policies. The KYC registration and verification process is quite straightforward and is usually completed within 24 hours. As we move on in our discussion in this article, we will learn more about the KYC process.
BW EXCHANGE SUPPORTED COUNTRIES
---
The BW exchange has its headquarters in Singapore but has had operation centers in Australia, Taiwan, Thailand, Philippines, Malaysia, Japan, Korea, and other South Eastern Countries. Even though it aims to spread its wings to western countries, it is still not licensed to operate in major countries like the United States of America, the United Kingdom, etc.
HOW TO START WITH THE BW EXCHANGE
---
REGISTRATION AND ACTIVATION
---
To start transacting with the exchange, you need first to click the 'sign up' tab that's displayed on the front page of the website. You can also choose to log in to the exchange's services using a ZB account. ZB exchange is an exchange launched in China in 2017, shortly after China's ICO ban.
You can sign up with either your email address or phone number. Regardless of the method of signup chosen, a verification code will be sent to you, which you have to enter to proceed with the registration and activation process.

VERIFICATION
---
To start with the KYC process on the BW exchange, first log in to your account using the credentials given during your registration.
Proceed to the toolbar menu and select 'Account Profile' from the options provided. Then select 'unverified' to proceed.
A form will be provided. Supply all necessary information and then click on 'next' to continue
You'll be required to submit your ID together with a selfie picture of you holding your ID with a personal signature and date written on paper.
The verification process usually takes about 24 hours. After successful completion, the following message pops up: Real Name Certification Passed.
DOES BW EXCHANGE HAVE A NATIVE TOKEN
---
Yes, the exchange has a native token known as BWB or Bit World Token. It is a community token based on the ERC-20 standard of the Ethereum blockchain. Holders of the BWB token can make community decisions based on the weight of their holdings. The token is distributed to holders as staking rewards and used for targeted and public distribution, as stated on their website.
IS THE BW EXCHANGE LEGIT AND SAFE?
---
It is not exactly in the top spots regarding exchange security. In fact, according to Coinmarketcap rankings, the exchange is given a 2.6 rating out of a possible 10. Therefore, users are advised to do their due research before deciding to use the exchange.
However, it should be mentioned that the exchange has measures in place to ensure the safety of users' funds against penetration by online hackers. Their website shows that the exchange enforces different types of authentication to access the services. They are Google authentication(the most common type), Phone number authentication, and email authentication. With these three authentication methods in place, hackers will find it difficult to access users' accounts.
IS THE BW EXCHANGE REGULATED?
---
As far as the website and other sources show, the BW exchange is not regulated by any financial authority. This is a sour spot, a major one at that, in the cryptocurrency world. However, it does have strategic partnerships with ZB.com, a professional crypto wallet, and Quione, a globally acclaimed crypto company. Therefore, users should be careful before venturing to trade with this exchange.
CONCLUSION
---
The BW exchange has had its time in the limelight. However, with the introduction and prevalence of newer and stronger exchanges in the crypto world recently, it has fallen far from its mark and is struggling to stay above water. Therefore, prospective users of the platform are encouraged to look well before they leap and make smart trading choices if they do decide to go with the exchange.
If you are not fond of the BW exchange, make sure to check out our guides on other cryptocurrency exchanges:
FREQUENTLY ASKED QUESTIONS
---
Deposits & Withdrawal Methods
7.5
PROS
✅ It offers leveraged trading
✅ It has some attractive staking programs with some high returns
✅ It allows the purchase of coins using bank cards
✅ It offers Initial Exchange Offerings
CONS
❌ The support system is very poor
❌ It offers a limited number of cryptocurrencies and fiat currencies.
❌ The website is too basic, with several misleading or dead pages

CaptainAltcoin's writers and guest post authors may or may not have a vested interest in any of the mentioned projects and businesses. None of the content on CaptainAltcoin is investment advice nor is it a replacement for advice from a certified financial planner. The views expressed in this article are those of the author and do not necessarily reflect the official policy or position of CaptainAltcoin.com