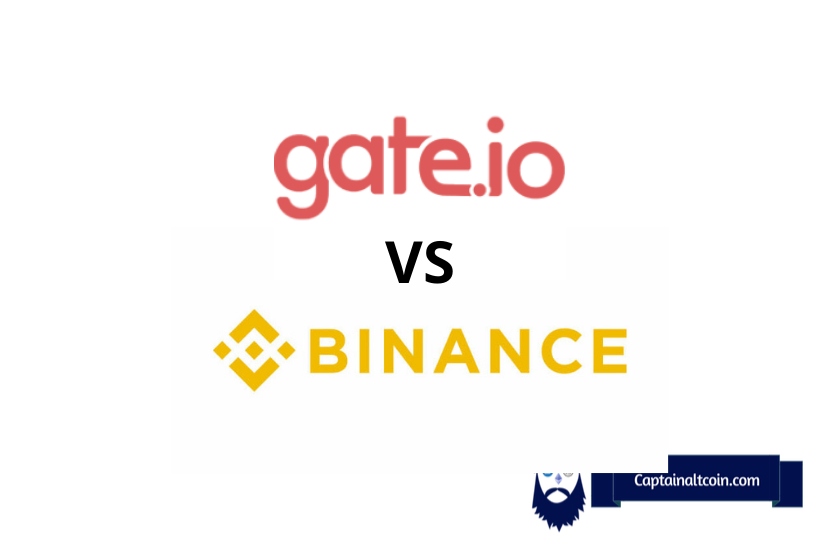 Key Differences
---
At first glance, Gate.io and Binance may seem like two sides of the same coin, and depending on where you come from, this might even be the case. However, as soon as you take a closer look at all the details, some quite significant differences will appear.
First of all, Binance's 24-hour trading volume has exceeded $23 billion, it has more than 1000 trading pairs available, and it supports both FIAT and margin trading. Gate.io, on the other hand, has a 24-hour trading volume of about $728 million, more than 900 trading pairs, and it doesn't support margin trading in some parts of the world.
Both exchanges are currently among the most influential players on the market, and they are capable of attracting thousands of new traders each hour. Gate.io covers about 500 currencies and about 900 markets.
It has a flawless IEO (Initial Exchange Offering) platform, and it's available on mobile as well. And, on top of all that, its customer support service satisfies the highest requirements of the industry. The main disadvantages of the platform are the lack of FIAT deposits, somewhat unregulated exchange, and an overly complex user interface which makes it inappropriate for complete beginners.
Binance prides itself on having fees that are among the lowest in the industry, and the latest statistics show it is home to more than 150 decentralized exchanges. It is famous for quick trading times and a rather simple user interface, which makes it suitable for newcomers as well. If you want to buy and sell a wide variety of cryptocurrencies using FIAT, Binance is one of the best places to do so. Its main disadvantages are the lack of FIAT currency trading pairs, slow and sometimes irresponsive customer support, and occasional security breaches.
Best Suited For
---
Gate.io is widely known for quick listings of small-cap coins way before they become known to the broader public, and this makes it extremely popular among the so-called gem hunters. Experts also point out the fact that the platform offers a wide range of features including:
Extensive Range of Cryptocurrencies — There are more than 800 different coins and about 1400 markets available on Gate.io.
User-Friendly Platform — Gate.io allows you to trade in crypto markets, participate in margin trade with 10x leverage, take part in short-term investment plans, and invest in IEOs.
Affordable Fees — Just like the great majority of altcoin exchanges, Gate.io imposes reasonable fees, to say the least. Of course, it is not the cheapest on the market, but if you opt for this platform, you will quickly get used to frequent discounts and bonuses.
Online Safety — Gate.io is maintained by a team of professionals who pay special attention to security issues. The platform implements some of the latest security algorithms and encryption technologies. It was also rated as one of the safest in terms of cybersecurity by CER.
Reliable Customer Support — Customer support representatives are available around the clock via live chat, and if the issue you are facing demands a longer explanation you can also submit your inquiries via email. On top of all that, you have a huge FAQ section at your disposal.
Binance became famous primarily for the large number of decentralized exchanges it offers. At the moment, it is one of the most well-established brands in the crypto world and it's trusted by millions of traders across the globe. According to experts, its strongest points are as follows:
Low Trading Expenses — Trading on Binance is extremely lucrative, especially in the long term. It all depends on your ability to predict the movements of the market. Your fees will remain the same regardless of your profits.
Abundance of Cryptocurrencies — Binance is among the largest altcoin exchanges in the world, and it allows you to trade with more than 1000 different cryptocurrencies.
Buying With FIAT — Binance makes it possible to instantly buy Bitcoin and other popular cryptocurrencies with over 40 different FIAT currencies.
Variety of Payment Methods — Binance supports the great majority of popular payment methods. You can make deposits using everything from direct deposits and wire transfers to credit and debit cards and e-wallets.
Cross-Platform Availability — Unlike most of its competitors, Binance is available on all the most popular platforms and devices. You can access it via computer (macOS and Windows), mobile (android and iOS), and other less popular devices.
Contracts and Assets — Buy and sell cryptocurrency contracts and assets with leveraged positions for the best ROI. Take part in margin trading with up to 3x leverage.
24/7 Customer Support — Binance's customer support team is at your disposal around the clock, and they are always ready to tackle whatever problems you might have.
various other services like Binance Earn, Margin & Futures trading, Binance Staking, Binance P2P, Binance Pool, Binance Grid Trading, Binance Card etc.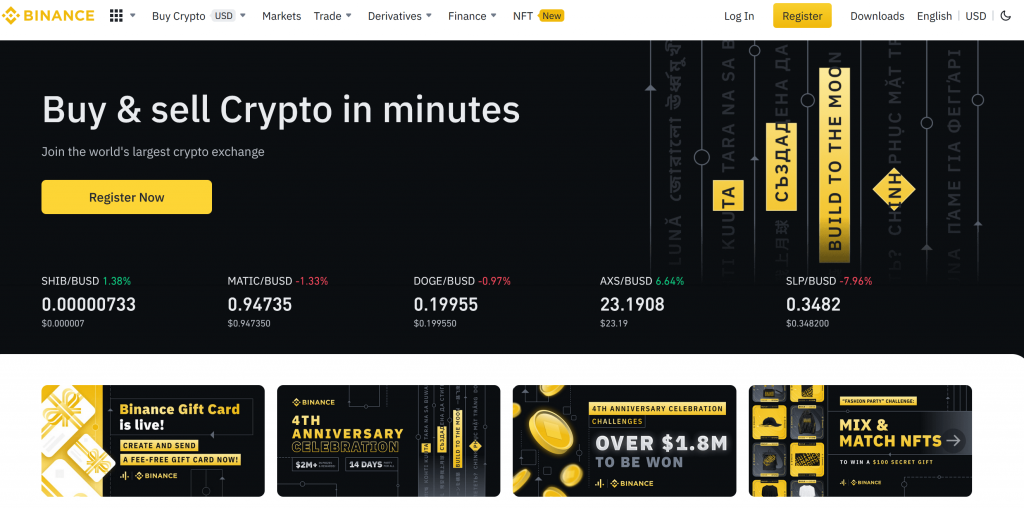 Background
---
Gate.io stands for one of the oldest and most popular exchanges in the world. It originates from China, where it was founded in 2013, under the name of Bter. At the time, it was one of the rare Bitcoin exchanges in China, and it was yet to show its full potential to the world. In 2015, the platform suffered a major hacker attack that resulted in a loss of over 5000BTK.
Since this and a few similar incidents were a major blow to the platform's reputation, the management decided to change the name of the brand. In 2017, Bter becomes Gate.io, and its unstoppable expansion in the crypto world continues ever since.
Binance exists since mid-2017, and it was founded by Changpeng Zhao and Yi He, people who are among the most prominent experts in the industry. Yi He was previously a part of the OKCoin project, while Changpend Zhao was a member of the famous Blockchain.com since 2014.
Together with the rest of the team responsible for the flawless functioning of the platform, the founders made sure Binance becomes one of the most prosperous ICO (Initial Coin Offering) projects ever. By the end of July 2017, the platform raised more than $14,000,000 worth of crypto. And, at that point, it becomes obvious its best days are yet to come.
Trading Experience
---
Binance has a fairly simple, user-friendly interface and is widely recognized for quick transaction times. It allows you to quickly navigate through the app and do whatever you need to do.
Gate.io, on the other hand, has a bit more complex layout that might be intimidating for newcomers without trading experience. Fortunately, they can always rely on its efficient customer support representatives to help them solve whatever issues they might have.

Available Assets
---
At the moment, Binance allows you to trade in 1060 markets and some the most popular cryptocurrencies including Bitcoin (BTC), Ethereum (ETH), PAX Gold (PAXG), Harmony (ONE), Orchid (OXT), Helium (HNT), Chainlink (LINK), Cardano (ADA), and many more.
When it comes to Gate.io, it features 923 markets and the most popular markets are Ethereum (ETH), Bitcoin (BTC), Avalanche (AVAX), Filecoin (FIL), Cardano (ADA), Gala (GALA), and others.
Leverage and Margin Trading
---
Gate.io provides 3-10X leverage rates varying from market to market, and the maximum amount that an account can borrow depends on the allowed leverage rate. For a market where 3X leverage is allowed, a margin account with 100 BTC margin can borrow up to 200 BTC.
Launched in July 2019, the Binance Futures trading platform initially allowed investors to open leverage positions at a maximum of 20 times, meaning that an investment of $1,000 could be turned into a bet of $20,000. At one point you had an option to do a crazy 150x leverages on Binance but they reduced that to encourage responsible trading.
None of this is available for the US users since they are prohibited from using CFDs and leverage trading.
Trading Fees
---
Both exchanges rank among the most affordable when it comes to the fees they impose. If you decide to trade on one of the two, you won't have to pay any fees for deposits.
With Gate.io you will have to count on 0.2% spot and margin fee. Also, you will have to pay the withdrawal fee that depends primarily on the currency you wish to withdraw.
On Binance, things are a bit different. The platform takes 0.1% of every trade, and this makes it one of the cheapest in the industry. Plus you get discounts when using BNB to pay for trading fees.
Deposits and Withdrawals
---
As we already mentioned, you can deposit your funds on both platforms without any fees. Should you decide to make a withdrawal, your fees will depend on the currency you are trying to withdraw.
Both exchanges support both fiat and crypto deposits. Payment methods include credit & debit cards, bank transfers, SEPA, ACH – all depending on your country of residence.
For example, Binance charges 0.0004BTC per Bitcoin withdrawal while Gate.io charges 0.001BTC. The good thing is that all the crucial data is transparent, and there won't be any unpleasant surprises. When it comes to payment methods, both platforms support credit and debit cards, direct deposits, and e-wallets.
Security and Trustworthiness
---
Both platforms pay special attention to the security of their customers and implement some of the latest safety algorithms and encryption technologies. Even though Binance suffered a rather severe hacker attack in 2019, the management claims that breaches are a thing of the past. Both Binance and Gate.io strongly encourage their users to enable the two-factor authentication to make sure no third party can gain access to their financial and personal information.
Read also:
KYC Conditions
---
The complexity of the verification process and the safety procedures you will have to go through may differ greatly depending on where you come from.
Some mechanisms, however, remain in place no matter what your jurisdiction is. For example, all first-time traders will have to go through the so-called KYC (Know Your Customer) verification. To complete this part of the registration process, you will need an official government-issued ID (such as a passport or driver's license), and a utility bill or some other document that proves your address of residence.
Mobile Apps
---
No matter what exchange you choose, you can count on cross-platform availability. Both exchanges have user-friendly mobile apps that satisfy the highest requirements of the industry.
Almost without exception, you will have access to all the key features of both Binance and Gate.io. When it comes to security, things remain the same, and all the precaution measures are taken on mobile as well.
Customer Support and Education
---
Both Binance and Gate.io dedicate special attention to customer support. Their operators are available around the clock, and they are well informed and eager to solve whatever issues you might have. If you have a short inquiry you can contact them via live chat.
Or, if your problem requires a longer explanation, you can send them an email. On top of all that, they both have rather long FAQ sections that offer answers to some of the most frequent questions.
Additional features – Earn, Staking, Bots, NFTs, Lending & Loans, P2P marketplace, IEO Launchpad
---
Both exchanges move quickly in adding new services to their platforms. Binance is famous for being the absolute leader in rapid expansion, but Gate.io seems to have decided to follow them on their path. This lead to the fact that both exchanges offer all kinds of additional services like: Earn, Staking, Bots, NFTs, Lending & Loans, P2P marketplace, IEO Launchpad.
Binance also has its own mining pool which is a difference between them since Gate.io has no such offering.
Exchange token
---
Both exchanges also have their own native exchange tokens. BNB is of course much better known as it is a top 10 coin by market cap for the last couple of years. Gate Token is, however, also growing rapidly and is currently on the brink of entering the top100 coins by market cap. Their role is similar as both tokens are utilized to incentivize exchange users to holds them and get different benefits like discounted fees, better APRs on staking, ticket for new IEOs and launchpad coins etc.
Visit Binance Now Visit Gate.io Now
Gate.io is a place to be if you are looking to make huge gains on small cap coins before they are in the wider spotlight and increase in price by multiple magnitudes. Good coins usually get listed on Gate.io before they approach larger exchanges like
KuCoin
or Binance.
FAQ
---

CaptainAltcoin's writers and guest post authors may or may not have a vested interest in any of the mentioned projects and businesses. None of the content on CaptainAltcoin is investment advice nor is it a replacement for advice from a certified financial planner. The views expressed in this article are those of the author and do not necessarily reflect the official policy or position of CaptainAltcoin.com