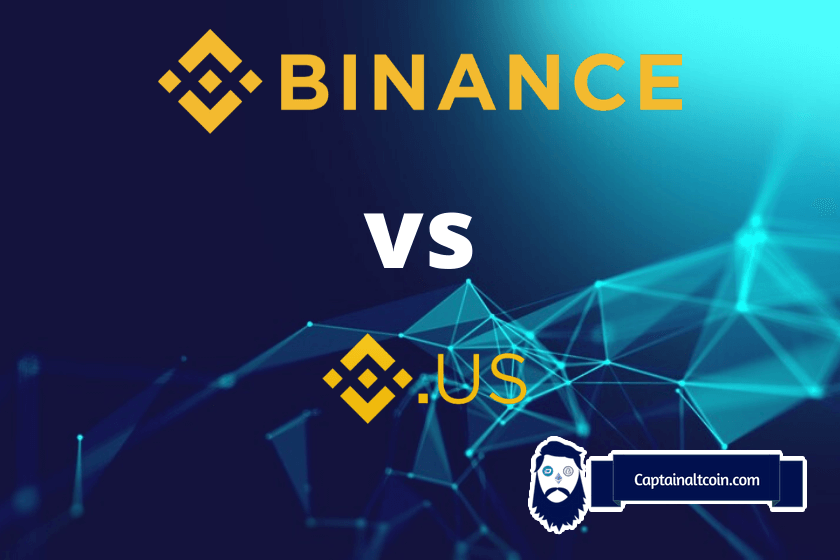 Binance is one of the wonders of the crypto world – a completely unregulated platform that popped up during the crypto craze of 2017 and ballooned into unforeseen heights in only 3 years' time. Due to the increasing regulatory pressure, they were forced to restrict access for US traders to their main Binance.com platform and launch a separate, US-focused exchange with an audaciously original name – Binance US.
The segregation of the two platforms raised a slew of questions in the heads of crypto enthusiasts which we aim to answer in this Binance vs Binance US article.
Time is a hot commodity these days so we won't be wasting it anymore and open the first section of this Binance vs Binance US comparison right away. What is the better crypto exchange?
Binance vs Binance US: General info
---
Binance is one of the largest and most popular cryptocurrency exchanges which initially started in China but then relocated its headquarters to the crypto-friendly Island of Malta in the EU. Binance is popular for its crypto to crypto exchange services. The company raised around $15 million in an ICO in July 2017. It immediately acquired 20,000 registered users as part of the raise.
Binance exploded onto the crypto world in the mania of 2017 and has since gone on to become the top crypto exchange in the world.
Binance was launched in 2017, but in summer 2019, they barred US-based users from its global exchange for regulatory grounds. In order to continue serving American customers, Binance.US opened a separate, smaller exchange called Binance.US in the fall of 2019. Binance US allows fiat deposits unlike what the main Binance platform offered at the time. Later on, Binance added fiat gateways to their main platform as well.
Binance US vs Binance: Fees
---
Standard Binance trading fees are 0.1%, but by using Binance native token BNB, you can make considerable reduction to the fees, currently 25% less if you check the option to pay fees in BNB (instead of paying them in the coin you are buying).
| Type | Fee |
| --- | --- |
| Standard trading fee | 0.1% |
| Credit card purchase | The higher of either 3.5% or US$10 |
Trading fee discounts
| The discount | What it is | How much it is |
| --- | --- | --- |
| BNB discount | A discount when paying trading fees with the BNB coin. | 25% discount |
| Tiered trading fee discounts | A discount for holding different amounts of BNB in your account while meeting trade volume requirements. | Reduces base trading fees to as low as a 0.02% maker fee and a 0.04% taker fee. |
Below is the comprehensive tabular overview of Binance fee structure:
Level
30d Trade Volume (BTC)
&
BNB Balance
Maker / Taker
Maker/TakerBNB
25% off
Maker/TakerBNB x Referral
25% off x Kickback 20%
VIP 0
< 50 BTC
or
≥ 0 BNB
0.1000% / 0.1000%
0.0750% / 0.0750%
0.0600% / 0.0600%
VIP 1
≥ 50 BTC
&
≥ 50 BNB
0.0900% / 0.1000%
0.0675% / 0.0750%
0.0540% / 0.0600%
VIP 2
≥ 500 BTC
&
≥ 200 BNB
0.0800% / 0.1000%
0.0600% / 0.0750%
0.0480% / 0.0600%
VIP 3
≥ 1500 BTC
&
≥ 500 BNB
0.0700% / 0.1000%
0.0525% / 0.0750%
0.0420% / 0.0600%
VIP 4
≥ 4500 BTC
&
≥ 1000 BNB
0.0700% / 0.0900%
0.0525% / 0.0675%
0.0420% / 0.0540%
VIP 5
≥ 10000 BTC
&
≥ 2000 BNB
0.0600% / 0.0800%
0.0450% / 0.0600%
0.0360% / 0.0480%
VIP 6
≥ 20000 BTC
&
≥ 3500 BNB
0.0500% / 0.0700%
0.0375% / 0.0525%
0.0300% / 0.0420%
VIP 7
≥ 40000 BTC
&
≥ 6000 BNB
0.0400% / 0.0600%
0.0300% / 0.0450%
0.0240% / 0.0360%
VIP 8
≥ 80000 BTC
&
≥ 9000 BNB
0.0300% / 0.0500%
0.0225% / 0.0375%
0.0180% / 0.0300%
VIP 9
≥ 150000 BTC
&
≥ 11000 BNB
0.0200% / 0.0400%
0.0150% / 0.0300%
0.0120% / 0.0240%
The same fee structure is used on Binance US as well. Binance.US's trading fees begin at 0.1% but it offers fees as low as 0%. The exchange offers its lowest fees to users who invest millions of dollars, but general investors may be able to take advantage of mid-tier discounts. If you hold BNB in your account, your trading fees will be automatically deducted and you get a 25% discount.
Buying Limits
---
Binance introduced buying crypto with credit cards last year, via third parties. They use services like Banxa and Simplex to execute these orders.
Simplex charges 3.5 percent of a transaction with a $10 minimum (flat fee). The daily limit is $20,000 per user, while the monthly max is $50,000 per user. For a brief period of time, you could use bank transfers and SEPA to deposit fiat onto Binance but those payment methods got suspended a couple of months after their launch.
There is no buying limit if you want to do crypto to crypto transactions. There is a withdrawal limit of 0.06 BTC for unverified accounts which gets lifted once you go through KYC procedure.
Binance.US imposes limits on trading, but most regular traders will find those limits more than high enough – BTC/USD orders, for example, cannot be larger than 3200 BTC, though these limits vary.
Binance.US allows users to withdraw or deposit up to $1 million via bank wire, and it also allows users to deposit up to $30,000 via ACH bank transfers.
Deposit and Withdrawal methods
---
Since Binance's main platform used to be crypto only where you could do deposits in any of the 750+ supported coins. The same goes for withdrawals – you just need the address on the blockchain of the coin you want to withdraw. Nowadays, Binance supports fiat deposits as well so you can buy bitcoin with credit/debit cards.
Binance.US offers its customers the possibility to purchase cryptocurrencies with a debit card, the automated clearinghouse (ACH), and bank wire. Of course, you can always deposit funds in any of the supported cryptocurrencies on the exchange.
Supported Countries
---
Binance does not specify which countries are supported and which countries are not supported but they did have a couple of episodes of sudden blocks for traders from different countries around the world. As for the U.S traders, Binance made a separate platform, Binance US, to serve only US based traders and restricts them to use their main platform.
As the name implies, Binance US is focused only on the citizens of the United States of America. The launch of Binance US is currently restricted to only 12 states (including New York, Texas and Florida) and it seems that it may take some time for the company to expand its operations geographically. Traders from other countries can use Binance global exchange.
Binance.com vs Binance.US: Supported coins
---
Binance has one of the broadest offerings when it comes to supported cryptocurrencies. The number of coins keeps growing by the week and it exceeds 750 coins and more than 1000 markets at the time of this writing.
Binance.US offers 123 trading pairs for 56 coins, with all the major ones like BTC, ETH, LTC, ADA, XLM, LINK, EOS, NEO, IOTA, TRX etc supported.
Customer Support
---
The customer service on Binance is also top-notch if you compare it with its peer exchanges. Worth noting, Binance provides customer support in 7 languages!
As of now there is no Binance support phone number, but they do have a customer support section where you can submit your requests. The usual turnaround time is around 24-hours. You can also use their live chat support option as shown here in the restricted operating hours. Apart from that, their FAQ section is quite detailed and if you go through it well, you may not really need to contact Binance support.
Similar to the "original" Binance, Binance US offers support via their email ticket system plus very active social media channels where you can get answers (usually advice to speak to them via support channels) to your queries. Apart from that, their FAQ section is quite detailed and if you go through it well, you may not really need to contact Binance support.
Trust and reputation
---
In its two short years of existence, Binance has gained a reputation for being fast and ferocious—sweeping aside peers on its rise to the top as one of the world's biggest cryptocurrency exchanges by trading volume. Even though it is still unregulated (by any major finance authority aside from alleged regulation by Malta finance authorities), Binance enjoys a very good reputation in the crypto community thanks to their charismatic CEO CZ and his good communication and community management skills.
Binance US derives its reputation and trust from its mother company. The only difference is that Binance US is actually playing by the financial rules and regulations in the US as they had to register with the U.S. Financial Crimes Enforcement Network (FinCEN) and comply with all of the state laws in which the proposed venture will be operational.
Security
---
Binance says it's been awarded an information security accreditation after meeting standards set out by the International Organization for Standardization (ISO). For the audits, Binance was examined on 114 criteria across 14 categories, including security policy, asset management, operational security, and information systems.

Binance had an apparent leak of up to 60,000 users' know-your-customer verification data, though it pointed a finger at a third-party service provider at the time. They also suffered a funds loss worth $40 million during a hack in May 2019. However, they had a separate fund for such cases and they refunded all users with the money from that fund.
The same rules apply here – the same team, same philosophy, and work ethic lie behind Binance US so it is, in theory, as safe as the main platform.
Binance.us vs Binance: Other features
---
Binance is ferocious when it comes to expansion: they keep adding new features like margin trading, OTO options for traders, and similar. They also keep stacking new services on top of their original exchange platform: staking, custody, lending, savings, academy, and education portal, etc.
Binance US is for now focused solely on exchange business and plans to gradually add more services to the platform, in a similar manner the main Binance.com exchange did it. Right now, they do have a staking option available for their customers, aside of the primary business which is spot trading.
Margin trading
---
One of the most recent features Binance added to their platform is margin trading. After transferring BNB coins from your regular exchange wallet to your Margin Wallet, you will be able to use those coins as collateral to borrow funds. Your Margin Wallet balance determines the number of funds you can borrow, following a fixed rate of 5:1 (5x). So if you have 1 BTC, you can borrow 4 more. In this example, we will borrow 0.02 BTC.
The interest fee on borrowed coins varies depending on your account level and the type of coin you borrowed. Bitcoin has the lowest daily interest rate of 0.0075%, followed by ETH at 0.01% and XRP at 0.02%.
Binance US has no margin trading interface and option as of yet.
Pros and cons
---
Binance Pros ✅
Easy to Use
Low Fees
Good Support
Lots of Listings
Good Trading Interface
Binance Cons ❌
Doesn't offer phone Support
Binance US Pros ✅
Easy to Use
Low Fees
Good Support
Familiar Trading Interface
Binance US Cons ❌
Doesn't offer phone Support
Limited number of supported coins
Only for US traders
Difference between Binance and Binance US: Conclusion
---
So who wins the battle between Binance and Binance US?
In terms of fees – it is the same fee structure so the only logical thing to do is to call it a draw.
In terms of supported currencies – Binance has much more to offer and wins this category
In terms of regulatory compliance and licensing: Binance US holds an upper hand since are registered with FinCEN and comply with the local rules and regulations in the US states they are operational.
In terms of customer support: Both are of similar quality so it is a tie.
Deposit and withdrawal methods: Binance US takes the W here as it allows fiat deposits, not just crypto like the Binance.com version of the platform.
When it comes to security in the Binance vs Binance US battle: It's the same company. By simple fact that it existed longer, Binance.com was a victim of a hack attack and suffered a $40 million loss of funds that they refunded to the users out of their dedicated fund for such situations. So, this is another draw.
Trading features: Binance.com has a much richer dashboard with lending and margin trading while Binance US strictly focuses on spot trading.
Overall reputation: same company, self explanatory answer.
FAQs
---
If you are not fond of neither of these exchanges, here is a list of potential alternatives: Coinbase, Cex.io, Coinmama, Changelly, Bitpanda, Bitfinex, Kraken, Bittrex, Bitstamp.
In case you want to compare Binance with other exchanges, have a look at our guides where we do just that:

CaptainAltcoin's writers and guest post authors may or may not have a vested interest in any of the mentioned projects and businesses. None of the content on CaptainAltcoin is investment advice nor is it a replacement for advice from a certified financial planner. The views expressed in this article are those of the author and do not necessarily reflect the official policy or position of CaptainAltcoin.com