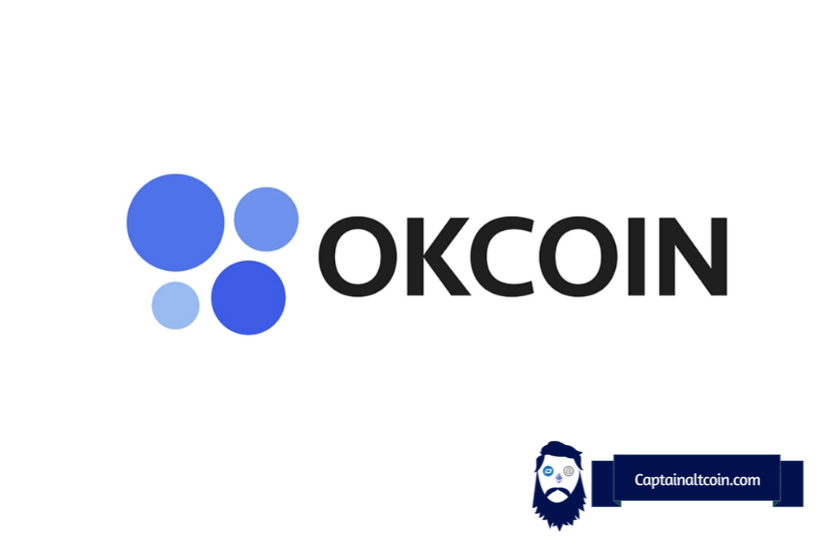 OKCoin is a Chinese-based exchange that was founded in 2013 and is currently one of the most dominant players on the Bitcoin trading scene and one of the largest cryptocurrency exchanges. It is a digital trading platform which provides spot trading of digital currencies and fiat currencies to customers worldwide. The company is structured similarly to Coinbase and GDAX, where you have one of the brands focused on the needs of basic customers and the other on more serious and advanced traders.
The trading oriented segment of OKCoin exchange is also known as OKEX. OKCoin crypto exchange has two main branches: OKCoin China that serves local customers, based in the Chinese capital, Beijing; and OKCoin international that serves international users, based in Hong Kong. Even though its focus is mostly on the domestic crypto market, OKCoin has picked up a fair bit of notoriety (both positive and negative) among foreigners as well even though it has millions of users globally.
OKCoin International is operated by OKB Technology Company Limited. The exchange is led by a Chief Executive Officer named Star Xu. Star Xu is an experienced tech executive with impressive professional background gained at major companies such as Yahoo and Alibaba. The exchange run by the person like Star Xu has to be a good exchange, right?
He was also previously employed as the Chief Technical Officer at Docln.com – a popular file sharing website – where he led a team of 120 IT specialists. In the past, the company has raised $10 million in investments from big money investors like Ceyuan Ventures, Longling Capital and VenturesLab, co founded by the famous Silicon Valley investor Tim Draper.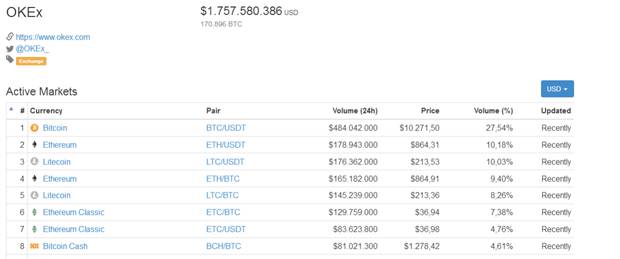 With $1.757.580.386 being traded on it in the last 24 hours, the OKEx part of the exchange holds an impressive second place on the coinmarketcap.com-s daily trade volume list.
OKCoin accepts fiat currency deposits; however you can only deposit Chinese Yuan (CYN) on the OKCoin China exchange wallet. OKCoin International used to accept USD deposits, but certain "issues" with intermediary banks resulted in company dropping its support for this currency. Same issues plagued multiple cryptocurrency exchanges in the past, resulting in similar USD abandonment by platforms like Bitfinex and BTC-e. Later on OKCoin stopped accepting US clients altogether, as it apparently wasn't ready to comply with US regulation demands.


Besides USA, the list of non-supported countries isn't that extensive and mostly contains politically, socially and/or economically "problematic" countries.
All that being said, the exchange has announced that it plans on re-including support for US customers and USD deposits.
It goes without saying that main regulatory bodies controlling the exchange are Chinese. While China is not strictly against Bitcoin and crypto exchanging, its recent clampdown on ICOs suggests that some harsher regulation is coming for all crypto transactions. This could negatively affect OKCoin and its ability to provide cheap, fast and secure service to its users.
Speaking of security, OKCoin has long been lauded as an industry standout in this area. Their security program focuses on two important issues facing the industry: how to operate a stable Bitcointrading platform, and how to create secure Bitcoin wallets.
OKCoins security philosophy acknowledges that internet access and humans are inherently sources of vulnerability; therefore they have implemented a complicated security protocol which allows them to create a network of decentralized cold wallets that are near- immune to hacking/human error. It also keeps a portion of its funds in a hot wallet with a sufficient capacity to maintain the required liquidity. So far, this protocol has passed all the tests and managed to keep the funds safe.
OKCoin hopes that their system will "promote best practices amongst new entrants in the industry" and help the company itself "explore new (security) ideas with partners".
Trading
---
The platform provided by OKCoin is web-based and a bit simplistic, somewhat Coinbase like. You can access it via your web-browser or via an Android/IOS app. OKCoin offers you an option to place limit orders and market orders for a wide range of trading pairs. The interface is smooth and responsive and the trades are processed almost instantly.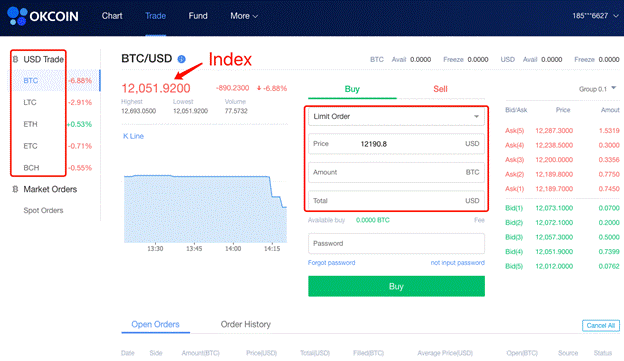 Limit orders: On the Trade page, choose your trading token on the left side column; click Buy or Sell; fill out the desired price and amount. After entering your trading password, click Buy/Sell.
The interface offers a lot of charting options, where users can choose between several styles of charts. There are simple ones, the solution provided by trading view, as well as custom adapted solutions.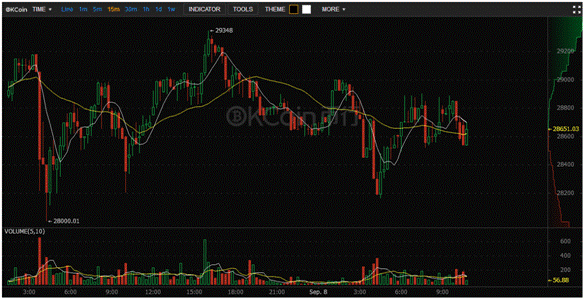 The charting is very nice, with some technical indicators being pre-loaded, to stimulate more active trading.
The order book is also very smooth and eye-pleasing, allowing you to easily track the market movements.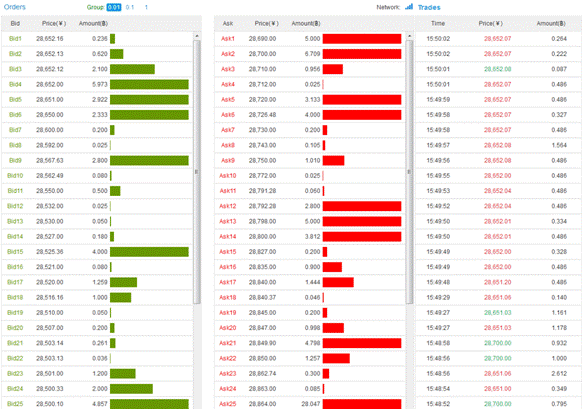 OKCoin has a powerful and robust APIs which allow users to select only the features that optimize their trading experience. OKCoin provides APIs for fast access to spot and perpetual swap contract (Perpetual swap is a non-expiring, cash-settled derivative contracts.) markets, with the following features:
Market data
Orderbook, depths of bids and asks
Trade history
Trade execution
Order information
Order history
Account information
The quality of OKCoin is fully supplemented by one of the most advanced trading interfaces on the market which is implemented on OKEx.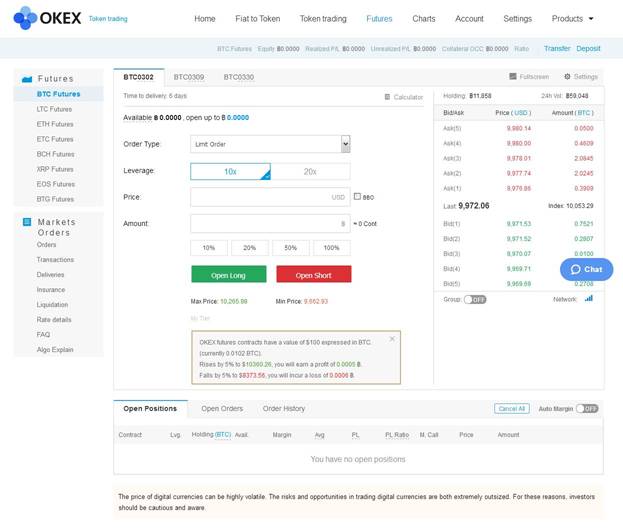 OKEx is a top of the line cryptocurrency exchange designed for professional traders as it offers a lot of advanced order types, including market orders, trail orders, stop orders, Time Weighted Average Price order, the One Cancels the Other order, limit order, and iceberg orders. On OKEx, you can trade digital assets under the four major trading categories: C2C, Index, Token and Futures trading. To minimize the investment risks, trading funds are segregated in 4 different accounts.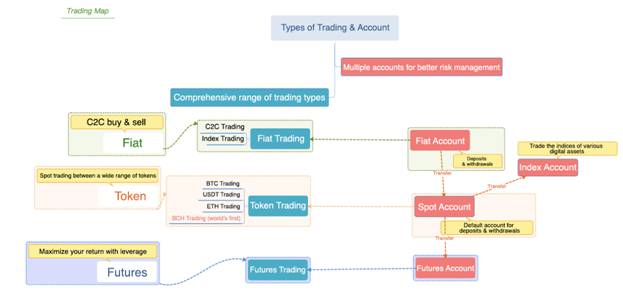 Types of trading/accounts available on OKEx
In summation of OKEx vs OKCoin, OKCoin China/International are in charge of taking fiat currency (CNY, USD and EUR) deposits while the OKEx website is crypto trading-oriented and offers hundreds of potential trade pairings.
OKCoin vs OKEx: Accounts
---
Creating an account on the website is simple. Once created, your OKCoin account is also valid on the OKEx platform. The steps to create it are simple:
Open the OKCoin website or application
Sign up to the platform by providing your credentials such as your email, a secure password and your mobile phone.
This gives you basic access to the website. Verifying your account is recommended if you want to fully take advantage of the site features. At least level 1 verification must be completed in order to be able to deposit and withdraw crypto assets. The limits per level of verification are as follows:


The first level verification is relatively simple and can be done within two minutes. After being a verified user, one can deposit any amount of Bitcoin, Litecoin and Ethereum or withdraw said coins up to a maximum of 200/5000/1000 coins respectively.
The second level involves verification of detailed information such as birth date and residential address, verifying phone number and providing a valid government issued ID. This allows you all the previous level perks with added USD deposit/withdrawal support. You can also register a corporate account which will give you higher USD limits.
Once your account is verified, you will be able to deposit funds on it and start trading. Visit the fund section to check out your balance or to deposit/withdraw tokens. You can deposit a wide range of coins such as BTC, LTC, ETH, ETC and BCH. The cryptocurrency exchange gives you a wallet for each of the coins and allows you to them to transfer funds.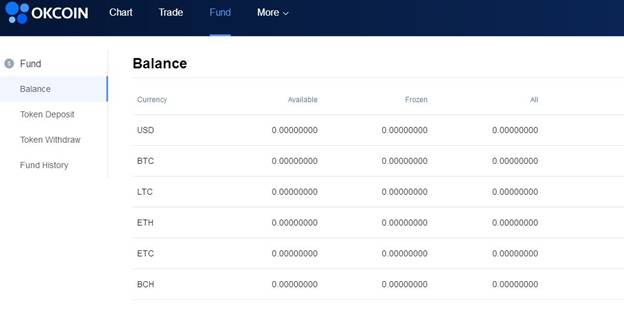 You will be able to use wire transfers for fiat deposits or use your exchange wallet address to send funds from other wallets that you own.
Fees
---
Fee structure at OKCoin is simple and quite competitive. Both takers and makers are charged 0.2% for every transaction. USD deposits are fee-less and there is no minimum allowed deposit; withdrawals command a 0.1% fee, with minimum withdraw amount set at 15 dollars. Digital currency deposit/withdrawal fees are set to 0%.
Native Token
---
OKCoin's utility token is OKB. If you decide to be an owner of OKB utility token, you can get trading fee discounts of up to 40% on the platform. Even though most of the times OKB is traded only on OKCoin's ecosystem, you can still buy the coin on various others exchanges including decentralized exchanges.
Controversy
---
OKCoin has dealt with a fair share of negative press in the past. Before launching their international website, many non-Chinese users had problems with verification. There are a lot of complaints from that period about the exchange refusing the documents from International users without explanation and preventing them from withdrawing their funds. Even recently people reported similar issues.
From December 2014 and until May of 2015 OKCoin has been managing the domain bitcoin.com, and stopped due to a contractual dispute with the domain-owner, Roger Ver.
There were also a lot of comments related to the scandal from March of 2015 when many high-level executives left the company, following the changes in the company strategy from Mr. Xu. The exchange was later accused of inflating trading volumes artificially, in order to look like the biggest exchange in the BTC market.
Other comments are related primarily to futures trading, as many new users complained about the "frozen" funds not knowing that's a normal practice.
In February of 2017, OKCoin and Huobi, the two largest Bitcoin exchanges in China, were flagged by the People's Bank of China for operating a trading platform without appropriate Know Your Customer (KYC) and Anti-Money Laundering (AML) systems.
However, these issues are part and parcel of new, volatile markets. OKCoin did its best to help and support their users whenever an issue arose and is ahead of other exchange platforms in those terms. You can contact the customer service anytime via email, telephone call or live chat. They also offer a FAQ section on their website which could use a bit more information. OKEx has a good separate FAQ which is mostly concerned with the trading questions.
Conclusion – OKCoin and OKEx
---

This is an exchange based in Hong Kong and Bejing that has had a fair share of growing pains in the past but has recovered well and rose into the very heights of crypto trading. Currently it targets both retail customers and more sophisticated and experienced traders. It offers a wide range of tools and advanced order types and combines them with relatively low fees. It's fast, accessible and easy to use. So whether you are a newbie looking to dip your toes into the crypto waters or an experienced sailor looking to part some new crypto seas, OKCoin exchange will offer you quality support in your endeavors.
Keep in mind that OKCoin was affeceted by the recent crypto attacks by the Chinese Government.
PROS
Advanced set of trading tools
Coinbase/GDAX-like structure allowing for fiat and crypto trading
Higher withdrawal limits compared to other platforms
Relatively low fees
Clean, smooth and fast interface
Good customer support
Massive amount of coins tradable against BTC and ETH
Very secure, both on exchange and user side (email and SMS notifications, PGP encryption, 2FA)
CONS
Verification and service lacking for foreign traders
Subject to Chinese regulations
Issues with international bank transfers
A lot of controversy in the past

CaptainAltcoin's writers and guest post authors may or may not have a vested interest in any of the mentioned projects and businesses. None of the content on CaptainAltcoin is investment advice nor is it a replacement for advice from a certified financial planner. The views expressed in this article are those of the author and do not necessarily reflect the official policy or position of CaptainAltcoin.com