Binance P2P Review – Fees, Supported Countries, Payment Methods Overview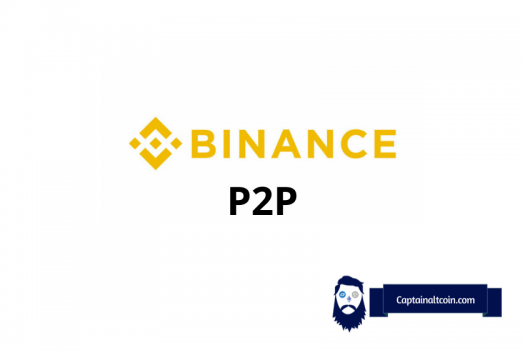 Binance P2P Review – Fees, Supported Countries, Payment Methods Overview
High liquidity
Various payment methods
No fees
When most people think of trading on Binance, they usually assume exchanging digital assets on an exchange. And no wonder spot trading is the most popular way of doing it, as it's called.
But that's just one of the ways. Binance offers another, less-known way of exchanging crypto, called P2P. It provides many benefits often ignored by most people, so let's hop right in. 
What is P2P Trading?
---
First off, let's start with the basics. As we mentioned before, spot trading is buying or selling crypto on the spot at the market price. Peer-to-Peer (P2P), on the other side, is the original way of trading crypto. You see, back in the day of Bitcoin under $5, there weren't many ways of exchanging crypto. People in the community who wanted to buy or sell Bitcoin had to barter with people online or in-person in exchange for cash, vouchers, and son.  
This is the premise of P2P, transacting with other crypto holders directly for a predetermined price.
P2P trading is also the preferred way for institutions to enter or exit the market. If they invested millions, if not billions via the spot market, they'd move the price up too much and end up paying more. And if they sold, they'd end up moving the price down and losing money.
What is Binance P2P?
---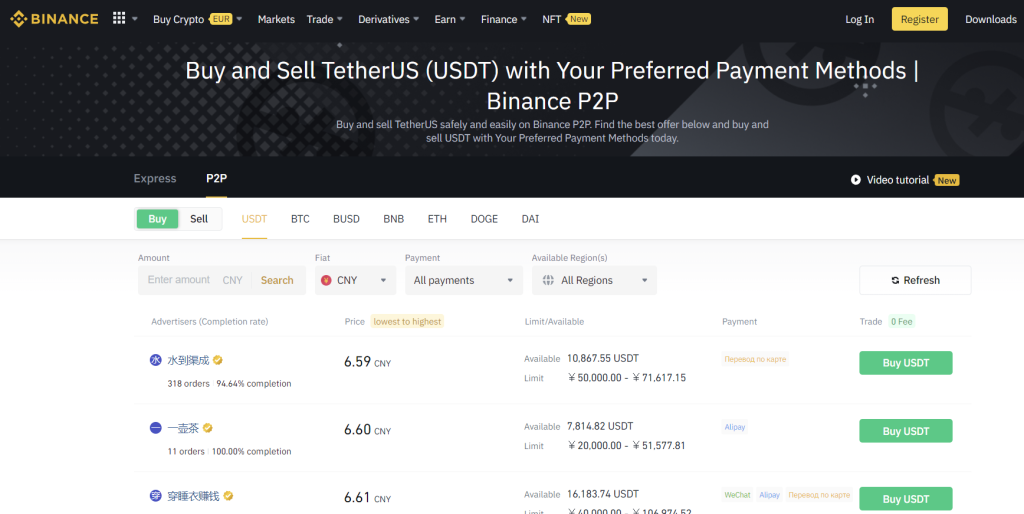 And that's where Binance P2P comes in. Built in late 2018, it enables users to transact on their terms safely. Today, it supports exchanging six cryptocurrencies – BTC, ETH, BNB, BUSD, DAI, and USD. In addition, users can buy them with 55 local currencies and more than 150 payment channels. 
The method is gaining popularity. Just last year, Binance P2P received a whopping $7 billion in transactions. All in 3.8 million orders and daily volumes, reaching a staggering $54 million. In total, users on Binance P2P grew by seven times since 2019. Proving once again to be a leader in crypto exchanging.
What are the main features of Binance P2P?
---
1. Ad Posts. Binance P2P users can advertise their offers to buy or sell crypto with zero charges. And not only that, but advertisers can also share their deals on social media. This makes the whole process of finding someone to exchange with a lot easier.
2. Cash-in-Person Transactions. Not only can users communicate and bargain through online portals, but also offline in person.
3. Comment Feature. After users exchange crypto via the Binance P2P, they can leave a review for others to see. This way, you can easily spot the trustworthy sellers you'd exchange with.
What Are the Advantages of Binance P2P?
---
✅ Zero Fees. We all love hearing it. You can exchange crypto on Binance P2P utterly free of charge. This is a clear advantage over their competitors, as P2P platforms tend always to get a piece of your pie.
✅ Multiple Payment Methods. There's no shortage of them. On Binance P2P, you can choose from over 150 ways of receiving that sweet, sweet money.
✅ Escrow Service. Binance P2P has a holding mechanism with all crypto funds involved in a transaction. So the transactions aren't complete until both sides complete their part of the trade—this way safeguarding you from scams and thefts, frequent on P2P platforms. 
The downside of the escrow service is the need for intermediaries. The fact that a centralized institution is holding your funds is something that stirs some feathers, particularly in the crypto space.
✅ High Liquidity. Binance is the most prominent crypto brokerage in the world. So even their P2P channel offers very high liquidity. Many P2P exchanges never seem to have enough, but with their $7 billion worth of transactions in one year, that certainly isn't a problem.
✅ Integration with the Binance Ecosystem. As you probably already know, Binance engulfs a large ecosystem, from the blockchain to the exchange. And when you buy crypto through a P2P service, you'll get direct access to it.
✅ High Completion Rates. Binance P2P sets high standards for their sellers (called merchants). Anyone who is slow and does not have good reviews will be kicked off the platform. So users will have access to only the best.
✅ Fast Transactions. A P2P transaction only takes 15 minutes on Binance, a lot less than some competitors.
✅ Global and Local Promotions. Binance runs a wide array of promotions and initiatives to make people join the platform. And looking at the seven-fold increase in transactions, it seems like it's working.
✅ Community and Customer Support. Together with the larger ecosystem, Binance has a huge community backing them. And not only that, but being a huge company, Binance users also benefit from quality customer service. Something smaller competitors often lack.
✅ Growth Prospects. Binance, with its ecosystem, is quickly expanding. And with crypto going mainstream, millions will jump on the Binance train, increasing liquidity.
✅ Anonymous. P2P exchanges credit, unlike card or bank transfers, peer-to-peer exchanges do not ask for any information about buyers and sellers. On Binance, P2P you can buy Bitcoin in cash and stay completely anonymous. 
How does Exchanging on Binance P2P work?
---


⚡️ Step 1: Place your order
Place an order to buy or sell. Once this is done, Binance will hold your crypto until all steps are completed.
⚡️ Step 2: Start a conversation 
This step is not obligatory, but I suggest you follow it. It is always better than when trading with an unknown person to start a chat. This way, if something goes wrong, you can use it as an apple in the dispute.
⚡️ Step 3: Make the payment or release the cryptocurrencies
If buying, once you complete the payment, notify the seller. Click confirm and send him a message. On the other hand, if you're selling crypto, wait for the amount to be done before releasing the crypto.
⚡️ Step 4: The transaction was successful, or the counterparty was not responding
Most of the time, due to Binance's excellent screening process, the transaction goes smoothly, and the seller releases the crypto. But what if they don't? If the buyer does not transfer the money or the seller the crypto, you should appeal. And this is when the escrow service comes into play. If you're in the right, Binance will give the funds back.
The Downside – Centralization
---


When transacting on Binance P2P to increase security, they will hold your funds until both parties have done their part. This, of course, solves many issues making scams and theft impossible to pull off, but it has left many wondering, at what cost? 
Decentralization is the keyword in crypto. That's what we strive for, and everything revolves around it. However, sacrificing our foundation for more efficiency may not be as good as it sounds.
By trusting a centralized institution with your crypto, you are opening the doors to many other problems. Power corrupts all people and institutions, so giving them so much may not be the best idea. One day, we could find out on our skin that they've abused us.
Essentially we could find ourselves facing the same problem with traditional finance and their power trips, blocking people from their service based on arbitrary criteria such as political opinion.
A Common Scam to Avoid on Binance P2P –
source
Lets say BTC is at 50k, these P2P traders will list an ad to buy BTC at 51k. Ads with highest buying prices are always listed first by default so they will always be number one on the list.
You the seller, of course will choose to sell your BTC to the highest payer so you choose to sell your BTC for 51k. Your probably really excited and have a big smile on your face to sell your BTC above market rush in to sell to this person.
What you don't notice is that the buyer has set the 'Payment Window' to a ridiculous amount of time, say 8 hours. Once you hit the 'Sell' button your BTC are locked for 8 hours because Binance acts as middleman and you basically agreed to the 8 hour payment window.
The buyer now has 8 hours to fulfill your your order or not. Within those 8 hours say BTC pumps to 55k, they will buy your BTC for the agreed price of 51k making 4k profit. If BTC dumps they will just wait the 8 hours and the order will automatically cancel and funds are released.
So in short you locked you BTC for 8 hours which ever way the market moves. If pump, good. Dump, REKT. So for anyone using P2P 
ALWAYS CHECK 'PAYMENT WINDOW' TIME.
 15mins is ok, 15 hours is not.
The consequence of not fulfilling order is that your user rating takes a hit. Binance has cleaned up a lot of these ads in the past few weeks so it's a lot better now.
Another one:
A classic scam has been going around on Binance P2P for a while now and is still rife as of December 16. The idea and execution is very simple. After you open a sell trade, the scammer will deposit the equivalent fiat into your payoneer account and urge/persuade you to release the crypto.
Later on, they'll contact payoneer and revoke the payment by claiming that their account was hacked. Apparently, payoneer allows recalling payments before the 72 hour mark (maybe even longer). You'll windup losing your crypto as well as the funds in your payoneer account. Even worse, your payoneer account will be flagged for fraud and resolving it with the current payoneer chat support will need nothing short of a miracle.
Source
Verdict
---
Binance offers in terms of quality the best options on the market. It is quick, reliable, and safe to use. In addition, it provides a real competitive advantage by having so much more liquidity than other competitors and the Binance ecosystem to back it up.
But let's address the elephant in the room. A centralized institution, Binance, holds your funds during the transaction. In other words, Binance P2P is a custodial platform, and that's not something you should pass on lightly. As we said before, decentralization is what crypto is about.
So Binance P2P may not be the best platform for users deep into crypto that value decentralization more than anything else.
If centralization is stopping you, Local Cryptos and Bisq are good alternative—offering similar benefits to Binance and managing transactions in a non-custodial way.
But if on the other side, you're a newbie or you aren't that concerned with Institutional abuse, then Binance P2P is the way to go.
Other notable alternatives to Binance P2P are Localbitcoins and Paxful (both require KYC and are similar in structure to Binance P2P).
How to Start Using Binance P2P?
---
Before starting using the Binance P2P service, register an account and follow the steps to verify your identity. Once Binance accepts it, you're good to go.
Read also:
PROS
High liquidity
Various payment methods
No fees

CaptainAltcoin's writers and guest post authors may or may not have a vested interest in any of the mentioned projects and businesses. None of the content on CaptainAltcoin is investment advice nor is it a replacement for advice from a certified financial planner. The views expressed in this article are those of the author and do not necessarily reflect the official policy or position of CaptainAltcoin.com