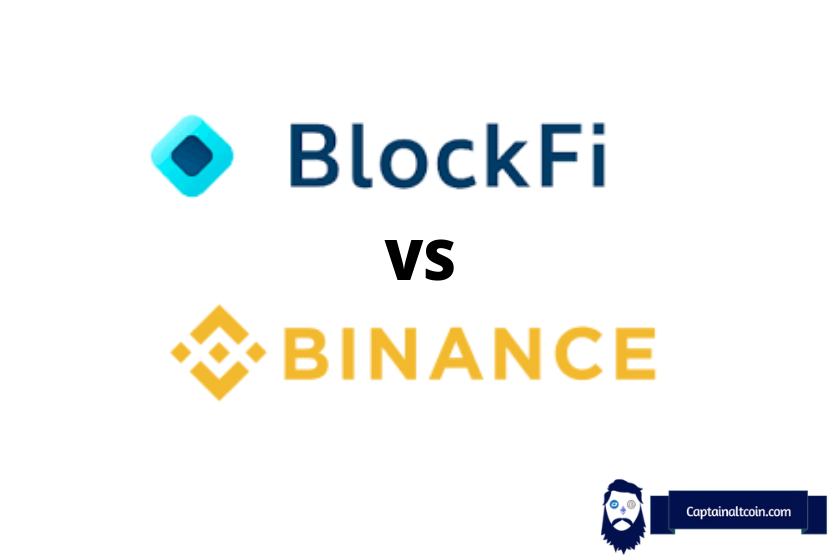 The cryptocurrency sector has continued its bullish trend especially in 2020 when cryptos enjoyed a fair increase in their price value. The rise in the market was due to increased trust and openness of exchange platforms that allowed the trading or use of cryptocurrencies on their systems.
Exchange platforms faced major challenges in the initial boom of cryptocurrencies. Back in 2014, Mt. Gox which was the largest exchange platform at the time closed its website, suspended training and exchange service.
Regardless of this, more cryptocurrencies were developed to satisfy the growing demand. Platforms like Binance and BlockFi emerged on the scene around 2017, and while one is considered to be the largest platform they have different business models and services. But how different are the two platforms?
Let's take an indepth look at how Binance compares to BlockFi.
Background
---


BlockFi founders, Flori Marquez and Zac Prince wanted to create a platform where crypto-asset owners could take USD loans backed by their cryptos instead of selling. The platform acts as a secured non-bank lender and since its creation in 2017, BlockFi has injected additional liquidity into the blockchain sector.
The idea is simple yet effective, the platform uses a registered custodian to hold the clients' cryptocurrencies and issues a loan in dollars to their bank account. Though still operating in beta launch, 35 American states are using the platform to lend companies and retail investors.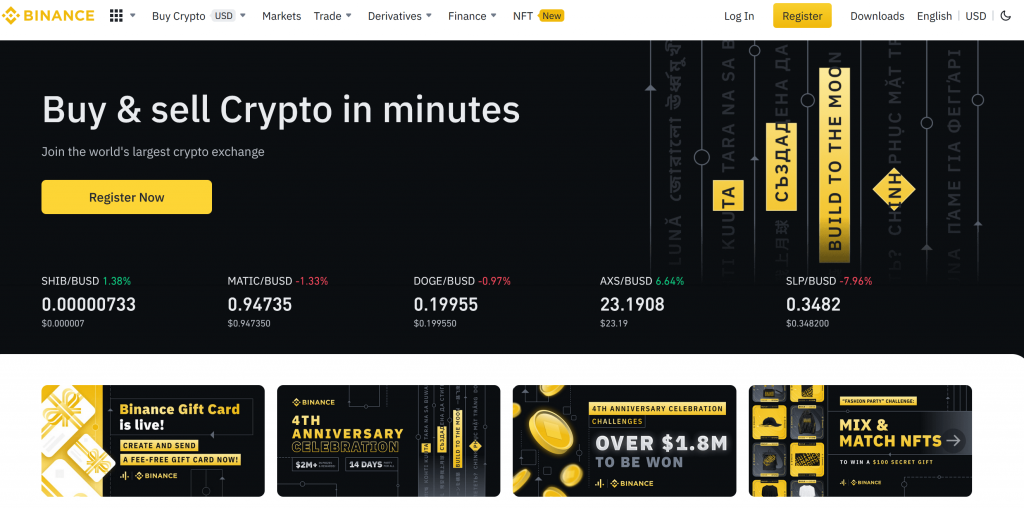 Changpeng Zhao and Yi He, the founders of Binance had a different business model for their platform. They wanted a cryptocurrency exchange platform that would combine both finance and digital technology. So they created Binance, which provides access to exchange other digital currencies on the market while maintaining liquidity and most important security.
This enables efficient and safe trading within the platform anywhere and anytime. Founded in 2017, Binance has grown to be one of the largest platforms. Its business model and huge crypto assets portfolio has allowed it to dominate the sector.
Visit Binance Now Visit BlockFi Now
Features of BlockFi Exchange
---
BlockFi's platform offers its non-bank lending services through leveraging a sophisticated infrastructure that integrates with multiple blockchains to deliver the best-in-class client support and service. They plan to expand their products and services based on the needs of their institutional and retail clients.
The exchange platform claims your account will generate interests and an unlimited 1.5% refund in Bitcoin for every purchase with no foreign transaction fees or annual fees for the account. You can earn between 3% to 8.6% compound interest on your crypto asset holding, depending on market value fluctuation and the type of currency. Interest gain daily and are cashed out at the end of the month.


BlockFi lets you borrow loans against crypto assets with low-interest rates at 4.5% APR. Though you risk losing your collateral if prices drop, borrowing instead of selling allows you not to report capital gains which could save you some tax money. The interest could also be tax deductible making the deal even juicier.
The company has raised $508.7 Million in 11 rounds of funding, with the most recent being a massive $350 Million that pushed the value of the company to $3 billion. BlockFi has made two investments, their most recent investment was on May 5, 2021, when Coin Metrics raised $15 and has one exit, which is Grayscale Bitcoin Trust.
Features of Binance Exchange
---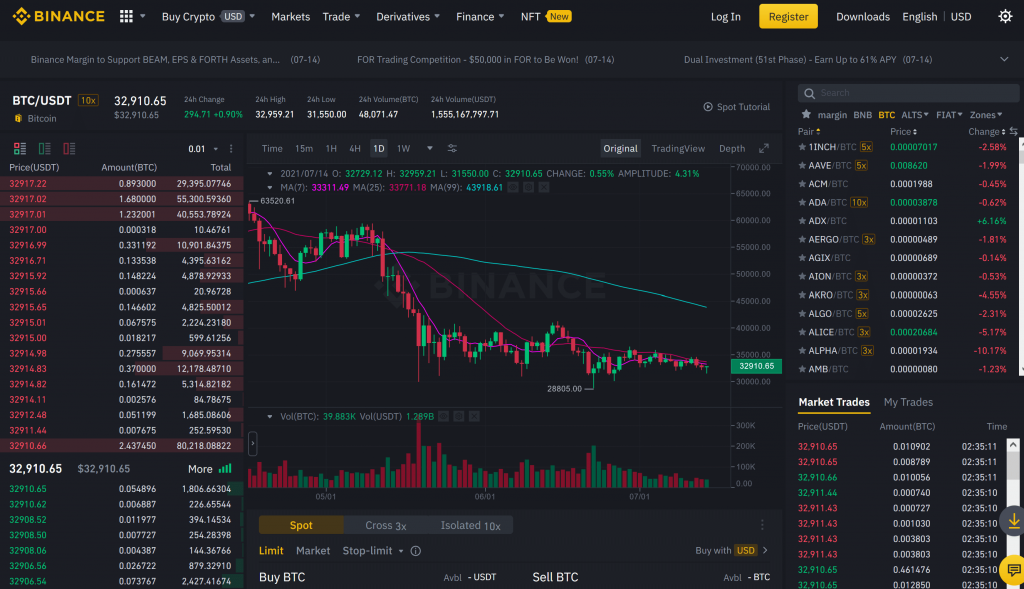 Binance combines digital technology and finances and provides access to 500 cryptocurrencies on the market while upholding security and liquidity, making it an efficient and safe platform for everyone. The platform is considered the largest in terms of market capitalization which has helped it to acquire seven organizations with the most recent being Swipe.io.
In September 2019, the platform began offering perpetual futures contracts, allowing leverages as high as 125 times the value of the contracts. Binance also lends USD backed with cryptocurrency collateral. The interest rate is not fixed but is calculated hourly from the time your request is approved so is the loan to rate value (LTV).
Binance has a total funding amount of $25 Million over eight rounds with 13 investors. Binance also made 18 investments with the latest being on March 25, 2021, when Avanti Financial Group raised $37 million. Binance has partnered with several key players over time to further increase its market cap to around $58 billion as of 2021.
Binance was a victim of a large security breach in 2019, where 7,000 Bitcoin worth around US $40 million at the time were stolen. They pledged to reimburse customers through its Secure Asset Fund for Users (SAFU) and have updated their KYC policies.
Their lax KYC verification has led them to be investigated by both the Internal Revenue Service and the United States Department of Justice on claims of money laundering and tax offenses. This has led to Binance being banned in the US though it can be accessed by the rest of the world. But since 2018, it has been the largest cryptocurrency exchange.
Available Coins and Contracts
---
BlockFi allows smart contracts between various platforms so you can deposit to your BlockFi account from most wallets, though it does not support the Binance Smart chain (BEP-20) because it's a different blockchain that is yet to be integrated with their custodians.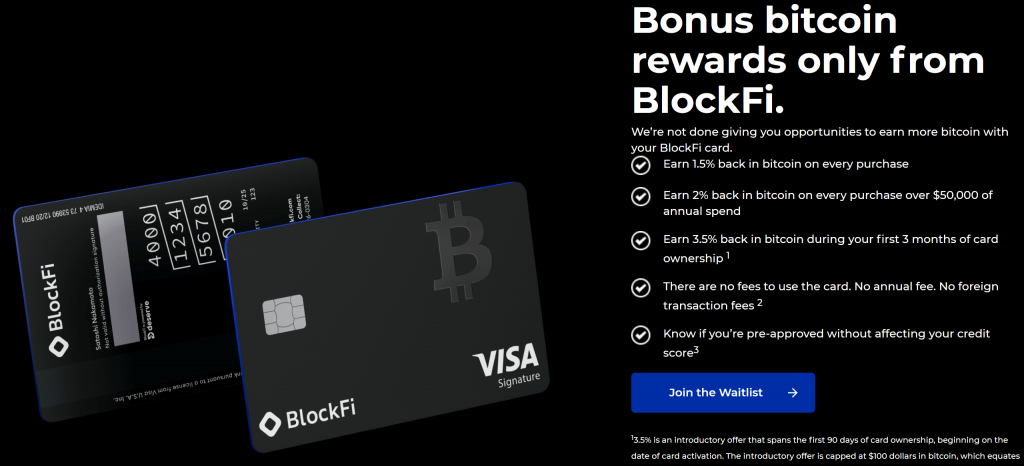 The platform does not offer a huge crypto-asset catalog, allowing few currencies and stable coins. Only ETH, LTH, PAXG, and BTC cryptos can be traded along with a few stablecoins. BlockFi utilizes bitcoin as its main currency on the platform offering Bitcoin rewards cards that will work as a traditional credit card.
Binance on the other hand launched two cryptocurrencies that they developed themselves. Binance Coin was first to be launched back in 2017 and has the third-highest market cap. Binance Smart Chain (BSC) launched in September 2020 was the second cryptocurrency.
The platform allows its users to pay fees on its exchange with Binance Coin, its native token. It uses its profits to buy back and destroy Binance Coin tokens: thus, in theory, increasing the value of undestroyed coins by restricting their supply.
Trading Fees
---
On the Binance Platform, margin and spot trading will cost 0.1%, while Binance Futures trading requires a basic fee of 0.04% for takers and 0.02% for makers. It advises users to use BNB for paying trading fees, attracting a 25% discount. The trading fees are determined based on your trading volume on a monthly basis and your daily BNB balance.
The BlockFi platform doesn't charge transaction fees but you will part with some fees when withdrawing the different cryptocurrencies. The platform also implements a daily trading limit based on account activity and size.
Interest on Stablecoins
---
Due to the volatile nature of cryptocurrencies, there was a need for something more stable. In August 2018, Binance together with three other exchanges, raised $32 million for a stablecoins project. The stablecoin would be used to complement cryptos and hedge investors' portfolio, and since then more stablecoins have been adapted into the market.
Binance offers interest on its Binance USD (BUSD) stable coin which is pegged to the US Dollar, so for every BUSD in the market, one USD is stored away. Through their lending program, your investment will generate interest of up to 15% per annum.
Meanwhile, the BlockFi Interest Account currently pays 8.6% Annual Percentage Yield (APY) for its four allowed stablecoins, USDC, PAX, GUSD, and USDT.     
Interest on Other Cryptocurrencies
---
BlockFi Interest Account
---
| | | |
| --- | --- | --- |
| Currency | Amount | APY |
| BTC (Tier 1) | 0 – 0.5 BTC | 5% |
| BTC (Tier 2) | >0.5 – 20 BTC | 2% |
| BTC (Tier 3) | > 20 BTC | 0.5% |
| LINK | >0 LINK | 4.5% |
| ETH (Tier 1) | 0 – 15 ETH | 4.5% |
| ETH (Tier 2) | >15 – 1000 ETH | 2% |
| ETH (Tier 3) | >1,000 ETH | 0.5% |
 Binance 0 VIP level
---
| | | |
| --- | --- | --- |
| Currency | Amount | APY |
| BTC | 60 BTC | 18.25% |
| ETH | 1200 ETH | 9.12% |
| XRP | 200000 XRP | 18.25% |
| BNB | 3000 BNB | 109.50% |
| TRX | 200000 TRX | 14.60% |
| LINK | 15000 LINK | 9.12% |
Rates on Borrowed Money
---
BlockFi lets you borrow loans against crypto assets with low-interest rates at 4.5% APR for all their currencies whereas Binance offers different rates depending on the type of asset you are using as collateral. For all stablecoins, a 5.3% Annualized Interest Rate will apply for a seven-day duration.
Collateral Comparison: Loan to Value Ratio on Both Platforms
---
BlockFi's loan to value ratio (LTV) is at 50% which means whatever the value of your loan, the collateral crypto should be worth twice the loan. Meanwhile on Binance, the different collateral crypto assets have different initial LTVs, this means, if you use different assets as collateral of the same value, the loan you request will be of a different value too.
Deposits and Withdrawals
---
The BlockFi Interest Account is subjected to withdrawal limits varying on the type of cryptocurrency being transferred from their wallet. However, BlockFi has no limit on the maximum or minimum deposit amount to start earning your interest.
Binance, being the largest platform, offers support for various payment methods, such as credit and debit cards via third-party providers, crypto, and bank cards. You will not be charged for crypto deposits, but withdrawal fees apply depending on the cryptocurrency. There is no limit on cryptocurrency deposit and as for withdrawals, limitations vary with the verification level and crypto asset.
Security and Trustworthiness
---
BlockFi has a very aggressive KYC policy, though this rubs most crypto-enthusiast the wrong way, it guarantees there is no foul play within its system. Everyone using the platform has satisfied their KYC policy and is completely transparent.
It's regulated by the New York Department of Financial Services and all customer funds are managed by their licensed primary custodian, Gemini. It's the world's first custodian and crypto exchange that achieved SOC Type 2 examination security compliance which protects customer funds and data.
With over $1 billion being traded daily on Binance, it has to guarantee the safety of user funds and data. The company has been slowly introducing some regulations by working closely with regulatory authorities in the UK and US. After a brutal hack in May 2019, the company acted fast to strengthen its security front. They created a Secure Asset Fund for Users (SAFU) which would handle compensation in case they lost assets during hacks.
Monitoring of the Binance exchange is checked by cyber forensics and an AI. Universal 2nd Factor (U2F) was implemented to authenticate transactions. Both platforms utilize the Two-Factor Authentication (2FA) for withdrawals and logins with further WebAuthn and hardware security keys for account security. They also whitelist pre-approved addresses.
Insurance Funds
---
FDIC insurance doesn't cover digital assets, this means BlockFi who are licensed by FDIC does not offer an insurance fund. However, the Binance Insurance fund is designed to cover losses when a clients' account goes below the value of zero by using collateral from non-bankrupt clients' fees. The fund is subjected to the following rules.
· The fund will have a maximum net notional position check.
·  The fund will not be allowed to exceed a predefined position notional on the market; by default, this is 100% the size of the insurance fund.
·  Any positions that would increase beyond the max notional will be subjected to counterparty-liquidation.
·  The insurance fund will offload positions according to a preset algorithm.
· All events that normally require intervention by the insurance fund will instead go into counterparty-liquidation before the fund could take positions.
KYC Conditions
---
Most cryptocurrency enthusiasts are shy of KYC-oriented platforms which collect personal information before giving them access to their services. Since BlockFi is located in the US, it's officially regulated by the nation and follows all the US-specific rules and laws. Some consider the condition tough and aggressive since they cannot access the marketplace or dashboard before satisfying the KYC conditions.
Before they were recently hacked, Binance only needed an email address to open an account and withdraw, deposit, and trade up to 2 BTC per day without verifying KYC requirements. At the beginning of 2021, the company improved its KYC policy to a three-tier based process where the user would produce: Social Security Number, Passport, Government-issued photo ID or Driver's License, a PAN card, and a Voter ID Card.
Available in the US?
---
Only a limited version of Binance is available on their US platform. There's no margin trading, and the trading fees are higher. Deposit methods are also limited and Binance US doesn't allow credit card purchases.
BlockFi has no issues in the United States, providing residents with great options to buy and sell cryptocurrencies.
Native Token Availability and Benefits
---


BNB is the native token for the main Binance Chain blockchain and is considered a global valuable cryptocurrency in terms of market cap. Traders who use BNB for trading, are guaranteed a 25% discount after 30 days which is calculated through your BNB balance and account size.
BlockFi does not offer its own native token but in 2021, the platform added the Chainlink native token LINK to its crypto asset group.
Customer Support and Education
---
Client service managers have the knowledge and expertise to address any question for beginners and experts. BlockFi has a section on its website that is divided into different categories to cater to its different crypto services like BlockFi Interest Account, BlockFi Rewards Bitcoin Credit Card, and BlockFi Loans.
If you don't find the help you are looking for on the website, you could submit a ticket or contact them through their active social media accounts. It takes around 24 hours to receive a response to your query.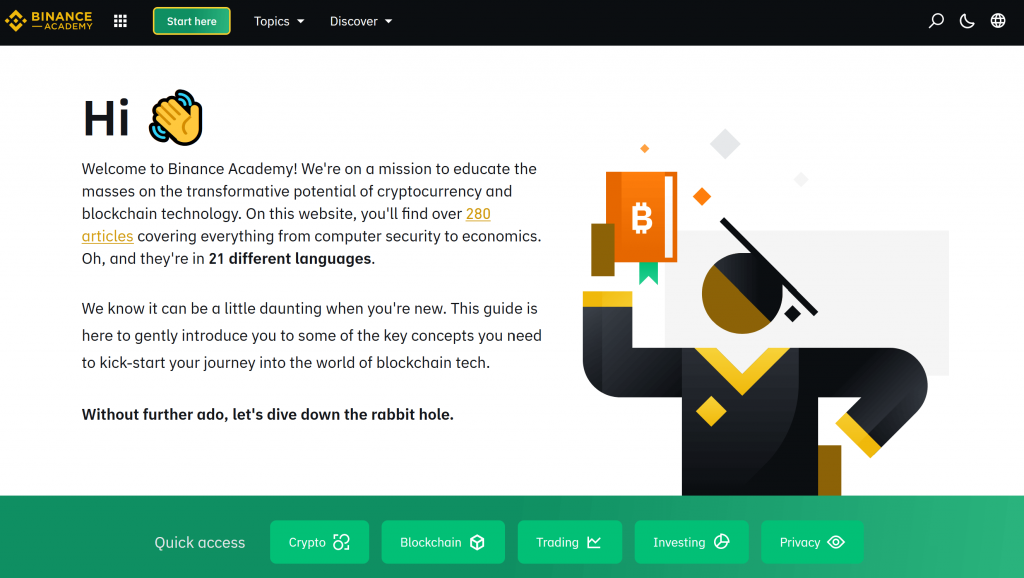 Most reviews have been of terrible customer support from Binance customer support but regardless of that, they offer several educational materials on blockchain technology and cryptocurrencies. They have a blog academy where it gives free access to related resources including how-to tutorials and videos. Binance Info is referred to as the encyclopedia of cryptos.
Conclusion
---
Both Binance and BlockFi are great crypto trading features with an amazing user experience. As the two platforms continue to customize their products to meet the ever-growing demand for cryptocurrencies, they have both strived to provide users with fantastic trading platforms.
Binance wins in terms of the user friendliness and variety of products for its customers. However, their customer support needs improvement. BlockFi wins when it comes to security features and regulatory status of the platform. However, it needs to increase the number of products available on the platform.
In case you want to compare with other exchanges, check this out:

CaptainAltcoin's writers and guest post authors may or may not have a vested interest in any of the mentioned projects and businesses. None of the content on CaptainAltcoin is investment advice nor is it a replacement for advice from a certified financial planner. The views expressed in this article are those of the author and do not necessarily reflect the official policy or position of CaptainAltcoin.com