Aofex Review – Fees, Supported Countries & Coins, Deposits & Withdrawals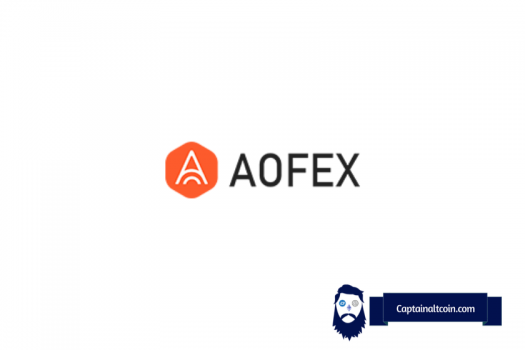 Aofex Review – Fees, Supported Countries & Coins, Deposits & Withdrawals
Variety of features available for users such as regular trading, margin trading, options trading, mining, buying and selling crypto, etc.
Available on desktop, iOS, and Android versions
No deposit fee
Security and safety seem to be on a high level
Aofex Overview
---
More and more people are entering the crypto market constantly. Now more than ever, it is important for crypto investors and legal currency traders to wisely choose the cryptocurrency exchange that suits their needs the best way. 
That is not an easy task since the features and services that exchanges offer to their users are pretty similar and it is hard to find the exchange that separates itself from others. In this article, I will take a close look at one of the exchanges that got our attention due to the variety of features available. The name of the exchange is Aofex.
In fact, Aofex is a brokerage company based in London, the United Kingdom. It was launched back in 2019. A variety of services are offered to users such as trading, mining, or staking. I will try to explain the platform as closely as I can and perhaps help you make a decision regarding your crypto exchange.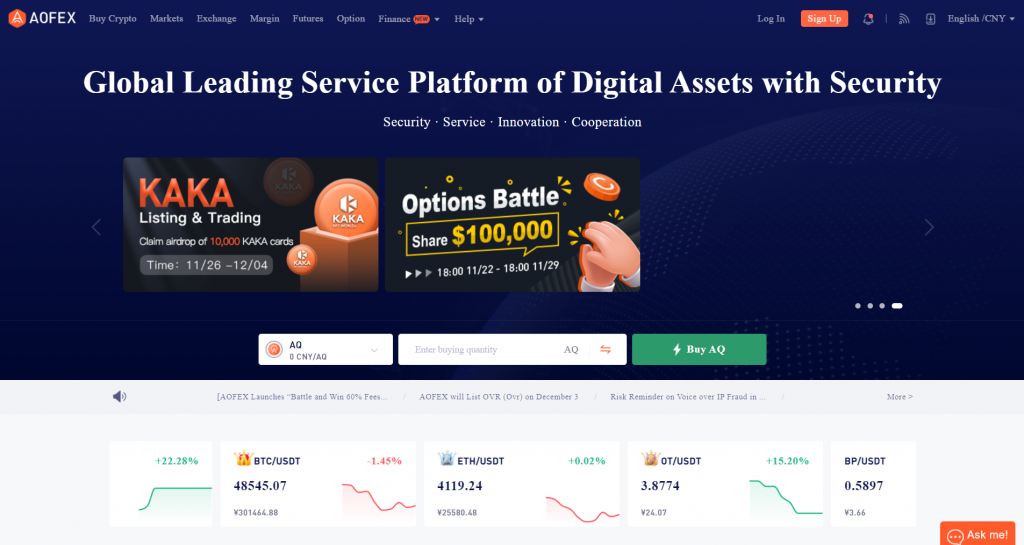 Aofex is a global platform with its Asian Pacific Headquarters situated in Singapore, and also has other headquarters around the world. If you want to figure out how big the platform is, just look at their numbers. Aofex has over one million and six hundred thousand registered users and over three hundred thousand daily users. 
The main advantage of Aofex is that they have a nice combination of an easy-to-use interface and advanced trading tools. This means that Aofex is suitable for both beginners and experienced crypto traders and therefore, their potential is enormous. 
AoFex seems to have made a rug pull and scam exit. Their exchange is not available for 10 days after alleged system upgrade. The site never went live again and the situation is still developing.
To be precise, when you first open the Aofex mobile app, you will be immediately asked whether you are an experienced crypto trader or a complete beginner. Based on your answer, you will be directed to either the Aofex pro or lite app version.
Services & Features
---
As already mentioned, Aofex offers a variety of features to its users such as buying crypto, market analysis, trading (future, margin), etc. Let me break each one and go to the vocal points of the article. So, let's go!
Buy crypto
---
One of the main features of Aofex is the "buy crypto" section. At the time of writing (November 2021), with Aofex you can buy four cryptocurrencies:
AQ (Aofex native token, more about it later in the article)
Tether (USDT)
You need to select the crypto you want to buy and then enter the amount. The amount of crypto is compared against the Chinese yuan renminbi (CNY), US Dollar, Japanese Yen, and other currencies. 
Spot exchange
---
For those of you not familiar with the term, a Spot Market is a market where you can trade digital assets with other traders in real-time. As the name suggests, transactions are settled immediately or "on the spot" as soon as the buying/selling order is filled.
Aofex's exchange section looks pretty well organized. The platform offers more than 400 trading pairs including popular crypto like Bitcoin, Ethereum, Litecoin, DASH, XRP, and many others. Furthermore, the charts look clear. You can select the price movements in the time frame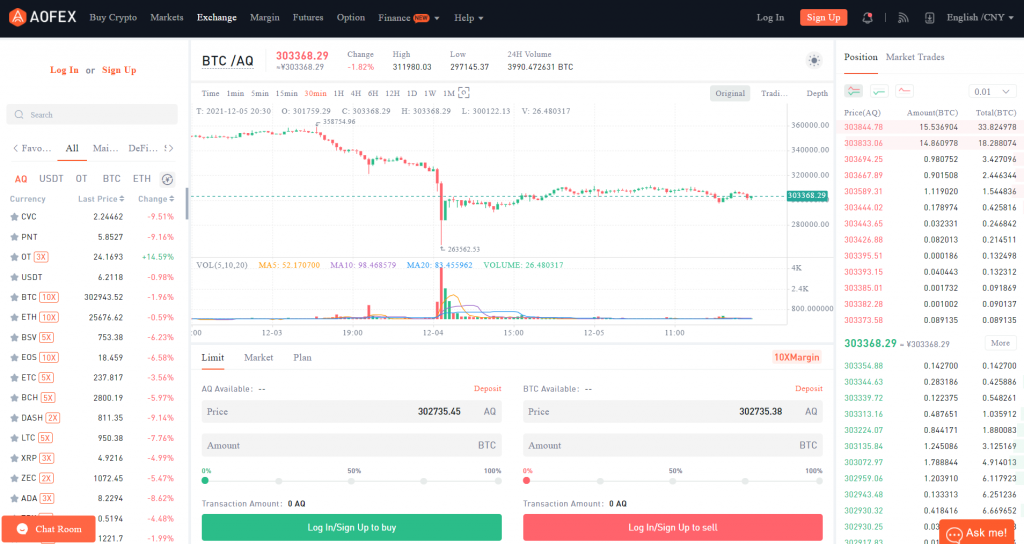 Margin
---
"Margin" trading is the section next to "Exchange". To simply explain it, margin trading is borrowing capital from a broker to invest in crypto. So, the main difference with "regular" trading is the fact that you can gain access to larger sums of capital and leverage your position. You can have earn higher profits, but lose more money, so margin trading has higher risks than the "regular" one. 
Yet another section on Aofes that looks well organized. Below the charts, you can see open orders and orders history which is pretty standard.
Swap
---
Another feature of the Aofex exchange is the swap service. It allows you to trade Bitcoin, Ethereum, and EOS. Aofex's swap is the perpetual swap service that allows you a 1000× margin on perpetual swaps which is quite impressive, as you can increase your profits greatly.
Options trading
---
Options trading is an advanced type of trading so I would not recommend it if you are a complete beginner in the crypto world. However, it is exciting that Aofex offers options trading as well. 
Crypto options trade the same as any other basic call or put option, where an investor pays a premium for the right—but not the obligation—to buy or sell an agreed amount of crypto on an agreed date. The contract time for these options can vary significantly.
Finance
---
The finance section is one of the most recent features established by the Aofex exchange. In fact, when you open the Aofex website, the Finance section still has that "new" badge next to it. Finance consists of staking, mining new coins, and funds tabs. So, let me break each one. 
Staking
---
On Aofex you can do flexible, regular, and "time-limited" staking. Flexible Saking allows you to earn competitive yields with low risk on your staked tokens — (BTC, ETH, USDT), with stable APYs.
Regular staking provides you with "Rich cycles, higher returns" while "time-limited" staking, as the name suggests, offers time-limited products. Usually, products are limited to 7 days.
Mining
---
As the name suggests, you can mine different tokens here. You can see different offers here that include expected ARR, project period, total amount, start and pledge time, and pledge progress.
Fund
---
An innovative feature, based on Aofex's website this is the first professional asset management platform and ecology. You can see the name of the project, expected ARR, max drawdown, period, and types of funds.
Aofexs further explanation of the feature is "The fund products jointly created by AOFEX and ICFM are professional digital asset services for professional investors. All fund product projects are provided by third-party quantitative institutions and teams, and there are threshold restrictions such as subscription amount, total circulation, and a total number of people."
Aofex supported coins
---
Aofex supports more than 200 cryptocurrencies such as BTC, ETH, DASH, EOS, USDT, BCH, LTC, XRP, ADA, LINK, SHIB, AKITA, DOGE, SOL, and many others. 
Aofex deposits & withdrawals
---
Once you verify your account, you can deposit funds to your account, either fiat or crypto. Just make sure to choose the currency you would like to deposit.
With Aofex, you can buy crypto via credit card which is particularly useful for beginners who do not own any crypto yet. 
As per users' experience, withdrawals are pretty straightforward. However, before withdrawing you will have to set up two-factor authorization or white whitelisted addresses.
Fees
---
Deposits are completely free of charge. When it comes to withdrawal fees, I was not able to find this information. This should be considered risky since whenever an exchange does not provide withdrawal fee info, it could mean that it's high.
Aofex Trading Fees
---
The trading fee is 0.2% on Aofex for both traders and makers. Aofex's trading fee is around the average crypto trading fee charged in the industry which is about 0.2% for the taker fees and 0.16% for the maker fees. These taker fees and maker fees are in line with industry's average.
Does Aofex have mandatory KYC?
---
Every user in the fiat currency trading zone of AOFEX is required to complete the Know Your Customer (KYC) verification. Furthermore, they are required to deposit a minimum amount of funds on the platform which processes online orders in real-time.
Aofex supported countries
---
Here is a full list of countries where Aofex is available:
Argentina
New Zeland
Russia
Taiwan
Ukraine
---
Are US investors allowed on Aofex?
No, as far as I saw, US investors are indeed permitted to use the Aofex exchange. A big part of the crypto exchanges does not allow US citizens to use their platform due to the SEC (the Securities Exchange Commission). Aofex is one of those crypto exchanges that are not available in the US. 
Does Aofex have Fiat Deposit?
---
Yes, Aofex does support fiat deposits.
What is an AQ token?
---
AQ is a token Aofex first established for options trading rewards a couple of years ago. Today, AQ is a native token of the platform that you can buy on the exchange with your credit card.
Is Aofex legit and safe?
---
Aofex pays a lot of attention to the security and safety of its users. To be precise, every user needs to go through the KYC (Know Your Customer) verification process Furthermore, before withdrawing you will have to set up two-factor authorization or white whitelisted addresses.
The platform offers a risk control on a daily basis. Based on users' experience, Aofex offers an advanced risk control system.
All of these steps increase safety and security and reduce the chance for a scammer on the exchange. Therefore, I can conclude Aofex is a legit and safe platform.
Conclusion
---
Aofex has its positive and negative sides. A variety of features and services is definitely a number one thing that separates Aofex from other exchanges. Features include mining, staking, different types of trading, etc. The security and safety of the platform seem pretty high as well. 
On the other hand, no withdrawal fee is always a red flag for me. Why would exchange hide the information like this? You won't like what you see is the only logical answer.
Keep in mind that these are only my opinions based on my thorough investigation of the exchange. Please do your own research before deciding whether you want to use the Aofex exchange or not.
At this point, it is good to note that all opinions and suggestions written in this article are not considered financial advice.
If you are not fond of the Aofex exchange, make sure to check out our guides on other cryptocurrency exchanges:
FAQs
---
Deposits & Withdrawal Methods
6.5
PROS
Variety of features available for users such as regular trading, margin trading, options trading, mining, buying and selling crypto, etc.
Available on desktop, iOS, and Android versions
No deposit fee
Security and safety seem to be on a high level
CONS
No withdrawal fee info on the platform - could be high risk
The design of the exchange is not the best
US investors permitted on the exchange
Shady behavior after alleged system maintenance and upgrade periods

CaptainAltcoin's writers and guest post authors may or may not have a vested interest in any of the mentioned projects and businesses. None of the content on CaptainAltcoin is investment advice nor is it a replacement for advice from a certified financial planner. The views expressed in this article are those of the author and do not necessarily reflect the official policy or position of CaptainAltcoin.com