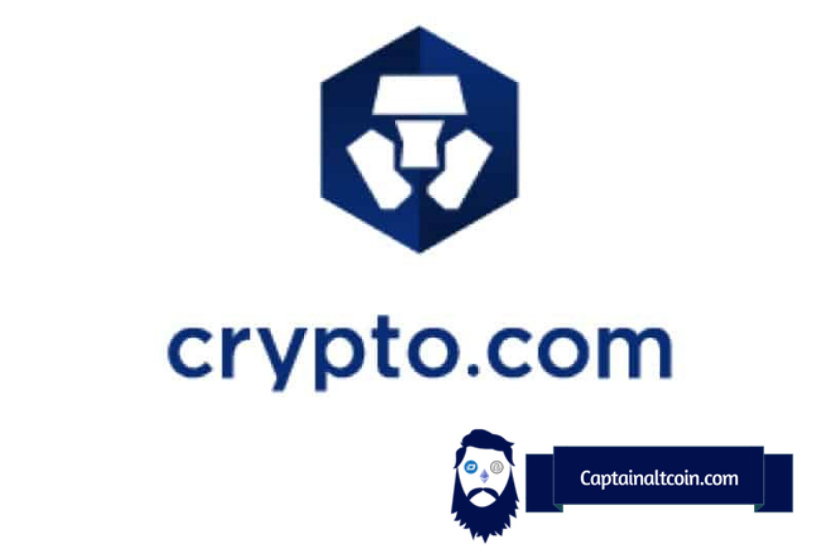 What Is DeFi Swap?
---
DeFi Swap is one of the products that the popular exchange Crypto.com offers, and is a place where users can swap tokens, add liquidity to liquidity pools, stake CRO (the native token of the platform), and calculate their yield.
It has a simple design that is easy to navigate through and use, with clear buttons and instructions. There are no distracting visuals, and additional information, tools and settings are tucked away in the top right corner of the screen.
DeFi Swap can be used upon connecting a wallet, or by using the in-built Crypto.com DeFi Wallet.
What Features Does It Have?
---
DeFi Swap offers the following features:
Swap: Swap is a very straightforward feature which allows users to swap one token for another. They simply select the two tokens they wish to exchange along with the quantity, and Swap does the process for them using its liquidity pools.


Pool: Pool allows users to add liquidity to a liquidity pool. Each pool consists of two ERC-20 tokens, and issues an ERC-20 pool token as a proof of proportional ownership of the underlying reserves.

Liquidity providers earn rewards by sharing the swap fees, and can regain their shares of the pool by returning the pool tokens and paying the gas fee.

Note: Newcomers who are looking to provide liquidity should be aware of the concept of impermanent loss. Impermanent loss occurs when the price of the assets a user has provided to a pool changes from what it was when they were first deposited – the bigger the change, the bigger the loss can be.


Boost: Liquidity providers can boost and yield CRO by staking CRO for anywhere from a month to 4 years. Users cannot unstake their CRO until the term has ended, but can stake multiple times.

In the case of staking more than once, the CRO DeFi Yield multiplier is based on the staking term of the largest CRO stake + the sum of CRO stakes.


APY: APY stands for annual percentage yield, and represents the amount of interest that can be earned in the period of a year.

In the APY section of DeFi Swap, users can calculate their boosted yield by inputting how much liquidity they may provide and how much CRO they may stake.


Analytics: Analytics can be accessed from the menu button on the top right corner, and it leads users to a page where they can view analytics such as token and token pair data of the CRO DeFi Swap protocol, including liquidity, trading volume and so on.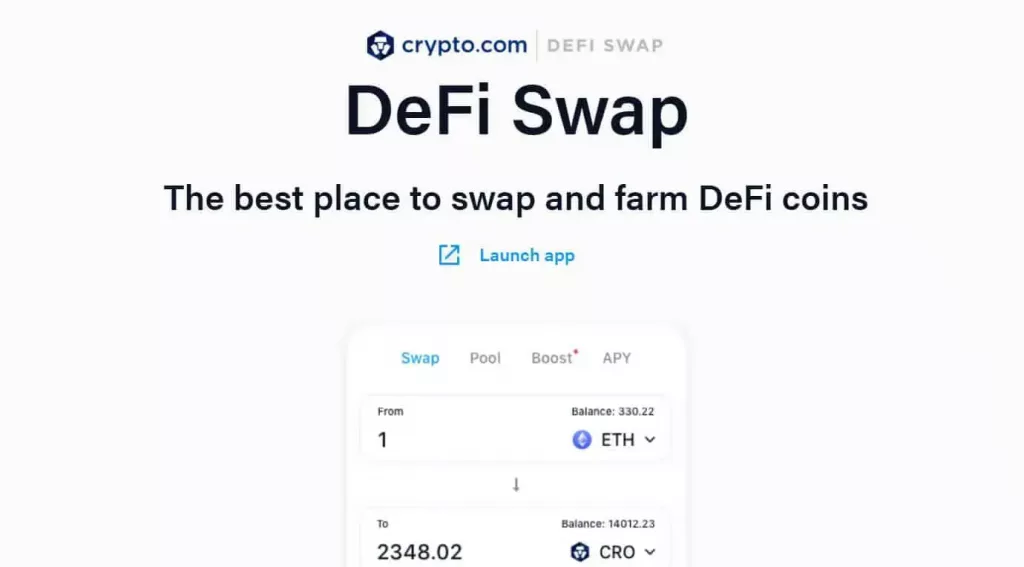 In addition to these features users can also set their slippage tolerance, transaction deadline and the ability to toggle expert mode.
Slippage tolerance: Reverts the transaction if the price changes unfavorably by more than the user's set percentage.
Transaction deadline: Reverts the transaction if it keeps pending for over a certain amount of time.
Expert mode: Allows high slippage trades.
Is Crypto.com DeFi Wallet Safe?
---
The Crypto.com DeFi Wallet allows users to store and manage over 100 coins and tokens, as well as stake, swap and more. The user is given full control of their assets and their wallet keys, making it a safe and reliable wallet to use.
That being said, users don't necessarily have to use the Crypto.com DeFi Wallet if they don't trust it. DeFi Swap allows users to connect either a MetaMask wallet, or a WalletConnect one in order to participate.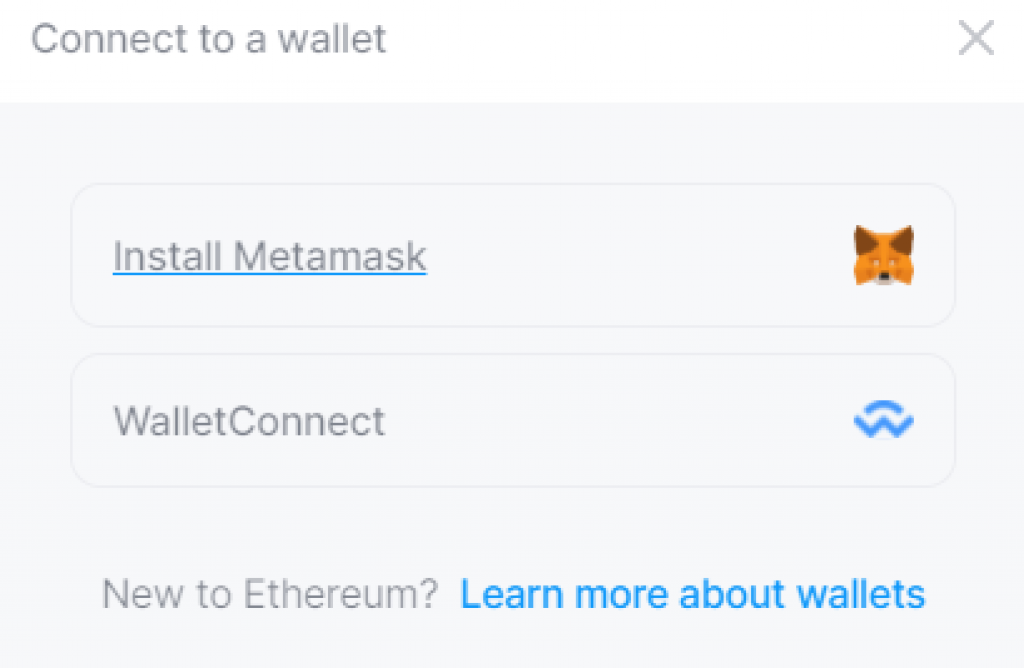 Supported Tokens
---
There are currently 29 tokens supported on DeFi Swap, they are:
This list may be subject to change and tokens may be added or removed in the future. In fact, users can raise a request for the addition of new tokens by filing an issue. While doing so may not guarantee an addition of a token to the list, it will be reviewed by the Crypto.com team, albeit in no particular order or time.
What Is The APY On Crypto.com DeFi Swap?
---
The APY on Crypto.com DeFi Swap primarily depends on the amount of CRO staked, and is also influenced by the amount of liquidity provided.
Assuming $1-$100,000 worth of liquidity is provided:
| | |
| --- | --- |
| Staked CRO: | Approximated APY: |
| 1,000 | 0.16% |
| 10,000 | 0.41% |
| 100,000 | 0.98% |
| 1,000,000 | 1.98% |
| 10,000,000 | 2.87% |
| 100,000,000 | 6.42% |
| 1,000,000,000 | 34.84% |
The APYs vary depending on the amount of liquidity provided in USD equivalent. The higher the value of the provided liquidity, the less APY a user can earn. It is recommended users use the calculator for specific figures.
Click here to calculate your APY.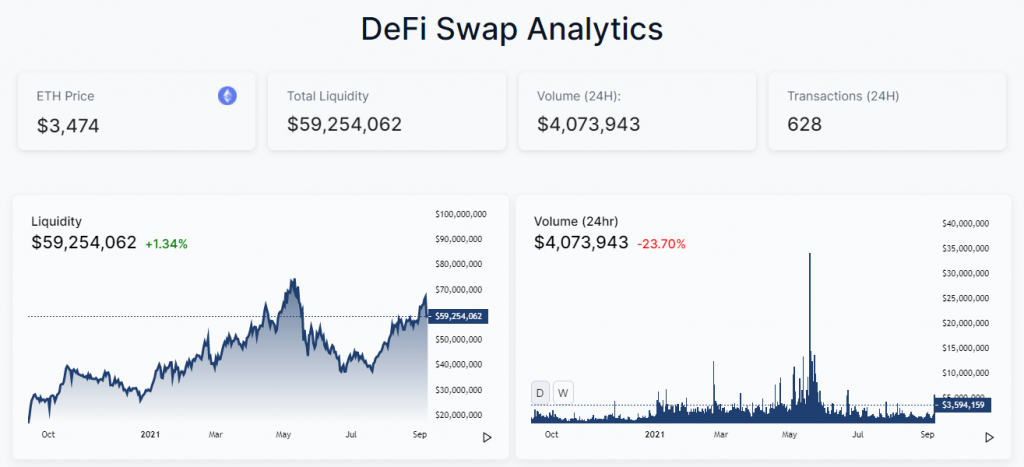 Frequently Asked Questions
---
Read also:

CaptainAltcoin's writers and guest post authors may or may not have a vested interest in any of the mentioned projects and businesses. None of the content on CaptainAltcoin is investment advice nor is it a replacement for advice from a certified financial planner. The views expressed in this article are those of the author and do not necessarily reflect the official policy or position of CaptainAltcoin.com