CoinRabbit Review – Is CoinRabbit Safe & Legit?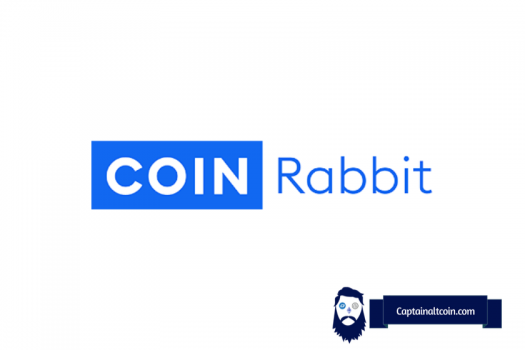 CoinRabbit Review – Is CoinRabbit Safe & Legit?
The program offers unlimited loan periods. You could borrow the stablecoins for as long as you want; there are no late fees. When you're ready to repay, you'll pay the interest accrued for the loan period
There are no deposit or withdrawal fees
The website is user-friendly. It's not hard to find your way around
It has a low LTV ratio which reduces the risk of liquidation
The interest rates are competitive
It has no KYC requirements
Your loan gets to you on time. There are no complicated credit checks
COINRABBIT LOANS
---
The Cryptocurrency world is more than just trading. It's a whole ecosystem. In it, there's something for everyone. The various arms of this ecosystem include lending and borrowing, staking, mining, Non-Fungible Tokens(NFT), launch pads, etc.
Today, I'll take you through one of the exciting aspects of this ecosystem: Crypto loans. More specifically, you will learn more about the CoinRabbit loan system, what it means, and how you can benefit from it.
INTRODUCTION
---
Coinrabbit is a lending platform that provides access to unlimited stablecoin loans using Crypto-assets as collateral options. Founded on November 4, 2020, in Seychelles, it requires no immediate KYC requirements and offers low non-compounding interest rates.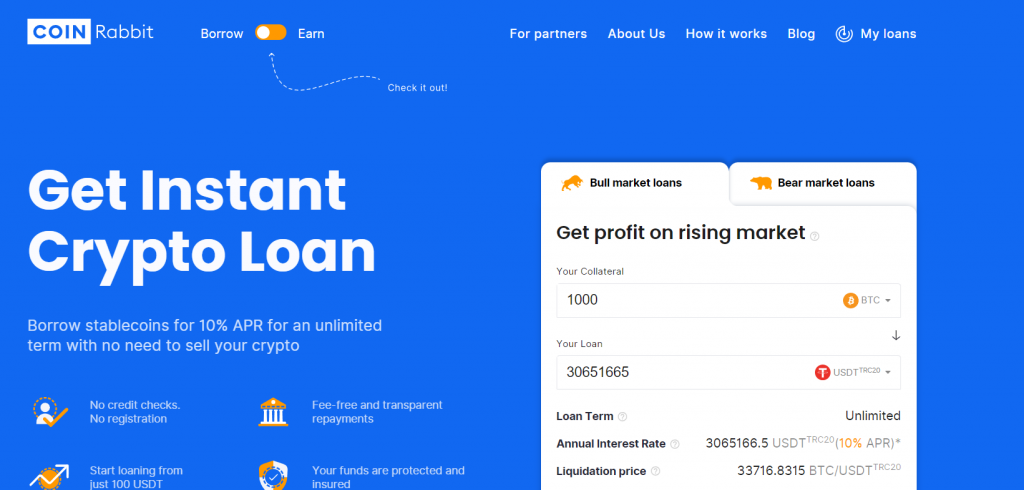 KEY FEATURES OF COINRABBIT
---
Borrow:
---
So, let's say you have 10 ETH coins (that's about $35,000 at the current price). You do not want to sell it because you are convinced that Ethereum will still go up in price; you just don't know when exactly that would happen.
However, something came up, and you need to spend $10,000 on an emergency. How do you go about it? You could sell off part of your ETH portfolio to cater to the need. But what if Ethereum shoots off in value just after you sold off part of your portfolio? Oof! That won't go down well. Trust me, I know.
Coinrabbit comes to the rescue in this case. It allows you to put down your ETH as collateral and take out a loan based on the amount of ETH you have as collateral. You then use the loan to do whatever it is you want to do. When you're ready, you return it with some interest and get back your ETH. As simple as that!
Earn
---
So, you just made some good profit from selling a coin you've held for a while. You have the profit in stablecoin, and you do not want to convert to fiat yet.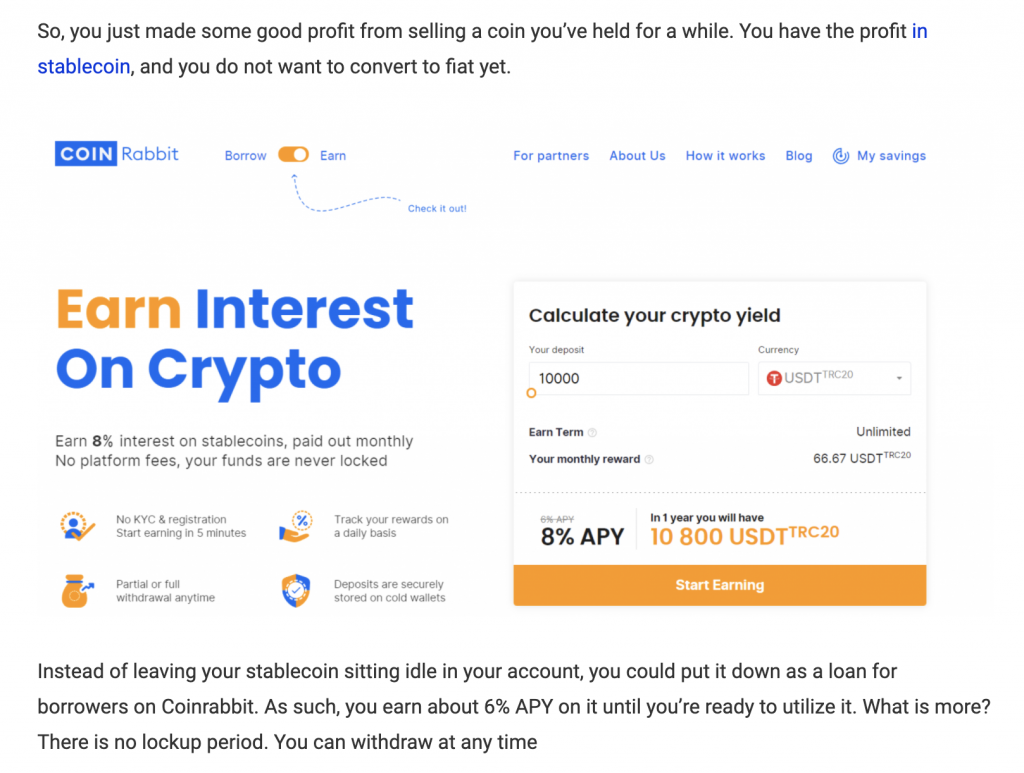 Instead of leaving your stablecoin sitting idle in your account, you could put it down as a loan for borrowers on Coinrabbit. As such, you earn about 10% APY on it until you're ready to utilize it. What is more? There is no lockup period. You can withdraw at any time.
Read also:
HOW COINRABBIT BORROW WORKS?
---
There are two types of loans In Coinrabbit: Bull-market loans and Bear-market loans. 
With bull-market loans, you borrow stablecoins and put down a volatile cryptocurrency as collateral. It is called a bull-market loan because you apply for it in situations where you expect the price of the collateral to go up.
On the other hand, bear-market loans are applied when you expect the price of an asset to go down, and you want to short-sell it. In such cases, you put down stablecoins (or any other supported coin as the collateral) and get a predetermined number of tokens. If your prediction is correct and the asset loses value, you still get your initial crypto asset, which is now worth more in the crypto world.
Supported Collateral:
---
As of writing, Coinrabbit supports nine different crypto and digital assets as collateral. They are Bitcoin, Ethereum, Bitcoin Cash, Firo, Nano, Dogecoin, Ripple, Digibyte, Shiba Inu, Ravencoin, Monero and many more coins.
How to borrow crypto:
---
Getting a loan on Coinrabbit is a straightforward process. There are no credit checks or registration required. All you need to do is to follow these steps:
Input the amount of collateral you have. This makes it possible for the system to calculate how much loan you can borrow. We'll talk more about that later in this article.
Confirm your choice with a phone number and the USDT or USDC payout address
Send the collateral to the provided address
Your loan should get to you within ten minutes
Start spending!
COINRABBIT INTEREST-EARNING ACCOUNT
---
Coinrabbit makes it a simple process to earn interest in your stablecoins. With up to 10you% APY, it is one of the best rates in the market today. At present, you can deposit three different stablecoins to earn rewards: USDT (ERC-20), USDT (TRC-20), and USDC.
The minimum deposit amount is $100.
You might ask: isn't this the same thing as staking? Why should I put down my capital with Coinrabbit when I can stake it elsewhere? Well, this is different from staking because you don't have to lock your funds before earning. You can make a partial or complete withdrawal whenever you like.
Interestingly, Coinrabbit allows you to send more funds to add to your current deposit. You can also create as many deposits as you wish.
When is interest paid out?
---
Interest is paid out monthly but is earned daily and calculated yearly. To illustrate, if you deposit $10,000, your interest is calculated yearly. Therefore, you'd get $800 in total after depositing your loan funds for a year (8% of 10000). You'd see your earnings accruing daily but would be paid $66.7(800÷12) only at the end of a month.
MINIMUM AND MAXIMUM AMOUNTS
---
For taking out loans, the minimum amount depends on the cryptocurrency in question. For example, the minimum amount of loan using BTC as collateral is 80 USDT while it is 30 for BCH and ETH. On the other hand, there is no maximum amount.
For getting interested on stablecoins, you can put down a minimum of 100 USDT or USDC and a maximum of 100,000.
WHAT ARE THE FEES?
---
You probably didn't see this coming, but there are no deposit and withdrawal fees at all for using the Coinrabbit platform.
SECURITY MEASURES
---
If I would put down my precious crypto asset as collateral or an interest-earning loan, I need to be convinced that the funds will be handled with utmost security. How does CoinRabbit measure up on funds safety? Consider the following facts:
All the funds are stored in cold storage wallets that can only be accessed by several IP connections and through a VPN. If you're versed in the crypto world, you'll agree that cold wallets are the best there can be when it comes to security. This is because they are air-gapped from all internet connections, making it near-impossible to be hacked
A risk-control system acts as a watch guard over the funds and relentlessly checks the security of the funds on the blockchain. Immediately it senses a danger; it alerts the team who step in to address the situation.
ARE THERE ANY RISKS?
---
I will answer that question in two stages:
Is Coinrabbit legit? So far, so good. The platform has had good reviews from those who have used it. The reviews come from social media and direct review websites. However, it's good to note that it is a relatively new platform, having been established less than a year ago. Thus, it has not stood the test of time
In terms of partners, Coinrabbit has partnerships with two well-known crypto establishments: ChangeNOW and Guarda. If you trust these two, you should trust Coinrabbit
You should know, however, that Coinrabbit has not been audited. Therefore, there is no way of knowing for sure if they are what they say they are. 
Even if it is legit, what risks still exist? The crypto world doesn't care about your feelings; it has a mind of its own. Therefore, the value of your collateral may drop significantly during the period of borrowing. If the price drops below a particular point, your position will be liquidated, and your collateral will be sold to cover up the losses.
WHY ONLY USDT/USDC FOR LOANS AND ONLY A FEW COINS AS COLLATERAL?
---
It has to do with liquidity and stability. USDT is the world's biggest stablecoin by market cap(5th position), followed closely by USDC in 9th position. Also, the nine cryptocurrencies that can be put down as crypto-backed loans have strong market caps. Therefore, even in a sharp market decline, the liquidity of these digital assets can still be counted on.
WHAT CAN YOU DO WITH YOUR USDT LOAN?
---
As soon as you get your loan, you can spend it however you like. Here are some recommendations:
You could send it to your main wallet and use it to buy goods and services in stores that accept stablecoins as payment
You could use it to buy other cryptocurrencies, perhaps one that you have done research on and are convinced would bring good returns in the near future. (This is a risky choice. Be sure you know what you're doing)
You could convert it to fiat currencies and spend it on yourself. Go on vacations, buy that dress, cater to that need, enjoy yourself. You only get to live once.
You could stake it on staking platforms that support stablecoins or other coins. In that way, you're getting double value for your money. 


HOW IS THE COLLATERAL AMOUNT CALCULATED
---
The collateral amount on the Coinrabbit platform is calculated with a loan-to-value(LTV) ratio of 50%. The LTV, as the name implies, is the ratio of a loan to the value of an asset.
To illustrate, if the value of Bitcoin at the point of borrowing is $50,000 and you put down 1 BTC as collateral, you're entitled to take up to 50% of your total worth as a loan. That means you can take up to $25,000 as a loan.
The LTV ratio is small compared to other crypto lending platforms, but it offers a distinct advantage – it reduces the risk of liquidation drastically. Thus, liquidation will only occur if the asset goes down by 50%. That is not an impossibility in the crypto world, but it gives you better chances.
To give users an even better advantage against liquidation, Coinrabbit issues liquidation warnings by email or SMS when their loans cross any of the three limit zones (12.4%, 37%, and 50%). Users can then decide to either add to their holdings to bring down the liquidation price or cut their losses and salvage what's left. 
You can even track your loan. Just sign in with your phone number, click 'track my loan, and your loan data will be displayed with a chart showing how far away or close you are to your liquidation price.
WHAT ARE THE INTEREST REPAYMENT TERMS?
---
The interest rate is fixed on 14% APY (Annual percentage yield) or annual interest rate. It is calculated monthly and is added to the amount to be repaid. This rate is constant regardless of changes in the collateral currency's rate.
For example, if you put down 1 BTC as collateral when the price is $50,000. You can take out a loan of $25,000. That means the interest at the end of a full year would be $2500. That is constant even if Bitcoin's value at the end of the year is $300,000 or more.
CONCLUSION
---
Coinrabbit is one of the latest crypto lending platforms in town and a crypto lending service. It offers instant loans with no KYC or credit checks needed. Its low LTV value ensures that you have a good chance of staying above liquidation waters. 
On the other hand, it is neither regulated nor audited and is a relatively new player in the game. My advice? If you're going to try it out, start small, and don't forget the golden rule of crypto trading – Don't invest what you can't lose.
PROS
The program offers unlimited loan periods. You could borrow the stablecoins for as long as you want; there are no late fees. When you're ready to repay, you'll pay the interest accrued for the loan period
There are no deposit or withdrawal fees
The website is user-friendly. It's not hard to find your way around
It has a low LTV ratio which reduces the risk of liquidation
The interest rates are competitive
It has no KYC requirements
Your loan gets to you on time. There are no complicated credit checks
CONS
It is neither regulated nor audited. This brings up serious questions about its authenticity. It's advisable to put in collateral that you're comfortable losing. (That actually is the golden rule of all crypto transactions)
It started over a year ago. Thus, it stood the test of some time but is still not as established as some other platforms
It supports a limited number of cryptocurrencies as collateral

CaptainAltcoin's writers and guest post authors may or may not have a vested interest in any of the mentioned projects and businesses. None of the content on CaptainAltcoin is investment advice nor is it a replacement for advice from a certified financial planner. The views expressed in this article are those of the author and do not necessarily reflect the official policy or position of CaptainAltcoin.com