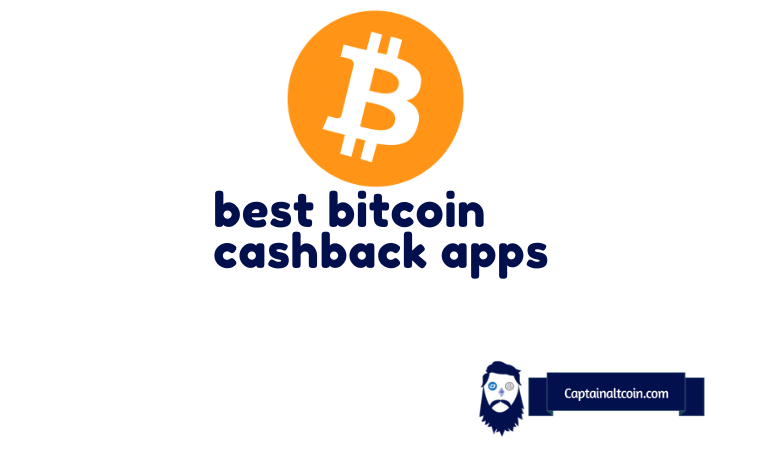 What are Crypto Cashback programs?
---
Crypto cashback programs are as simple as they sound. They offer a financial rebate on your purchases, but rather than in the typical fiat currency, it is paid to you in cryptocurrency, usually in the form of Bitcoin. Crypto cashback programs are great for those looking to hold their rewards as crypto has been on a surge and those rewards have grown even more over time.
Cashback programs are very popular in the traditional financial system, among a range of other deals, and offers designed to get you to spend money in return for some sort of incentive, for example air miles, discounts on future products etc, it is only natural that crypto services are offering the same type of incentives to spur adoption and usage.
When making use of Bitcoin or other cryptocurrency reward schemes, make sure to do your research to ensure you get what you are promised, as there are always scammers out there looking to take away your hard-earned money.
What can you get Cashback on?
---
You can get cashback on a range of different products and services. Whether you are looking to book a romantic getaway to the Maldives, or just do your weekly shop at Walmart, there will be cash to earned with these cryptocurrency cashback options. Not only are physical products and packages up for earning, but services and transport are too, with many programs offering cashback on travel providers such as Omio and Uber, and on food services such as DoorDash.
Earn cashback in crypto using your debit or credit card
---
By using many of the services below you are able to earn cashback from your debit and credit card spending. Cashback programs work by providing you with a cash rebate on your purchases, which can be conducted using a debit or credit card. You won't need to go through any difficult processes or jump through any hoops to do so.
Crypto.com Card
---
Every time you spend with the card (anywhere Visa is accepted) you get 1-5% (depending on which card you have) in CRO tokens as cashback.
You can get the plastic card tier for free. With 1% cashback this is already a good deal I think. When you choose to stake CRO coins you get a higher card tier with more benefits.
Crypto cards with cashback options – Blockfi & Wirex
---
Wirex is a British FCA regulated app for trading cryptocurrencies. They also offer a Visa card to easily spend your crypto. This card also offers 0,5% cashback (paid in BTC) on all in-store purchases.
You can read more about Wirex here, or visit the site by clicking here.
BlockFi card is set to be launched this month and it will offer a great cashback program on purchases made with it – 1.5% paid back into your BlockFi account that can be easily withdrawn or sent to the trading platform on BlockFi. Or you can even send it to your lending account to earn more money with it as Blockfi is the leading crypto loans platform that offers up to 8% APY on your money deposited with them. There is an annual fee of $200 which is definitely appallingly high, but the $250 signup bonus in Bitcoin returns $50 in Bitcoin above the $200 annual fee after spending $3,000 on the card in your first three months.
Visit Blockfi by clicking here.
Fold
---
Fold is an organisation that not only offers you crypto cashback on your purchases, but they also feature other financial advancements in crypto, such as gift cards. Their cashback features can be accessed either by using their webapp or by installing the mobile app, available on both Apple and Android.
They also have a Fold Card that can be used anywhere Visa debit cards are accepted – online, in stores, and over the phone. Currently, the Fold Card is only available in the United States.
Fold offers cashback on a range of different stores, big and small, these include Amazon, Lowe's and DoorDash. Withdrawal of the funds you have earned is possible at any time, making it an easy and stressless experience to earn cashback with Fold. Fold also offers quite large cashback awards, with finding deals with over 15% cashback not being uncommon.
Whenever you buy a gift card with Lightning on their app, your account is given some credit towards future purchases with them.
The way Foldapp works in a nutshell is that they purchase $5, $10, $20 gift cards for cash and sell those gift cards at a 20% discount basically.
Lolli
---
Lolli is a service which gives you a Bitcoin cashback when shopping at over 1000 different stores, with up to 30% Cashback on your purchases! Lolli is free to use and comes in the form of a chrome web extension. Through this, Lolli will notify you of deals on stores where cashback is possible.
Lolli lets you earn on stores like Microsoft, and big brands like Sephora and Nike. Lolli has been featured in a lot of mainstream news sources and has managed to attain a rather strong reputation making it a trustworthy cashback program.
You need to accumulate $10 USD worth of BTC before you can withdraw from Lolli.
Unfortunately, Lolli is only available in the US. Another downside is the mandatory KYC process you need to go through in order to be able to use the platform.
Read the full Lolli review here.
Pei
---
Pei, or "getpei" is another Chome Extension that provides you with crypto cashback for your purchases online. Offering cashback on an incredible range of over one hundred thousand retailers! Including Walmart and Macy's.
Pei supports an incredible range of products and retailers. Using Pei you can search through their eligible products and buy straight from a category of deals at your fingertips. Pei also makes use of a mobile app to help simplify the process for their users. Pei is free to use and offers about 2-4% cashback on most of their offers.
Pei isn't always as simple to use as some of the other extensions on this list as you have to link your card to the extension in order to start using.
Earn.com – Crypto for Contributions
---
Earn.com is a different kind of cashback program compared to most of the others on this list. Rather than rewarding you for shopping and spending your money, with earn.com you can earn cryptocurrency without using any of your finances at all! Earn.com is a part of the cryptocurrency exchange Coinbase, it is their new education section. On earn.com, you can undertake cryptocurrency education courses and be rewarded with cryptocurrency for your efforts to educate yourself. These rewards aren't small either! With the total rewards available currently standing at $167!
This is a great way to not only educate yourself on crypto which is an interesting topic in itself, but also earn cash while doing it!
Storm X – Monetizing Micro tasking
---
StormX is another Bitcoin cashback program that awards you with coins for your online purchases. You can install StormX either on to your chrome browser or on to your mobile device. With StormX you are able to earn rewards on their array of supported stores, of which there are over 750 available. StormX has some of the best Bitcoin reward rates out there, you could earn up to 87.5% from your purchases in Bitcoin! This is an incredibly good rate to be earning at and should not be taken lightly!
StormX supports a range of well-known stores too, not just stashing their discounts away with smaller stores. They give you cashback on brands such as Nike and Lego and on services such as Uber. One downside of StormX is their withdrawal limit, as you need to have amassed a total cashback of over $10 in order to take out your Bitcoin.
Through StormX you can also get paid for "microtasking", these microtasks include things like surveys and other trivial ways of earning small amounts of cash, this is a great new feature as you would be hard pressed to find any other service that would fund these tasks in crypto. These tasks are facilitated through their cryptocurrency. StormX has a token which is used to fulfill smart contracts that need people to fill out surveys and other tasks.
BitcoinRewards
---
With 4/5 stars on the Chrome web store, BitcoinRewards is a Chrome extension which finds you cashback on a range of over 1500 stores, including retail shopping, travel and other major industries! Through BitcoinRewards, you are able to earn a huge cashback of up to 50% of your initial purchase.
The application is very easy to use too. Simply add the chrome extension to your browser and start shopping. From here, BitcoinExtensions will alert you to any available cashback and deals available on the stores you visit.
CoinRebates
---
Although a smaller program than the previously mentioned BitcoinRewards, CoinRebates has a range of benefits that shouldn't be ignored. Rather than operating as a Chrome extension, CoinRebates works by sending the cashback coins to your personal wallet, granted you have submitted your public address on their site and set up an account. CoinRebates offers cashback at 127 different stores, including Walmart, Expedia and Udemy, offering a maximum of 6 bits to the dollar on some stores (that's about a 20% cashback!).
You may have to wait before signing up to CoinRebates though, as they are currently undergoing changes and are not accepting new customers, though this will likely change within the near future.
StormX vs Lolli: Which is the Better Crypto Cashback App?
---
Both Stormx and Lolli are great platforms for earning cash on your purchases, offering great rates and on a phenomenal range or stores and brands, it is hard to fault either of these great projects.
The first point of interest is the range of each of these choices, although both have a many stores accepting them for cashback, Lolli is quite firmly ahead of StormX, as Stormx supports 750+ sellers whereas Lolli goes well over a thousand. Again, it needs to be noted that this is not a major issue, and both of these are still large numbers of stores to provide cashback from.
Secondly, the two stores' services offer competitive cashback rates, though through StormX's system, it is a clear winner in terms of Cashback amount, offering up to 87.5%. This is a very high amount to offer and should be heavily considered. StormX also goes a step further in letting you withdraw in more currencies than just Bitcoin. Currencies available for withdrawal are: Bitcoin, Ethereum, StormX, Yearn.Finance, Litecoin and DAI.
Through this range of factors, we have to determine StormX as the better cashback solution overall, though if Lolli appears to be more to your taste, we encourage you to choose it.
Could bitcoin cashback help mass adoption?
---
The introduction of Bitcoin cashback programs, among other financial advancements in cryptocurrency will definitely help mass adoption. As these types of rewards and features become more used, more mainstream providers will begin to offer them, bringing them into the eye of the public and giving it the reputation of mainstream companies that people trust.
Do Cashback apps really work
---
Ofcourse! We always recommend doing your due diligence when it comes to programs like this, especially in the cryptocurrency space, but it is not impossible to find great deals out there, especially in a young market. Just make sure you fully trust whatever project you put your faith in before putting in any card details, your coins or any other sensitive information.
Read also:

CaptainAltcoin's writers and guest post authors may or may not have a vested interest in any of the mentioned projects and businesses. None of the content on CaptainAltcoin is investment advice nor is it a replacement for advice from a certified financial planner. The views expressed in this article are those of the author and do not necessarily reflect the official policy or position of CaptainAltcoin.com