TimeX Exchange Review – Fees, Supported Coins & Countries, Payment Methods, KYC



TimeX Exchange Review – Fees, Supported Coins & Countries, Payment Methods, KYC
✅ Simple, easy to use interface
✅ Fiat deposits available 
✅ The safety and security seem to be on a high level due to hi-tech protection measures 
✅ Available in more than 190 countries including the US 
✅ Decent customer support that is easily reachable 
What is TimeX.io?
---
TimeX is the next cryptocurrency exchange we will investigate. With the growing crypto market, traders and investors have a variety of exchanges to choose from. This is why we want to investigate as many exchanges as we can and make your decision easier.
There are many factors that you need to focus on before deciding which exchange to use, such as registration, trading fees, or the number of support crypto assets. In this article, we will take a close look at all of these factors (and more) when it comes to the TimeX exchange.
TimeX was launched back in July of 2019, so it is still a relatively new player on the crypto market, especially when you compare it to its competitors. However, it is based in Australia and is widely considered one of the most vital exchanges on the whole continent.
The main focus of the TimeX exchange is to enable fast, secure, transparent, and cryptographically-guaranteed trading that ensures security on a peer-to-peer basis. Languages available on the exchange are English and Russian.
TimeX has a pretty well-organized and user-friendly interface, which is suitable for beginners. Keep in mind though, that you can use TimeX only on a web version since the mobile app for iOS and Android is still not available. This does not mean that TimeX will never have a mobile app, but there is no set release date on its website.
Services & Features
---
TimeX offers a variety of services to its users such as buying crypto for fiat money, trading for non-registered users, and generous affiliate program. Let me break each one.
Buy crypto for fiat
---
Buying crypto for fiat money is quite easy with TimeX. On the menu bar, you will see the "Buy BTC' button. Once you tap on it, you will be directed to a new window that will look like this:

As you can see, you can enter the amount of AUD (Australian Dollar) and the exchange will show how many BTC you get for that amount. Keep in mind though that you have to deposit AUD to your account before buying any crypto on TimeX.
Opportunities for Non-registered Users
---
What I found quite interesting when I investigated the TimeX exchange is the fact that even non-registered users can trade and purchase crypto assets. However, this is only possible if they want to make a transaction that is worth below $300. For higher amounts, users need to have a registered account. To be honest, this is a pretty unusual standard since exchanges most of the time do not allow users who did not register to trade.
I do understand the reason behind it though. TimeX wants to allow newbies on the platform to test the exchange with a smaller amount before actually deciding whether they want to register or not.
Affiliate Program
---
TimeX offers a pretty generous affiliate program that you can use to invite your friends and family to the platform. In other words, when the user's invited friends create an account on TimeX, they receive rewards for the referrals. You can invite up to four people. Rewards depend on accumulated trading fees generated by your friends and can go up to 80% which is a pretty remarkable percentage, to be honest.
TimeX supported coins
---
TimeX offers a limited number of cryptocurrencies for purchasing. At the time of writing (December 2021), with TimeX you can a few coins such as Bitcoin, Ethereum, Litecoin, Tether, USD Coin, Ripple, Wonderland, Compound, and Eos. Hopefully, the exchange will increase the number of crypto assets you can buy in the future.
TimeX deposits & withdrawals methods
---
With TimeX, you can deposit and withdrawal funds from your account in a few ways such as fiat currency deposits via bank deposits or credit card purchases. Bank deposits seem to be available only for Australian traders, while traders outside of Australia can use the card deposit option to deposit funds.
Each exchange that supports fiat deposits is called "entry-level exchange" which means that investors who have not owned any crypto assets so far can purchase their first crypto.
Fees
---
No information about deposit and withdrawal fees whatsoever on TimeX's website. This is extremely strange since most of the time the exchange provides info about fees on their help center or FAQ section. In my opinion, there are two reasons why the exchange would miss sharing this info with its users – they are irresponsible or fees are too high so they would rather not share with everybody. Whatever it is, it is worrying.
On the positive side of things, there are no limits for deposit and withdrawal fees on TimeX.
Keep in mind that on most exchanges deposits are free of charge. If that's the case with TimeX, why wouldn't they share it?
TimeX Trading Fees
---
When it comes to trading fees, TimeX was a bit more transparent and the exchange provided info about it in its FAQ section. Just like any other exchange, TimeX takes maker and taker fees from traders. Maker fees are the fees paid by the traders who make a completely new trade entry in the order book. Taker fees are fees paid by traders who want to enter at the best available entry price, for those not familiar with these terms.
The taker fee on TimeX is 0.5% which is more than double the market's average (~0.2%). Maker fee is 0.25% which is in line with the market's average. Moreover, TimeX does not have any on whether the fees are based on your trading volume for the previous 30 days. Crypto exchanges usually offer lower fees for traders who have higher volumes.
Does TimeX have mandatory KYC?
---
Creating an account with TimeX is pretty much a straightforward process. Once you confirmed your email, you can go through the phone number verification process and KYC (Know Your Customer) identification process. Keep in mind though that KYC is not mandatory with TimeX since you can use the exchange to some extent even if your account is not verified.
Account verification on TimeX has 4 levels:
Phone and email (trade up to 1 BTC daily)
Personal info (up to 5 BTC daily)
Residential address (up to 10 BTC daily)
Documents verification (Up to 50 BTC daily and up to $20,000 daily)
My suggestion when it comes to verifying an account is always to go all the way. That is how you protect yourself from scammers and increase the daily limits for trading.
TimeX supported countries
---
TimeX seems to be supported in more than 190 countries. In other words, it does not matter where you are in the world, from Afghanistan to Uruguay, you can use TimeX.
Are US investors allowed on TimeX?
---
I did not find any restrictions for US investors on TimeX's website and you can even verify US phone numbers when you are verifying your account. This implies that US investors are allowed on TimeX.
Does TimeX have a Native Token?
---
No, TimeX does not have a native token at the time of writing (December 2021). This does not mean they will not have it in the upcoming months or years though since TimeX is still a relatively new player on the market.
Is TimeX legit and safe?
---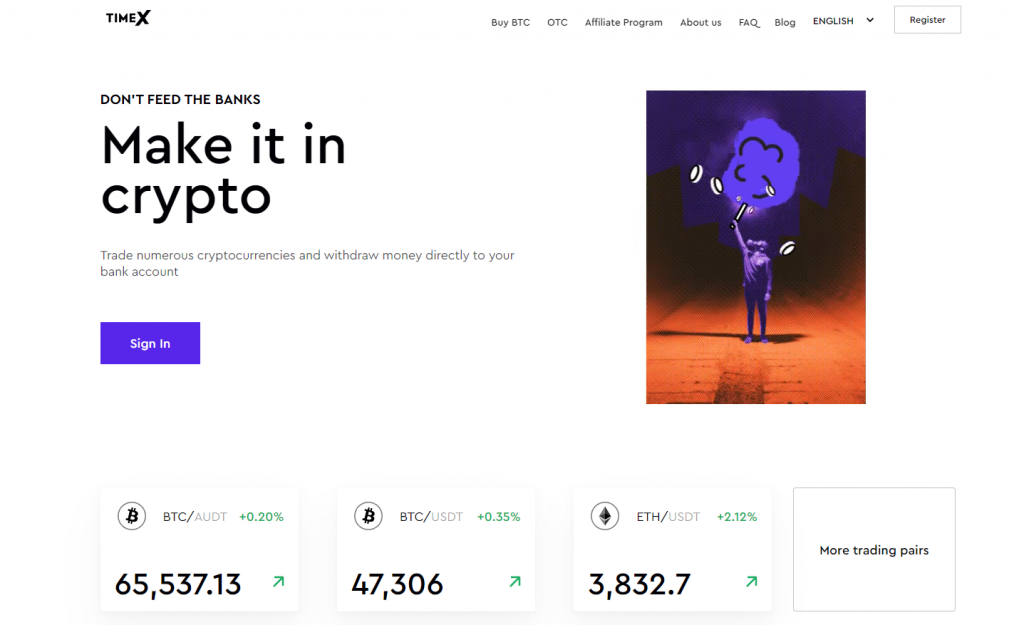 One of my first impressions of TimeX was that the exchange's safety and security seem to be on a high level. In fact, TimeX has some hi-tech security measures to stop third-party interferences. The exchange offers standard SSL security protocols further improved by the top-notch 2FA (Two Factor Authentication) technology.
Moreover, TimeX stores data and users' funds on Cold wallets which means that those are stored offline. Cold wallets decrease the chances for cyber hacks and add an extra layer of security. Finally, TimeX has KYC (Know Your Customer) and AML (Anti Money Laundering) processes. These help the exchange to report any irregularities that can happen during the execution of any trade transaction by the exchange's users.
TimeX's customer support
---
One of the most annoying parts of any cryptocurrency exchange can be its customer support. From all I gathered when it comes to TimeX's customer support, I can conclude that their customer support is pretty decent. There are multiple users' reviews who had a nice experience with TimeX's customer support.
The first line of help is their FAQ section which seems quite well organized. Moreover, contacting customer support is easy and can be done via live chat, e-mail, or telephone. On the bottom right corner of TimeX's website, you will see the "support" button and once you click on it, you will be able to easily send them a message.
Conclusion
---
TimeX is a widely popular crypto exchange, especially on the Australian continent. It has quite a few positive things, but quite a few drawbacks as well.
The exchange offers a simple and easy-to-use interface with fiat deposits. This means it is suitable for beginners and can be considered an "entry-level exchange" where newbies can buy their first crypto assets. Moreover, the exchange can be used in almost every country in the world which is always a plus.
Drawbacks that can be dealbreakers for some traders include no mobile version of the app, the limited number of cryptocurrencies supported, and no information whatsoever about deposit and withdrawals fees.
Keep in mind that these are only my opinions based on my thorough investigation of the exchange. Please do your own research before deciding whether you want to use the TimeX exchange or not.
At this point, it is good to note that all opinions and suggestions written in this article are not considered financial advice.
Read also:
FAQs
---
Let's look at some frequently asked questions when it comes to the TimeX exchange.
What devices can I use TimeX on?
---
TimeX can be used only on a web version. As of December of 2021, there are no iOS and Android versions available. There is no information on TimeX's website regarding the release date of the mobile app. To be precise, the exchange does not seem to have a plan to launch a mobile version.
How does TimeX make money?
---
TimeX makes money just like any other popular cryptocurrency exchange. The main sources of income are maker & taker fees and deposit and withdrawal fees. Maker fee is way over the market's average, while there is no info on TimeX's website regarding deposit and withdrawal fees.
Does TimeX have a wallet?
---
Yes, TimeX does have a wallet where you can safely store all your crypto assets. The section is actually called "Balances" on the exchange.
How Do I Withdraw From TimeX?
---
Withdrawing from TimeX is done through two simple steps:
Click the Withdraw button in the header menu
Select the asset, fill in the Address and Amount fields to specify how much you want to withdraw and where do you want to withdraw the tokens. Click Withdraw to confirm the transaction
As noted above, TimeX did not provide any information about withdrawals fees.
Is TimeX a Good Exchange?
---
Yes, all in all, I would say that TimeX is a good and completely legit cryptocurrency exchange. Even though it has its drawbacks (and potential dealbreakers) I noted above, the exchange still offers services suitable for both beginners and advanced traders.
Where is TimeX Located?
---
TimeX is located in Australia and it was developed by Sydney blockchain company Chrono. tech.
PROS
✅ Simple, easy to use interface
✅ Fiat deposits available 
✅ The safety and security seem to be on a high level due to hi-tech protection measures 
✅ Available in more than 190 countries including the US 
✅ Decent customer support that is easily reachable 
CONS
❌ No mobile apps (iOS and Android) are available - only the web version
❌ A limited number of cryptocurrencies available to buy 
❌ No information about deposit and withdrawal fees whatsoever on TimeX's website
❌ Fees are high, especially the taker fee  

CaptainAltcoin's writers and guest post authors may or may not have a vested interest in any of the mentioned projects and businesses. None of the content on CaptainAltcoin is investment advice nor is it a replacement for advice from a certified financial planner. The views expressed in this article are those of the author and do not necessarily reflect the official policy or position of CaptainAltcoin.com