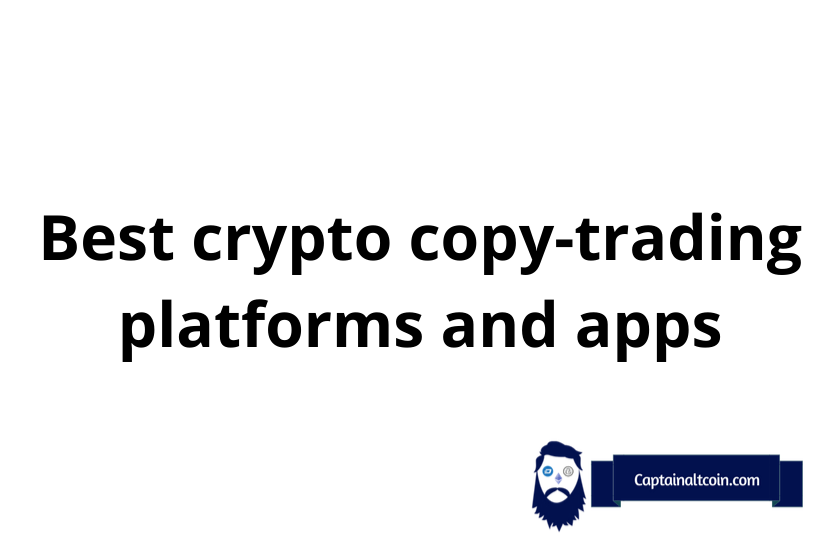 What is Copy Trading?
---
Copy trading gives you the ability to copy the positions opened by one or multiple other traders automatically. Once you open the copy trade, your account is linked with the account of the trade creator, which means any trade is executed across both traders' accounts.
The copying trader has the option to manage the copied trade however he sees fit.
There are many platforms and apps for copy trading. These platforms allow their users to use a wide range of tools to minimize their risks. In this article, we will review some of these platforms.

Why is Copy Trading popular among newbie traders?
---
Crypto trading requires a lot of research and time. For instance, traders need to find the best crypto projects or "hidden gems" as the crypto community likes to call them. Traders also need to monitor their trades and keep track of what's going in the market. Good knowledge in technical analysis is important as well.
Obviously, building up these skills and doing this research will take a lot of time. Newbie traders are using copy trading because it allows them to earn money while investing a little of their time and effort. Copy trading can also help novices
Best 10 cryptocurrency copy trading platforms for beginners
---
Gate.io CopyTrading
---

Gate.io is a cryptocurrency exchange that allows its users to use copy trading on its platforms in order to maximize their gains.
The copy trading platform features are:
Consistently updated
---
Gate.io's blog always posts updates about new products and features added for the platform. Having consistent updates is important because it enhances the user experience and the platform's performance overall.
Multiple strategies to choose from
---
You can choose from various types of strategies such as: double moving average, dual average-RSI, MACD-RSI, future grids, MACD(Moving Average Convergence/Divergence).
Add to that, Gate.io enables users to choose the estimated returning time and rate of return.
Backtesting
---
This copy trading platform has a backtesting feature. Basically, this feature allows you to use historical market data to determine how the strategies offered by the platform would have performed in the past.
Copy trading on Gate.io is as easy as it is on the other platforms we mentioned earlier. You proceed by signing up and depositing crypto, then pick a strategy that best suits your needs. Finally, you click on "copy" to start copying that strategy.
PrimeXBT Covesting
---
PrimeXBT's covesting has established itself as one of the most reliable copy trading platforms. It has won the 2020 best cryptocurrency margin trading award from ADVFN.
The most notable benefits of the platform are:
Variety of markets
---
PrimeXBT Covesting provides a wide range of markets and products for investors to choose from. It offers more than fifty trading instruments and enables you to diversify your strategies by investing into forex, commodities, cryptocurrency, and indices markets.
The COV token
---
This platform has its own native token called "COV" that was created by Covesting, which is PrimeXBT's partner. Users who hold or stake COV will get an up to 75% discount on their trading fees.
You will be able to start copy trading on Prime XBT's Covesting by following this quick sign-up process:
Register on the copy trading platform and make a deposit using Bitcoin or your credit card. The minimum deposit is 0.001 BTC.
Explore the platform's available strategies. You can compare their trading performance and pick a trader that fits your criteria.
Start copy trading by clicking "follow" on the strategy that best suits your needs. You'll start getting the same gains or losses as the trader you have followed, so make sure to select an experienced trader with low risk and strong performance. Make sure to diversify your risk as well by following multiple strategies.
CYBO Robot – AI Based Auto Trader
---
CYBO Robot is an AI-powered bot that was built by NAGA Trader which is a stocks trading platform that recently ventured into the cryptocurrency market. This bot provides various features that help traders trade in a convenient way:
A comprehensive set of trading tools
---
This copy trading platform provides powerful charting tools to its users. It also has its own wallet which supports a limited number of digital assets.
Demo trading account
---
Like many competitors, CYBO gives its users the possibility to try the platform for free on the demo mode. You can decide later whether you would like to fund the bot with real money or not.
The use of AI(Artificial intelligence)
---
The use of AI algorithms makes this copy trading bot more reliable, since it can consistently improve its performance and provide a better experience for its users.
eToro
---
eToro's CopyTrader™ allows users to find the best traders in the platform and copy their trades. The trading platform's features include:
Transparent pricing policy
---
eToro's pricing is based entirely on spreads. Spreads are the fees collected by eToro which relies on the difference between the bid and the offer price. These fees may vary depending on the market conditions
The platform has a transparent pricing policy. Apart from the trading fees listed here, it doesn't charge anything. There are no commissions, hidden fees, or withdrawal fees.
A thriving community
---
In addition to being a crypto copy trading platform, eToro is building a collaborative community for crypto traders. The platform gives seasoned traders the ability to share their ideas and strategies. This feature benefits both copy traders and traders.
eToro offers the option to view other traders' stats, risk scores and portfolios. You can chat with them and benefit from their experience.
A demo mode
---
Another great feature of eToro is the possibility of testing the trading platform using paper money. You'll be able to practice trading on eToro using a virtual portfolio.
Full control
---
While using eToro's CopyTrader, you still have complete control over your funds and positions. You can copy up to 100 traders and stop copying the trade, pause it, and add or remove funds whenever you like.
The process of copy trading on eToro is very straightforward. All you need to do is to choose the Popular Investor whom you would like to copy, choose the amount you wish to allocate to copying the trader and click "Copy". You'll start mirroring their positions automatically. You are free to stop copying a trader at any time.


eToro also gives its users the ability to copy a trader's entire portfolio or new positions. To copy a user's existing positions, check the "Copy Open Trades" box.
The minimum amount to copy a trader on eToro is $200. The platform has set the minimum amount for a copied position at $1.

68% of retail investor accounts lose money when trading CFDs with this provider. You should consider whether you can afford to take the high risk of losing your money.
Wunderbit
---
Wunderbit is a crypto exchange and social trading network that allows its users to trade on the platform, build their own trading bot using TradingView or copy-trade the most professional crypto traders.
Some features offered by the platform include:
A transparent marketplace
---
Wunderbit's marketplace has very detailed statistics regarding all crypto bots or traders on the platform. You can check their trade history and track their performance.

Image source: https://allcryptobots.com/explore/wunderbit/
Highly secure
---
All of Wunderbit's copy trading is processed on the platform using your exchange's API keys. That means your funds are less likely to be stolen compared to other copy trading platforms.
In order to start copy trading on WunderBit, you should register on the platform and connect to your exchange using an API key. Then visit their marketplace, where you can find traders and bots and select those that you want to follow.
Coinmatics
---
Coinmatics is another copy trading platform that offers its users a catalog where they can find all kinds of crypto trading strategies. This copy trading platform offers various features such as:
Traders with verified track record
---
Coinmatics verifies the track records of its traders and carefully selects them to make sure that copy traders have a good success rate.
Total security
---
Like Wunderbit, this platform doesn't have a direct access to your funds. It operates using your exchange's API keys, which makes it very secure since there isn't an option to withdraw your funds.
Risk management
---
Coinmatics also allows its users to control the risk level of any strategy you follow.
You can start copy trading on Coinmatics by following three simple steps:
Connect your Coinmatics account to you exchange
Choose the strategy you would like to follow
Track your gains in a seamless manner
Jet-Bot for Binance Copy Trading
---
Jet-Bot is an official broker of the popular Binance exchange. This cloud-based bot allows investors to copy and follow the strategies of the best traders on its platform. Some perks of using this platform include:
Safety
---
This bot requires a powerful password to register on its copy trading platform. Your password needs to contain uppercase and lowercase letters, numbers and symbols. Jet-Bot also enables users to activate two-factor authentication on their accounts. Add to that, this copy trading platform doesn't have direct access to your funds and can't withdraw them.
Support channels
---
The bot has a customer support team that can assist you should you encounter any problems while using its copy trading platform. It is highly responsive and you can reach them either by submitting your request on the website or through the live chat option on the platform.
Demo account
---
You'll be able to test the platform with a $100.00 virtual portfolio and see how much money you can make.
Detailed stats
---
The bot features on its website the top profitable traders and bots of the month. You can find PNL (The profit as a percentage of the used margin for deals) stats for the most profitable bots as well.

In order to start using this bot, proceed through these four easy steps:
Connect your exchange to Jet-Bot
Choose the most profitable traders on the platform and start copying their trades.
Connect your Telegram account to the bot in order to receive notifications of your trades.
Join The copy trading platform's community chat on telegram where you can discuss trading strategies with the platform's traders and learn from their experience. The bot's community might also help you with setting up your account.
TradeBattles – Investy's New Feature
---
Investy is a relatively small yet powerful copy trading platform. One of their newly implemented features is TradeBattles.
TradeBattles is mainly a game or, rather, a competition between traders. Everyone can participate, and the trader who got the maximum yield during the contest wins 50% of the prize pool. The rest is distributed between the other traders based on their positions.
Zignaly
---
Zignaly is a crypto copy trading platform that offers digital assets management services as well. Zignaly allows users to copy trade the traders who share their strategies on the platform or follow external crypto signal providers. Some key benefits of Zignaly include:
Trailing stop loss
---
This strategy is one of the best performing strategies on the market nowadays. It helps investors maximize their gains and minimize their losses. This strategy is, simply put, buying a coin while the price is increasing and selling it gradually as the price starts dropping.
Profit sharing
---
Profit sharing is a unique feature offered by this copy trading platform. It is quite similar to copy trading, but the difference is that whenever the trader you are following makes a profit, you profit with him and pay a small fee. However, when the trader loses money, you aren't required to pay anything.
The ZIG token
---
This copy trading platform has its native token "ZIG". ZIG holders are able to vote on new features that will be added to the platform. Add to that, those who provide liquidity for the ZIG token will be rewarded in NFTs. The token also decreases the fees on the platform overall since it is used to pay for insurance fees, profit sharing services as well as trade commission rebates.
Trading terminal
---
Zignaly provides a trading terminal which can help you automate some tasks on the platform and trade from multiple exchanges once you connect your account to these exchanges.
Some options available for automating your trade are:
Take Profit
Order type (Limit/ Market)
DCA(Dollar Cost Averaging)
Stop Loss and Trailing Stop Loss
Entry Order Expiration
Time-Based Autoclose Option
Pros & Cons of Copy Trading:
✅✅✅Pros:
---
Making money on autopilot
---
Copy trading allows traders, whether experienced or not, to grow their portfolios without spending much time or effort. All they need to do is to monitor the strategies they are copying from time to time, and change those that are either not making enough gains.
Compared to the average trader who needs to keep an eye on the market, make a technical analysis of the coins he has invested in, and do a lot of research about other crypto projects and tokens, copy trading is considered a passive income. The more successful the strategies you are copying, the more money you can make while you're sleeping.
Doesn't require a huge threshold
---
The average copy trading platform charges a few hundred dollars for getting started with copy trading. For instance, eToro's minimum balance that you need to start copy trading is $200.
❌❌❌ Cons
---
Makes traders less likely to rely on themselves
---
Copy trading is sure a great way to earn some gains on your crypto without doing much work or research. However, it doesn't provide a good incentive for traders to enhance their strategies and do their own market research.
By constantly relying on copy trading, the trader might be missing out on a significant sum of money because he might be able to grow his portfolio by himself without having to pay for commissions or fess for copy trading bots or platforms.
Not always profitable
---
Investing in copy trading carries less risk for newbie traders because they are still learning the basics of trading. But relying on copy trading can still bring losses. As a copy trader, you should split your portfolio between various successful traders so that your portfolio doesn't suffer significant losses even when one or two traders you are copying make a mistake or get beat by the market.
FAQs
---

CaptainAltcoin's writers and guest post authors may or may not have a vested interest in any of the mentioned projects and businesses. None of the content on CaptainAltcoin is investment advice nor is it a replacement for advice from a certified financial planner. The views expressed in this article are those of the author and do not necessarily reflect the official policy or position of CaptainAltcoin.com