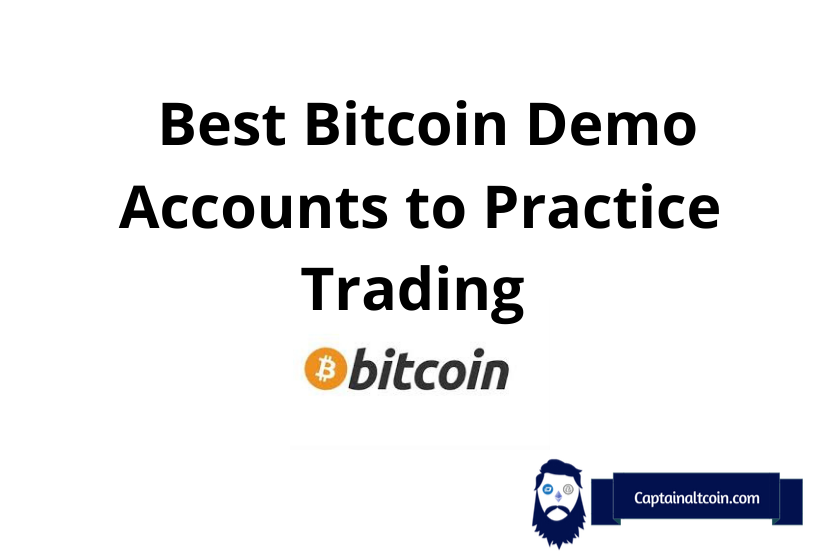 Trading is inherently risky. A trader's success depends on balancing this risk with the reward. In no other job would we expect to start working without adequate training, but people often YOLO into crypto with no clue of how it works. As a noob, the best way of protecting yourself from getting wrecked is to practice first.
The essence of trading is buying low and selling high. Sounds simple, right? But if it was, why would anyone ever bother working again? The harsh truth is that approximately 90% of day traders lose money, and only a few of the winners make the minimum wage. Forewarned is forearmed, so go ahead and equip yourself with the trading skills you need before you risk your life savings.
The best way to learn is to open demo accounts and trade with 'fake' virtual money. Below, we take a look at some of the major exchanges and their demo accounts but also highlight the differences between trading with "play money" and "real money."
A Few Things to Consider First
---
There are a few pitfalls to watch out for with all the demo accounts on this list. The problem? Simulated trading always gives you a best-case scenario. The platforms know this, of course, but it's in their interests to boost the confidence of potential real-money traders. In essence, the demo platforms are a marketing tool to make you feel confident about being a winning experienced trader.
Here's how it works. The market is a chaotic, ever-changing system that seems to have a mind of its own. For example, your stop loss will protect you well in a demo account. In the real world, when an asset price is crashing, stop loss trades often do not get executed, leaving you with a big bag of worthless crypto. The effect is stronger with super-volatile Cryptocurrency than with more stable stocks, so be warned.
Also, most demo accounts automatically assume infinite liquidity, so all your trades go through instantly and at the optimum price. Anyone who has ever traded low-volume shcoins on dodgy exchanges with poor liquidity knows that selling a pump is almost impossible.
The price spikes aren't real – they're not backed up by makers with actual coins to sell, so there's no liquidity to trade into. A demo account would just show an impossible trade and deliver a fat profit to your account. Reality would leave you with big losses.
Practice account balances don't always take into account the fees and admin costs, so these also need to be factored into your strategy. The take-home message here is to take your demo account profit/loss with a pinch of salt. Expect to be far less profitable when you move to a real money account.
That's the end of today's sermon, so onto the demo accounts.
TradingView
---
Regarded by many as the best option for charts and technical analysis tools, TradingView also offers a demo account. The platform connects to multiple exchanges and takes its price data from their live feeds. You'll need to open a TradingView account to access the demo account, but once activated, you have access to hundreds of trading pairs across dozens of exchanges.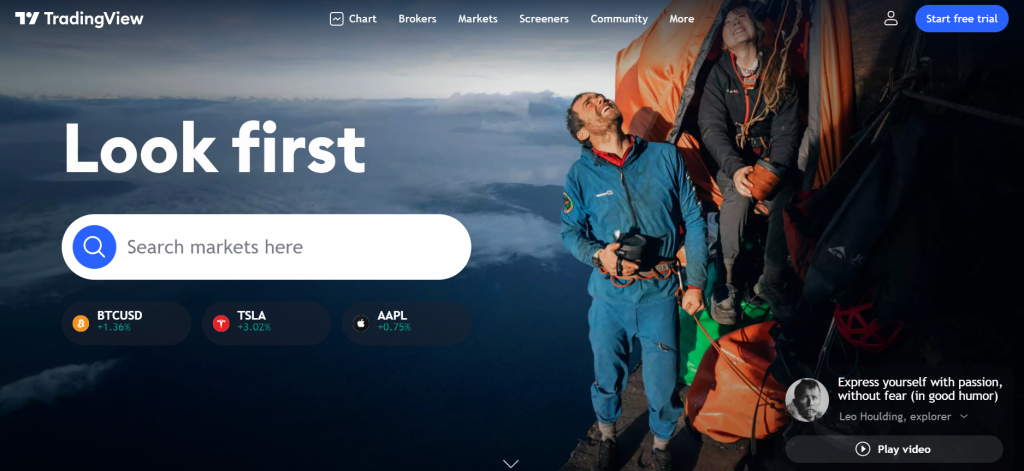 There's a comprehensive suite of tools for order types, stop losses, limit orders, etc., all adjustable on the chart. This is very useful as you have a visual representation of what you are doing. You can set price alerts and volume thresholds and employ the backtesting feature to hone your strategy.
Interacting with so many exchanges has advantages. For example, you can compare the prices of similar assets across several markets. Each demo trade that you make will be specific to the chosen exchange, taking into account the order book, liquidity, and real market conditions at the time. This also presents a potential pitfall.
A profitable strategy for a trading pair on one exchange may not be as successful on another. Make sure to test your strategy on several exchanges to understand which is the most effective venue for your trades.
Read also:
StormGain
---
If you really want to increase your risk, StormGain offers a selection of futures markets with a 200x margin. Alarm bells should be ringing at this point, as leveraging your crypto trades 200x can (and will) be seriously injurious to your account balance. For example, using 200x leverage means that your entire position will be wiped out should you suffer a 0.5% move in the wrong direction. This happens several times per day for most cryptocurrencies.
This is why I like the StormGain demo account. It gives you the chance to get liquidated a few times before you try it out for real. StormGain is a centralized exchange with a custodial wallet, meaning you load up your account with crypto and try to gamble it up against the house, which takes a rake (cut of the winnings). If you stick to the demo account, it's a great way to get a feel for the platform and to learn why it should be treated with extreme caution.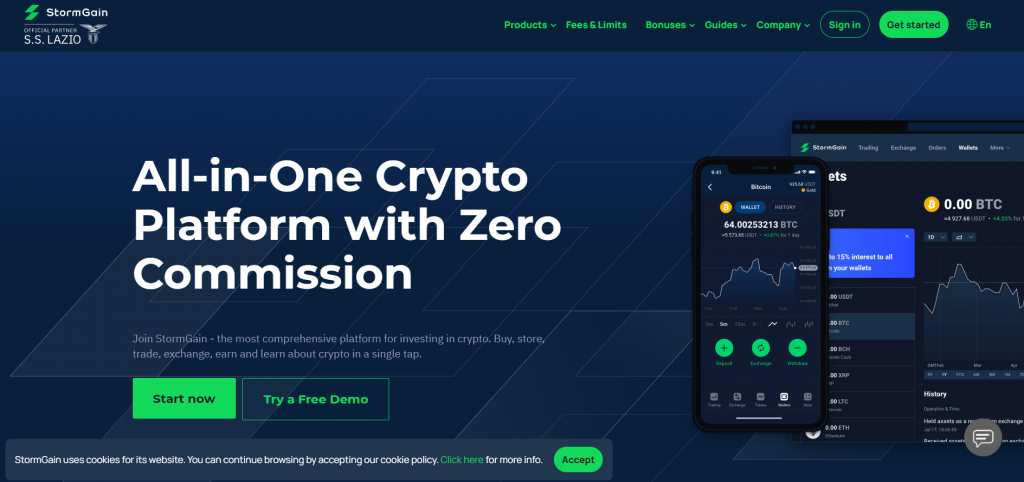 There are standard-looking price charts with lots of indicators to play with. You can draw and save trendlines on the charts, which will recalculate when you alter the timescale. On many platforms, you will either delete the trendlines when you close the chart down, or they will disappear when you move from a 1 hour to a daily chart. This sounds like a simple thing, but recalculating your trend lines and indicators automatically is very useful.
Overall, the StormGain demo account is a great way of convincing yourself why you should never leverage your cryptocurrency trades. Try it, get wiped out a few times, then reach your own conclusions on the matter – all without wrecking your bankroll. As for real trading with real money on the platform, the spreads were nice and tight at well under 1 percent. However, a 10% fee is deducted from any profitable trade. Ouch!
With insane levels of leverage and 10% being sliced off the top of successful trades, StormGain feels more like a gambling site than a trading platform. I would stay away from leveraged trades altogether and use a major exchange. As for the demo account? I think it will be very instructive for all newcomers to try out – I thoroughly recommend giving it a whirl to understand the perils of 200x margin trading.
PrimeBit
---
An improvement on centralized CFD (Contract For Difference) exchanges like StormGain is the Peer to Peer format of PrimeBit – at least in theory. They specialize in leveraged trading, which I advise avoiding at all costs, but they also have a demo account. You can initiate it once you have signed up, starting with up to 10,000 USDT or 1 Bitcoin. You get all the functionality of a PrimeBit real money account, so you can practice using the exchange before risking your assets.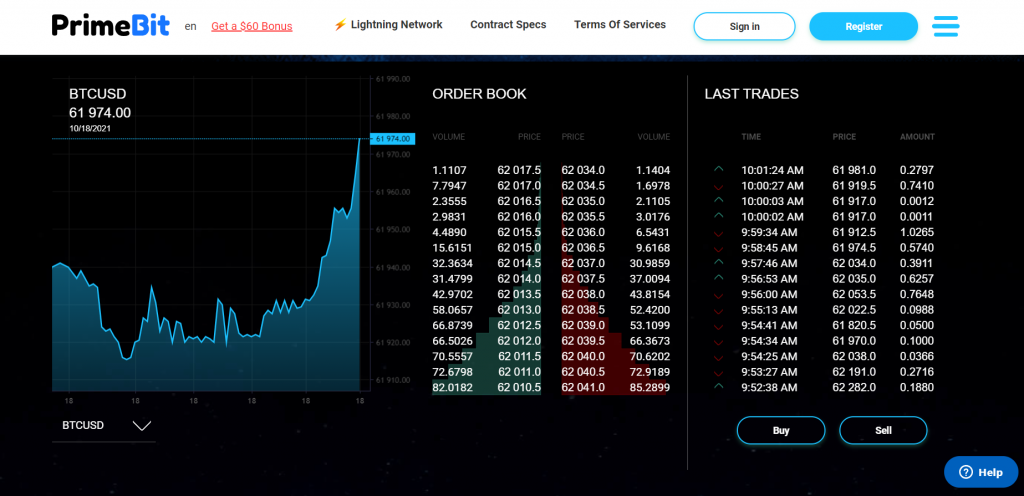 They are even honest enough to tell you that the prices and volume for demo account trading do not reflect reality. That's the first time I saw that admission without searching for it in the small print. Well done, PrimeBit. Less impressive is the range of tokens you can trade. There's BTC, ETH, BNB, LTC, USDT, and DOT, but the focus here is not the roster of tokens. It's their baffling derivatives types. That's also what makes the PrimeBit demo account worthwhile.
Overall, I wouldn't be tempted to trade on the PrimeBit platform unless I was an experienced derivatives trader. The demo account is great though. I recommend people sign up to try out some strategies, if only to see what happens when a trade goes against you in a hyper-leveraged position. There's also a mobile version which I'm tempted to download as my game of the week.
BitMart
---
BitMart has grown to become a popular choice of crypto exchange since its inception in 2017. Trusted by millions of customers, it's a well-run platform used as an on-ramp for buying crypto. There are many positive things to say about BitMart, but we're here to look at the demo account. The problem was, that I couldn't find a demo account anywhere on the website. In anticipation of BitMart setting up a practice account function in the near future, here's the rest of what we found at BitMart. It's actually well worth taking a look at, demo account or not.
BitMart offers both spot markets and futures trading, plus some more intricate derivatives. Again, extreme caution is advised when mixing margin trading and crypto. They use TradingView's charts, which are familiar in style to everybody. As mentioned earlier, TradingView has become the industry standard for charting and technical analysis tools.
BitMart also supports a mobile app. The whole package is well designed, and the look and feel are very professional. Again, I wouldn't necessarily use them for real money trading, and I certainly wouldn't be trading highly leveraged options. However, if that's your thing, then I would trust BitMart as much as I trust the bigger exchanges. Let's hope they start a demo account soon.
ByBit
---
ByBit is another derivatives trading platform that uses TradingView charts. It has grown rapidly over recent years and is now one of the premier derivatives trading platforms for cryptocurrency. It claims to have deep liquidity and rapid trade execution, with low latency. This is important if you are highly leveraged as waiting for a position to close can cost you dearly if there's a delay.
ByBit has a parallel network running their demo exchange, theoretically giving an authentic simulated trading experience. This is a good place to investigate perpetual futures, which, as the name suggests, have no expiry date. These are, in effect, leveraged versions of the spot market pairs.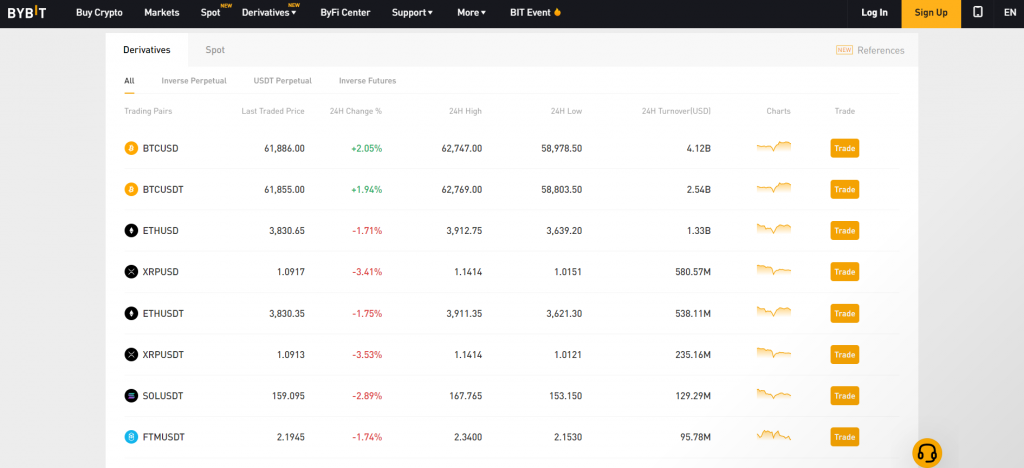 Another nice touch is the multi-chart feature which allows you to view all of your trades on the same screen. Overall the look and feel are professional and intuitive, and with the good reputation ByBit has, I would recommend them over some of the platforms on this list.
BitMEX
---
Check out the Bitmex 'test Net' here. Then open the BitMex exchange here. If you toggle between them, you see they are virtually identical. BitMex has cloned their exchange specifically for practice accounts, giving you the most faithful possible simulation of the real money exchange. If you are interested in learning about derivatives trading, then this is the place to come.
There's a lot of information on the main trading screen, but it all makes sense once you figure it out. Again, it's a dangerous business trading with margin, but that makes it doubly important that we do our research.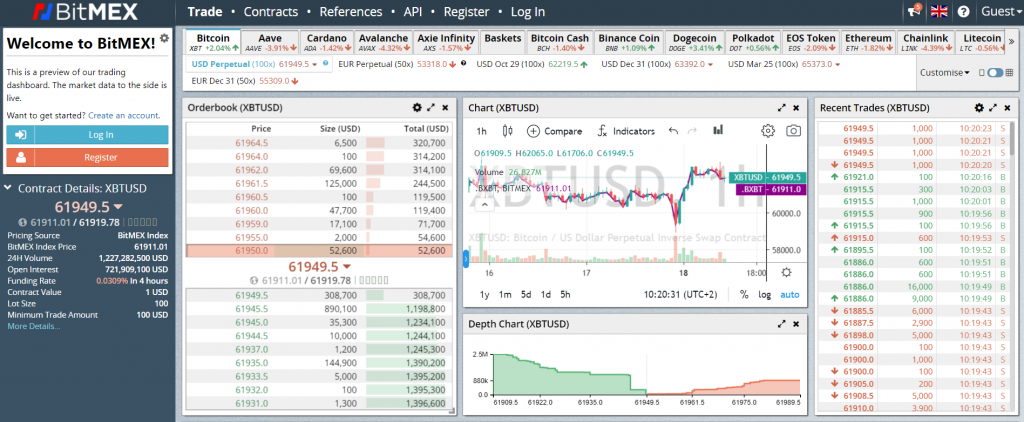 There's a fair selection of tokens to trade, but newer, low-cap coins are absent. The impetus of BitMex is leveraged derivatives trading, not riding exotic tokens to the moon. Other than the usual charting and technical analysis tools, there's not much to say about BitMex. If you must margin trade options and swaps, this is a good place to practice.
Nominex
---
If you are concerned about security and regulatory oversite, Nominex is a good call. They require KYC (Know Your Customer) details to open an account, but once you have verified your account, you can take advantage of the Nominex trading simulator. As Nominex points out, it's a great way of evaluating the software. You get the full suite of functions without risking any money.
There are the usual charting and trading tools plus a function to backtest strategies. Although the Nominex practice account suffers from the same issues as all fake money accounts, if you are thinking of investing money in the platform, it's a great way to familiarize yourself first.


What I like most about the Nominex demo account is the daily trading competition they hold. The top five traders share a prize pot of $1,200, with $500 going to the overall winner. Each contestant starts with 10,000 virtual USDT, and the winner is the trader with the highest balance at the end of the 24-hour competition period.
The downside is that you can't withdraw the prize money, but you can trade it for 7 days and keep any profit. This goes for any bonuses and special offers you receive. The real funds are sent to a Trust wallet and are available for trading but not withdrawal.
Plus500
---
To get exposure to cryptocurrencies, you can use Plus500. Be aware that you will own no cryptocurrency. In fact, neither will Plus500. They run the equivalent of a sportsbook and act as the bookie. You make bets on the direction that the market will go. Every trade you make will be against the house.
You'll notice that there's a spread – the difference between the buy and sell price. This is how Plus500 makes money. But if you're happy to use a CFD (Contract for Difference) platform, then be aware of what this means for your trading strategy. There's even a disclaimer warning that "Your capital is at risk."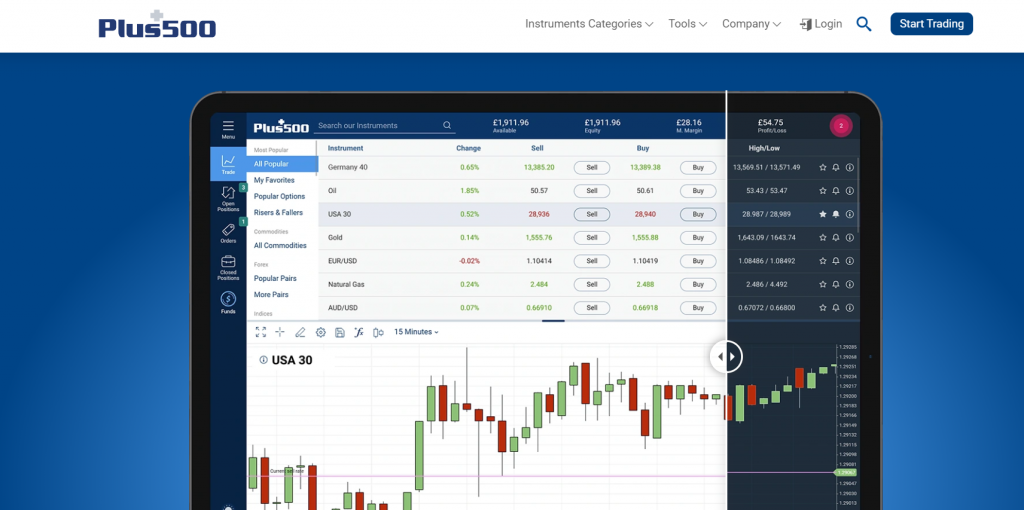 They do have a demo account, but unfortunately, Plus500 was not available from my current location in Vietnam, even with a VPN, so I couldn't take a look at it firsthand. From what I can tell, there's a limited selection of tokens to trade. Plus500 offers 300x leverage, which is patently insane when applied to cryptocurrency. To be honest, I wouldn't want to trade at Plus500, so opening a demo account wouldn't be an attractive proposition either.
eToro
---
Last up is the trading Goliath, eToro. They have diversified into cryptocurrency to commercialize their traditional stocks and equities customers' interest in the new field. To take advantage of their $100,000 practice portfolio, just open an eToro account. You get to practice using indicators and price charts on around 20 tokens and coins. You can follow the whole process from picking an asset, performing the technical analysis, placing your trades, and taking profit/loss – all without risking a cent.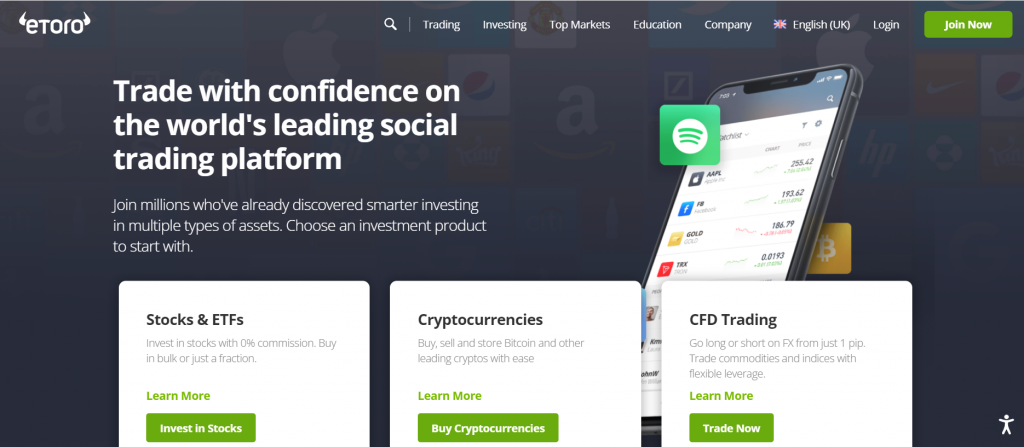 eToro pushes its social trading feature, which encourages traders from all over the globe to get together and talk about crypto and trading. The stated aim is for newbies to learn from the old hands, hopefully not repeating the same mistakes. You can shadow trade Popular Investors using your demo account to get a feel for what makes them successful. Be aware that part of what makes these guys successful with real money trading is having lots of followers making the same buys and sells.
It's a self-fulfilling prophecy. If they make a buy, then potentially thousands of followers jump in immediately afterward and bump the price. People see this, assume the Popular Investor is a winner, and start to follow the new trading guru. If you apply a similar strategy to any Popular Investor, you will get different results as you don't have the followers backing up your trades. It feels like a polite way of pulling off a pump and dump.
Overall, eToro is a respected trading platform, but it's not a thoroughbred cryptocurrency exchange. The demo account is great, but I would not trade crypto on eToro for many other reasons.
FAQs
---

CaptainAltcoin's writers and guest post authors may or may not have a vested interest in any of the mentioned projects and businesses. None of the content on CaptainAltcoin is investment advice nor is it a replacement for advice from a certified financial planner. The views expressed in this article are those of the author and do not necessarily reflect the official policy or position of CaptainAltcoin.com