This is my experience with signing up for Gemini. My friend recommended I sign up for Gemini a couple of months ago. I took his advice and decided to try it on. However, I have to say that after having a very difficult time signing up, I'm not having good feelings about Gemini. But let me give you a brief history on Gemini before I tell you about my signup process. Based in New York, Gemini is a new Bitcoin trading platform founded by the Winklevoss twins (https://en.wikipedia.org/wiki/Winklevoss_twins), two of the most prominent bitcoin investors (the people who accused Mark Zuckerberg of stealing their idea of Facebook). The Winklevoss twins claim to own about 1% of all Bitcoin. This makes them among the largest holders of Bitcoin in the world. Gemini was founded in 2015, and the Winklevoss twins are desperately trying to become the most reputable and active Bitcoin exchange on the market. Today, Gemini is particularly popular for its two-sided auctions, which take place twice daily (one auction takes place at a time convenient for Asian clients, and the other for North American clients. However, anyone can participate in either). Gemini is one of the only US exchanges that enables crypto-to-crypto and dollar-to-crypto trading. Gemini Exchange charges no deposit fees or withdrawal fees. However, it does charge trading fees at the standard rate of 0.25% on both sides of the transaction. Gemini is available across most US states, with the exception of Wisconsin, Hawaii, Alaska, Arizona and Oregon, but their official site says trading in these regions will be available soon. Globally, Gemini is available in the United Kingdom, Singapore, South Korea, Hong Kong and Canada.
Signing Up For Gemini
I went to their site (Gemini.com) and clicked on "Register".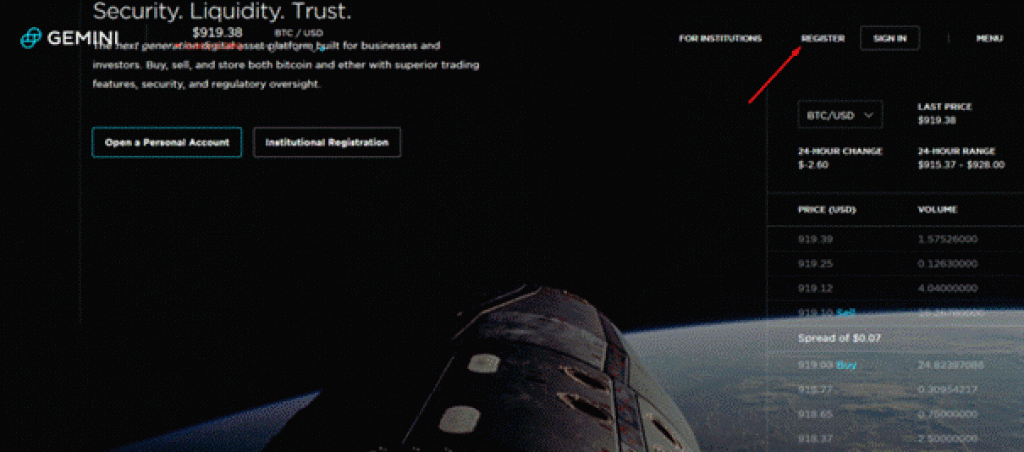 First, notice how the words are overlapping on the top left of this screenshot. They're supposed to be the most advanced and trustworthy BTC trading platform currently available. However, it doesn't fill me with great confidence that their design team can't properly build a website. (Update: Fortunately, this has since been fixed.)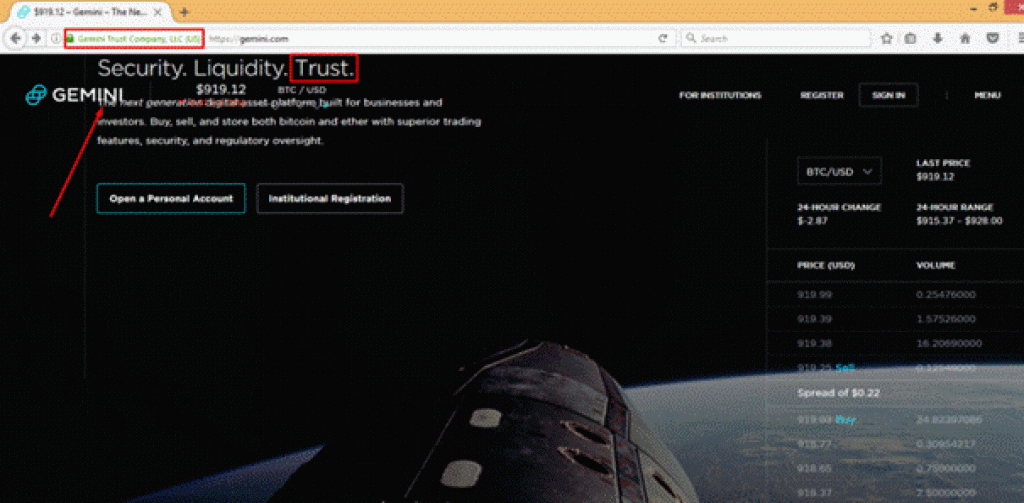 I have to admit that all these mentions of "trust" make me a bit suspicious… Anyway, I filled out the required information (my name and email), and I created a password.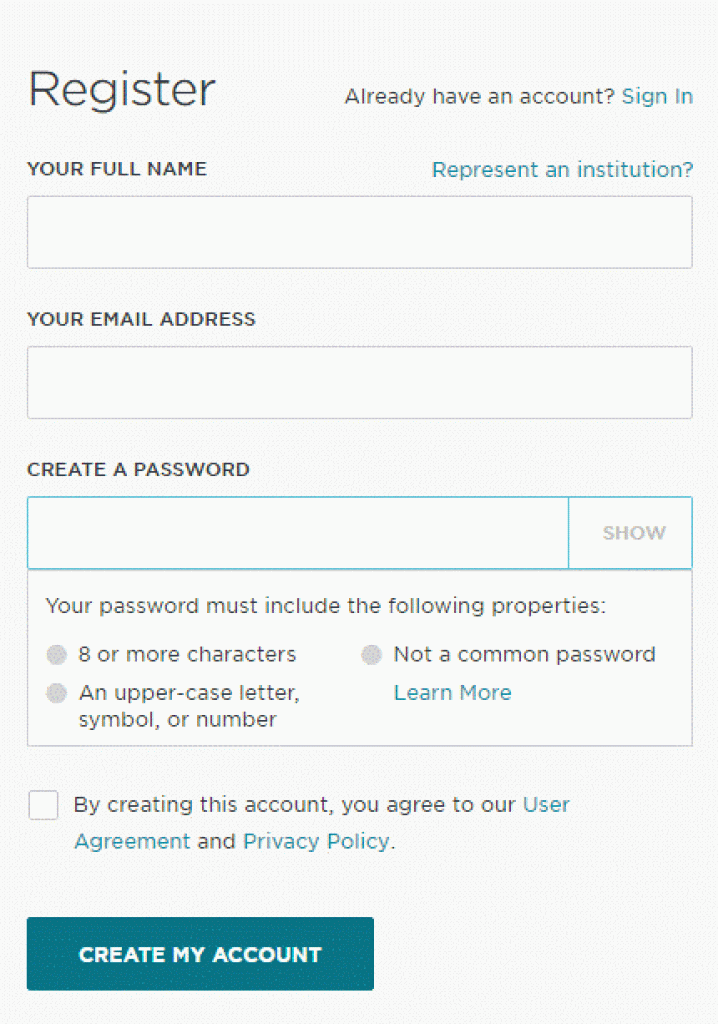 I received an email and entered the activation code. Then I filled out my personal information, but I did it hesitantly. However, I didn't want to provide my bank account info (for now at least).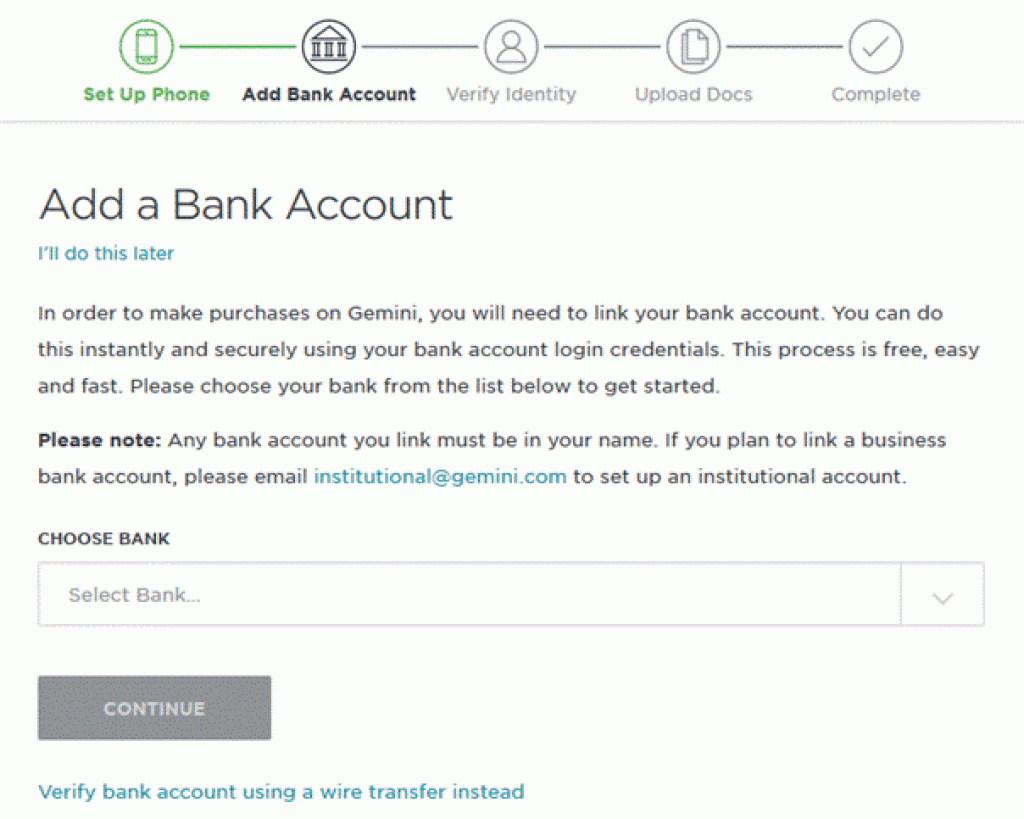 After that I went back to email Gemini with my bank statement. Note: Gemini has updated their verification process to include bank statements at the time of writing this article. When I was doing this, Gemini would not allow bank statements as proof of verification, so I had to plead with this anonymous Gemini support person to let them accept it. I became "verified" only after they accepted it. So that's it. For a company that requires you to provide all your personal information and prove your identity to the extent that Gemini does, they sure do like hiding any shred of their own humanity. For example, why is there no mention of who is running the platform and why I had to prove myself worthy to someone hiding behind an anonymous Gemini support? The hypocrisies here make me want to stay far away from ever engaging with Gemini. The lack of accountability and the unintuitive platform doesn't make me want to engage with this company. Sadly, I have to say that Gemini does not give me a good feeling. It would be great if we as users of online services got together and demanded some respect and transparency from them. However, I guess that's a battle for another day. UPDATE: I have been using the platform since then and I have found it to be quite effective and speedy. It took me a while to be comfortable enough giving them my bank account info. However, after doing so, it turned out to be OK, and I have only had good interactions with them. However, they still make me feel irritated and I am still bothered by their secrecy and arrogance. There are plenty of other exchanges available on the market that don't make me feel as uncomfortable and irritated as Gemini.
---
Join Our Telegram Channel
or
Follow @CaptainAltcoin

CaptainAltcoin's writers and guest post authors may or may not have a vested interest in any of the mentioned projects and businesses. None of the content on CaptainAltcoin is investment advice nor is it a replacement for advice from a certified financial planner. The views expressed in this article are those of the author and do not necessarily reflect the official policy or position of CaptainAltcoin.com