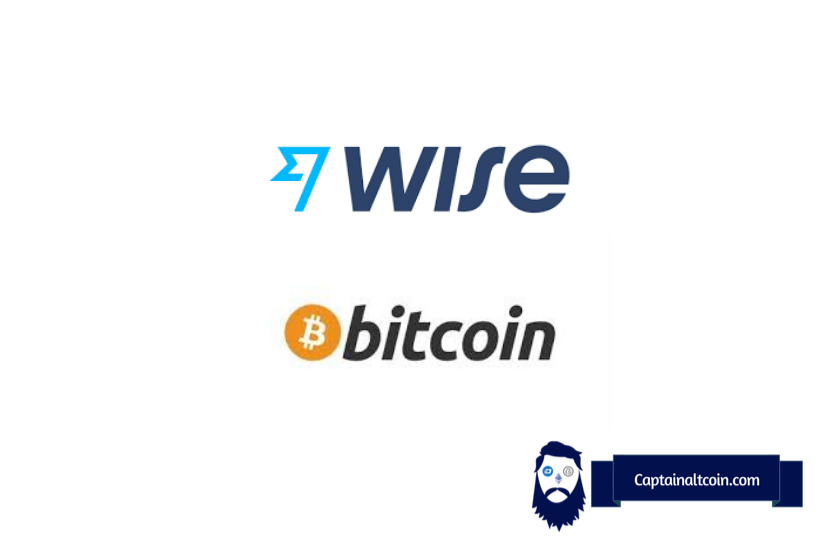 Wise is extremely popular fintech platform with over 16 million users that can use Wise to buy and sell almost anything except crypto. At least, that is the official stance of Wise – no crypto purchases allowed. But, there is always a workaround and you can buy crypto with Wise and even use Wise to Binance transfers. We will show you how to do it in this guide.
Wise doesn't allow sending money to any crypto related business.
"You can't send money to a cryptocurrency platform. 
You can receive money to your Wise account from a platform that deals with cryptocurrencies — as long as the platform is regulated and/or supervised in the
EU
or
UK
."
This means you can cash out from any of the exchanges like
Kraken
,
eToro
,
Uphold
or
Coinbase
. But you can't currently buy directly from the crypto exchanges only (Kraken or Coinbase); but you can deposit into multi-asset brokerages
eToro
or
Uphold
from Wise. The account, however, needs to be in your name on the brokerage platform.
There is another workaround; by trying to use one of the
P2P
platforms listed below (most popular are
Noones P2P
or
Kucoin P2P
). Depending on what the sender puts into the payment description, the payment might not go through. So, make sure to put something non-crypto related as a payment reference in your Wise app (for example gaming codes). This way, you can navigate the Wise to Binance or Wise to crypto process more effectively.
The most secure to keep your cryptos is by using cold storage wallet.
Can I buy crypto with Wise?
---
Let's have a quick look at the 3 best options to buy digital currency with Wise and then we will have a more thorough look at these and some of its competitors.

Paxful replacement, former Paxful users integrated directly into the platform
No fees for buyers, 1% fee for sellers
More than 400 payment methods
Safe escrow service with fast customer support
Disclaimer text….

Low fees (no fees for buyer and 0.1% fee for seller)
No transaction limits
No minimum deposit
Safe and fast transactions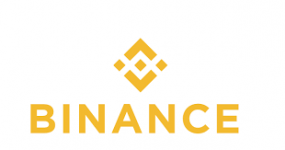 Support for more than 70 local fiat currencies
Low fees (0% for takers and 0%-0.35% for makers)
More than 700 payment methods
How to Buy Bitcoin with Wise?
---
1. Open an Account with Wise
---
First of all, you have to open a Transferwise account, but if you already have one, skip this step.
To sign up, you can use your email address, Facebook, or Gmail. Once you do, Transferwise will have to verify that you're an actual person.
Institutional Investors are also welcomed to Wise if they are into blockchain technology.
2. Choose a Bitcoin Platform
---
To buy Bitcoin with Wise, you can use eToro, Uphold or a P2P platform to buy it at a predetermined price or use a crypto exchange.
But always make sure the platform lists Wise as the payment option. Fortunately, most do.
3. Type the Amount of Bitcoin to Buy
---
Next, type in how much Bitcoin you want to buy. On a P2P platform, you will see all Bitcoin seller listings with different prices, fees, and conditions. While on a crypto exchange, all Bitcoin will be priced at market value and sold on the spot.
4. Select a Bitcoin Dealer
---
If on a P2P platform, the next step is to choose a Bitcoin seller you best see fit. Remember to always check the terms and conditions.
Sellers usually mention the payment options in their listing, so check if he accepts Wise payments.
5. Ask for the Dealer's IBAN
---
Now that you've made sure the sellers accept Wise, ask for his IBAN so you can transfer the amount to their bank account.
6. Go to Transferwise Website or Application
---
Now go back to your Wise account and set up your payment by entering the amount and the seller's IBAN
7. Send the Amount
---
First, enter the seller's details. So their name, address, bank account details, how they want to pick their money, and other information. And choose how to fund the purchase, be it credit, debit card, or bank transfer.
Where to Buy Bitcoin with Transferwise?
---
Kucoin P2P
---
KuCoin P2P Fiat Trade provides fiat-to-crypto conversion service under peer-to-peer trading with zero transaction fees, fast settlement, secure transactions, professional and reliable merchants, and multiple payment methods globally and regionally. Kucoin supports the purchase of crypto with 50+ fiat ​through P2P, credit cards, etc.
KuCoin's P2P marketplace allows users to purchase and sell cryptos, including BTC, ETH, LTC, and more. Just like other P2P exchanges, KuCoin P2P also accepts a wide variety of payment methods. Using fiat currencies like USD, EUR, GBP CAD, IDR, AUD, etc., customers can acquire crypto on the platform from other users. There are a bunch of payment options to choose from, including PayPal and Payoneer, as well as bank transfer and other options.
In order to use Kucoin P2P marketplace, you need to bind a phone number and do a KYC process.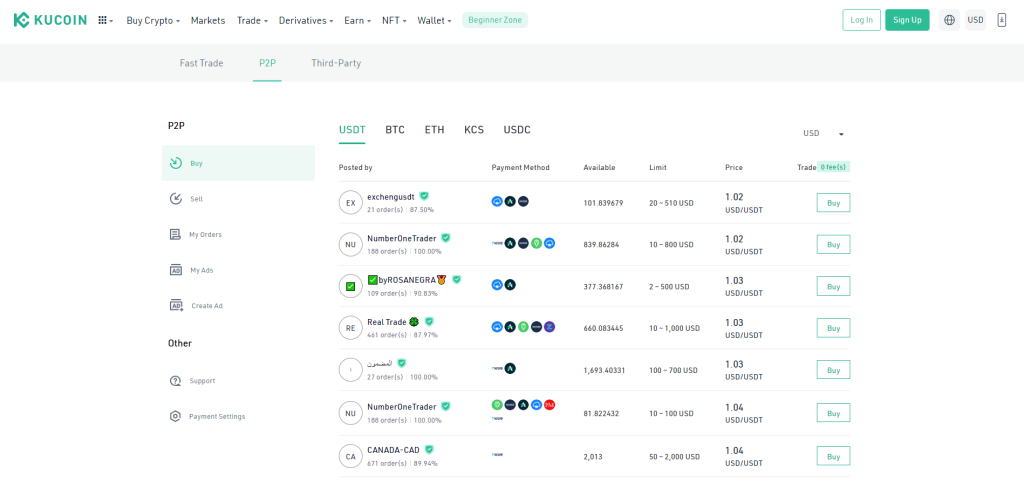 Pros ✅
No fees
Exchange crypto with fiat, credit/debit card, or digital asset
A lot of listed coins
Beginner-friendly
Cons ❌
The exchange is centralized.
Not regulated
Binance P2P
---


Binance is one of the biggest crypto exchanges on the market. Made for experienced traders and rookies alike. In 2021, they launched their own P2P marketplace where you can trade digital assets directly with other Binance users.
Crypto Investors can access more than 166 cryptocurrencies, both for small and big caps. Binance also offers a wide array of trading tools and exchange pairs available.
Binance users can deposit over 50 FIAT currencies such as USD, EUR, JPY, KRW, GBP, AUD, RUB, and many more.
Pros ✅
Among the most trustworthy crypto exchanges
High volume exchange
Very low fees
A wide array of crypto pairs
Cons ❌
Binance is not regulated, consequently its P2P marketplace is neither
Lack of riskier small-cap gems
The exchange is centralized
Regulated & high liquidity

👛
Ease of Use
– Easy
👛
Fees
– Low
👛
Verification
– 1 Day
👛
Reputation
– Trusted
👛
Supported fiat
– USD, EUR, GBP + more
eToro
is a social trading platform for cryptocurrencies, commodities, CFDs, currencies, indexes, and stocks. It started back in 2008 and entered the crypto market in 2013.
More info +
Regulated & high liquidity

👛
Ease of Use
– Easy
👛
Fees
– Low
👛
Verification
– 1 Day
👛
Reputation
– Trusted
👛
Supported fiat
– USD, GBP, EUR + more
Launched in 2015 in New York,
Uphold
represents an exchange platform that supports crypto, precious metal, US equities, Forex trading, and commodity trading.
Uphold has gained popularity through its Anything-to-Anything feature that enables users to trade different types of assets. There are more than 50 cryptos supported, including majors, alt-coins, stablecoins, and emerging tokens.
More info +
Paxful
---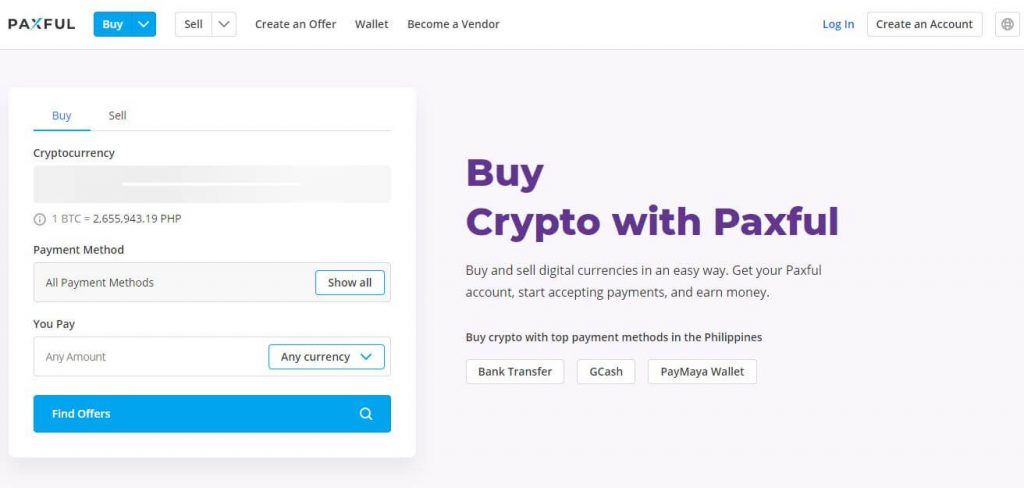 Paxful is a P2P (person-to-person) exchange that offers over 300 payment methods. So, if you are using a specific payment method, you should definitely look into Paxful.
The platform is used to buy and offer Bitcoin at a specific price not bound to market fluctuations.
Pros ✅
Top-notch Security
A lot of payment methods
Simple user interface (UI)
Wide variety of sellers
Cons ❌
Sometimes fees are very high
If you're not careful, you risk getting scammed
LocalBitcoins
---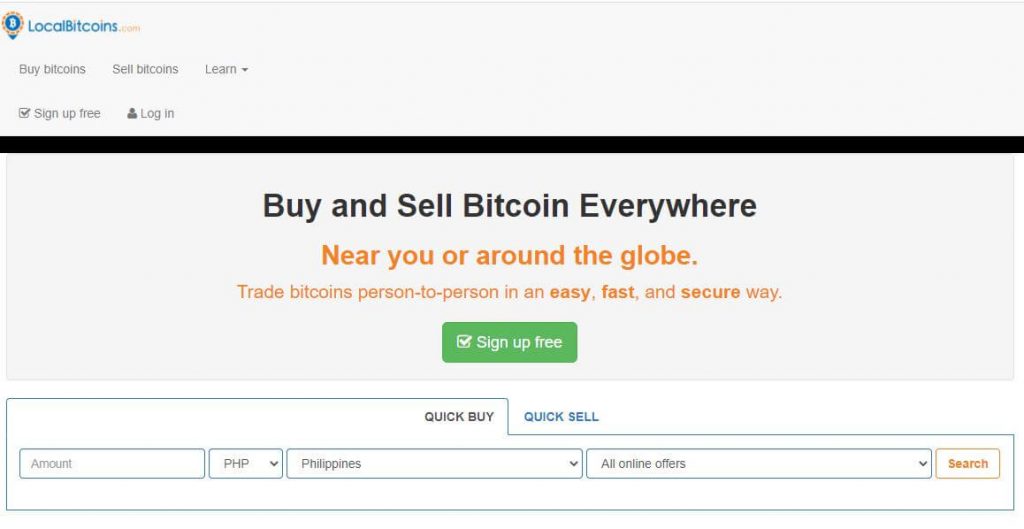 LocalBitcoins is a P2P bitcoin trading platform where buyers of sellers can list their Bitcoin offerings.
Like Paxful, on LocalBitcoins, vendors can create offers in all digital currencies and enjoy the benefits of a P2P exchange.
Pros ✅
Available all around the world
A diverse selection of buyers and sellers
Has many payment methods
Buyers receive bitcoins fast
All transactions are private
Cons ❌
There isn't much diversity as the only Bitcoin is offered
Both sellers and buyers have a chance of being scammed.
---
Hodl Hodl is a P2P decentralized exchange that allows users to buy Bitcoin without ever holding a user's funds. By doing so increases security and reduces trading time.
Pros ✅
Completely decentralized
Anonymous
It does not require identity verification
Accepts Fiat payment method
Cons ❌
It's only been on the market since 2016
Currencies Supported For Sending And Receiving Money
---
Clients can use the following FIAT currencies for sending and receiving money on Wise:
AED, AUD, BGN, BRL, CAD, CHF, CZK, DKK, EUR, GBP, HKD, HRK, HUF, INR, JPY, MYR, NOK, NZD, PLN, RON, TRY, SEK, SGD, USD
Countries You Can Send Money To With Transferwise
---
TransferWise customers can send and receive money to bank accounts in the following countries: Argentina, Australia, Bangladesh, Benin, Brazil, Bulgaria, Burkina Faso, Canada, Chile, China, Colombia, Croatia, Czech Republic, Denmark, Egypt, Europe, Georgia, Ghana, Guinea-Bissau, Hong Kong, Hungary, India, Indonesia, Israel, Ivory Coast, Japan, Kenya, Liechtenstein, Malaysia, Mali, Mexico, Morocco, Nepal, New Zealand, Niger, Nigeria, Norway, Pakistan, Peru, Philippines, Poland, Romania, Russia, Senegal, Singapore, South Africa, South Korea, Sri Lanka, Sweden, Switzerland, Thailand, Togo, Turkey, Ukraine, United Arab Emirates, United Kingdom, United States (Bank of America), Uruguay, Vietnam, and Zambia.
Conclusion
---
Bitcoin is the future, we've heard that, and we know that. And Transferwise is leading the competition. With Wise you can use any digital payment provider and can easily buy Bitcoin, paving the way for a more accessible crypto market.
If you invest with Transferwise, please remember to always trade responsibly. And don't invest more than what you are willing to lose. Now, good luck!
In case you are looking for different ways to buy Bitcoin, read the guide below:

CaptainAltcoin's writers and guest post authors may or may not have a vested interest in any of the mentioned projects and businesses. None of the content on CaptainAltcoin is investment advice nor is it a replacement for advice from a certified financial planner. The views expressed in this article are those of the author and do not necessarily reflect the official policy or position of CaptainAltcoin.com