HodlHodl Review – Fees, Supported Coins & Countries, Payment Methods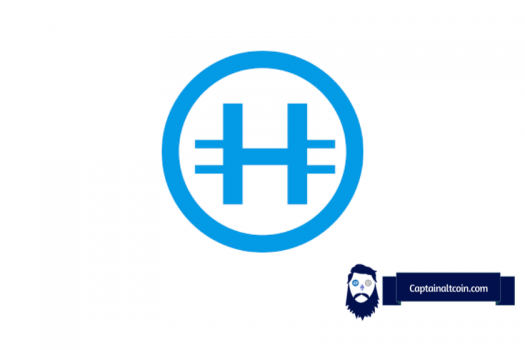 HodlHodl Review – Fees, Supported Coins & Countries, Payment Methods
Non-custodial
No KYC
Supports many payment methods
Competitive fees
Quick registration process
In the vast landscape of cryptocurrency platforms, HodlHodl has emerged as a notable contender, drawing attention from both novice and seasoned traders alike. But what truly sets it apart from the rest? Our comprehensive hodlhodl.com review dives deep into its features, benefits, and potential drawbacks.
If you've been on the hunt for an in-depth hodlhodl review, look no further. We're here to provide clarity on this platform's offerings and help you determine if it aligns with your crypto trading aspirations.
While most crypto traders are already accustomed to how P2P exchanges work, HodlHodl brings a breath of fresh air to the community with some exciting changes.
Most P2P lending platforms work as centralized systems that oversee the different trades between users and have custody over the cryptos in their wallets.
HodlHodl brings something new to the table. It reduces third-party risks by integrating multisig escrow addresses.
HodlHodl is a global P2P BTC trading exchange that provides users with the ability to trade directly with one another. The exchange doesn't hold user funds and locks them as funds in escrow instead.
This guide will walk you through the basics of HodlHodl to help you get a better idea of whether or not this exchange suits your trading needs.
Quick summary: HodlHodl Key Features
| 🔑 Key Features | Details |
| --- | --- |
| 🔒 Non-custodial platform | HodlHodl does not hold user funds and instead locks them in multisig escrow addresses, reducing third-party risks. |
| 🕵️ Anonymity | HodlHodl does not require users to fulfill any KYC or AML criteria. |
| 💳 Wide variety of payment methods | HodlHodl offers a range of payment options, including credit cards, which need to be accepted by the sellers. |
| 🔗 Integration with external platforms | HodlHodl allows users to show their profiles from external P2P exchange platforms, such as Paxful and LocalBitcoins. |
| 📊 Integration with major crypto exchanges | HodlHodl integrates with major crypto exchange platforms, including Binance, Bitfinex, Coinbase, and Kraken. |
HodlHodl Overview
---
HodlHodl is a P2P crypto exchange platform that focuses primarily on Bitcoin trading. The main goal of the platform is to reduce any middleman involvement in the trade process between buyers/borrowers and sellers/lenders.

The platform was launched in 2016 by Hodlex Ltd, a company based in London. HodlHodl takes pride in its anonymity policy that doesn't require users to fulfill any KYC or AML criteria.
It works as a non-custodial platform that doesn't hold on to its user's funds. Instead, buyers and sellers contact one another through the platform, while HodlHodl mediators make sure everything is in line with their escrow policy.
The multisig escrow reduces any risks of BTC theft and significantly minimizes the trading time between users. HodlHodl doesn't include any complex compliance procedures since it doesn't hold any money in the first place. All the trades that occur are between the two parties' BTC wallets.
Since it works as a non-custodial exchange, users aren't obliged to deposit funds before making a trade, but they will need to connect their own third-party wallet.
Services & Features
---
As we said, HodlHodl is a platform that primarily focuses on Bitcoin trading. Compared to some other crypto decentralized exchanges, there aren't many services or features for users to take advantage of.
However, the ones that are included have worked flawlessly so far and users seem to be extremely satisfied.
Here are some of the main services of HodlHodl.
Buy & Sell Crypto from Other Users
---
When buying Bitcoin on HodlHodl, you first have to fill out a couple of parameters.
This includes the amount you want to buy, the preferred payment method, and the maximum payment window time. Adding your location is optional, but it will provide you with some location-specific benefits in terms of local banks or in-person payment.
By selecting the "maximum average release time", you can filter out sellers that don't have a reputation of completing their transactions quickly. This is useful in scenarios where you want the trade to be over as fast as possible.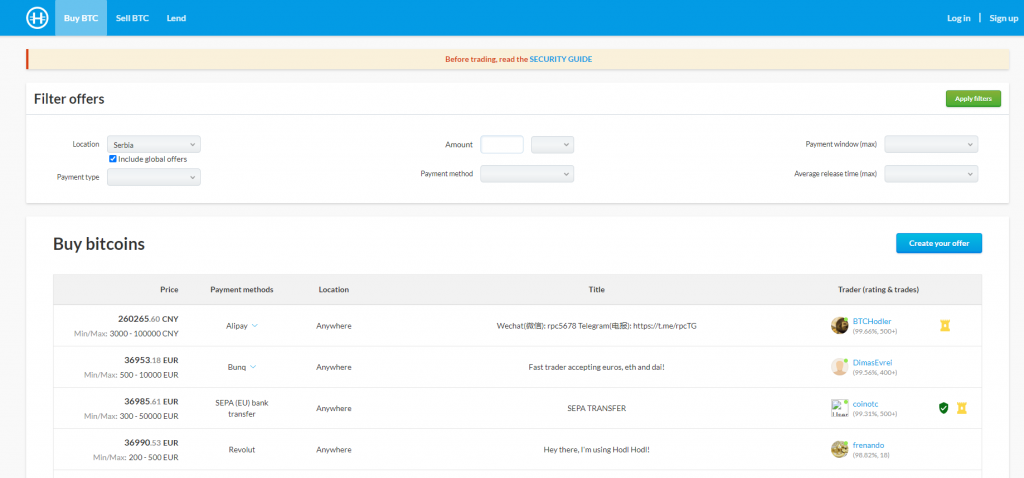 👉 When you are the one buying the Bitcoin, you will have to wait until the escrow account of the sellers receives that agreed-upon amount of Bitcoin you are buying. After that, you pay the seller directly and they transfer the Bitcoins to your account when the payment is received.
The feedback rating on users' profiles can help you make the right choice when picking a trader and avoid getting scammed.
The selling process includes similar parameters as the ones we mentioned above. The main difference is that you can choose the payment method in which you will receive money from the buyer.
Once you strike a deal with a trader, you insert the Bitcoin in your escrow account and forward them when you receive the full payment.
Lending
---
The P2P lending service is one of the most popular features on HodlHodl. It works by allowing users to borrow a specific amount of crypto against Bitcoin.
Lenders and borrowers work out the specifics by themselves (interest rate, type of crypto, loan-to-value ratio, and loan term).
The value of the Bitcoin collateral has to be higher than the value of the borrowed crypto, which means that all loans have to be over-collateralized. The loan-to-value ratios can range from 30% to 80% and it depends on the type of borrowed crypto.
The borrower storages the collateral in a multisig escrow wallet and the whole process is very similar to a regular HodlHodl trade. Next, the lender provides the crypto to the borrower and it has to be paid back in a specific time frame that both sides of the process agreed upon. The time frames can be anywhere from 1 day to 1 year.
Before the loan term comes to an end, the borrower has to pay the interest rate.
Loans
---
The loan and lending features are intertwined together.
The loan service covers pretty much the same process, it includes the borrowing and lending of cryptocurrencies.
As a P2P debt platform, HodlHodl allows users to organize the loan process and specifics by themselves. The trader that is providing the loan sets the interest rate.
HodlHodl supported coins
---
HodlHodl is a P2P crypto exchange that only supports one cryptocurrency – .
However, the trades can be carried out in any other currency since the users are the ones that set the payment terms.
HodlHodl supports all fiat currencies and altcoins.
HodlHodl Deposits & Withdrawals
---
Let's go over how the deposit and withdrawal process works on this exchange.
Fees
---
The interesting part about this P2P platform is that there are no deposit and withdrawal fees set. There are only trading fees which we will talk about in detail a bit later in the article.
Payment Methods
---
HodlHodl offers a wide variety of payment methods to its users. In comparison with other P2P platforms, it ranks as one of the exchanges with the most payment options.
However, being a P2P platform also means that the payment options first have to be accepted by the sellers.
Some of the most used payment methods (credit card being the most popular) include:
SWIFT
SEPA
Venmo
WesternUnion
Limits
---
There are a few different types of limits on HodlHodl.
Some of the limits new users have are:
Number of contracts that a user can have simultaneously
Maximum Bitcoin traded in an individual contract
By successfully completing trades and trading at a certain volume, users can slowly decrease these limit levels.
There are also limits for buying/selling BTC and minimum loan amounts.
The minimum BTC that you can buy/sell is 0.001 BTC.
The minimum loan offer can't be worth less than 50 USD (in crypto value).
HodlHodl Trading Fees
---
| 💵 Pricing/Fees | Details |
| --- | --- |
| 📈 Trading fees | The trading fees on HodlHodl can range from 0.5% to 0.6%, depending on the user's verification status. Both buyers and sellers split this fee, and in situations where the two sides have different fee rates, the lower one will be applied. |
| 💰 Lending fees | For lending on HodlHodl, there are two types of fees. The origination fee, ranging from 0.5% to 1.5%, is calculated from the initial loan amount and varies depending on the contract period. There is also a forced liquidation fee, applicable only in the case of forced liquidation. |
The trading fees can go from 0.5% to 0.6%. The percentage depends on the user's verification status.
Those that create an account on the platform and type in a referral code get a 0.55% rate and verified users get a 0.5% rate.
Remember, both buyers and sellers split this fee. In situations where the two sides have different fee rates, the lower one will be applied.
Does HodlHodl Require KYC?
---
Neither KYC nor AML is required on HodlHodl, this is in line with their anonymity policy.
Users that do decide to verify their accounts through KYC can get reduced commissions, expanded transaction limits, and make their "Verified" status visible to all traders.
HodlHodl Supported Countries
---
The supported countries list on HodlHodl is fairly long and it allows users from almost every country to use the platform.
Countries that aren't permitted to use the platform are North Korea, Iraq, Syria, and Sudan.
Are US investors allowed on HodlHodl?
---
While US citizens can use HodlHodl, the only feature available to them is the lending service.
How to Start with HodlHodl?
---
Starting with HodlHodl is fairly simple and straightforward, all you have to do is follow these few steps.
⚡️ Step 1 – Create an Account
---
To create an account, all you have to do is click 'Register' in the right corner of the official website.
Of course, you are going to need to enter an email address, username, and payment password.
Also, the platform will ask you to set your local timezone since they will use it to adjust your working hours and make the transaction process easier.
⚡️ Step 2 – Edit Your Profile
---
After you've successfully opened up an account, you will want to fill it with some necessary information.
The edit page consists of these few things:
Profile – information regarding your nickname, email, and bio.
2FA Authentication – It's always useful to enable 2FA authentication since it can make your profile more secure.
API Access – This is optional and it will be disabled by default.
P2P Profiles – In case you have used some other P2P platforms in the past, you can connect the information to show other traders that you are reliable.
⚡️ Step 3 – Provide Your BTC Address
---
To start trading BTC, you first have to provide your BTC address. You can enter it in the "Trading Settings" section.
Once you provide the address, you can go to "Buy BTC" or "Sell BTC" to start trading.
Does HodlHodl have a Native Token?
---
No. HodlHodl does not have its own Native Token on the platform.
Is HodlHodl legit and safe?
---
HodlHodl has been in the business since 2016, and it is recognized by the crypto community. There are no KYC/AML requirements. They have a lack of regulation. But the trust of their users and the fact that there is no hacking history makes us say that HodlHodl is a legit and safe platform.
Is HodlHodl Regulated?
---
Somewhat regulated. The information you can find on their website is very detailed and precise. But during the research, we did not come across any specific document that regulates the work of this exchange and describes the legal framework in which this exchange operates. Therefore, we must conclude that it is partially regulated. Anonymity and legal frameworks hardly go together.
Conclusion
---
Considering how most P2P platforms work as a centralized party that has control over your coins, HodlHodl is somewhat of a hidden gem in the crypto community.
It provides users with P2P trading and lending features and minimizes third-party risks by including multisig escrow addresses.
So far, it has proven to be a reliable and efficient BTC trading platform and the feedback from users has been nothing but positive.
If you were looking for a simple and effective P2P trading alternative, you might have found one in HodlHodl.
Read also:
FAQs
---
Deposit & Withdrawal Methods
9.5
PROS
Non-custodial
No KYC
Supports many payment methods
Competitive fees
Quick registration process
CONS
Can only exchange BTC
Counterparty risk

CaptainAltcoin's writers and guest post authors may or may not have a vested interest in any of the mentioned projects and businesses. None of the content on CaptainAltcoin is investment advice nor is it a replacement for advice from a certified financial planner. The views expressed in this article are those of the author and do not necessarily reflect the official policy or position of CaptainAltcoin.com