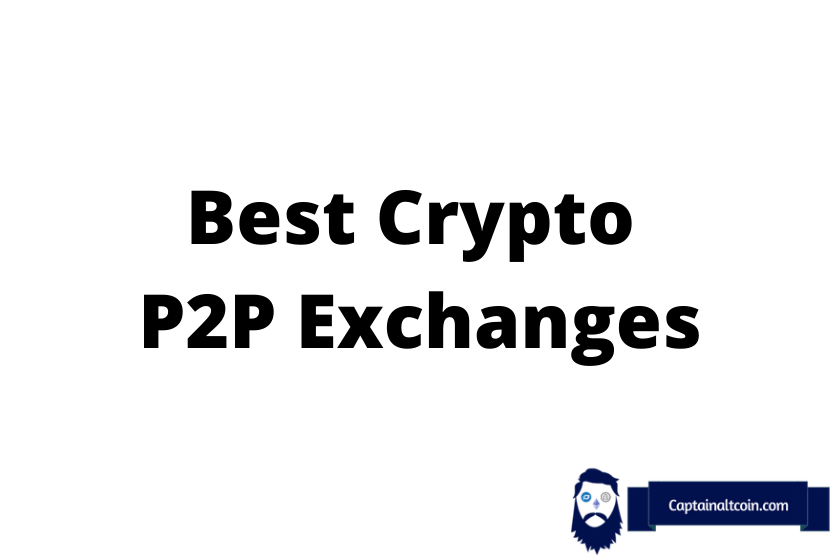 Crypto's been around for well over a decade, growing in exposure and scope through the years. Many ways of purchasing crypto have emerged in this period, yet most people get their coins through a crypto exchange. Today we'll be looking at one of the less known methods of P2P exchanges.
What is a P2P Exchange?
---
The difference between P2P with traditional centralized or decentralized exchanges is that traders have direct contact with the exchanging party. With P2P exchanges traders browse through different sellers and choose the rate they prefer. The platform usually does not require KYC, have lower fees then exchanges and accept more payment methods. The method is also preferred by big investors as buying on P2P exchange is done "over the counter". This means orders are not not done on the open market, therefore big trades do not move the price and Whales don't end up paying more than they wanted to.
The advantages are clear, peer to peer exchanges do not require centralization. Funds are not stored on the exchange but the platform is only used for transacting for a predetermined price with other users.
The anonymous and direct nature of P2P crypto transactions has led to the false myth that fraud, scams and illicit activity is the only thing the exchange is good for. That's not the case at all, P2P offers benefits not found on traditional exchanges and not only for criminals.
How do peer to peer exchanges work?
The process to start trading on P2P exchanges is usually quite straight forward. Firstly register on the site by leaving your email and password, there's usually no identity verification needed meaning KYC. A little PRO tip, if looking for extra privacy choose an anonymous email provider.
Once registered, buy and sell offers posted for all sorts of crypto, most often Bitcoin, Each has a different rate, accepted payment methods, and usually a limit to maximum purchase or sale amount.
Buyers can browse the selection and find offers that best suit their needs, once done they can contact the seller. All sellers have to do is post their offer, and list all the accepted payment methods and extra fees charged.
How the transaction is completed varies a bit from exchange to exchange, some use a degree of centralization others don't. Platforms generally require both parties, be it the buyer and seller to send the funds or collateral to an escrow contract. When both successfully complete the necessary step the funds are exchanged successfully. And in the eventuality of some sort of conflict the escrow gets sent back to the respective parties.
There's also sites that are more centralized and custodial, meaning that funds are sent to an account in the hands of the institution, and released when both parties complete the necessary steps.
I would advise to straight away from custodial P2P exchanges, as there are a million things that could go wrong when trusting a central institution with your crypto. From hacks to power abuses, be wary of giving your funds to a third party.
Decentralization is the essence of crypto, and fortunately there are many P2P exchanges that understand this, and work without ever holding users crypto.
What to look for in a P2P Exchange
---
Now let's take a look at what you'd look for in P2P exchange:
Security
---
The direct nature of P2P exchanges makes scamming a real possibility if we're not careful.
That's why a good exchange takes the necessary steps so that there's no risk posed to the customer fund. These can be safety measures such as arbitrators and security deposits held in escrow.
Another often overlooked risk is the threat centralization poses. In fact giving your crypto or FIAT to a third party opens you up to the risk of power abuse and hacks where your funds can be stolen.
But beside everything a big chunk of responsibility falls on the buyer to find a trustworthy person to deal with.
Trading Fees
---
P2P usually offers a lot lower trading fees than traditional crypto exchanges, particularly if non-custodial. Most P2P exchanges don't even charge a fee for exchanging crypto. Users only pay a fee for advertising their offering on the site, which is different from simply posting an offer.
On decentralized, non custodial P2P platform transactions happen directly between users, with no central authority in the middle.If fees exist they are generally only around 1% or less, and usually seller side. Although if using alternative payment methods fees are usually higher.
Payment Methods
---
Payment methods vary by exchange and in most cases also by seller. On P2P exchanges sellers get to choose what payment methods to accept. Some may go with payment methods in line with centralized exchanges such as, such as bank transfers, credit or debit cards, or crypto. Other sellers may accept alternative methods like PayPal, gift cards, rewards points, and even goods and services.
Without a doubt users of P2P exchanges benefit from a lot more freedom when it comes to choosing how to get paid, particularly if looking for more alternative payment methods.
Volume
---
P2P trading platforms are a lot less used then traditional trading options, and less people on the site means a lower trading volume. So unfortunately you aren't going to have that buy or sell offer filled quickly. The P2P exchange is going to show you the advertised offers first, and then offers with the most traffic. If you are selling, get used to waiting a long time before the order is filled.
Best Cryptocurrency P2P Exchanges
---
Paxful
---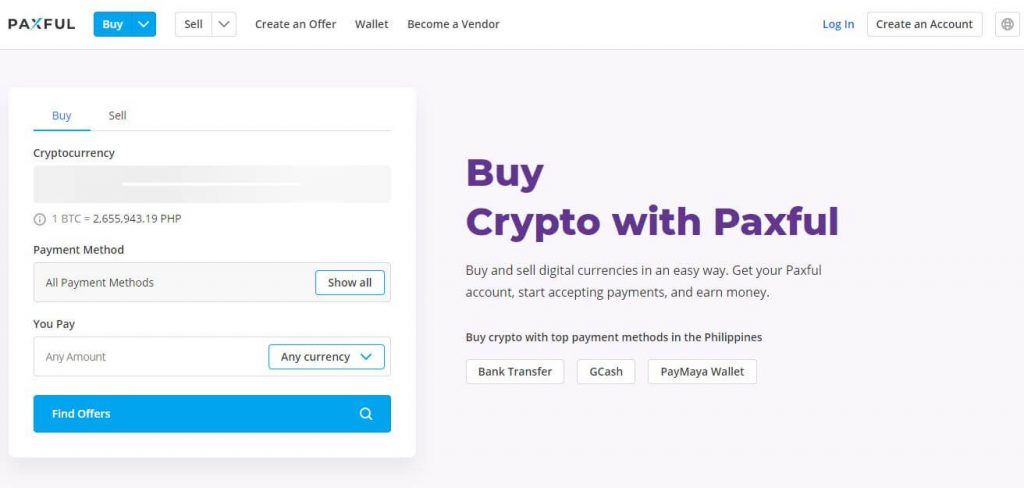 Paxful is among the biggest peer to peer exchanges on the market today. The platform offers over 300 different payment methods such as PayPal, Western Union, gift cards, rewards points and even real assets like cars or anything else that comes to mind.
But of course even if all these payment methods are offered by Paxful, this doesn't actually mean they are available, as the seller has to be willing to accept these payment methods. The exchange started in 2015 and has now amassed 4.8 million users.
Localbitcoins
---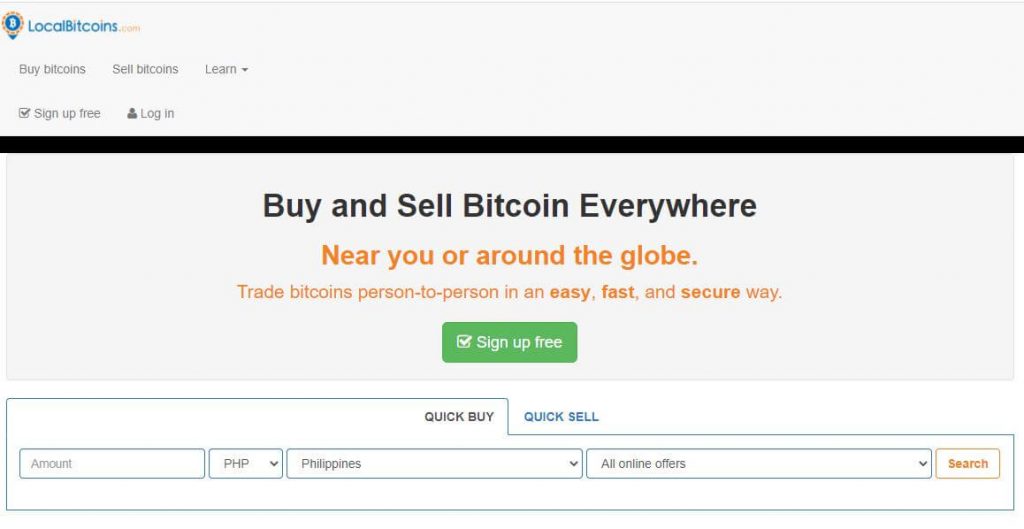 Localbitcoins was founded in 2012 in Finland. The platform has since become among the most popular P2P exchanges in the space with millions of Bitcoin transactions.
They've been in the industry for almost a decade making them a P2P crypto exchange veteran. The platform's longevity has allowed them to build one of the best volumes of any P2P exchange. Bitcoin can be bought with traditional and alternative payment methods including PayPal.
LocalBitcoins doesn't even charge a fee for buying or selling Bitcoin. The only time you will be charged is when advertising your offering, and even then the fee is only 1% of the transactions.
Binance P2P
---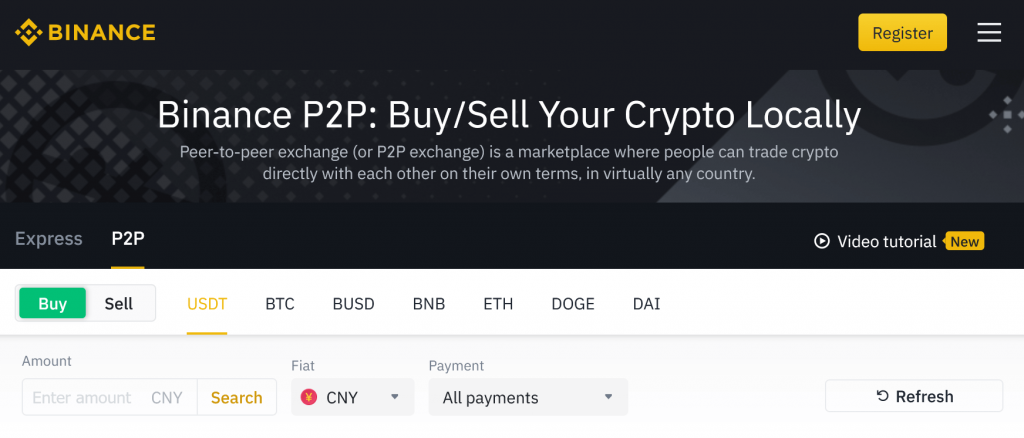 We can have a crypto P2P list without mentioning the giant, Binance.
Not only is the platform the biggest and fastest growing exchange it also provides P2P services. In fact, on Binance P2P users can buy and sell crypto with no fees.
Binance P2P also offers a number of cryptocurrencies such as Bitcoin (BTC), Ethereum (ETH), Tether (USDT), Binance USD (BUSD), Binance coin (BNB), and EOS. And with all payments available via Bank Transfers, WeChat, Alipay, and QIWI.
And for further security Binance will hold both parties crypto assets in their escrow service, and release them when the transaction is over.
Kucoin P2P
---
Another popular centralized exchange that added its own P2P marketplace. You can access it from their website or apps on mobile.
There are not many sellers on the platform right now but it slowly grows and will surely be a good option for p2p fans as KuCoin is one of the favorite crypto platforms with great reputation and customer support.
HODL HODL
---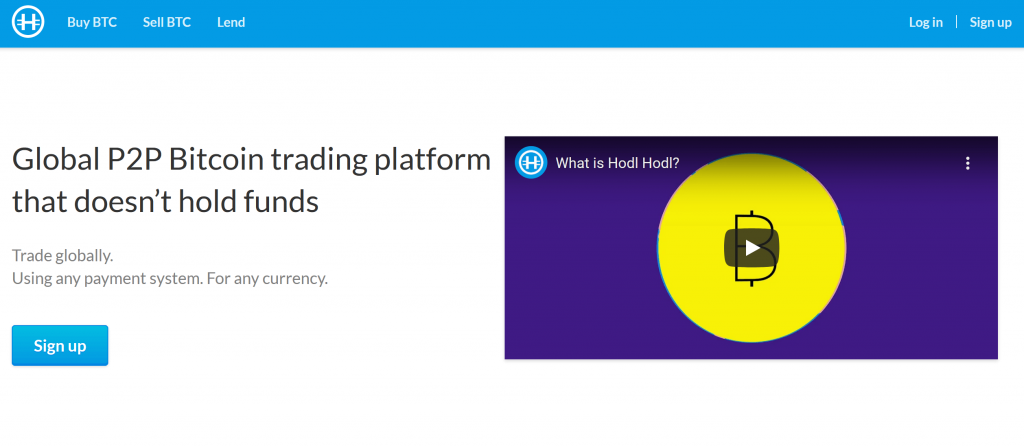 Hodl Hodl is a P2P Bitcoin trading platform, which differenticiants with other platforms as it allows users to trade directly without ever holding their funds and instead locking them up in a multisig escrow. By doing so the transaction is made truly trustless, minimizing the chance of theft and reducing trading time. Your crypto is also free from institutional power trips if no third party, central institution holds your funds.
And because HODL HODL doesn't ever custody your funds no KYC or similar is required. The maximum fee is 0.6% and is split evenly between the buyer and seller. What this means is that each side pays a fee of 0.3% each transaction.
Bisq
---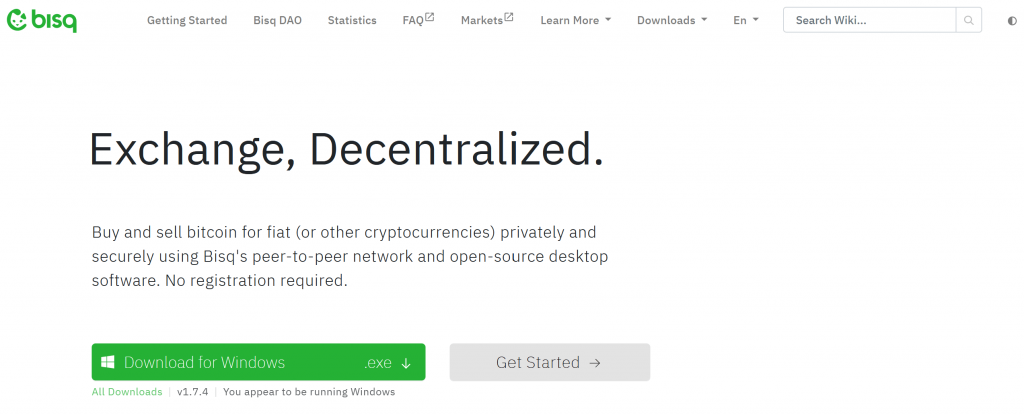 Bisq can even be referred to as a decentralized exchange rather than a pure P2P exchange. Firstly you will be asked to download and run their software, then you'll be able to trade on the exchange.
Due to its peer to peer nature security deposits for transactions are needed meaning that you have to send an amount of funds that will only be released back to you upon successful completion of your trade.
Bisq offers many payment methods with fees from 0.2-0.6%.
But the biggest problem I found with Bisq is that users have to install and run software to trade on the platform. The platform limits transaction amounts on new accounts. Only accounts who have gone through the KYC requirements or alternatively are old accounts get to trade bigger amounts.
This of course leads some to worry about the centralization of Bisq, as the institution holds a lot of power.
Local.bitcoin.com
---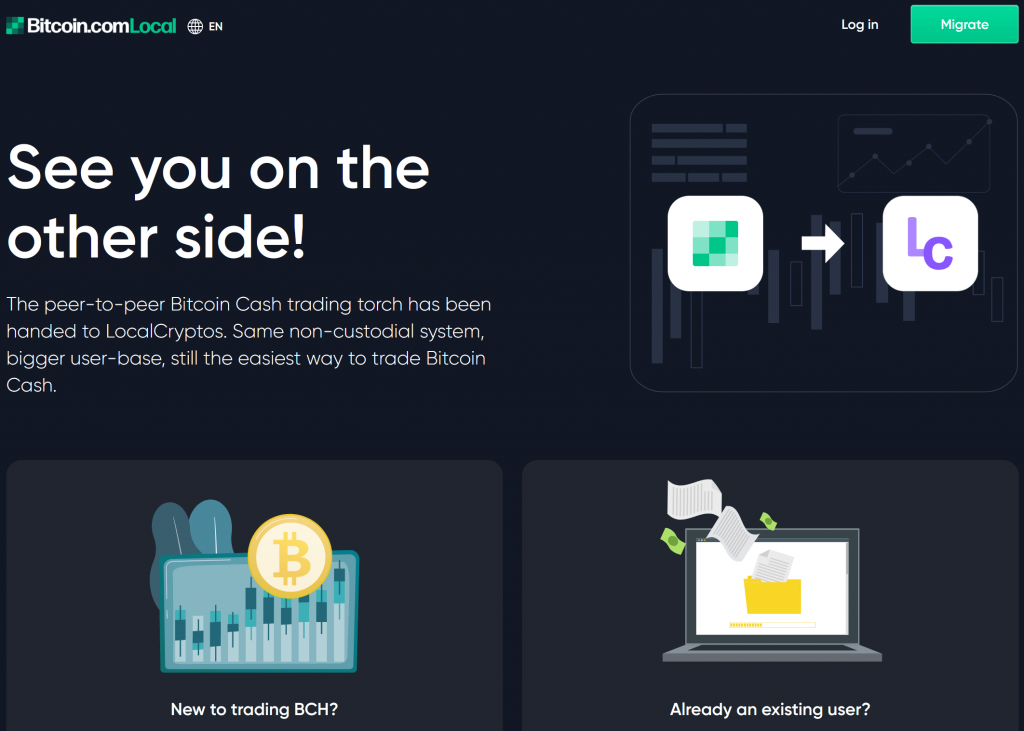 Local.bitcoin.com is similar to LocalBitcoins, but instead of trading Bitcoin it focuses on BitcoinCash. Similarly to LocalBitcoins it's a private peer to peer platform where via a blind escrow smart contract you can trade Bitcoin Cash in return of many traditional and alternative payment methods. Fees go from 0.25 to 0.75%, quite competitive.
LocalCoinSwap
---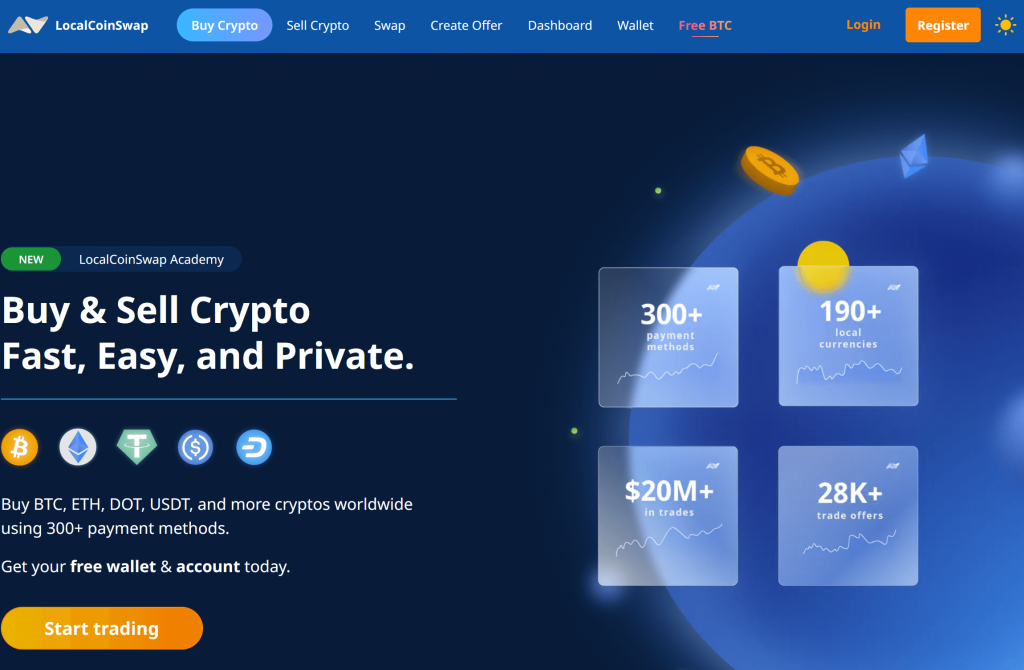 LocalCoinSwap is another great P2P exchange on which you can trade, the platform excels at being probably the most decentralized. It supports over 250 different payment methods and 25 cryptocurrencies. What's best is that it charges no fees for buying or selling on the exchange.
LocalCoinSwap makes trading secure with the escrow service that protects both parties. This way trading on LocalCoinSwap is fast, secure and private experience and that's just how I like it. As you would expect there's no mandatory KYC procedure,but some sellers may ask for your ID when doing bank transfers.
Conclusion
---
There are a lot of great P2P platforms in the cryptoverse but also too many bad ones. It is not unusual to hear about scams, thefts, hacks and illicit activity on these platforms, so always keep your eyes open.
So it is always to stick to proven, good P2P exchanges. Another risk to not overlook is the centralization. I advise to stray away from any P2P exchanges that hold customers funds in escrow via their custodial services. Giving your crypto to a third party opens you up to a world of pain you do not want to be in, get ready for power abuses if you do.
In conclusion I recommend decentralized, trustless and non-custodial P2P exchanges such as LocalBitcoin and LocalCoinSwap. That's where the true essence of crypto lay's.
Also, you might want to check out other P2P platforms:

CaptainAltcoin's writers and guest post authors may or may not have a vested interest in any of the mentioned projects and businesses. None of the content on CaptainAltcoin is investment advice nor is it a replacement for advice from a certified financial planner. The views expressed in this article are those of the author and do not necessarily reflect the official policy or position of CaptainAltcoin.com