LocalBitcoins.com Review – Is It Scam or Legit?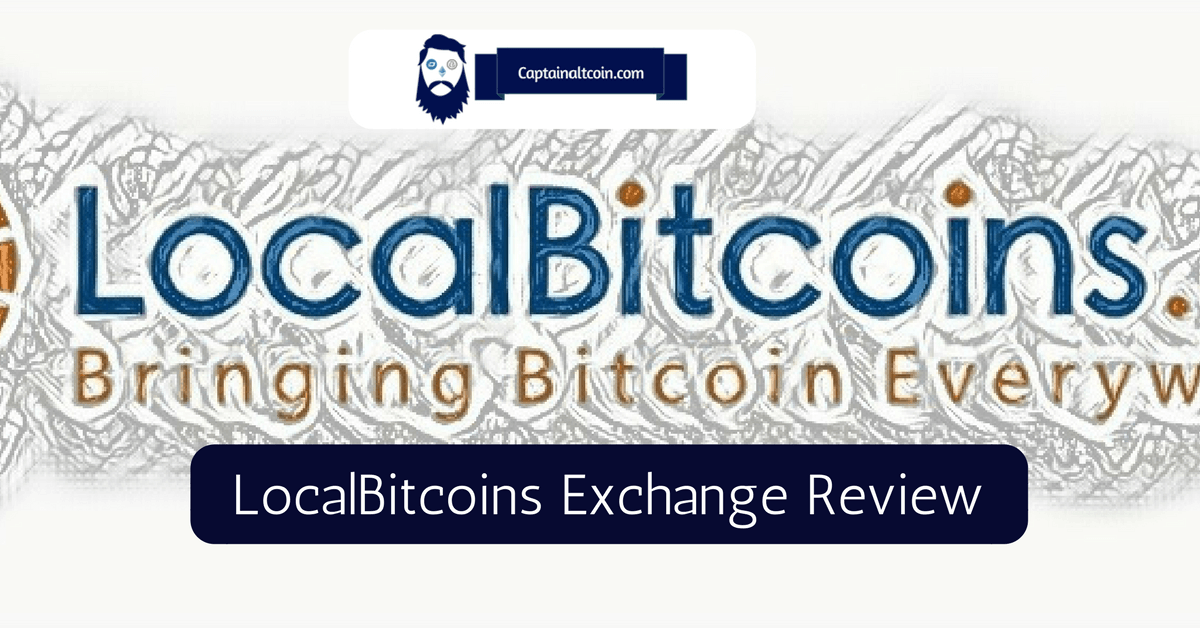 LocalBitcoins.com Review – Is It Scam or Legit?
Easy to buy small amounts of crypto
Various payment methods
In some countries, the only way to buy some crypto
Available worldwide
LocalBitcoins is a very interesting Finland-based cryptocurrency and bitcoin exchange. It is the largest peer-to-peer service, which means that in LocalBitcoins people from all around the world can exchange their local currency for Bitcoins. It also helps to match Bitcoin buyers and sellers who live close to each other, enabling face-to-face and online transactions. Users can post advertisements where they say their exchange rate and payment methods for purchasing or selling Bitcoins, and the other members can reply to these advertisements and agree to meet the person to purchase Bitcoins with cash. LocalBitcoins is also used as escrow, which is used to ensure fairness of every transaction made by the users.
The company is one of the oldest exchanges in the industry. It was founded in 2012 by Jeremiah Kangas, a programmer, and entrepreneur. LocalBitcoins currently operates in 248 countries and 13774 cities, and it is especially popular in the US, UK, and China.
All price predictions in one place: click here.
---
Identity Verification – Is LocalBitcoins legit?
---
LocalBitcoins used to respect the anonymous nature of Bitcoin and didn't require any personal information or KYC data. However, that changed in 2019 as they had to comply with worldwide government regulations.
The KYC process is just like on any other exchange – you need to upload a government-issued document along with another written document (like an electricity bill or similar public service bill) that confirms your address. You also need to take a selfie with your document. On average, it takes less than 2 days for Localbitcoin support to process and verify your information.
When it comes to fiat currencies, users are free to trade in any currency. This means that if there's someone willing to accept your local fiat currency, you can purchase Bitcoins for it, which is pretty awesome.
However, no altcoins are supported and the exchange allows only trading with fiat currency for Bitcoin.
Transaction Fees
---
LocalBitcoins tends to keep things simple and leaves everything to the users. It's the same with the transaction fees. A simple 1% fee is applied to all trades and the seller pays the fee. This means that LocalBitcoins will be free to use if you're only looking to buy Bitcoins.
Keep in mind that standard Bitcoin network fees apply for all transactions. The sellers themselves don't have a transaction fee. Instead, they charge higher exchange rates, so when making a trade, take that into account.
It's highly recommended to move your Bitcoins to your own secure Bitcoin wallet and not to leave them lying around in LocalBitcoins' wallet.
Read our updated guide on the best crypto trading bots.
---
Trading Analysis
---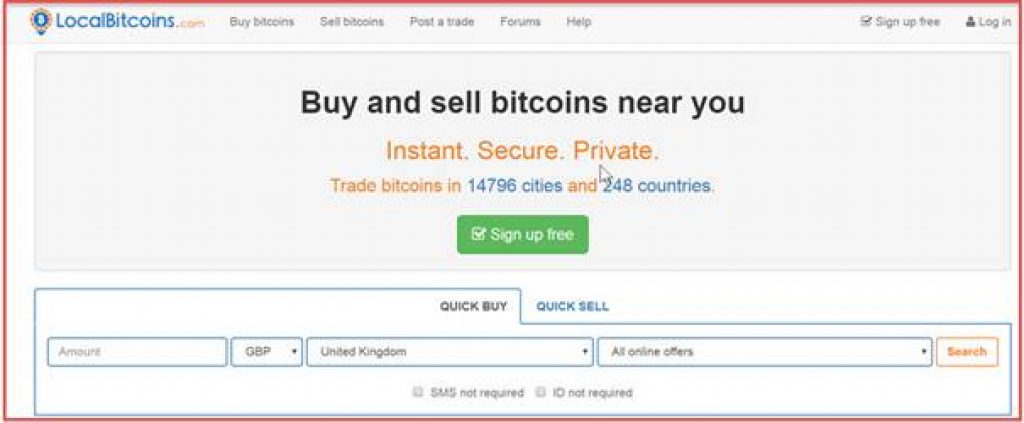 LocalBitcoins doesn't have a typical brokerage business model. Instead, it's a peer-to-peer network that connects the sellers with buyers in the local area. The traders post ads on the platform, stating accepted payment methods and exchange rates for purchasing or selling Bitcoins. Other users reply to these ads. They arrange to meet the trader in order to make a quick transaction, online or in person.
LocalBitcoins also has a feedback mechanism and reputation system to help the users distinguish the legit traders from the scammers. The trading platform also offers a conflict-resolution service that helps users overcome any misunderstandings, and an escrow service in order to help establish trust between the parties.
When trading on LocalBitcoins, users are advised to be cautious because it's possible to get scammed. After all, the deal is made between individuals, so it's highly recommended to be extremely careful. These are some of the things that you should keep your eye on when it comes to trading.
Go over the seller's profile and make sure that he meets these qualifications:
Has traded over 100BTC in his lifetime
Has a minimum of 100 trades
Has a feedback score of 98% or higher
Has an account that is more than 1 year old
Is trusted by at least 10 people
Is a verified seller (company account, email address, phone number)
Also, do not post ads for purchasing Bitcoins, because that will just attract a lot of scammers. Instead, you should look for users who are actively selling Bitcoins. Also, you shouldn't choose your seller based solely on the price. Look at the seller's transaction history to see how he did in the past, and sometimes it's worth paying 5% more in order to conduct a transaction with a more reputable seller.
You'll probably be good if you follow these strict rules. If you can't find a seller that matches all of the above, try to find the next best thing, because the idea is that the seller has actually completed large successful trades in the past.
Afterward, search the LocalBitcoins' forum for that seller's username, because if any complaint comes up you'll probably find it there.
When it comes to communication, you should send a message to the seller who put a trade request and wait for their response.
DO NOT:
Send more information before you receive a response from the seller
Agree to trade outside the exchange because you will not be protected by LocalBitcoins' escrow service
Send payment information outside the exchange (no phone calls, emails, or text messages). You should use only the LocalBitcoins interface.
---
Read our updated review of the Coinmama exchange here.
---
It's important to note that "power sellers" may refuse to sell cryptocurrency to new users because they do not have enough feedback yet. This means you may have to make a few small trades with the less trustworthy sellers in order to get positive feedback and be accepted into the "big league."
The exchange isn't a traditional trading platform, so it doesn't support derivates or futures trading, and doesn't have margin trading, short selling, or any other option.
Payment Methods Accepted on LocalBitcoins
---
LocalBitcoins sellers/buyers accept a variety of payment methods and here's a list of the main ones:
Webmoney
Western Union
Wire transfer
Cash (in person)
Cash by mail
You won't be able to use a credit card because you're buying and selling to individuals. However, if you don't have a PayPal balance, the PayPaloption allows you to pay with your credit card. Depending on the payment method you choose, you need to pay different fees, e.g. purchasing with PayPal on LocalBitcoins has much more risk for the seller.
Why?
Because Bitcoin isn't like any other digital or physical goods that you can purchase online. It's a form of money, and even more, a form of somewhat untraceable money, so many credit card companies (i.e. PayPal) don't ensure Bitcoin exchanges that sell Bitcoins via credit card purchases.
You will usually get the best price for purchasing Bitcoins using a hard to reverse payment methods such as wire transfer or cash deposit.
Ease of Use
---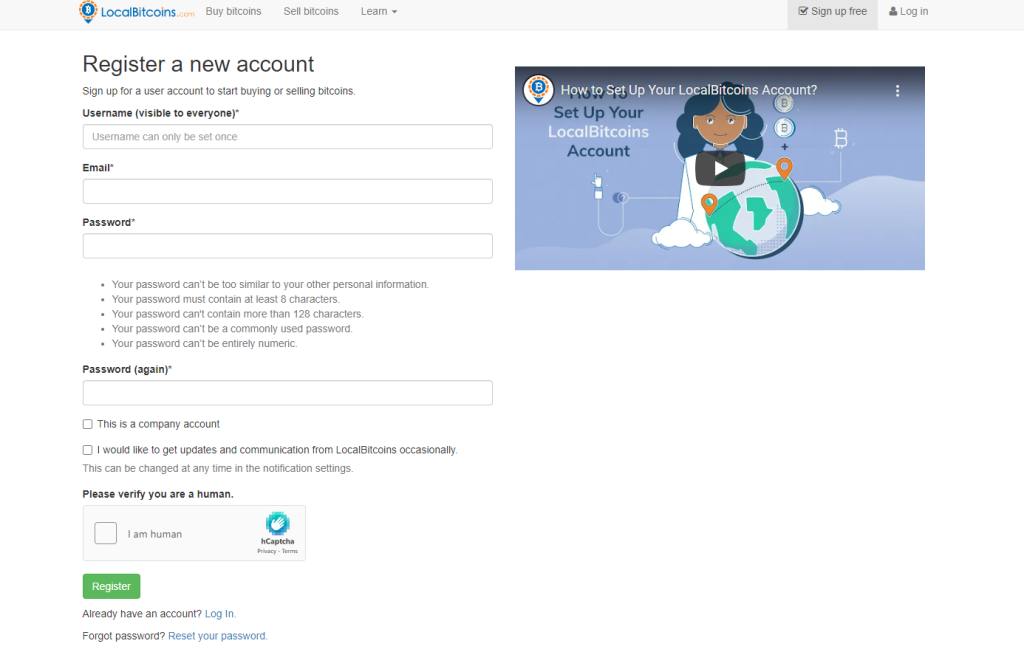 LocalBitcoins.com features a great design and provides well-outlined information. The entire website is easy to use and spot-on, and all the information needed is available in an instant and without any need to navigate to find it.
The website is very fast, and the sign-up takes only 20 seconds.
Security – Is LocalBitcoins safe?
---
Given the nature of the operation, security is a major aspect of LocalBitcoins' activity; in fact, it's safe to say that it is one of its most important aspects indeed.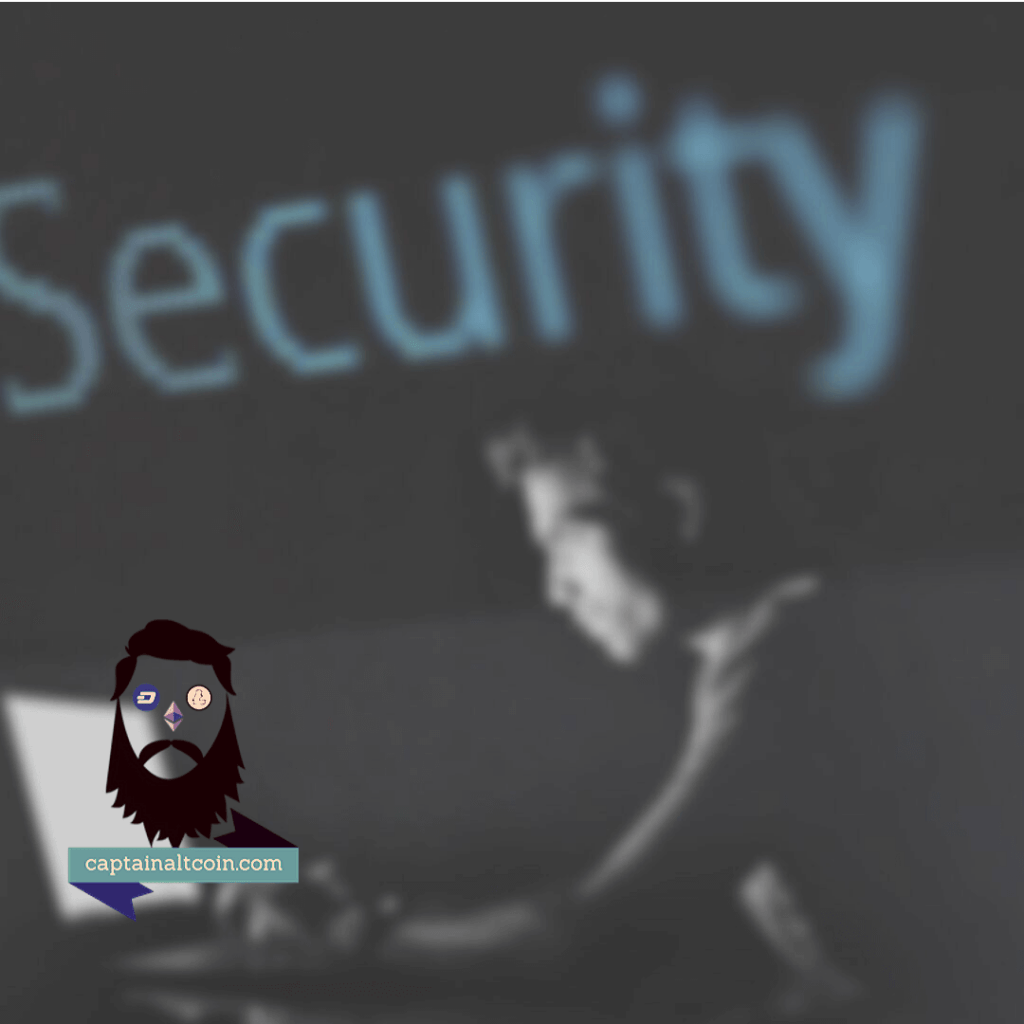 The exchange allows for secure trading through the use of several measures, including:
Reputation system – Every LocalBitcoins user has a reputation rating as well as public history records showing their past activities.
The escrow service – When you request a trade, the money you send is held on LocalBitcoins' escrow service until confirmation is received from the seller, at which point, the virtual currency is released to the buyer.
Two-factor authentication (2FA) – 2FA is another link in the LocalBitcoins security chain, and this is the same type of security feature that is currently used by Google and by banks. 2FA means that whenever you log into your account you will require to enter an additional PIN code sent to your mobile phone, which prevents people from hacking into your account. However, this option is not enabled by default.
Login Guard – Login Guard adds yet another layer of protection, by verifying you are always logging in from the same browser. If a different browser is used, an email verification will be required.
Support and conflict resolution – LocalBitcoins has a support team ready to answer user questions. It can also resolve conflicts between buyers and sellers in case that happens.
Buy Coins on Localbitcoins
Support
---
The support team on LocalBitcoins is well organized and competent, and it offers traders an unusually high number of channels to request assistance with various problems.
Their FAQ section is quite thorough, and they typically answer within 1 hour. They also offer special forms to report phishing, lost two-factor authentication, or password.
They only offer support via email, and there is no phone support and no live chat support either. However, the overall service is excellent.
Read our updated guide on top proof of stake cryptocurrencies.
---
User Experience
---
LocalBitcoins is a great platform. However, sometimes the traders on it are not so great, and many users get scammed on LocalBitcoins, primarily because of peer-to-peer interaction. There are many scam reports all over the web. Unfortunately, this damaged the reputation of LocalBitcoins. The exchange is still a great place to purchase or sell Bitcoins. However, it's the user's responsibility to stay safe and educate itself about the potential dangers of peer-to-peer trading.
LocalBitcoins also offers a place for fraud and scam warnings. Here, users can post about their experiences with other traders.
Supported Countries
---
LocalBitcoins is available in nearly every country except the state of New York. LocalBitcoins left New York because of BitLicense.
Conclusion – LocalBitcoins Review
---
The LocalBitcoins is a great way to purchase Bitcoins if you're looking to trade locally and protect your privacy. Otherwise, it may be too much of a hassle for you.
Overall, this is a great exchange. However, it might not be the best choice for beginners.
PROS
Easy to buy small amounts of crypto
Various payment methods
In some countries, the only way to buy some crypto
Available worldwide
CONS
mandatory KYC
potentially dangerous meeting people face-to-face

CaptainAltcoin's writers and guest post authors may or may not have a vested interest in any of the mentioned projects and businesses. None of the content on CaptainAltcoin is investment advice nor is it a replacement for advice from a certified financial planner. The views expressed in this article are those of the author and do not necessarily reflect the official policy or position of CaptainAltcoin.com