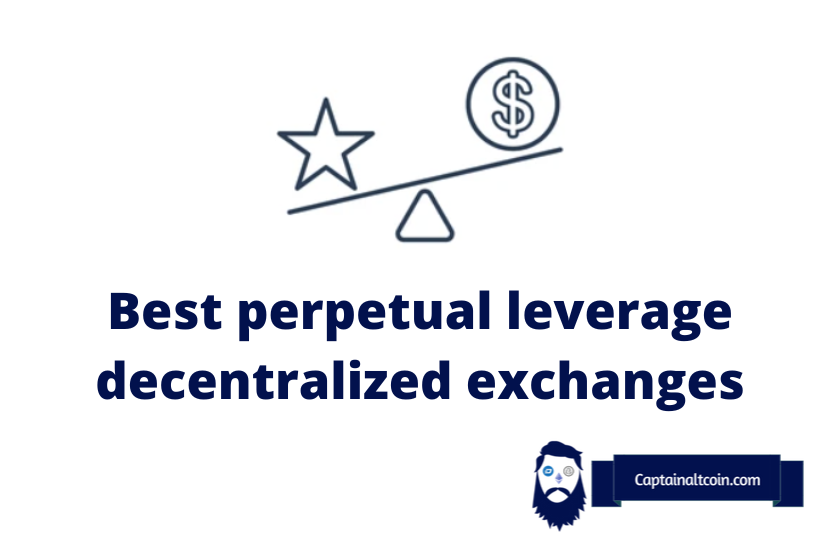 Intro
---
Perpetual contracts, which are enhanced versions of standard futures with a few modifications, are now being offered to crypto traders. These new contracts were originally accessible on the Ethereum blockchain. The main goal of these contracts is hedging investors' value of the US dollar for a fixed return rate. 
This form of contract has been anticipated by many in the bitcoin world since it provides price stability in an otherwise unpredictable market.
Perpetual swaps, introduced by Bitmex in 2016, are a price speculation instrument that has become the most popular derivatives in the cryptocurrency market. Decentralized Exchange (DEX) and Centralized Exchange (CEX) are two ways to trade these new DeFi derivatives (DEX).
In this article, we will go through some of the best perpetual leverage decentralized exchanges. We will mention what the max leverage is, what coins are available, what the fees are, etc. So, without further ado, let's jump into details.
Best DEXes where you can trade with leverage (we will cover what is the max leverage, what coins are available, what are the fees, etc.)
---
GMX.io
---
GMX is a decentralized exchange that specializes in perpetual futures trading. It launched on the Ethereum Layer 2 network Arbitrum and later deployed to Avalanche. GMX offers users leverage of up to 30 times their deposited collateral which is higher than other centralized exchanges like Binance and FTX who offer up to 20 times leverage. GMX is different from other services as it is a decentralized exchange that offers leverage trading services, which combines the experience of DeFi exchanges like Uniswap with the leverage trading services offered by centralized exchanges like Binance.
Trading on GMX is supported by a multi-asset GLP pool worth more than $554 million at press time. Users borrow funds from a liquidity pool containing BTC, ETH, USDC, DAI, USDT, FRAX, UNI, and LINK rather than a single entity. Users can go "long," "short," or simply swap tokens on the exchange. GMX also uses Chainlink Oracles, which uses an aggregate price feed from leading volume exchanges to reduce liquidation risk from temporary wicks.
Trading fees to open or close a position on GMX come in at 0.1%, a variable borrow fee is deducted from the deposit every hour, and swap fees are 0.33%. As the protocol itself serves as the counterparty, there's minimal price impact when entering and exiting trades. GMX claims it can execute large trades exactly at mark price depending on the depth of the liquidity in its trading pool.
In summary, GMX is a decentralized exchange that offers leverage trading services up to 30x, which combines the experience of DeFi exchanges with the leverage trading services offered by centralized exchanges.
The trading fees are low and the platform uses Chainlink Oracles to reduce liquidation risk. It is worth noting that leverage trading is a high-risk activity and users should do their own research before using GMX or any other leverage trading platforms.
dYdX
---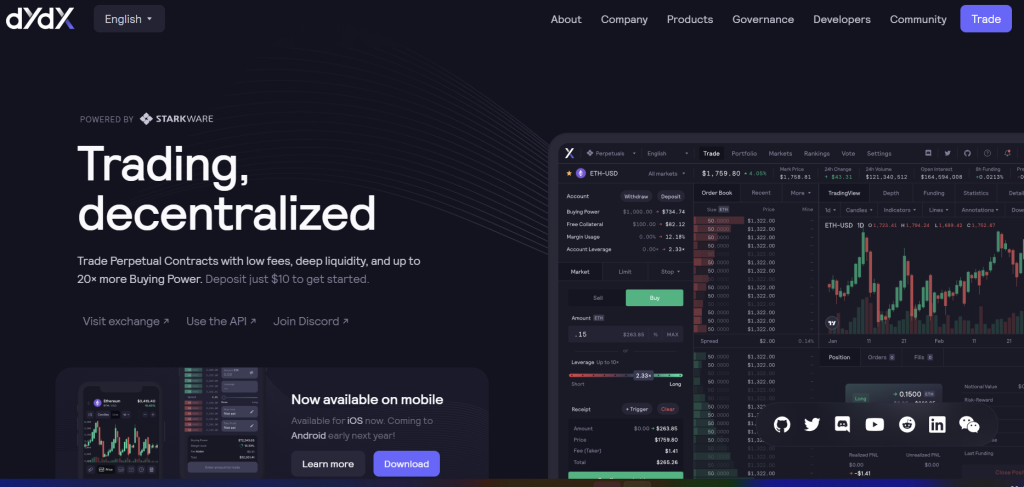 The first exchange on our list of the best perpetual DEXes is dYdX. This exchange uses smart contracts to provide perpetual trading, margin trading, spot trading, lending, and borrowing. The company was founded by its CEO – Antonio Juliano. 
When it comes to the maximum leverage, dYdX offers up to 20x for Bitcoin and Ethereum, while for all other markets, the maximum leverage is 10x. At the time of writing, dYdX supported more than 30 major cryptocurrencies for perpetual contracts, including Bitcoin, Ethereum, Litecoin, Cardano, Bitcoin Cash, Dogecoin, and Polkadot, Solana, Monero, EOS, Cosmos, Ethereum Classic, ZCash, Internet Computer, and many others. 
dYdX's trading fees are definitely lower than the market's average – they can go from 0% to 0.05% (maker and taker fees) depending on your trading volume. Moreover, you can get trading fee discounts if you are an owner of dYdX's native coin (DYDX).
Finally, you can read our complete review of dYdX here.
Leverj.io
---
Leverj.jo is a less known but exciting decentralized cryptocurrency exchange that supports perpetual contracts. It was founded in late 2018. Leverj is a platform for trading decentralized derivatives. It was created and is being developed by some of the brightest minds on Wall Street and in Silicon Valley.
This decentralized exchange offers maximum leverage of 50x, which is among the biggest ones on the market. However, what's even more interesting about Leverj is its fee structure. First of all, the exchange does not charge the gas fees while you can freely operate on the Ethereum network – something that you can rarely find on crypto trading platforms.
Furthermore, Leverj charges low trading fees. In fact, when it comes to spot trading fees, there are none. Futures trading fees are 0.02% (maker) and 0.04% (taker) respectively.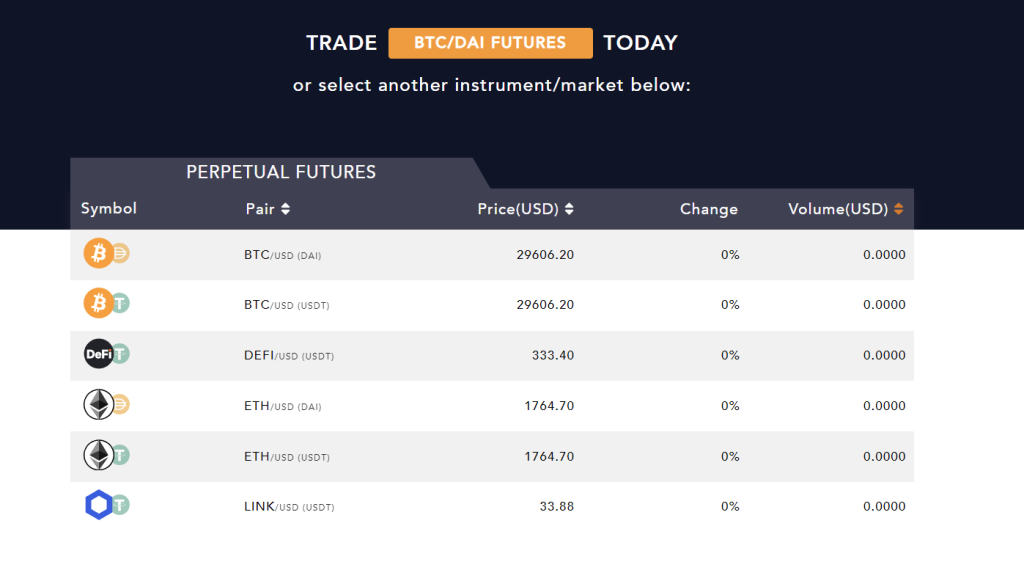 At the time of writing, this decentralized exchange supports a wide range of trading pairs, including BTC/USD (DAI), BTC/USD (USDT), DEFI/USD (USDT), ETH/USD (DAI), ETH/USD (USDT), and LINK/USD (USDT).
Mango Markets
---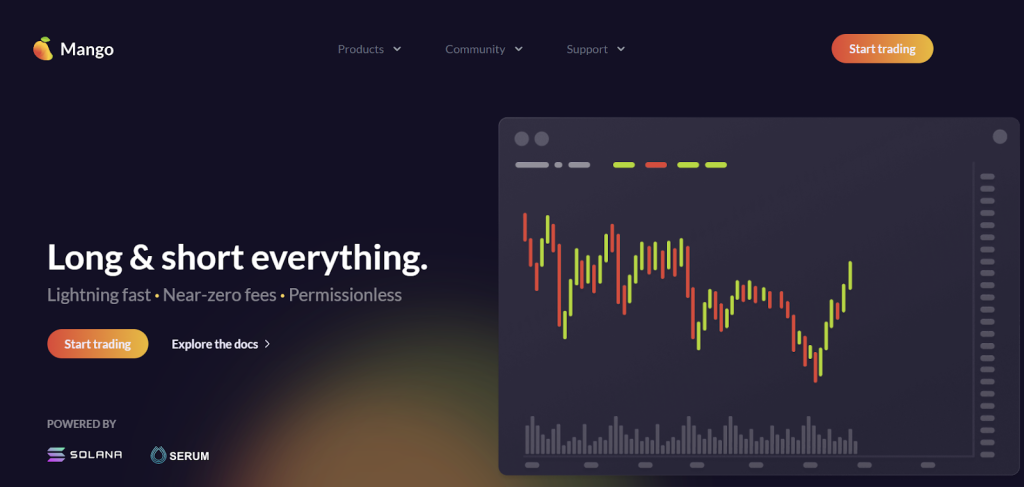 Mango Markets is the next exchange worth mentioning on our of the best perpetual leverage decentralized exchanges. The platform is operating on the Solana blockchain, and it's powered by Solana and Serum. Mango Markets were founded by two crypto investors, Daffy Durairaj and Maximilian Schneider.
Besides perpetual leverage trading, Mango offers spot market, derivatives assets, and landing and borrowing with the goal of creating an all-in-one trading platform. The exchange offers spot margins with up to 5x leverage and perpetual futures with up to 20x.
When it comes to fees, Mango charges a 5bps taker perpetual trading fee while "makers" do not pay for trading fees. You can get a discount on that trading fee if you perform perpetual trades of at least 10k MNGO (MNGO is Mango's native token). In general, Mango charges low fees since it operates on the Solana network. For instance, if you want to have a Mango account, you will need to pay a small fee of 0.035 SOL. However, there is a low number of trading pairs supported which is always an issue on Solana-based platforms.
Margin DDEX
---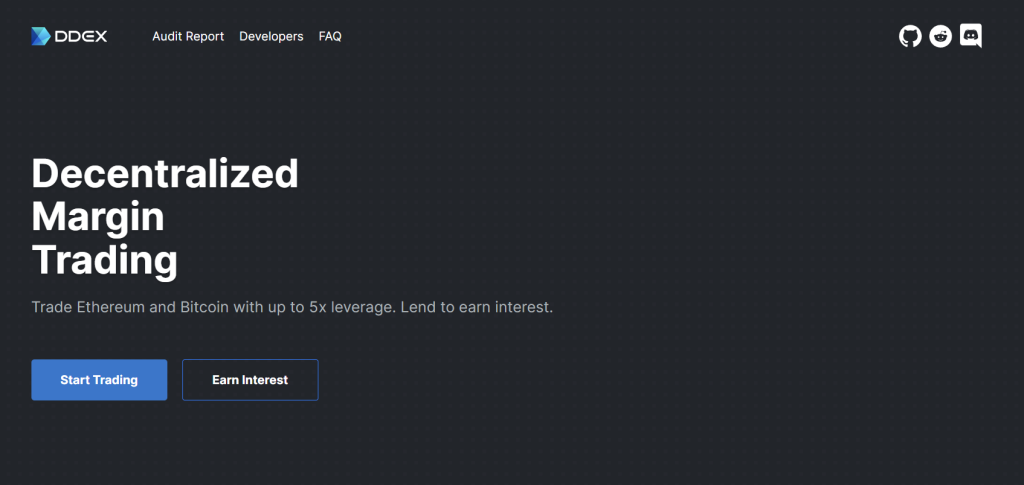 The first thing you will notice about DDEX exchange is its beginner-friendly interface and a very nice design. DDEX is a decentralized exchange that uses a hybrid paradigm with off-chain matching and on-chain settlement. Order creation and cancellation do not require gas, but all token transactions are still handled on-chain. This is a more market-maker-friendly structure that is designed to encourage great liquidity.
DDEX supports spot trading, margin trading, lending, and borrowing. When it comes to margin and leverage trading, the platform supports up to 5x margin. When it comes to fees, DDEX has an interesting solution – it charges a 0.10% flat fee for all trades for both takers and makers. This is a so-called "flat fee model," and the fee is competitive since it's effectively below the industry's average of 0.25% per trade.
Another good thing about DDEX is that you can trade major coins such as Bitcoin and Ethereum.
Perpetual Protocol
---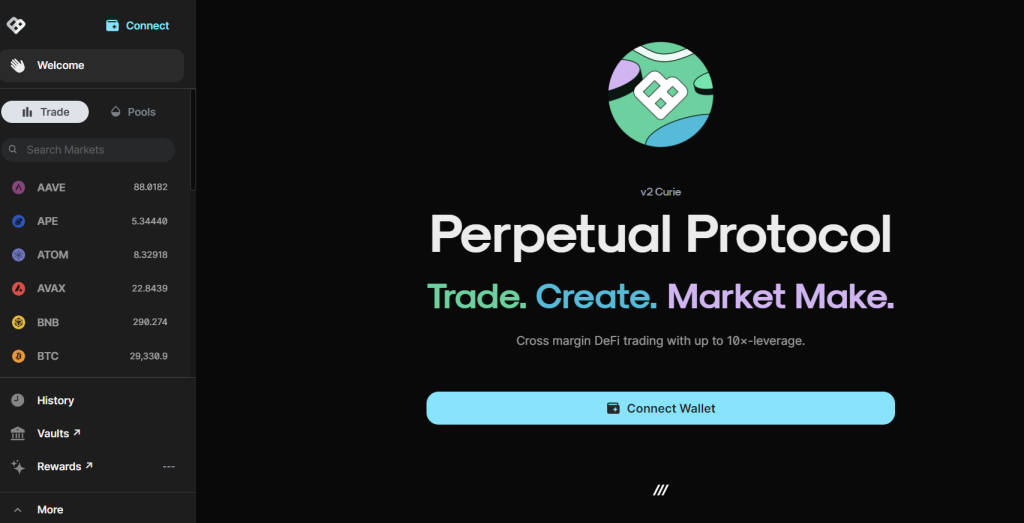 Perpetual Protocol is another decentralized exchange that (as its name suggests) offers perpetual leverage trading. The platform's native token is PERP, and it's used to "power" the exchange for perpetual contracts. With perpetual contracts, traders can open leveraged short and long positions for a wide range of crypto assets. PERP holders can use the token to get a discount on trading fees which is a pretty standard procedure.
Perpetual Protocol's trading fees are the same as the ones we mentioned on the Margin DDEX exchange – 0.10% for each trade, regardless if you are a maker or taker, so this exchange also uses the "flat fee model." The exchange quickly became one of the leading perpetual leverage exchanges in the crypto industry, with up to 10x maximum leverage across 15 markets that include significant cryptocurrencies as well.
Furthermore, Protocol supports a wide range of significant crypto assets such as Bitcoin, Ethereum, AAVE, and Polkadot.
Fulcrum
---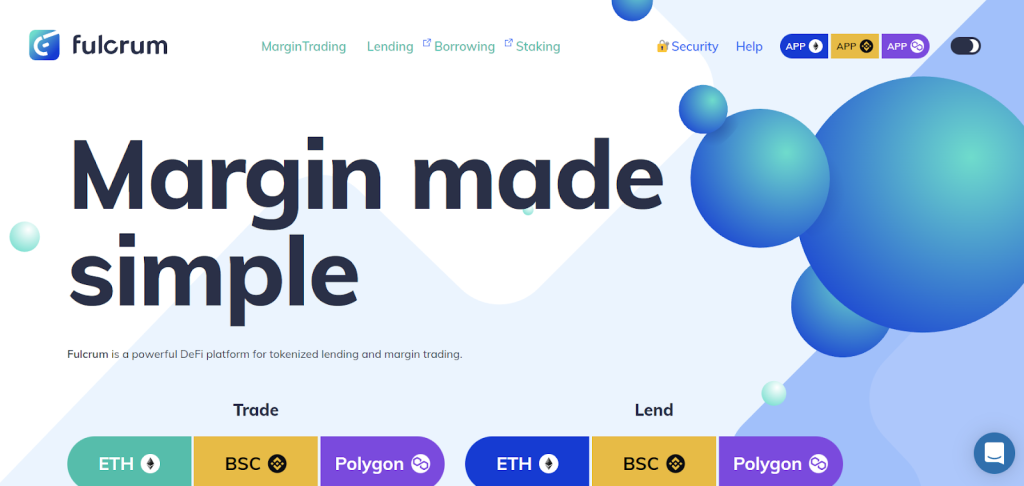 Another interesting DEX we will explain in this article is Fulcrum. Before we dig into its main features, please note that you do not need any kind of verification to use the exchange, which is something every crypto trader and investor likes to see. Also, all funds are controlled by non-custodial solutions.
Besides spot and leverage trading, Fulcrum supports landing and borrowing services as well. When it comes to trading fees, Fulcrum uses the same method as DDEX and Perpetual Protocol or a so-called "flat fee model." However, this exchange charges higher trading fees (0.15%) when compared to DDEX and Protocol (0.10%). It's worth noting though that the fee is still below the industry's average. The maximum leverage is up to 5x.
Fulcrum operates on three networks – Ethereum, Binance Smart Chain, and Polygon.
Futureswap
---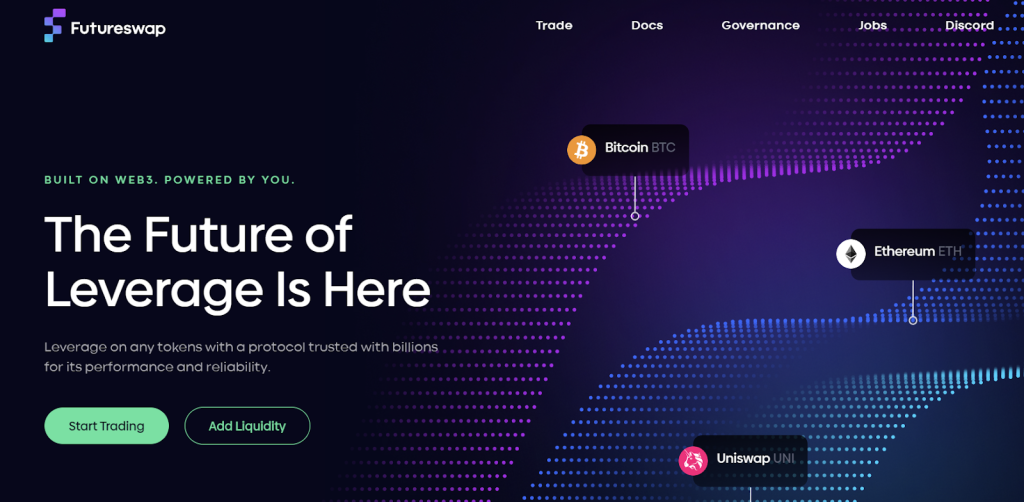 And last but not least, an exchange on our list of the best perpetual leverage decentralized exchanges is Futureswap. This is another exchange that offers a beginner-friendly interface, and I found it extremely easy to use. Furthermore, Futureswap offers maximum leverage of up to 30x!
Ultimately the same as DDEX, Perpetual Protocol, and Fulcrum, this exchange charges a flat trading fee. However, Futureswap offers the lowest flat trading fee of all mentioned exchanges with only 0.05%. Since it offers the highest maximum leverage and the lowest trading fee, Futureswap deserved our attention even though it's probably the least known exchange of all explained in this article.
As per Futureswap's website, the primary services of the platform are (besides leverage up to 30x) low-risk liquidity pools, cheap transactions, the most liquidity AMMs, permissionless trading, and full compatibility. Futureswap supports cryptocurrencies such as Bitcoin, Ethereum, and Uniswap.
FAQs
---

CaptainAltcoin's writers and guest post authors may or may not have a vested interest in any of the mentioned projects and businesses. None of the content on CaptainAltcoin is investment advice nor is it a replacement for advice from a certified financial planner. The views expressed in this article are those of the author and do not necessarily reflect the official policy or position of CaptainAltcoin.com