403 ERROR
The request could not be satisfied.
---
This distribution is not configured to allow the HTTP request method that was used for this request. The distribution supports only cachable requests. We can't connect to the server for this app or website at this time. There might be too much traffic or a configuration error. Try again later, or contact the app or website owner.
If you provide content to customers through CloudFront, you can find steps to troubleshoot and help prevent this error by reviewing the CloudFront documentation.

---

Generated by cloudfront (CloudFront)
Request ID: xXOTamcsudiVYEn9L-7Uym4pKuqc6AF772l2MFgKJc687uLL3LDZsg==

Cryptocurrency mining is slowly but surely becoming more and more commercial. Once reserved for neckbearded nerds with a passion for Linux, computer science, and cryptography, the process is slowly becoming adopted beyond that exclusive world.
The mining itself has been greatly simplified with people developing simple best bitcoin mining software that can be set up by almost anyone. And while the latest software with Windows-based GUI is probably the best option for a mining beginner, more complicated text-based mining programs are still available for experienced miners.
So let's take a closer look at the best bitcoin mining software out there.
Bitminter
---
Bitminter is the mining bitcoin pool that was launched in 2011 and has ever since enabled many a cryptocurrency miner to mine Bitcoin for a measly fee of 1%. Its creators have had a lot of time to perfect their trade and have understandably come out with bitcoin mining software of their own. It is estimated that this pool has mined over 195 thousand Bitcoin ever since its inception. While not being the most popular pool out there, they still keep finding blocks every now and then.
The software client is available on Windows, Linux, and Mac OS X. The main problem here is that it can only be used with the Bitminter pool. To be able to use it, you need to sign up for the Bitminter pool by creating an account on their website. Sign up and point your ASIC machines to mint.bitminter.com:3333 with your user name and a dummy (x or 123) password. Or use a specific region:
us1.bitminter.com:3333 (United States)
us2.bitminter.com:3333 (United States)
ca1.bitminter.com:3333 (Canada)
eu1.bitminter.com:3333 (Europe)
A closer server can slightly reduce stale (rejected) work. A reject ratio of around 0.10% is normal. Your work with the Bitminter pool is recorded in shifts. When a new block is created, you get a share of the income proportional to how much of the work in the last 10 completed shifts is yours. This reward system is known as PPLNS with shifts. 99% of the mining income (including transaction fee income) is paid out to advanced users. Donating more of your earnings is optional and will unlock various perks, such as getting credited to your account before the block is produced.
Bitminter software is among the better ones on the market in terms of GUI Bitcoin miners with simplicity and quality. A dial on the left shows your mining power in megahashes per second. The "Engine Start" button will initiate the process of mining, while you can click on the settings tab to tweak your mining settings. The console at the bottom is regularly updated with information about your mining rig. The stats panel allows you to check your progress and see how long you have been mining.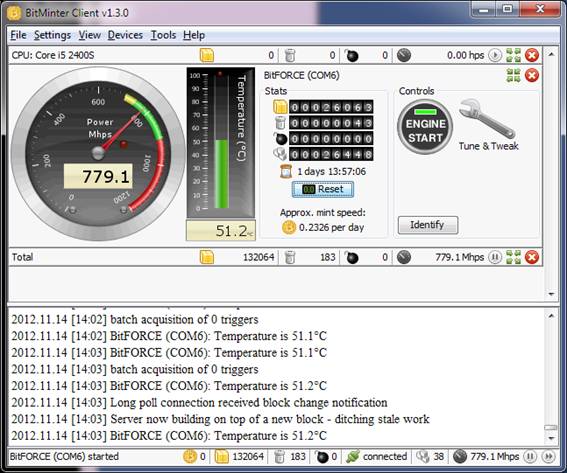 The older version of the interface had a temperature scale and a "tune and tweaks" button for quick mining process adjustment
The platform offers good mining speeds and promises long polling to ensure that stale work is reduced to a minimum. It supports mining both through OpenCL GPUs and through external ASIC devices. However, they do recommend you get an ASIC machine with at least 1TH of mining power. Antminer and AvalonMiner are their weapons of choice here.
Bitcoin Miner
---
You can use Bitcoin Miner on Windows 10 and Windows 8.1.

It has an easy-to-use interface, power-saving mode, mining pool support, and fast share submission.
One useful feature is the profit reports feature because this feature will help you know if your mining is profitable or not.
BTCMiner
---
BTCMiner is an Open Source Bitcoin Miner for ZTEX USB-FPGA modules 1.15.
BTCMiner comes with the following features:
Dynamic frequency scaling in that BTCMiner automatically chooses the frequency with the highest rate of valid hashes
Ready-to-use Bitstream i.e. no Xilinx software or license required.
It also comes with supported FPGA boards which contain a USB interface used for communication and programming.
CGMiner
---
Standing strong for more than 6 years already, CGMiner is currently the most popular bitcoin mining software out there. It is a GPU/FPGA Bitcoin mining open source project written in C, available for download on Windows, Linux, and Mac OS X. Initially envisioned for ASIC mining, an update from 2013 gave it support for script and GPU mining. However, this was reversed later on, and Cgminer version 3.7.2 is the latest version with GPU support. Versions later than 3.7.2 do not support GPUs (only ASICs). An in-depth community thread about the CGMiner and its complete list of features can be found on this link.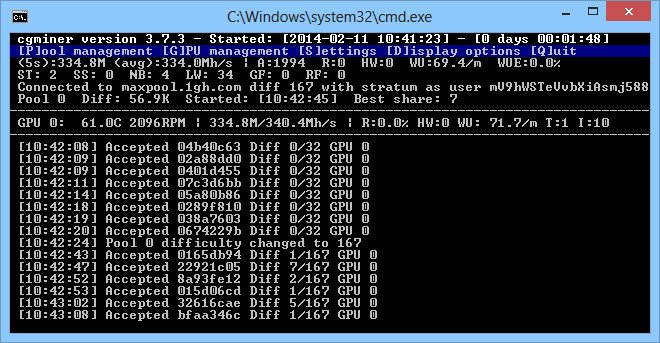 It is based on the original code of the miner's PC, so it uses the command-line interface. This will make the CGMiner difficult to run and set up for beginners. The software queries entries such as pool, username, password, and what hardware you are using for your mining. Once these are input, the software begins hashing immediately.


CGMiner has some great options available for your mining, such as overclocking and fan speed and supports Bitcoin and other alternative digital cryptocurrencies. The beginner-unfriendly command prompt interface is somewhat remedied by using a third-party GUI. One such piece of software is called CGWatcher. The platform supports multiple mining pools and multiple hardware devices, which ensures its widespread adoption.
Minerstat ASIC Hub
---
ASIC Hub allows you to monitor and management of your Bitcoin mining machines (such as Antminer S19 or Whatsminer M30S) directly from the web browser. You can switch to any pool you like and update your cryptocurrency wallet on the go. Additionally, you can also monitor your estimated earnings with a built-in mining calculator.users
Other benefits of using ASIC Hub are:
profit switch feature
smart triggers that reboot your machine when hashrate is too low or temperature too high
alerts to e-mail, Telegram, or mobile app
detailed statistics
pool and wallet balance monitoring
Awesome Miner
---

A complete management and monitoring system for mining operations is Awesome Miner.
Awesome Miner sophisticated tool may be used to improve revenue, decrease downtime, and optimize Antminer firmware for large-scale mining.
The Awesome Miner tool enables you to benefit from swap coins based on real-time revenue and power consumption, and firmware can boost performance by 10%.
Automatic pool installations allow you to begin mining immediately.
DiabloMiner
---
DiabloMiner uses the OpenCL framework to swiftly conduct hashing computations and support unlimited amounts of mining pools for its users.

The mining software is compatible with GPU mining hardware and runs on Mac, but if you have any of the current Nvidia drivers or an ATI Stream SDK 2.1, it'll run on any operating system. You also have the option of either doing solo or pool mining.
BFGMiner
---
BFGMiner is software for mining coins that use the SHA256 algorithm. It has the ability to mining Bitcoin on ASIC, FPGA, GPU or even obsolete CPU systems. It supports a range of systems, from Windows to Arch, to Debian, to Gentoo, to OpenWrt, to Ubuntu. Similar to CGMiner, BFGMiner is a piece of mining software that has been written completely in C, making it fast and free from bloatware. It features dynamic clocking, monitoring, and remote interface capabilities (it is fully compatible with the abovementioned CGWatcher software). The last one is a useful feature as the BFGMiners interface is text-based, similar to CGMiner.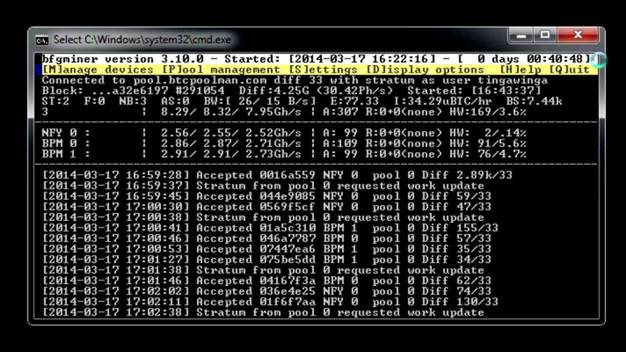 Besides being very versatile, BFGminer has other features, which include vector support, integrated overclocking and fan control, ADL device reordering by PCI bus ID, support for mining with free Mesa/LLVM OpenCL and for decentralized mining protocol, and also crypt mining support for both CPU and OpenCL (GPU). It can connect to various pools and will automatically stop connecting to unreachable pools, making your mining much more efficient. In-depth information about the software can be found in their BitcoinTalk thread.
MultiMiner
---
MultiMiner is a desktop application for cryptocurrency mining and monitoring. It is available on Windows, Mac OS X, and Linux and is capable of supporting mining with ASIC, FPGA, and GPU hardware. It offers an intuitive and simplified interface that makes it easy for the miner to switch between two currencies MM supports, Bitcoin and Litecoin.
MultiMiner is a special piece of software that functions as the front-end of BFGMiner. Its creator, Nate Woolls, was the main contributor in developing scrypt mining support for BFGMiner and has decided to create MultiMiner as a GUI of sorts for his original platform.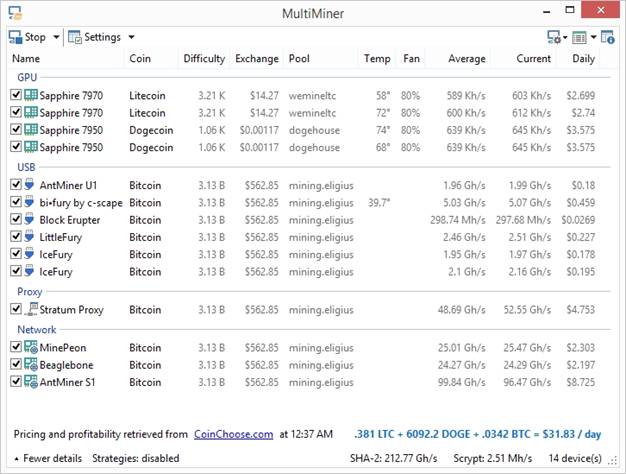 It has a simplified, easy-to-use interface that will guide you through your mining rig's initial setup. The setup will ask you to send 1% of your profits to the developer, but you can opt out of this afterward. After you complete the setup, MultiMiner will automatically scan your hardware and begin mining.


It displays and tracks important information like the pool you use or the average hashrate and also displays an average daily mining profit that you can make with your current mining rig. The software supports connecting to multiple pools and gives you a "strategies" tab, where you can decide if you want to mine the most profitable coins or the least difficult ones to mine at a certain time.
Nate has built an app called MobileMiner for your Android and iPhone. There is a MultiMiner Remoting component as well built into the MobileMiner app that lets you start, stop and monitor many standalone network miners as well, such as the Bitmain, Antminer S1, and Avalon Miners, and many more.
Easy Miner
---
EasyMiner is another GUI mining software made to function on top of BFGMiner and CGMiner. It is very convenient and easy to set up and use, as its name suggests. It supports CPU, GPU, and ASIC mining.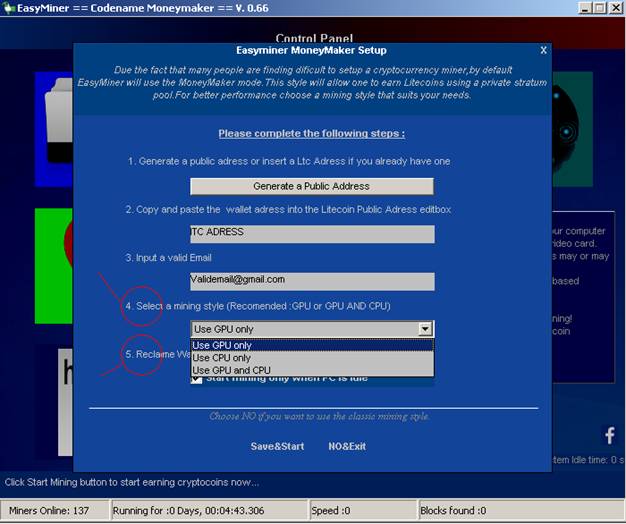 Upon initial launch, a default MoneyMaker mode will initiate to guide beginners through the process of setting up a cryptocurrency miner. Using this mode will enable you to mine Litecoin from a private stratum pool.
You can, of course, set your own mining preferences later if you are an advanced user. Upon setting the miner up, all you need to do is to click on "Start Mining" to begin doing exactly that. There is also a console included that tracks the progress of your mining.
Some of its most often cited qualities include:
Free & open source: You don't need to pay a single penny to start using EasyMiner. Source codes are available, so you can customize them per your needs.
Extremely easy to extend: It is Highly optimized for x86, x86-64 machines and supports the network mining protocol as well as the Stratum mining protocol. Mining can be used for both solo and pooled mining.
Versatility: Automatically uses SSE2, AVX and AVX2 instructions where available. Lightweight only depends on libcurl and jansson.
Real-time Statistics: Displays hash rate, total shares accepted/invalid, and total shares in the past hour. Ensures maximum transparency with a featured log viewer.
Community Support: An extensive chat functionality that comes in the software.
Personal Wallet: Lets you use and withdraw funds with the help of your personal cryptocurrency wallet. It provides all the functionality and security of a php wallet.
Cudo Miner
---
Best for new miners that wish to make money from their PC or laptop is Cudo Miner.

A GPU and CPU miner with a wealth of features, Cudo Miner, supports a number of algorithms. Cudo Miner is a bitcoin mining platform with capabilities not seen in other well-known mining software that is simple to set up and very profitable.
Additionally, Cudo Miner offers remote control and sophisticated tracking features that let the account holder view hash rates, revenues, hardware health statistics like wattage and temperature, suggestions, and transactions from a distance. You can earn and receive money in a variety of currencies thanks to the Cudo Miner.
Features
Lazy mining
Pleasant user interface
Effective web console
The ability to modify algorithms to increase efficiency or profitability
Selecting a payment method
Remote control
Sophisticated tracking abilities
Conclusion: The team has streamlined the program even though Cudo Miner is technologically sophisticated in terms of usefulness and efficiency, with no restriction on the number of devices per account. Because Cudo Miner is free bitcoin mining software, Cudo Miner is ideal for new miners who wish to make money from their desktop or laptop. So, Cudo Miner is good for an average user,

CaptainAltcoin's writers and guest post authors may or may not have a vested interest in any of the mentioned projects and businesses. None of the content on CaptainAltcoin is investment advice nor is it a replacement for advice from a certified financial planner. The views expressed in this article are those of the author and do not necessarily reflect the official policy or position of CaptainAltcoin.com