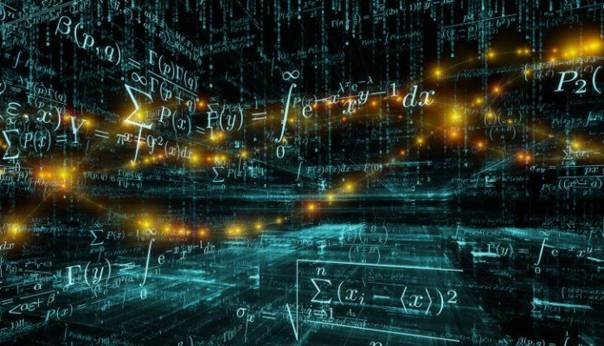 Are you looking for much safer and secure cryptocurrency exchanges because you are afraid of your cryptocurrencies being stolen on centralized exchanges?
If your answer is YES (!), then I think we have the same concerns.
Centralized exchanges are easy to use, easy to access and they provide advanced trading functionalities, but they are not the best in terms of safety when used. Moreover, hacks are not an uncommon event in the cryptocurrency scene and incidences such as Mt. Gox hack and Bitfinex hack are not news anymore as most of us know about it.
Although centralized exchanges fundamentally violate the basic tenants of a decentralized crypto economy, we are actually forced to use them because we don't have another option as the decentralized cryptocurrency infrastructure and decentralized exchanges are still being built.
But when it is ready in a full-fledged manner it will be breath a new life itself into the crypto-sphere because decentralized exchanges do not require a third party to store your funds, instead, you are always directly in control of your coins and you conduct transactions directly with whoever wants to  purchase or sell your coins.
That's the reason why we start looking around and find out which are the best decentralized exchanges currently available in the market.
Top 6 Best Decentralized Cryptocurrency Exchanges
back to menu ↑
Altcoin.io (Not working yet)
Altcoin.io is a decentralized cryptocurrency exchange that aims to be "the first decentralized exchange built by traders, for traders" and wants to give power to everyone, regardless of whether they have knowledge of market, to trade altcoins securely and with self-belief.
As the name of the website suggests, Altcoin.io focuses on altcoins – which refers to every digital currency that is not Bitcoin, hence the name "alternative coin".
The Altcoin's official website explains that "Altcoin.io's mission is to bring the entire altcoin community together to build something great — with the purpose of bringing this market out of the shadows with transparency, trust, and honesty".
Overall, there's limited information about the exchange available online, but you can submit your email address to the website to receive early access to the platform at some point in the future.
back to menu ↑
OpenLedger Dex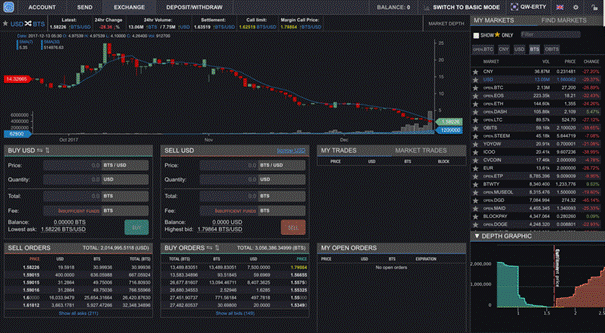 Based in Denmark, OpenLedger is a cryptocurrency trading platform and trading tool that that provides decentralized solutions for the crypto market. OpenLedger was founded in 2015 with the goal of solving problems like speed, security, stability, and transparency in the cryptocurrency ecosystem.
They have a decentralized exchanged known as OpenLedger Dex, which is designed for high-speed transactions. Also, OpenLedger Dex is leveraging BitShare's graphene technology to cater its services.
At the time of writing, the volume on this exchange is 320 BTC. In my opinion, this is decent for a decentralized cryptocurrency exchange with 125 cryptocurrencies/crypto assets pairs listed on it.
It's quite easy to open an account on OpenLedger because it doesn't require any registration or KYC to start with. Your login password and username are the only things that you need to take care because that is the only thing that can help you in case something goes wrong.
back to menu ↑
Waves Dex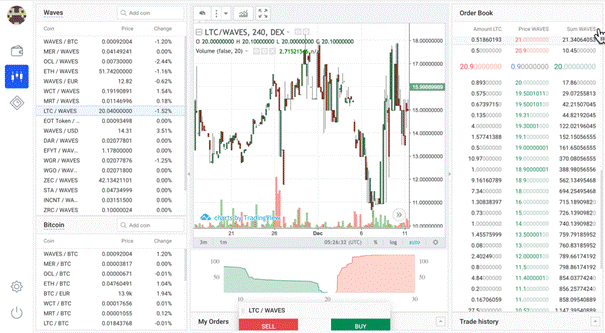 Founded in 2016, Waves Dex or Waves decentralized exchange is the product of Waves cryptocurrency and blockchain. Waves is based in Moscow and led by founder and CEO Sasha Ivanov. To date, Waves has attracted several major startups and businesses – including Tokenomica, ZrCoin and Upcoin.
---
Enjoy an anonymous cryptocurrency betting & casino on 1xBit. Welcome Package up to 7 BTC! Promo code 1xb_13140 increases the bonus by 125% for the first deposit!
---
Waves Dex provides you the best of both the centralized and decentralized worlds by providing you control of your funds on the blockchain and accelerating the exchange process by using a centralized matching service.
WavesDex is a decentralized exchanged built on the Waves blockchain that allows anyone to launch their own digital token in less than one minute, and then trade that digital token for fiat currencies and crypto-assets. It's important to note that you will need to buy some WAVES tokens in order to create custom tokens on the Waves platform.
At the time of writing, the volume  on this exchange is 172 BTC. In my opinion, this is decent for a decentralized cryptocurrency exchange with 72 cryptocurrencies/crypto assets listed on it.
Important Note: When you register on Waves Dex don't ever forget to keep your back phrase in a safe place where you keep your important documents. The reason for that is that this phrase is the only thing that will help you restore your funds.
back to menu ↑
Bisq (aka BitSquare)
Bitsquare has an open source P2P system that allows anyone to sell Bitcoin in exchange for fiat currency (USD, EUR or Yen), and alternative cryptos. Bitsquare was founded by Manfred Karrer, and was rebranded to Bisq due to copyright issues.
It is a fully decentralized exchange that is available on Windows, Linux, and Mac platforms, but trade volumes are low.
It's important to note that you are not required to provide sensitive information over the internet in order to get verified with Bitsquare (no name, email ID or verification).
To be a truly anonymous P2P network, Bisq uses Tor to effectively hide the user's identity and also doesn't hold Bitcoins or fiat currency on their servers or in their account. Another great thing about this exchange is that every aspect is decentralized from placing the order, to matching the order, to executing it.
Bisq currently supports 126 cryptocurrencies and the volume at the time of writing on this exchange is 4 BTC with 11 cryptocurrencies/crypto assets pairs listed on it.
Check this Bitsquare's introductory video:
back to menu ↑
CryptoBridge Dex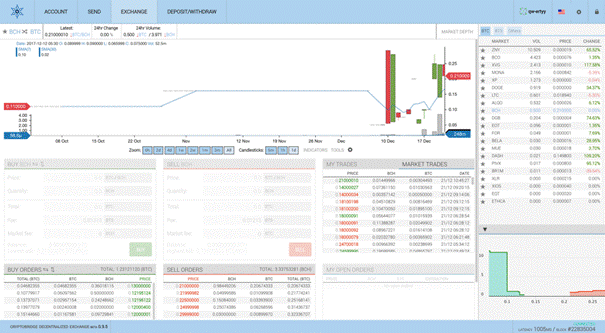 CryptoBridge is a new entry in the decentralized crypto exchange markets and the crypto world is feeling positive about this exchange. CryptoBridge is a decentralized exchange that offers their own coin called BCO (Bridgecoin). It's important to note that you save a considerable amount of money in the trading fees when you use BCO to trade on their exchange.
This platform runs on top of the BitShares Network and supports decentralized trading on all popular altcoin pairs without a single point of failure. You – and only you – hold the private keys to your funds, which means that only you have access to them.
However, this site has some USPs that makes it different than other decentralized exchanges such as:
They offer their own coin called BCO (Bridgecoin).
It allows BCO token staking and 50% of all trading profits on CryptoBridge will go To BridgeCoin stakers.
Due to its federated servers, it has no single point of failures.
At the time of writing, the volume on this exchange is 32 BTC. In my opinion, this is decent for a decentralized exchange with 21 cryptocurrencies/crypto assets pairs listed on it.
The login process is quite simple. You just need to select a unique username and a cryptographic password will be generated automatically. You need to note down the password and keep it in a safe place where you keep all your documents.
back to menu ↑
Stellar Dex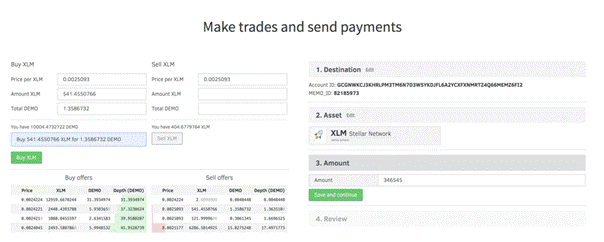 Stellar is a popular cryptocurrency and blockchain project. However, they have also come up with its native decentralized exchange, which has 6 cryptocurrencies/crypto assets pairs listed on it.
To get started on using the Stellar network, you must first create a key pair, which consists of two parts:
Public key:The public key, also known as an account, is used to identify the account and for receiving funds.
Secret key:This key is used to access your account and make transactions. It's important to note that anyone with this key will be able to access your funds on the Stellar Dex, so make sure to keep this code safe and secure.
You will be given secret key when you generate the key pairs for Stellar Dex, and when you log in to the Dex using this key you will be shown a public key where you will be required to deposit 20 lumens in order to activate your account and start trading.
At the time of writing, the volume on this exchange is 22 BTC.
Other decentralized exchanges worth mentioning:
List:
IDEX – https://idex.market/
ForkDelta – https://forkdelta.github.io
Etherdelta – https://etherdelta.com
RadarRelay – https://radarrelay.com
Kyber Network – https://kyber.network/
DDEX – https://ddex.io
ERCDex – https://ercdex.com
Dextroid – https://www.dextroid.io/
Paradex – https://paradex.io/
Bancor – https://www.bancor.network/
Dubiex – https://dubiex.com
Trade Airswap – https://trade.airswap.io/
Oasisdex – https://Oasisdex.com
EasyTrade – https://easytrade.io/
back to menu ↑
Conclusion
There are some more decentralized exchanges that are currently being developed to provide us with ease of use and the advanced features that we so desire. Among these are:
BarterDex
district0x
Counterparty Exchange
EtherDelta
Bancor liquidity exchange
Through the efforts made in the past and the ones being made now, we can see the overwhelming need for decentralized services that are not operated by a central authority and are thus considered more secure as they do not provide cybercriminals with centralized points of failure that can be easily compromised.
CaptainAltcoin's writers and guest post authors may or may not have a vested interest in any of the mentioned projects and businesses. None of the content on CaptainAltcoin is investment advice nor is it a replacement for advice from a certified financial planner. The views expressed in this article are those of the author and do not necessarily reflect the official policy or position of CaptainAltcoin.com