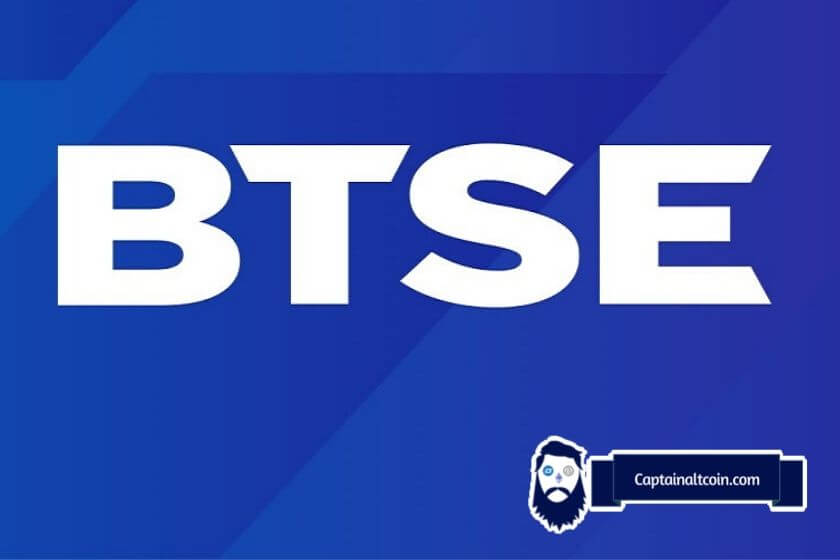 BTSE (pronounced 'bitsie') is a relatively new cryptocurrency exchange platform, established in 2018. Its innovative way of trading makes the BTSE a sort of hybrid between classic cryptocurrency exchange that offers spot and futures market and a viable fiat to cryptocurrency conversion place.
BTSE's main vision is to implement Bitcoin to take its rightful place in the standard financial world. This review will give you an insiders look into all main structures, strengths, and weaknesses of this rising platform. So, let's get started. 
Basic information about BTSE – What is BTSE Exchange?
---
BTSE Holdings Limited, the owner of the BTSE VFA exchange platform, is a company with the headquarters in the British Virgin Islands.
Terms and conditions of using the platforms are therefore governed by the laws of the British Virgin Islands, and any eventual dispute is governed by the Singapore International Arbitration Centre. Companies former headquarters were in Dubai, but, due to the United Arab Emirates uncertain cryptocurrency laws and regulations, they had to find a country with clearer laws and a friendlier business environment. The British Virgin Islands has an on-the-spot regulatory environment for digital assets, so it was a perfect choice, and many competitors followed the BTSE Exchange example.
BTSE and Binance – lowest fees for retail traders
These two exchanges are two crypto platforms that offer the lowest fees for retail takers and makers (less than $10k monthly volume) for crypto trading pairs, according to the research done by The Block. Binance US platform is by far the cheapest exchange when it comes to trading fees across trader categories (based on the monthly trading volume).
Most of the company's business is run by four main figures:
Jonathan Leong, co-founder / Chief Executive Officer
Brian Wong, co-founder / Chief Product Officer
Yew Chong Quack, Chief Technical Officer
Joshua Soh, Chief Operating Officer
This elite team has outstanding experience in blockchain technology, crypto-centric ecosystems, innovative IT solutions, financial tradings, and together they make a perfect match of education, experience, and innovation. BTSE exchange platform has less than 200 employers, and are in a search for new employees.
What does BTSE offer?
---
BTSE.com homepage has a simple, easy to use interface. You can access all the main functions and markets ( futures, spot, OTC) from the header menu. Futures and spot trading have all the latest state-of-the-art tools implemented, which is a standard for all the relevant trading platforms.
In the OTC section, you can buy and sell Bitcoin, Ethereum, Litecoin, Tether USD, TrueUSD, USD Coin, Monero, and BTSE Token. The homepage floating menu shows the user all the available trading options along with the current state of the market. You can find all the relevant information about buying and selling cryptocurrencies, payment methods, and All-In-One Order Book in the middle of the homepage.


The bottom of the page is reserved for news and announcements from their official blog and is updated regularly.
BTSE testnet
---
BTSE exchange offers fully featured testnet where you can test your strategies and hone your skills without risking any real money.
Cryptocurrencies supported on BTSE
---
BTSE exchange currently supports trading in bitcoin, ethereum, litecoin and monero, as well as stablecoins tether, TrueUSD and USD Coin. They also allow deposits and withdrawals in nine different fiat currencies: USD, GBP, HKD, EUR, JPY, SGD, CAD, AED, AUD.
Futures and spot exchange
---
Futures exchange
---
Futures exchange offer is one of the largest in the cryptocurrencies trading industry, with more than 20 futures contracts included, for instance, BTC, ETH, LTC, XMR, USDT, and BBCX. Futures contracts also have an expiration range, while some of them offer a perpetual contract option. Following the industry standard, specified futures can be traded up to 100x leverage, or a 1% initial margin. Future contracts have their limitations, depending on if they are perpetual or time-based.
Link : (https://support.btse.com/en/support/solutions/articles/43000531774)
Spot exchange
---
This feature offers 11 markets, five of them are standard trading pairs and the remaining six are indexes. BTSE exchange is still far from their competition, and definitely has a space to improve. Pairs like BTC/USD, USDT/USD, and ETH/USD are included in the standard offer, while BTC, ETH, LTC, and XMR are in the index offer, along with the BTSE 5 and BNC-BTSE (BBCX) composite indexes. Spot trade trading limits size are:
BTC: min 0.002 – max 2000
USDT: min 10 – max 100,000
ETH: min 0.05 – max 5000
LTC: min 0.05 – max 5000
XMR: min 0.05 – max 1000
BTSE token: min 1 – max 25
Money float 
---
With a daily spot exchange money volume of over $10 million, BTSE exchange is still far from the top tier platforms who achieve up to ten times more per day. Most of the BTSE money float is attributed to USD/BTC pair. BTSE's exchange main strength is future exchanges, with the BTC perpetual achieving easily more than $50 million per day, along with the Etherum perpetual that hits cca $ 2 million per day. However, BTSE exchange also has less popular futures, like XMRZ19 and XMRH20, with almost zero trading activity.
BTSE leveraged trading
---
Leveraged trading on BTSE futures exchange can go up to 100x on some trading pairs. This means that you need a margin of only 1% in order to make 100x larger orders. Of course, margin trading is extremely risky and absolutely not advisable to anyone with less than 5 years of solid daytrading experience.
BTSE is definitely storming up and will soon be included in our list of the best cryptocurrency margin trading platforms.
BTSE fees
---
BTSE exchange has different calculations of fees for their future and spot exchange markets
(https://support.btse.com/en/support/solutions/articles/43000064283-what-are-the-btse-trading-fees-)
The BTSE exchange fees can be quite complex to comprehend, but they don't deviate from their competition and keep an averagely reasonable amount of fees. They do emulate Binance by offering discounts if you use their own BTSE token (discounts up to 20%).
Spot trading fees
---
Fees on BTSE exchange depend on your monthly trading volume. They are also different for makers and takers and range from 0.01% for makers in the lowest trading volume category (less than 10 BTC per month) and 0.1% for takers.
For those who turn over 250k BTC volume per month, there are no fees for makers and only a tiny fee of 0.05% for takers.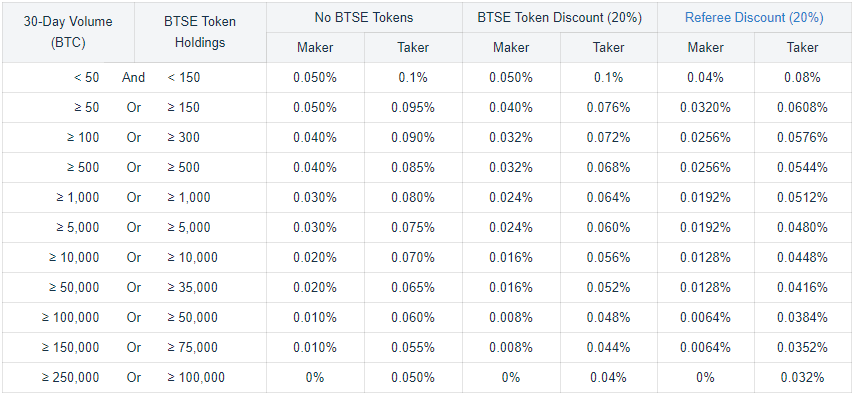 Future trading fees
---
Similarly to the spot trading, futures are also dependent on the trading volume. Makers always get a small rebate while takers pay progressively smaller fees as they make a larger trading turnover.
Deposit & Withdrawal methods and fees
---
There are no deposit fee on BTSE exchange. Minimum deposit for fiat currencies is $100 while there is no minimum if you deposit one of the supported cryptocurrencies.
There is a small withdrawal fee that depend on the currency you choose to make a withdrawal in. Fiat currencies are charged on percentage basis of 0.15% while a minimum you will pay is 25 USD.
(https://support.btse.com/en/support/solutions/articles/43000064283-fees-and-transaction-limits)
BTSE Exchange Verification process
---
BTSE exchange is one of the rare regulated trading platforms that offer futures and margin trading in the crypto world, which means it also requires that all users looking to deposit/trade fiat complete KYC verification. This is a minus (or a plus, depends what is your yardstick) in comparison to its main competitors like ByBit, PrimeXBT or Deribit.
On the other hand, BTSE exchange offers fiat deposits and withdrawals while the above-mentioned competition works only with crypto.
Verified traders can deposit any of these cryptocurrencies, plus nine different fiat currencies.
BTSE also offers a direct conversion tool between USDC, TUSD, and USD, charging just 0.3% to convert these stablecoins to fiat.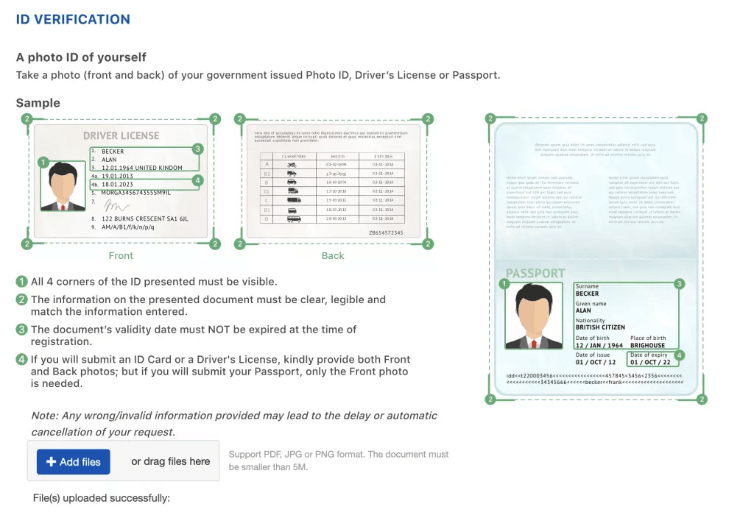 How to start trading
---
Sign up process
---
The signup process is standard, you need to choose a username, password, and enter your email address. After receiving the confirmation mail, the first step of registration is over.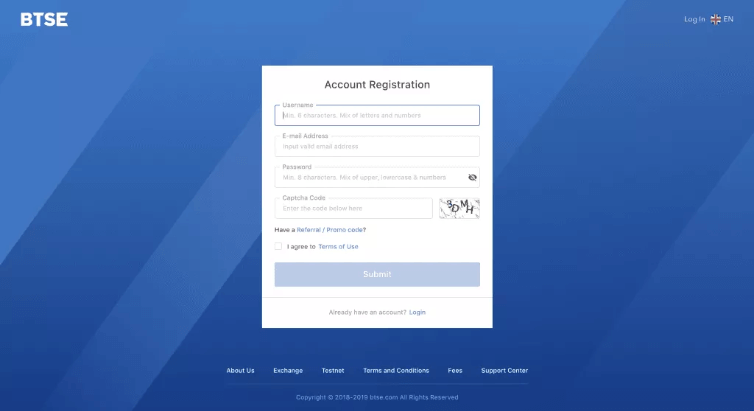 You just need to choose your base currency for a spot trading, while futures trading is always performed in USD.
There is an option of verifying your identity, known as KYC (know-your-customer), to prevent frauds, money-laundering, or similar crimes. While you can trade cryptocurrencies anonymously, a KYC verification is needed for trading the fiat currencies, and you can choose between your private account and a corporate account.
Deposit funds
---
Users with completed KYC processes have a decent choice of cryptocurrencies and fiat currencies to deposit. They can choose Bitcoin (BTC), Ethereum (ETH), Litecoin (LTC), Monero (XMR), and stablecoins Tether (USDT), True USD (TUSD) and USD Coin (USDC). Fiat currencies supported are  USD, EUR, GBP, JPY, CNY, HKD, SGD, CAD, AUD, and AED. Unverified users are limited to cryptocurrency deposits. BTSE also has an option of converting stablecoins USDC and TUSD to fiat currency USD, with a low 0,3% conversion fee. 
Start trading 
---
When your account is verified and your funds are deposited, you will unlock all the possibilities that the BTSE platform offers and can start trading. If you still need some time to catch up, a separate educational platform called BTSE Academy is provided. You can find all the different useful resources, blogs, and how-to articles there.
Is BTSE safe and reliable to use?
---
The BTSE platform seems quite reliable, and the team behind it looks reassuring. Their previous business experience and business reputation divide this platform from many others by the high level of trustworthiness.
Despite that, the platform also provides high-level security precautions. You can set up a Google Authenticator with two-factor authenticator (2FA) and your own list of whitelisted IP addresses, while the platform takes care of the other solutions. They are one of the few platforms that have their own hosting, to remove the option of third party data leak or breach. Also, they implemented high levels of backend security, and they keep 99,9% of the user funds in cold storage, which is the unbreakable level of protection.
Overall, according to our scouring of the internet and diverse chat groups, we can state that BTSE is a trustworthy exchange.
Countries blocked from using the platform
---
United States of America
Belarus
Cuba
Eritrea
Iran
North Korea
Syria
Venezuela
Customer support
---
Most of the bigger trading platforms have quite limited support options, and sadly, the BTSE is in that range, too. Your options are:
support desk with the chatbot – useful information regarding the platform and FAQ
the internal ticket system – as the main form of the direct client/support communication, can be disappointingly slow
Telegram community – low support activity, often you will get redirected to the ticket system
Reddit, Facebook, and Twitter communities – same low activity and limited answers
BTSE token
---
A BTSE token is a platform's native cryptocurrency, based on the Bitcoin sidechain named Liquid. It is similar to Binance Coin in its purpose – it offers all kinds of incentives to its holders within the BTSE ecosystem. Of course, right now it is way less popular in terms of price and trading volume.
So far, it didn't achieve anything significant. One million tokens were issued on March the 5th 2020, initial price $2 per token. At the moment, 4,2 million tokens are circulating the platform, with a price of $1.11 per token.
"Starting three months from token launch, we will use 30% of all revenue to buy back and burn tokens. BTSE will eventually destroy one-hundred million BTSE tokens, leaving one-hundred million remaining in circulation," said BTSE's slide deck.
The idea is copied from Binance and aims to reduce the scarcity of the token and encourage users to hold it; other incentives for token holders include lower fees, and higher rebates, BTSE said.
BTSE debit card
---
As we said above, BTSE is an extremely ambitious startup and they went in an all out attack from the get go by not only launching a crypto exchange but also other services and products, like the MasterCard debit card.
The platform currently gives you an option to pre-register on their new debit card, developed in cooperation with the MasterCard, which should simplify the deposit and withdrawal process even more. The exact release date of their credit card remains unknown.
Other planned endevours
---
BTSE exchange indicates it will use the funds raised to develop its platform and liquidity depth, expand into lending, over-the-counter (OTC) and mining markets, and to drive user growth in order to increase its overall revenue.
BTSE exchange review: Conclusion
---
BTSE is still a new player in the cryptocurrency game, but, through these last two years, it has achieved more than a lot. There is always a place for improvement, but overall, the BTSE is a good, trustworthy platform, that will surely get even better as time passes. And who knows, maybe they will achieve their main goal of supplanting Binance as the leading crypto platform sooner than expected.
BTSE exchange
Trustworthy and ambitious team in an uphill battle to displace Binance as the leading crypto platform worldwide
Trading platform features
8.5
PROS
trustworthy founders
wide trading option choice
good level of security
fast deposit and withdrawal process
CONS
unresponsive support options
complicated fee structure
not beginner-friendly

CaptainAltcoin's writers and guest post authors may or may not have a vested interest in any of the mentioned projects and businesses. None of the content on CaptainAltcoin is investment advice nor is it a replacement for advice from a certified financial planner. The views expressed in this article are those of the author and do not necessarily reflect the official policy or position of CaptainAltcoin.com