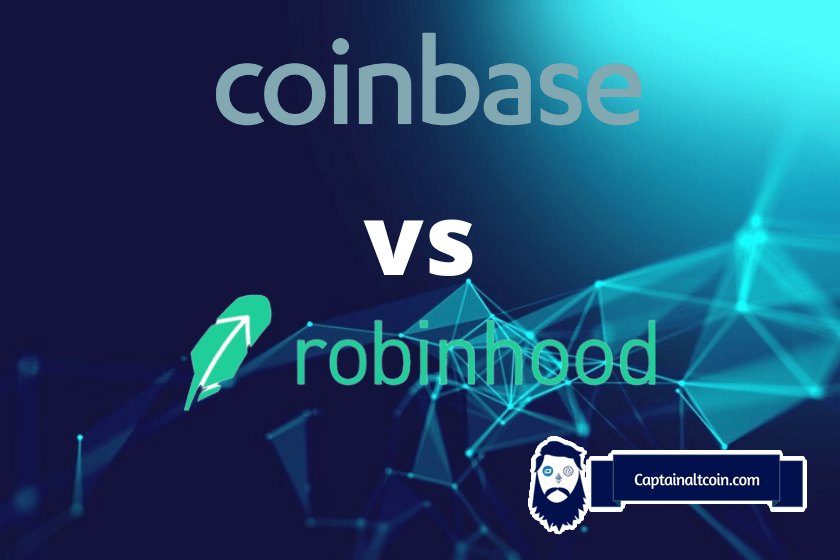 Ever since Robinhood, a well known financial platform, launched its crypto division, users started wondering how it fares against the top dog of crypto exchanges, Coinbase. To stop the speculation and anecdotal evidence for or against each of the platforms, we decided to do a thorough Coinbase vs Robinhood comparison with all important stuff like fees, features, security, supported coins etc. put under the sleuthing devices of our research team.
This is enough for the preface so we will jump right into the ring and see who wins the duel between Coinbase and Robinhood.
Coinbase or Robinhood: General info
Coinbase was launched in 2012 in San Francisco, California. As a company operating in the United States, Coinbase is required to comply with U.S. laws and regulations, including state money transmission laws and regulations, the USA Patriot Act, the Bank Secrecy Act, and is registered with FinCEN as a Money Services Business. These laws and regulations force accountability onto Coinbase. This is something that may be lacking from some of their offshore competitors in other countries with less strict regulations. It is widely considered as one of the best crypto exchanges in the market.
Robinhood, which is self-dubbed as a new, disruptive force in the online brokerage industry, launched to the public in 2014 exclusively as a mobile app for Apple smartphones and tablets. Robinhood's target audience are millenials with commission-free trading as a major selling point. In 2019, they added support for cryptocurrencies as well.
Important note: You do not own the coins you trade on Robinhood – Robinhood essentially issues IOUs that act as coin replacements (hence no fees). This means you can't send coins out of this exchange to your own wallet. You need to sell your coins into fiat before you can move your funds out of Robinhood.
Coinbase vs Robinhood: Fees
Coinbase charges around 3.99% for credit/debit card purchases and 1.49% for bank transfer purchases.
Purchase Method
Coinbase Fees
U.S. Bank Account
1.49%
($0.15 minimum)
Coinbase Wallet (U.S. Dollars)
1.49%
Credit Card or Debit Card
3.99%
Robinhood is one of the rare exchanges that charges no fees for trading. However, their fee structure is a bit intricate but trading there is definitely not free.
They have made their name in the world of stocks by offering no-fee investing, and this is the model they replicated to their crypto offering. But there is a catch, so keep on reading.
Robinhood charges no visible fees but trading on their platform is far from being free. It can actually end up costing you more than to trade on exchanges where you know what trading fees are charged. Robinhood makes money by earning interest on uninvested cash in customer accounts and they also receive income from payment for order flow, according to a statement issued by Vlad Tenev, the firm's co-CEO and co-founder, on October 12, 2018. Robinhood's order execution engine does not seek out price improvement opportunities, which is something investors who trade large lots of 500 shares or more look for in a broker. An order that is price improved either finds a lot to buy at a slightly lower price than the customer's limit order, or a higher price when selling.
Buying Limits
Coinbase does not clearly define limits for new users on their site. Instead, limits can vary depending on your country, account verification, buying history, and account age. To apply for higher limits you will have to verify your identity. Once you do, a fully verified US residents can transaction up to $50,000 per week, while verified customers from EU may have a maximum of $30,000 in their account at any time. You can check their limits through your account.
The instant deposit function has some limitations: if you have a Robinhood Standard account, you can deposit up to $1,000 instantly, while the limit at the Robinhood Gold account is $50,000. All transfers above the limit will be credited only after 4 to 5 business days.
Supported Countries
Coinbase serves customers in the following countries:
Australia, Austria, Belgium, Bulgaria, Canada, Croatia, Cyprus, Czech Republic, Denmark, Finland, Greece, Hungary, Ireland, Italy, Jersey, Latvia, Liechtenstein, Malta, Monaco, Netherlands, Norway, Poland, Portugal, San Marino, Singapore, Slovakia, Slovenia, Spain, Sweden, Switzerland, United Kingdom and the United States.
Robinhood crypto trading is curently only available in California, Massachusetts, Missouri, Montana, and New Hampshire.
Supported coins
Currently, coins listed on its non-Pro interface include Bitcoin, Bitcoin Cash, Ethereum, Ethereum Classic, USD Coin, XRP, Stellar, Zcash, 0x, Litecoin, and the Basic Attention Token.
Robinhood allows trading of the following cryptocurrencies: Bitcoin, Bitcoin Cash, Bitcoin SV, Dogecoin, Ethereum, Ethereum Classic, and Litecoin
Deposit and Withdrawal methods
Coinbase offers 3 payment methods: Debit card, bank account, or wire transfer.
As for withdrawal methods – you have one additional way to get your money from Coinbase by using PayPal.
Robinhood supports an instant deposit via ACH transfer. You'll receive up to $1,000 in instant deposits by the exchange while the actual settlement takes part – time for any deposit larger than $1,000 will be up to five business days.
You can withdraw up to $50,000 per business day from Robinhood.
The only option is ACH transfer from your Robinhood app to your bank account but in case you just made a sale, your funds need to "settle" before you can withdraw them to your bank account. That settlement period equals three days – the trade date plus two trading days (T+2). On the third day, those funds will be eligible for withdrawal to your bank account.
Customer Support
Coinbase customer support is handled through email, and in our personal experiences, we've typically received responses from support within 24-72 hours. They also have an extensive FAQ for general questions.
Like many other crypto exchanges, phone support is just a vain hope – you won't find it here — Robinhood's customer support is almost entirely done through email. The company does not publish a phone number. It does have a useful and well-organized knowledgebase and help center section, and the website is easy to navigate and transparent.
Trust and reputation
Coinbase enjoys an excellent reputation and trust as a registered and regulated company with well-known VCs as investors, transparent team and immaculate track record (with minor, anecdotal complaints from individual customers).
Coinbase is a Bitcoin company based in San Francisco, which means that is required to comply with US laws and regulations, at both a federal and state level. Here are some of the regulatory bodies, laws, and regulations that Coinbase complies with:
It complies with state money transmission laws and regulations.
It complies with the USA Patriot Act.
It complies with the Bank Secrecy Act.
It is registered with FinCEN as a Money Services Business.
Robinhood is regulated by the Securities and Exchange Commission (SEC).
In addition to SEC regulation, Robinhood voluntarily participates in self-regulatory organizations (SROs) like the Financial Industry Regulatory Authority (FINRA). SROs are overseen by the SEC, but they are not part of the government.
Security
Coinbase segregates customer funds from company operational funds. These customer funds are held in custodial bank accounts. This means they will not use funds of yours to operate their business. They also claim, "Even if Coinbase were to becomes insolvent, the funds held in the custodial bank accounts could not be claimed by Coinbase or its creditors. The Funds held in those accounts would be returnable to Coinbase's customers."
98% of customers' cryptocurrency funds are stored in secure offline cold storage. These cryptocurrencies are held on multiple hardware wallets and paper wallets. The physical cryptocurrency wallets are then stored in vaults and safety deposit boxes around the world. These measures protect customers' funds from being lost or stolen by hackers.
The remaining portion of cryptocurrency, that is stored online, is fully insured by a syndicate of Lloyd's of London.
Since Robinhood doesn't actually hold any coins, it can't lose them either. So it is very secure in that sense. Additionally, they employ all standard best practices from the industry making them a safe place to run your trades on the go.
Other features
Coinbase has seen a rapid growth and branched out into different sectors of cryptocurrency world with most of their new services being geared for institutional clients. Those new services are Coinbase Custody, Coinbase Prime, Coinbase Staking.
Additionally, Coinbase has their Coinbase Pro platform designed for day-traders and more experienced crypto investors and their own wallet that is also a Web3.0 browser.
Robinhood offers commission-free stock, ETF and options trades. That is their original business and Robinhood Crypto is a separate company that uses Robinhood's infrastructure and know-how to offer crypto trading to its users.
Mobile apps
The Coinbase app has higher ratings than the other application, as it provides mobile apps for both Android and iOS devices. Robinhood app is very simple and easy to use even for new crypto traders.
Robinhood vs Coinbase: Pros and Cons
Coinbase Pros
Excellent Reputation
FDIC Insured
Easy to Use
Very Secure
Accepts Credit / Debit Cards
Coinbase Cons
Slow Customer Support
Limited Currencies Available
Robinhood Pros
No account minimum.
Streamlined interface.
Cryptocurrency trading.
Robinhood Cons
No retirement accounts.
No mutual funds or bonds.
Limited customer support.
Can't buy actual coins
If you are not fond of neither of these exchanges, here is a list of potential alternatives: Cex.io, Coinmama, Binance, Changelly, Bitpanda, Bitfinex, Kraken, Bittrex, Bitstamp.
In case you want to compare Coinbase with other exchanges, have a look at our guides where we do just that:

CaptainAltcoin's writers and guest post authors may or may not have a vested interest in any of the mentioned projects and businesses. None of the content on CaptainAltcoin is investment advice nor is it a replacement for advice from a certified financial planner. The views expressed in this article are those of the author and do not necessarily reflect the official policy or position of CaptainAltcoin.com