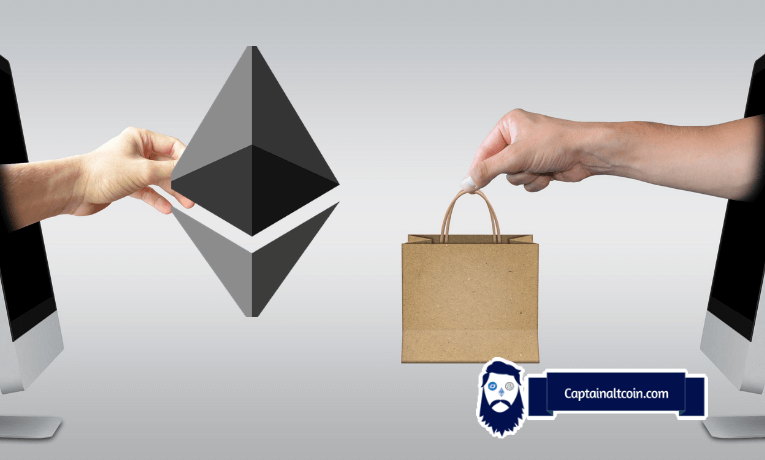 So, you've grown your ethereum investment and are looking for ways to spend it. Just like most other investors, you're wondering where to spend your hard-earned crypto coins. You shouldn't expect to shop on sites like Amazon, Walmart, or eBay with ethereum, but plenty of other online and physical shops accept cryptocurrencies.
Here is a detailed guide on where you can spend your ether and list of websites that accept Ethereum.
Before you read on, here are a couple of interesting guides around Ethereum to fill up the potential knowledge gaps you might have about this smart contracts platform:
Where to Pay With Ethereum
---
In this section, we'll explore different platforms that accept ethereum payments.
Online Stores that Accept Ethereum
If you enjoy online shopping on Shopify or Woo-commerce stores, then you're in luck because this is a comprehensive list of all the online shops that accept altcoins and, more specifically, who accepts ethereum as payment.
1) Direct Voltage
If you fancy some DIY projects over the weekends, then Direct Voltage is your go-to store if you're also looking to spend your ethereum. Besides DIY items, the store also sells 3D printing, home improvement products, and solar panels.
2) Zorket
Zorket is your one-stop e-commerce store for all your clothing, bags, shoes, and accessories. The good thing is that the store also accepts payments in the form of ethereum.
3) Gipsy Bee
The store sells all types of electronics, from phones, tablets, laptops to drones. The store also stocks camping gear, sports apparel, and equipment. The unique thing about Gipsybee is that they accept all forms of payment, including ethereum and Bitcoin.
4) OpenBazaar
This e-commerce shop sells all types of products and accepts both traditional and digital currencies.
5) Peddler
The platform operates in a way that buyers team up to push for lower prices from the seller. The platform sells designer bags, strollers, and other unique items. The store accepts ethereum.
Shop for air tickets with Ethereum
---
You can also book your air tickets and holiday homes using ethereum from these platforms.
6) Tripio
The platform works like Airbnb and allows you to rent your house and then get paid in cryptos.
7) Xceltrip
The site allows you to book hotels and flights to different destinations all over the world. There are even prospects that Xceltrip will include yacht rentals as part of the package. The platform accepts cards and six cryptos, including ethereum.
8) CryptoJaunt
Whether you want support with your visa, group tour package, honeymoon vacation, or book your flight, CryptoJaunt is the site for you. The platform allows the use of ethereum and other cryptocurrencies.
9) Destinia
For all your hotel bookings, flights, car rentals, and accommodation in Latin America, Destinia is your best partner. The best thing about it is that you even get to spend your ether.
Convert your ethereum coins into gift cards
---
If you're looking to buy your friends and family gifts during their special days using ethereum, your options are limitless.
10) Giftcards Bidali
Here, you can pay for gift cards using 40 different cryptos, including ethereum. You shouldn't attend your friend's birthday party without a gift if you have ethereum in your wallets.
11) Prepaidify
The gift shop delivers your gifts in the form of emails. You can get iTunes, Starbucks, and Nordstrom and quickly pay using ethereum.
12) eGifter
With this platform, you can bag your Amazon, Home Depot, and App Store gifts and pay for them using ethereum. This means that you can buy anything using your gift cards from the said online stores.
13) Giftoff
The retailer offers more than 90 gifts from your favorite stores, and you get to pay using ethereum. What's more is that you also earn loyalty points, implying that you can get free gifts when you accumulate enough.
Now that we know where you can spend your ethereum let's explore ethereum payment gateways.
Does Amazon Accept Ethereum?
Being the largest eCommerce platform, people are eager to know whether Amazon accepts Ethereum payments and if not, when could that happen.
Well, the answer is yes and no. There is no direct support for ether payments on Amazon (nor for any other crypto). However, there is bypass with the help of the Lightning Network browser extension, people can make purchases from Amazon using Ethereum.
The service that makes the transaction possible leverages the services of the Lightning Network to convert crypto to fiat without charging any extra fees. For now, the service is only available in the United States. Amazon also allows buying gift-cards using Ethereum.
And of course, there is also a circumvent with gift cards and services like Purse.io that convert your crypto into gift cards which you can then use to buy stuff on Amazon. Read more here about how you can turn an iTunes gift card into bitcoin.
Ethereum payment gateways
---
A payment gateway is incorporating technology to facilitate ethereum and other crypto payments in a faster and safer way. The automation of these payments is straightforward and mainly involves creating smart contracts to protect both buyers and sellers.
Here are some of the leading payment gateways if you're looking to integrate ethereum payments into your business payment methods.
With this gateway, you can easily automate ethereum payments for your store. The platform gives business owners three options. The first one is a free plan, but you have to confirm and verify payments made to the store. The second option requires you to pay $5 per month to get automated payments that are updated to the store as they happen. The final option, you can pay a one-off $200 and get lifetime service.
The platform serves over 2,000 cryptocurrencies globally. With this gateway, you can automate your ethereum payments, which get updated on your store in real-time. The processing fees are also very low, and you're assured of risk-free transactions.
5 Reasons Why Your Business Should Accept Ethereum
---
Now that we know all the nitty-gritty about ethereum, let's look at some of the reasons why a business should accept it as a payment mode.
1. You get to enjoy low transaction fees
2. Transactions are faster compared to those made using bitcoin.
3. It gives your customers a variety of payment options.
4. Lower risks of transacting.
5. You can make more sales globally.
3 Ways to Set Up an Ethereum Wallet
---
So, how can you set up an ethereum wallet? Let's explore the three most common methods.
Software wallets guarantee security and convenience. You can access these wallets online and download one that supports ethereum coins. Once you install the software, you'll be prompted to create a unique key for security once you create your account.
You can buy and connect to your computer whenever you want to use many hardware wallets. Hardware wallets will require that you have an account, pin code, and a recovery phrase. These wallets are considered the safest and best among them is Ledger Nano X.
Exchange wallets require that you create an account and also verify it with the exchange company. If you wish to transfer the coins, you also have to include an ethereum address. Some of the popular exchange wallets are Coinbase, Binance or Kraken.
How to Instantly Buy Ethereum With A Credit/Debit Card
---
There are so many exchanges that sell ethereum currently, unlike previous years. Here is a guide on how to buy ethereum with a credit or debit card.
✔️ Fill out the AML/KYC checks if necessary
✔️ Choose your method of payment, either credit card or debit card
✔️ Deposit money in your preferred currency
✔️ Using the deposited money, buy ethereum
Conclusion
---
Unlike yesteryears, businesses have now accepted the use of digital currencies. You can currently shop online, pay for your flight, holiday destination, or even pay for services using ethereum. Ethereum is safe, faster, and attracts lower transaction fees making it a preferred mode of payment. This guide gives you a clear understanding of where you can spend your ethereum and how.

CaptainAltcoin's writers and guest post authors may or may not have a vested interest in any of the mentioned projects and businesses. None of the content on CaptainAltcoin is investment advice nor is it a replacement for advice from a certified financial planner. The views expressed in this article are those of the author and do not necessarily reflect the official policy or position of CaptainAltcoin.com