Coinbase Pro Review – Overview of Fees, Listed Coins, Security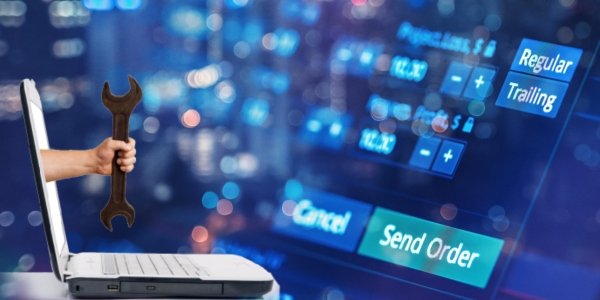 Coinbase Pro Review – Overview of Fees, Listed Coins, Security
Feeless USD deposits with direct bank transfers
Low trading fees
Good liquidity
No hacks
Expanding asset offering
GDAX, which stands for Global Digital Asset Exchange, is a trading platform launched by Coinbase in May of 2016. It got rebranded into Coinbase Pro in 2018.
While some of you may know Coinbase for the ability to buy Bitcoin directly by Credit Card, Coinbase Pro is the other part of the company – the cryptocurrency exchange that was created to accommodate not only Bitcoin trading but trading in alternative currencies as well. The exchange operates all around the world and is owned by Coinbase Inc, which is based in San Francisco, California. Coinbase Pro is aimed at crypto traders and advanced traders, trading fees are much lower and margin trading is available.
The platform is insured and backed by some of the largest investors in the industry, including Union Square Ventures, Andreessen Horowitz, the New York Stock Exchange, and many others.
One more thing worth noting is that customer funds are also FDIC insured. This means that each customer is entitled to up to $250,000 in remuneration in the event of a loss.
Trading Dashboard
---
The platform provided by Coinbase Pro is much better than the one offered at Coinbase. That being said, we find the charting lacking when compared to the charts provided by TradigView. In terms of technical indicators, only a couple of predetermined moving averages are available. Here is a preview:
The order book is located on the left. But the more bizarre design decision to place the "ask" column on top of the "bids" is made. This feature may seem strange to experienced traders and professional traders. However, it does provide a nice graphical representation for newbies. The tape is located to the left, with the middle ground being taken by the chart and the open positions tab.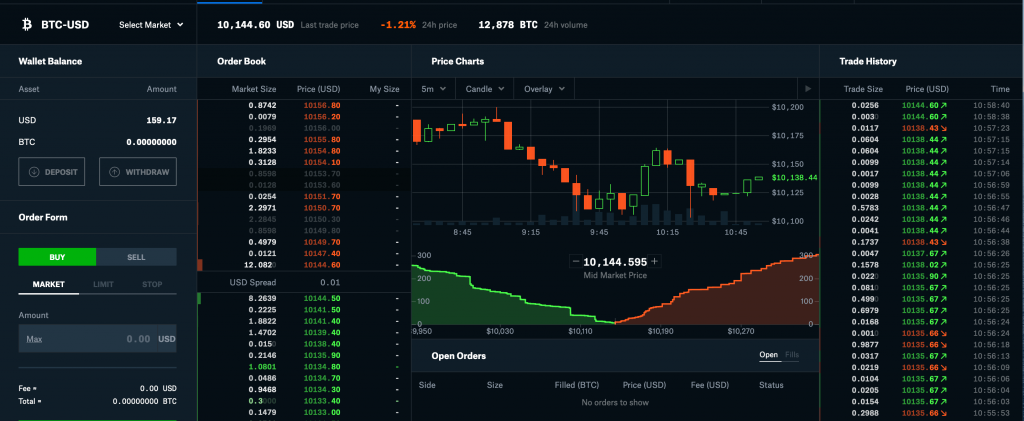 Trading Instruments (Cryptocurrencies)
When it comes to digital currencies, the asset base has been growing constantly from the initial offering of only 4 coins to 25+.
The exchange currently supports three FIAT currencies, namely GBP, EUR, and USD. You can also see your trade history on this page.
Coinbase Pro
Asset
US
EU
UK
AU/CA/SG
AAVE
✔2
✔
✔
✔
ALGO
✔1
✔
✔3
✔1
ATOM
✔
✔1
✔1
✔1
BAL
✔2
✔
✖️
✔
BAND
✔2
✔
✔
✔
BAT
✔1
✔
✔
✔1
BCH
✔
✔
✔
✔1
BNT
✔2
✔
✔
✔
BSV
✖️
✖️
✖️
✖️
BTC
✔
✔
✔
✔1
Celo
(CGLD)

✔
✔
✔
✔
COMP
✔2
✔1
✔1
✔1
CVC
✔
✔
✔
✔
DAI
✔1
✔1
✔1
✔1
DASH
✔1✔2
✔1
✖️
✔1
DNT
✔2
✔
✔
✔
EOS
✔1✔2
✔1
✔1
✔1
ETC
✔1
✔1
✔1
✔1
ETH
✔
✔
✔
✔1
FIL
✔
✔
✔
✔
GRT
✔
✔
✔
✔
GNT
✔1
✔1
✔1
✔1
KNC
✔
✔
✔
✔
LINK
✔1
✔
✔3
✔1
LOOM
✔1
✔1
✔1
✔1
LRC
✔2
✔
✔
✔
LTC
✔
✔
✔
✔1
MANA
✔
✔
✔
✔
MKR
✔2
✔1
✔1
✔1
NMR
✔2
✔
✔
✔
NU
✔
✔
✔
✔
OMG
✔
✔1
✔1
✔1
OXT
✔
✔
✔
✔
REN
✔2
✔
✖️
✔
REP
✔1✔2
✔1
✔
✔1
SNX
✔2
✔
✔
✔
USDC
✔
✔1
✔1
✔
UMA
✔2
✔
✔
✔
UNI
✔2
✔
✔
✔
WBTC
✔2
✔
✔
✔
XLM
✔1
✔1
✔
✔1
XRP
✔1
✔1
✔
✔1
XTZ
✔2
✔
✔3
✔1
YFI
✔2
✔
✔1
✔
ZEC
✔1
✔1
✖️
✔1
ZRX
✔
✔
✔
✔1
On top of that, Coinbase Pro also allows users to trade using a variety of different strategies, including:
Stops – This allows you to set stop losses. This means that if the price drops to a certain threshold, Coinbase Pro will automatically sell a specified amount of your cryptocurrency.
Limit Buys – This feature allows users to set a price limit that they want to purchase something at. For example, if you think the price of Bitcoin is going to drop overnight, you can set a limit buy for a lower price, and if the price does drop, Coinbase Pro will fulfill your order at the lower price.
Market Buy – This is pretty standard on any exchange and can also be done on Coinbase. However, you will pay a lower fee if you do it on Coinbase Pro.
Minimum Initial Deposit
---
There is no information on the minimum initial deposit at Coinbase Pro. However, this is not that unusual in the cryptocurrency sphere. On the other hand, most forex brokers have such a level and disclose it on their websites, for example, the FCA-regulated industry pioneers at IG proudly announce they do not have a minimum. This means that you can open an account for as low as you want.
Coinbase Pro Fees
---
The costs of trading at Coinbase Pro are a lot lower than the ones available at Coinbase, and it's based on the percentage of the monthly trading volume.
| | | |
| --- | --- | --- |
| Pricing Tier | Taker Fee | Maker Fee |
| <$10K | 0.50% | 0.50% |
| $10 – 50K | 0.35% | 0.35% |
| $50 – 100K | 0.25% | 0.15% |
| $100K – 1M | 0.20% | 0.10% |
| $1- 10M | 0.18% | 0.08% |
| $10 -50M | 0.15% | 0.05% |
| $50 – 100M | 0.10% | 0.00% |
| $100 – 300M | 0.07% | 0.00% |
| $300 – 500M | 0.05% | 0.00% |
| $500M + | 0.04% | 0.00% |
One more thing worth noting is that there are no fees for making deposits and withdrawals from the Coinbase Pro account, only bank fees apply in the case of Wire transfers.
Coinbase Pro Leverage
---
Margin trading used to be available on Coinbase Pro, with a maximum leverage ratio of 2x (for LTC/USD pair up to $500, and for BTC/EUR pair up to 3,000 EUR), or 3x (on ETH/USD and BTC/USD pairs, up to a limit of $10,000).
However, due to changes in the regulatory environment, Coinbase Pro is no longer offering this product to retail investors. You can find more details in their blog post on this topic.
So, to reiterate: Coinbase Pro margin trading is NO MORE.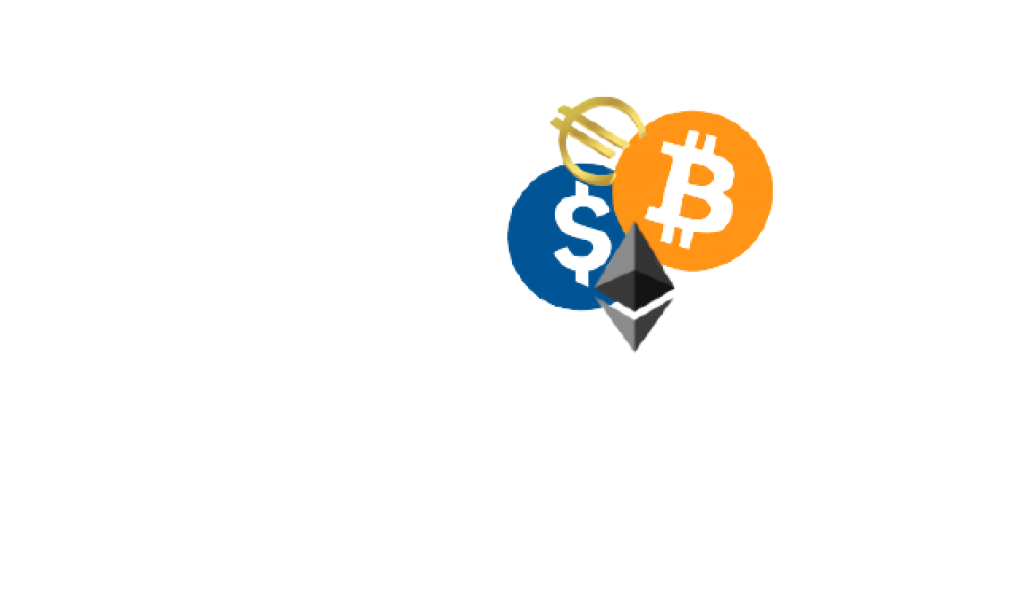 Payment methods
---
Coinbase is obviously the main source of funds and clients for Coinbase Pro. However, there is separate payment methods for Coinbase Pro as money can also be sent directly to the exchange, which is great for saving money, because accounts can be funded, without the need of paying the hefty Coinbase fees. That being said, Coinbase Pro accepts wire and ACH transfers directly from a bank account, while Credit/Debit Card deposits can only be made via Coinbase.
The Company – Security of Funds
---
As mentioned above, Coinbase Pro is actually run by the same company that owns Coinbase. It's important to note that the company holds the New York BitLicnese. The New York Department of Financial Services (NYDFS) attempted to make the city a major Bitcoin trading center, but one may argue the idea backfired because many of the key players backed out of the 2015 proposal. As of the summer of 2017, only three companies have received the license, and this is due to the burdensome and slow regulatory procedure. Coinbase is one of those three companies.
When it comes to hacking, it's important to note that a major attack has not struck Coinbase or Coinbase Pro. That being the case, there was a "flash crash" in Ethereumprices in June. This raises suspicion. The coin was trading at about $317 when it suddenly spiked to an alleged value of 10 cents due to a multimillion-dollar market sell order. The company proceeded to halt trading. They later claimed this was merely a "fat finger" – a single large trader accidentally placed a market sell order, which triggered a chain of stop-loss orders to be executed.
The fall caused quite the commotion among professional traders who woke up to chunks or all of their Ethereum gone because of the Coinbase Pro crash. However, the Coinbase team handled it fairly well.
Coinbase Pro took responsibility for the flash crash and honored every single transaction using company funds. The financial damage was mitigated. However, users still noted that the lack of accessibility to the platform during the crash was aggravating.
Other than this case, the user reviews for Coinbase Pro generally match the ones for Coinbase, the founding company of Coinbase Pro. One of the major concerns is the fact that many of the investors behind the project are well-established in the traditional financial sector.
✅ Coinbase Pro is a very well-secured cryptocurrency exchange and undergoes regular IT security and financial audits. Plus, they keep keeps 98% of their users' funds off the Internet in cold storage with encryptions and multisig keys.
✅ There's two-factor authentication, and email and SMS alerts are available too.
✅ Also, PGP encryption is used in email communication.
Supported Cryptocurrencies
---
Popular assets supported by Coinbase Pro include Ethereum (ETH), Litecoin (LTC),Cardano (ADA), Bitcoin Cash (BCH), and Stellar Lumens (XLM),Chainlink (LINK), Uniswap (UNI), andAave (AAVE).
Verification on Coinbase Pro
---
The verification is necessary and Coinbase Pro requires two-level identity verification. Users are not allowed to place deposits or trade before the verification process is completed.
Before verifying your account, you need to create one which is a fairly simple process. Just click on the signup button on the pro.coinbase.com page and follow the steps to finish the registration process.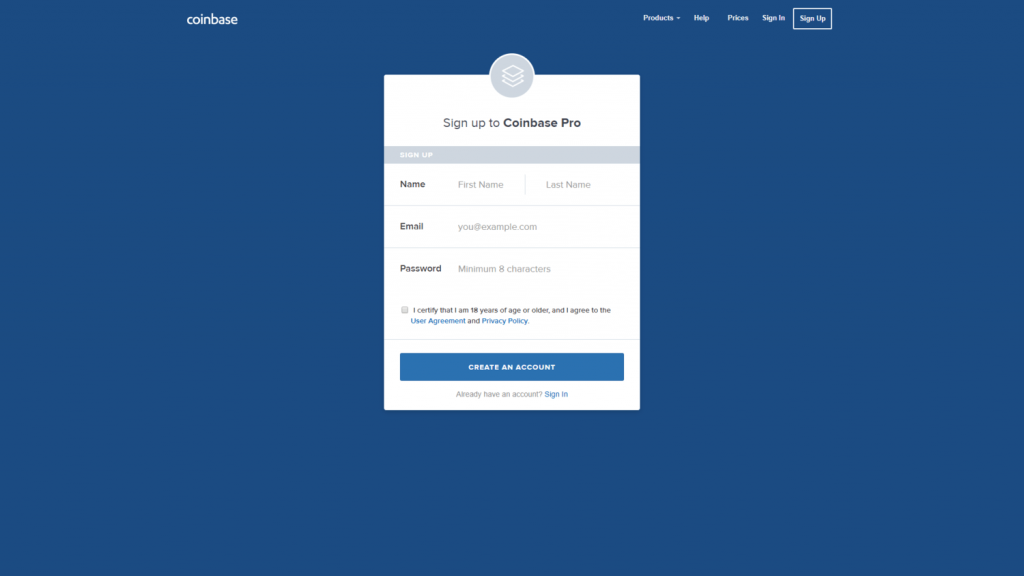 The verification process is straightforward. However, it's a bit different depending on the country.
👉 For UK users:
A photo of a Passport, driver's license, or ID card.
They have to answer a few identity questions.
👉 For US users:
A photo of a driver's license or state ID (passports don't indicate the state of residence, so they are not accepted).
The residential address
SSN (Social Security number)
For other users (European countries, Canada, Australia, and Singapore):
A photo of a Passport, driver's license, or ID card.
Another photo of a different ID document.
Users who are already registered on Coinbase can log in with their Coinbase credentials, and they don't have to create an account from scratch
Customer Support
---
Coinbase Pro has a very extensive FAQ page. They also offer ticket submission and email support, and they usually answer within 48 hours. The support can be a bit "shallow" sometimes and only partially resolve the problem. This can result in waiting for another 48 hours to completely resolve the problem.
Conclusion
---
Coinbase Pro is one of the cryptocurrency industry's biggest, best-known, and most-trusted exchanges. Today, the platform is available in 32 countries worldwide and has 7.4 million users. Coinbase Pro is also known for its low fees, especially with the free market "maker" trades.
Coinbase Pro has a mobile app as well.
The selection of trading assets is not great. However, the trading platform feels relatively nice.
Coinbase Pro alternatives
---
If you are not fond of Coinbase Pro, here is a list of potential crypto exchanges that can be good alternatives:
PROS
Feeless USD deposits with direct bank transfers
Low trading fees
Good liquidity
No hacks
Expanding asset offering
CONS
Customer support could be way better
Is part of Coinbase, which is known for lack of privacy
No margin trading

CaptainAltcoin's writers and guest post authors may or may not have a vested interest in any of the mentioned projects and businesses. None of the content on CaptainAltcoin is investment advice nor is it a replacement for advice from a certified financial planner. The views expressed in this article are those of the author and do not necessarily reflect the official policy or position of CaptainAltcoin.com