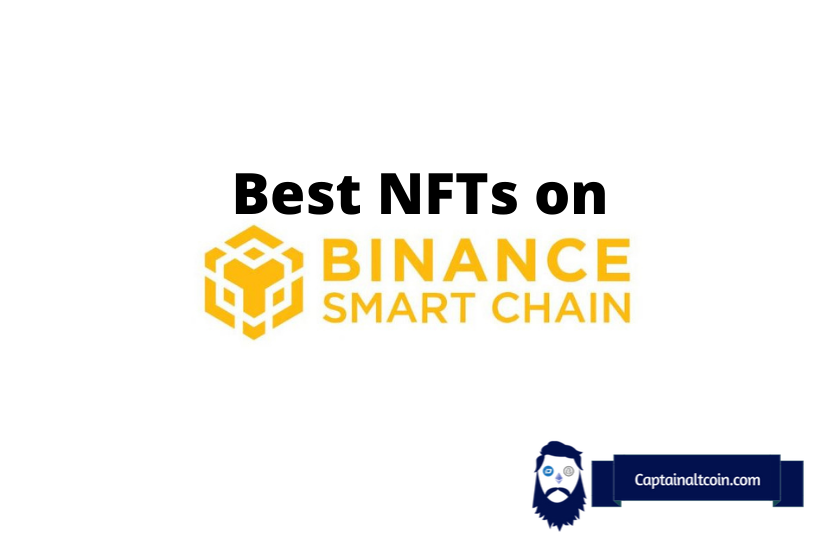 Intro
---
The popularity and demand of Non-Fungible Tokens (NFTs) are growing and have become almost a certain thing for most crypto investors and enthusiasts. Today (February of 2022), there are various NFTs you can buy and sell.
Most of the NFT-related activity initially happened on the Ethereum network. However, more and more people are moving to other chains, like Binance Smart Chain for example, due to fast transactions and low fees. Binance has been pretty busy competing with other NFT marketplaces and even though it is still difficult to compare it with the success Ethereum and Solana had, there are some success stories. Low fees, fast transactions, and high liquidity are definitely the main reasons why some investors turned their attention to Binance Smart Chain when it comes to NFTs.
In this article, I will explain the best NFT projects on Binance Smart Chain. So, without further ado, let's jump into details.
Top 7 NFT Projects on Binance Smart Chain
---
After a thorough investigation of NFT projects on BSC, I came to the conclusion that I would like to mention 7 projects in total. Let's start.
PancakeSwap Squad
---


PancakeSwap is one of the largest NFT marketplaces built on Binance Smart Chain and it is for sure the most popular one. On PancakeSwap, you can buy and sell NFTs such as Liquid Monsters, Wolfies, Lil Bulls, Kittens, Cross Bosses, Saint Monsters, Apes, ShitPunks, BornBadBoys, BornBadGirls, etc.
The platforms produced one of the most anticipated drops with record times in minting by users who hope to get their hands on the exclusive new NFTs. For example, Pancake Squad #337 was one of the rare balloon-like NFTs that fetched nearly half a million dollars of value at the time. The drop definitely excited most of the BSC community with many thinking that this is the start of a new era of NFTs on the Binance Smart Chain.
Cake Monster
---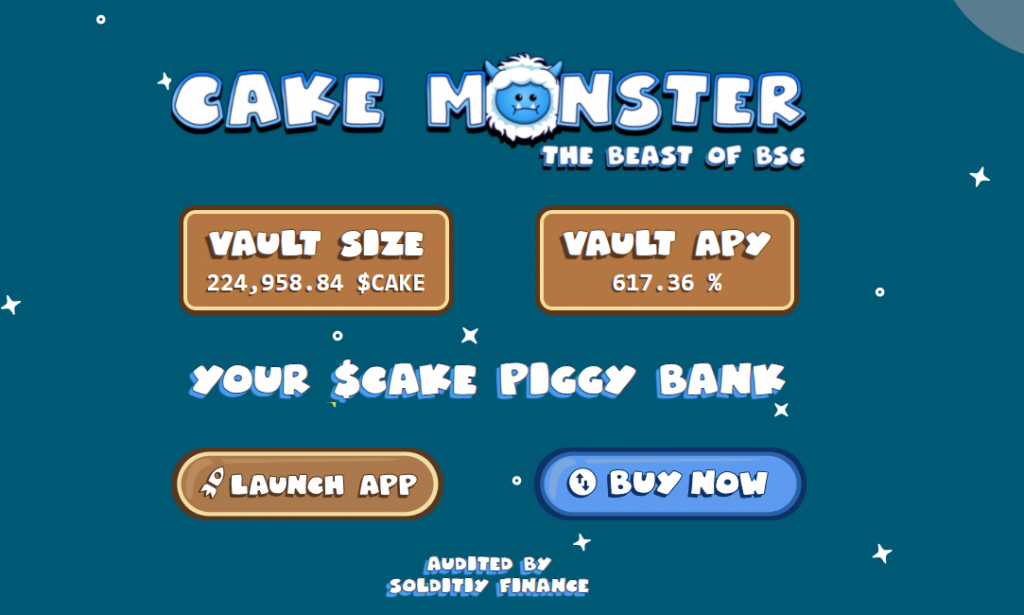 The next platform we will investigate is called Cake Monsters. Cake Monsters is a new DeFI protocol project on Binance Smart Chain. It is actually a coin that has utility. The starting supply is 10 billion $monsta. On each transaction, 2.5% of the coin is burned and 2,5% is taxed. So, the idea behind the project is simple – when the supply goes down, the price should go up.
The coin uses the tax in two ways – first, it adds liquidity to the liquidity pool, and secondly, it is used to buy one of the most popular tokens on Binance Smart Chain – PancakeSwap's native token $Cake. All of these tokens are then put in a vault, which should give DeFi protocol a good value.
MetaWars
---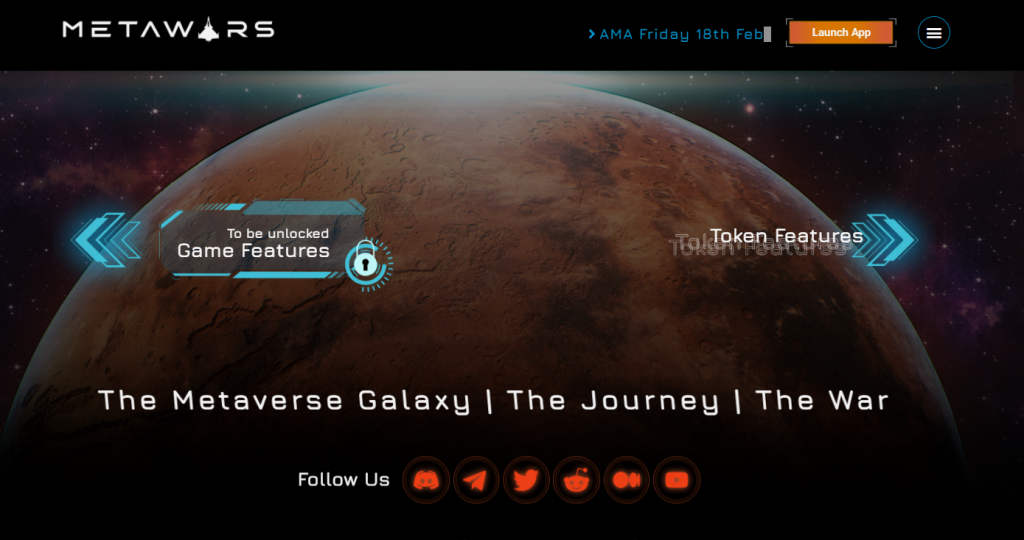 MetaWars is one of the most popular games that operate on the Binance Smart Chain. This is a multiplayer strategy / roleplaying game that is powered by the digital economy and blockchain technology.
The game itself takes place in an epic space that allows players to explore the universe and find mysteries, surprises, and potentially valuable loot just waiting to be discovered. It takes place in the 50th century and the designers of the game really put a lot of effort to show what the space will look like in 3 millennia of progress. MetaWars is considered a play-to-earn game where you can battle, earn and trade NFTs, mine and develop their terrain, and stake their in-game assets. The native token of the game is $WARS.
MetaGods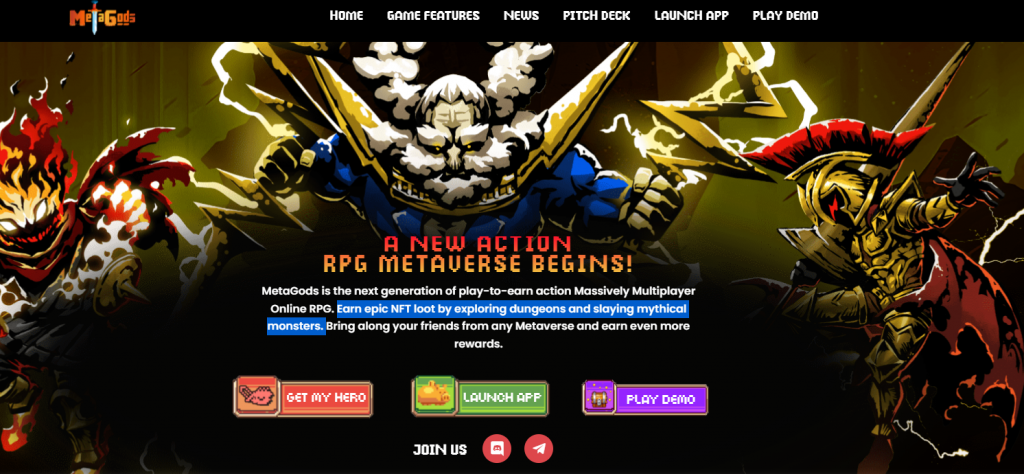 MetaGods is another Metaverse-based game built on the Binance Smart Chain. It claims to be the first free-to-play online RPG game. The purpose of the game is to earn various NFTs loot by exploring dungeons and slaying mythical monsters. If you bring more friends to the game, you can earn more rewards.
Altura Penguins
---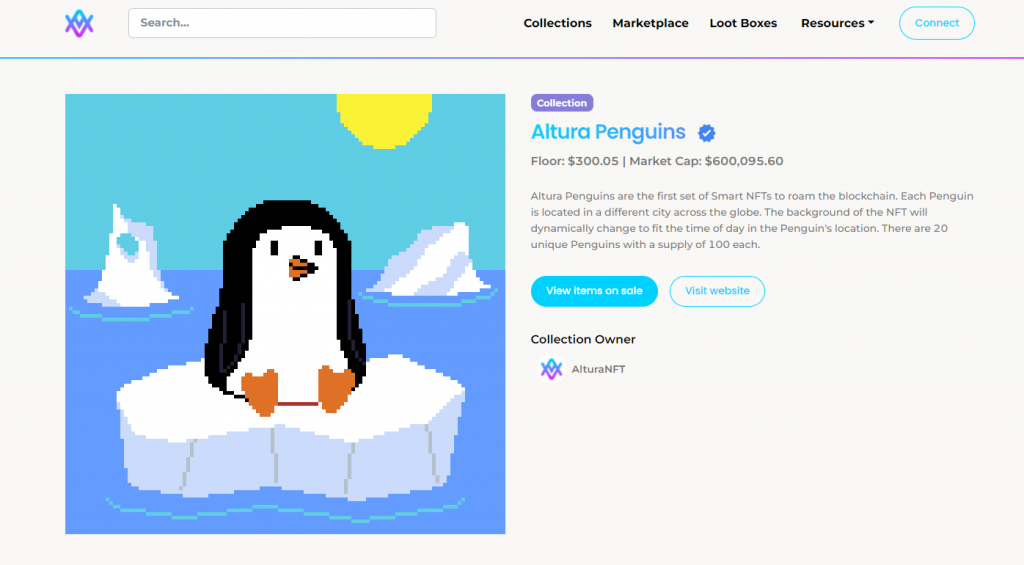 Yet another NFT-based project built on the Binance Smart Chain is called Altura Penguins. The platform claims to be the first set of Smart NFTs to roam the blockchain. The thing to note here is that each Pengiun is located in a different city around the world. The background of each NFT will change in order to fit the time of the day in that Penguin's location. At the time of writing (February of 2022) there are 20 unique Penguins with a supply of 100 each.
As per Artura Penguins' website, "Altura provides the infrastructure for the future of in-game items, digital assets, and The Metaverse". The native token of the platform is $ALU.
TTK Hero
---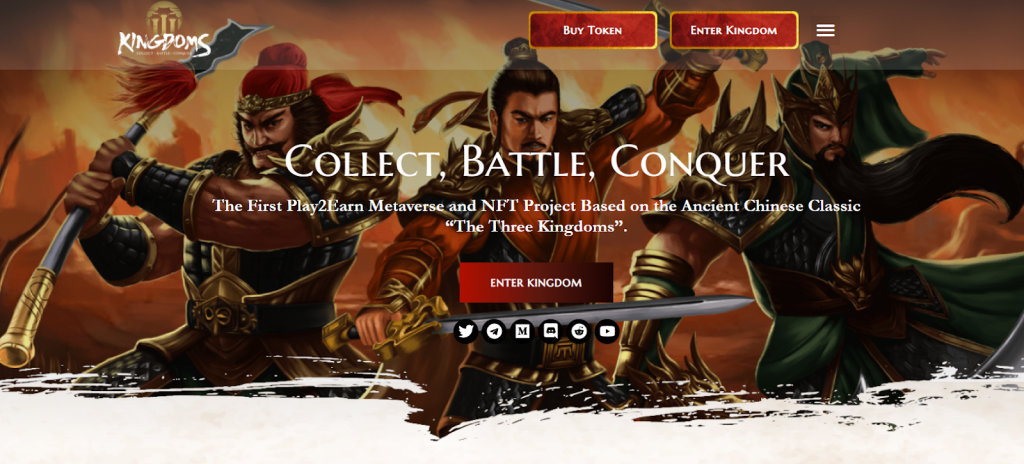 TTK is shortened of The Three Kingdom, one of the most exciting games built on the Binance Smart Chain. As the name suggests, the game map is divided into three kingdoms in China – Wei, Shu, and Wu regions. The whole land will be split into squares. The land that is closer to the center will get more perks.
Players can use these lands to stake and monetize various events. You can own your own base of operations where you could fight and expand your territory and earn in-game NFT and currency. You should always keep track of in-game world news so that you can act accordingly and make efficient strategic decisions. $TTK is the native token of the platform.
BINOPOLY House
---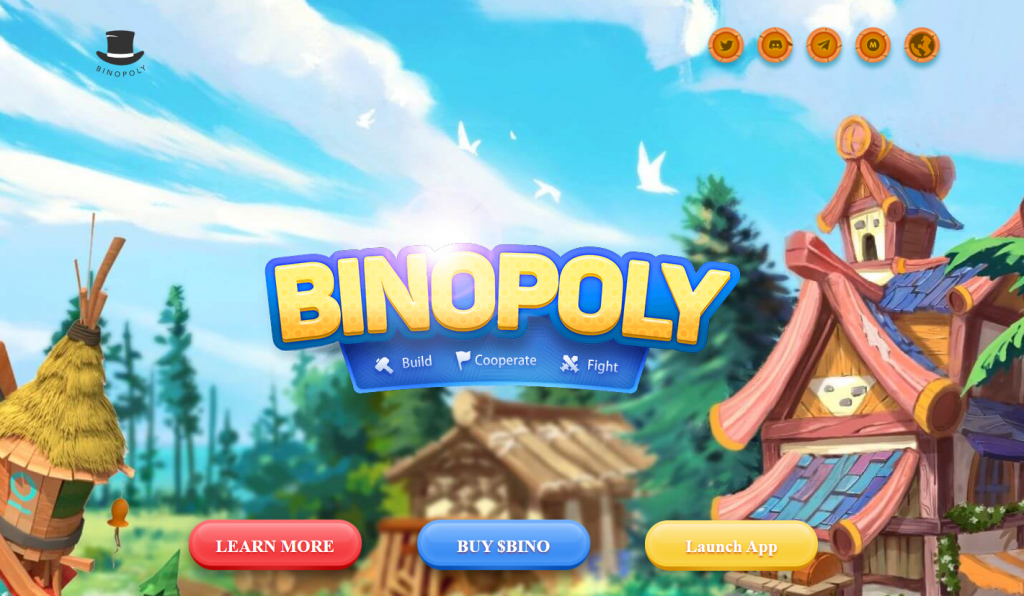 Binopoly game included NFTs in the in-game world as a collectible asset. Players can actually collect "house" NFTs in order to change and display graphic appearances of their properties on private and public land slots. NFTs act as a virtual home that represents one's artistic values and unique personality. There are various property types such as straw huts, wood cabins, stone houses, mansions, manors, and even entire skyscrapers.
If you want to create NFTs with a lot of freedom, Binopoly is probably the place for you. The platform will give you an opportunity to express your talents on a particularly unlimited stage.
Why choose Binance Smart Chain for NFTs?
---
If you are wondering what are the main reasons for choosing Binance Smart Chain for NFTs, the answer is quite simple – low fees. Besides low fees, BSC offers to be EVM-compatible, which enables the utilization of ERC standards. These are the areas where Binance Smart Chain has a competitive advantage over Ethereum. It is not a surprise to see more and more crypto investors turn to BSC in order to be as cost-efficient as possible.
Closing thoughts
---
With the growing NFT world, Binance Smart Chain had no other solution except to join the party. After thoroughly investigating all major NFT platforms built on BSC, I can safely say I was pleasantly surprised where the development of NFTs, in general, got to. And this seems to be only a beginning, all projects described in this article are only starting their journey.
If you would like to pay for lower fees when operating with your NFTs, then Binance Smart Chain is probably the blockchain you should go to.
Note: Keep in mind that these are only our opinions based on my thorough investigation of the NFTs on the Binance Smart Chain. In any case, please do your own research before deciding whether you want to use them or not.
At this point, it is good to note that all opinions and suggestions written in this article are not considered financial advice.
Read also:
FAQs
---
Let's look at some frequently asked questions about NFTs on Binance Smart Chain.
Can I Store BSC Crypto Collectibles in the Trust Wallet App?
---
Yes, you can. Trust Wallet offers an easy way to store and access all your crypto collectibles on Ethereum and BSC with high-level security.
Is Binance good for NFTs?
---
Based on everything I investigated for this article, Binance is decent for NFTs and it will only get better. Fast transactions, high liquidity and volume, and low fees are the main reasons why some crypto investors are turning to Binance Smart Chain for NFTs.
However, the argument for Ethereum will always be that you have more platforms and more chances to earn profits if you choose that network. Keep in mind that more than 90% of digital assets have been created as ERC-721 tokens on the Ethereum network, including some of the most popular ones like Axie Infinity and CryptoPunks.
What chain is best for NFT?
---
This is a great question, let me provide you with the list of chains I believe you should look at when choosing which one to use for your NFTs – Ethereum, Solana, Polygon, Cardano, Tezos, and Binance Smart Chain.
You can read our reviews of the best NFT marketplaces on Ethereum, as well as Solana, Polygon, Cardano, and Tezos.
What can I do with NFTs on Binance?
---
Well, Binance Smart Chain NFT marketplace is the largest centralized NFT marketplace in the crypto world where you can buy and sell in-game items, virtual land, art pieces, and more — at a flat trading fee of just 1%.
Can you buy NFTs with cash?
---
Yes, of course, you can. An NFT can be sold for cryptocurrency or cash. All transactions you make for NFTs are recorded on the blockchain in order to secure the right ownership of an NFT. Most of the time, investors want to buy NFTs they believe will increase in value in the future so that they can sell them for cash on an NFT marketplace to gain profit.
The most popular NFT marketplace for buying and selling NFTs is called OpenSea.

CaptainAltcoin's writers and guest post authors may or may not have a vested interest in any of the mentioned projects and businesses. None of the content on CaptainAltcoin is investment advice nor is it a replacement for advice from a certified financial planner. The views expressed in this article are those of the author and do not necessarily reflect the official policy or position of CaptainAltcoin.com