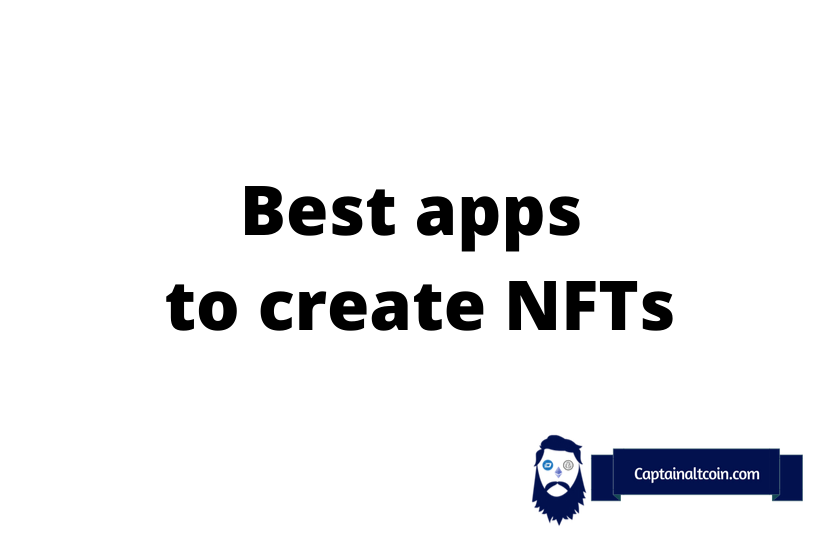 ---
One of the growing parts of the whole blockchain world is NFTs – Non-Fungible Tokens. NFT is a unique non-interchangeable unit of data stored on a blockchain. It can be various digital files such as photos, videos, or audio. 
NFTs are absolutely one of the main topics of the whole blockchain community nowadays. Its growing popularity most likely comes from the variety of possibilities that NFTs offer. Some people are busy investing in it, some are making and selling it while the rest is busy talking about it. Sounds pretty interesting, doesn't it?
Due to the growing popularity of the NFT world, more and more apps are emerging where you can actually create your own non-fungible tokens. In this article, we will take a close look at some of the best apps for creating NFTs. So, without further ado, let's jump into details.
Keep in mind that these are only my opinions based on my thorough investigation of the best apps to create NFTs. Please do your own research before deciding whether you want to use some of them or not.
At this point, it is good to note that all opinions and suggestions written in this article are not considered financial advice.
Best NFT creator apps to draw and create NFTs (desktop and mobile)
---
We investigated 7 apps that stood out when it comes to drawing and creating NFTs. One thing to note about each app is that it is completely free to download and check out. So, let me break each one.
GoArt
---
GoArt is the first app we will explain today. It can be used in situations where you have an image or original artwork that just needs a little more TLC or spunk to match the mad creative NFTs making the round. So, in those cases, GoArt could be of your service. Keep in mind that with GoArt, you can create NFTs on your mobile phone.
With GoArt, you can filter art from Van Gogh, pointillism, brush strokes, to Picasso. Moreover, you can swipe left and right on the app to adjust filter intensity. Once you create a photo, you can save it to your phone. The other way around, photos from your phone can be turned into NFT almost instantly.
Finally, you will need coins in order to use premium filters. Once you sign up with GoArt, you will get 30 coins. You can get additional coins by inviting friends to the platform and by sharing it on social media.
Sketchar
---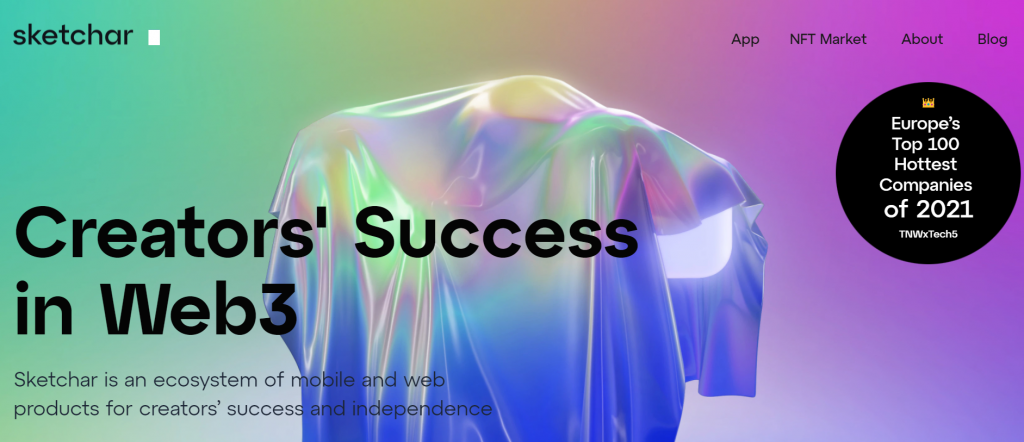 Sketchar is another platform where you can create NFTs. We can define it as an ecosystem of mobile and web products where creators can seek success and independence. You can create your own NFTs with Sketchar's mobile app in order to improve your design skills. Moreover, you can sell digital art directly from the mobile app.
Sketchar has its own NFT marketplace where you can sell and buy digital art that was created with Sketchar. One thing to note about Sketchar is that the platform will take 5% off your first sale and then 1% from all the rest. The amount goes to Sketchar's savings wallet and allegedly it will be used to further support creators and their projects around the world.
NFT Creator
---
The name speaks for itself when it comes to the NFT Creator app. With NFT Creator, you can create high-quality digital art without any previous experience in graphic design. There is quite a lot of customization available, so it is safe to say that the NFT creator is suitable for both beginners and experienced NFT investors.
To be honest, from all apps I have investigated, NFT Creator seems to have the best templates for making NFTs. For example, you can make your own custom NFT trading cards with the NFT creator. In order to get started, you need to pick a template and fill out the requested information. You can create a sports card, a sneaker card, a Pokémon card, or your own custom award cards.
Moreover, NFT Creator is a free NFT creator app and it has its own marketplace where you can buy NFTs or even win some free ones.
Pixelchain
---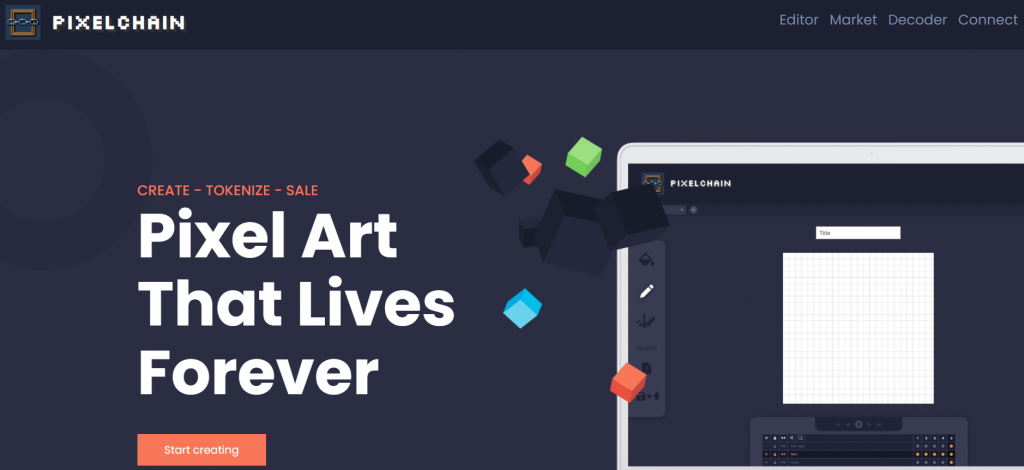 As the name suggests, Pixelchain is an app where you can create NFTs in pixeled image style. It is quite similar to the 8bit Painter app (we will describe it later in the article). The whole process on Pixelchain consists of 3 parts:
Draw pixel oriented art
Mint your artwork fully on the blockchain (ETH)
Sell your art in the OpenSea platform
Whenever a PixelChain gets minted its innovator smart contract will encode all the image data, compress it and send it to the blockchain, where it gets stored together with its name and author information. PixelChain just wants to insures that your NFT will be stored in the blockchain.
SuperMe
---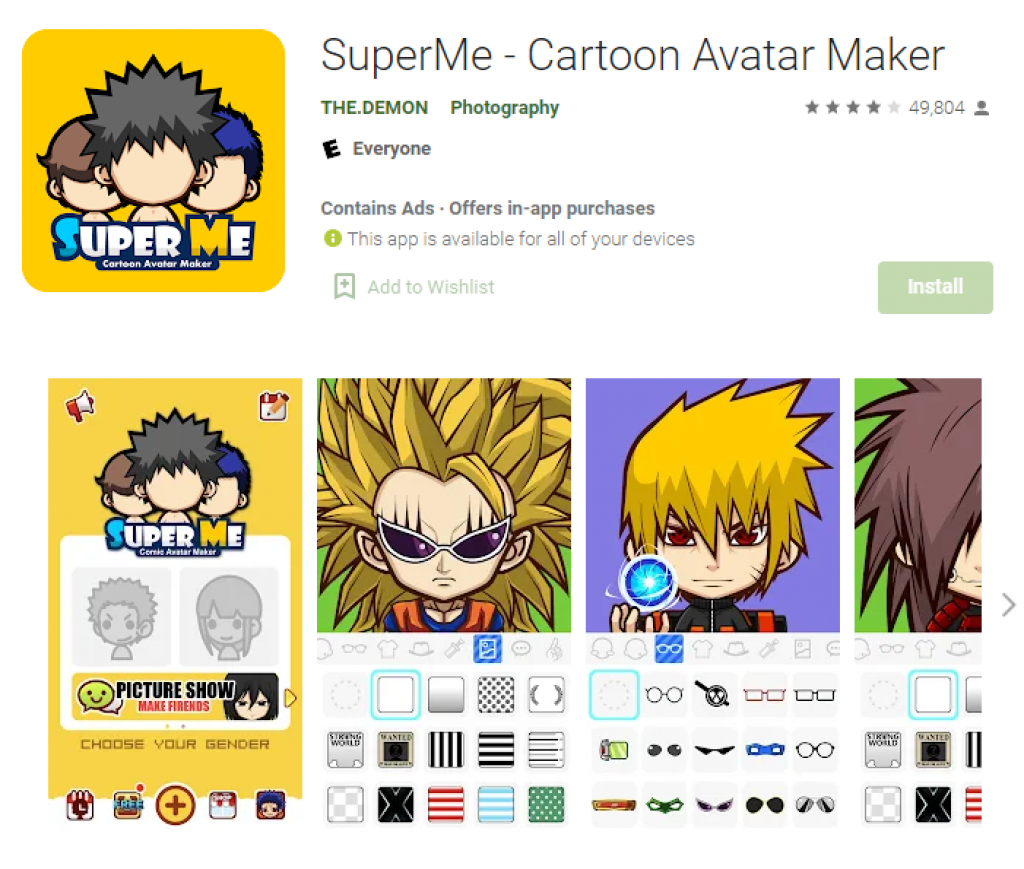 SuperMe is not precisely an app for creating NFTs, rather it is a platform where you can design your own cartoon avatars. However, when you download an avatar created on SuperMe, you can mint it to an NFT.
Keep in mind that cartoon avatars are very popular nowadays in the NFT world, so if you are looking to create your own avatar and use it as an NFT, SuperMe is definitely the place you want to check.
When you create your avatar, you can set up the avatar's hair, clothes, a custom background, speech bubbles, and facial expressions. Once you create your avatar, you can download it to your mobile phone and later use it as an NFT. You can also add your cartoon avatars to other apps to get customizable backgrounds.
8bit Painter
---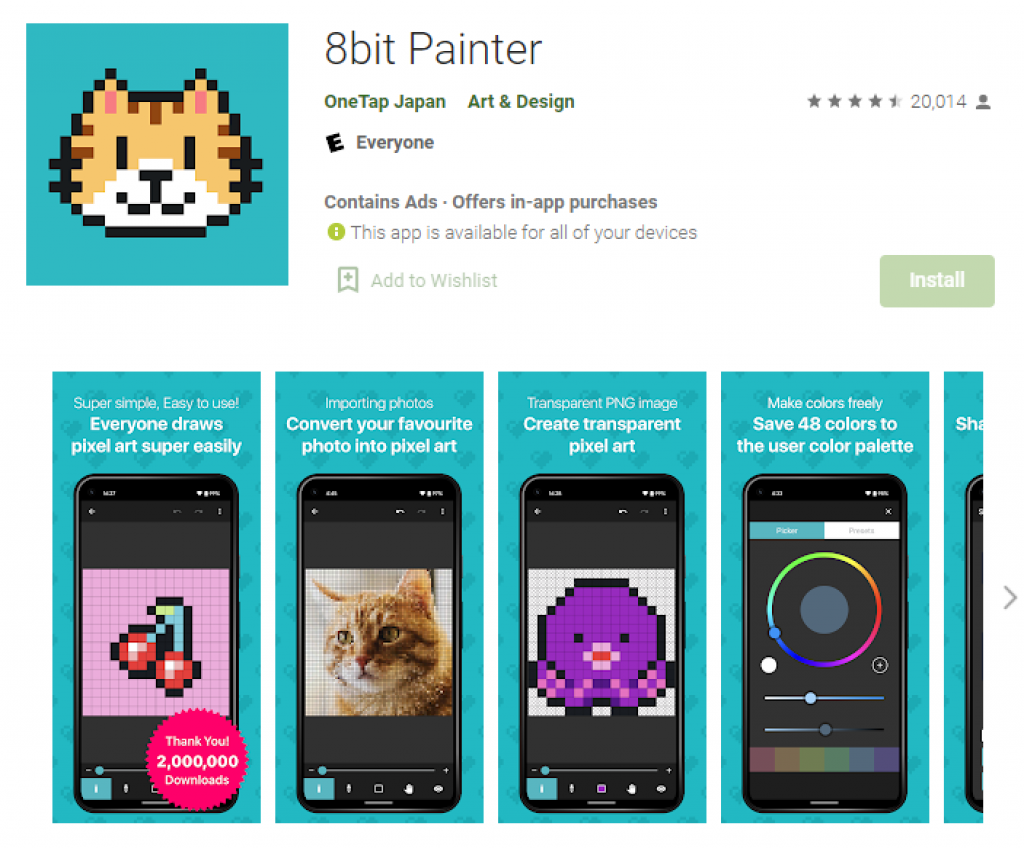 As most of you know, pixeled NFTs are one of the most popular ones. 8bit Painter is an app where you can create NFTs in pixeled image style. It is widely considered one of the best-pixelated image-maker out there.
When you sign up, create your canvas and choose a size. Sizes vary and it starts at 16×16 and goes all the way up to 160×160. The larger the size is, the more pixels it has. For instance, 16×16 images are considered "simple pixel" art.
Moreover, you can import photos from your phone and turn them into pixel art. You can import NFTs you created on other apps and turn those into pixel art as well.
Token.art
---

Token.art is yet another pretty exciting NFT-oriented platform. You can order and filter NFTs by name and value. Keep in mind that Token.art supports more than 30 fiat currencies. We can define Token.art as a multi-blockchain, multi-address NFT portfolio viewer.
To be honest, what got my attention when it comes to Token.art is its landing page which was very professionally created. As per Token.art's website, it is supporting hundreds of thousands of NFT collections across blockchains. Moreover, Token.art shows a lot of creators' experiences on its landing page which is always nice to see.
Read also:
FAQs
---

CaptainAltcoin's writers and guest post authors may or may not have a vested interest in any of the mentioned projects and businesses. None of the content on CaptainAltcoin is investment advice nor is it a replacement for advice from a certified financial planner. The views expressed in this article are those of the author and do not necessarily reflect the official policy or position of CaptainAltcoin.com