Pancakeswap Review – Is Pancakeswap Legit & Safe?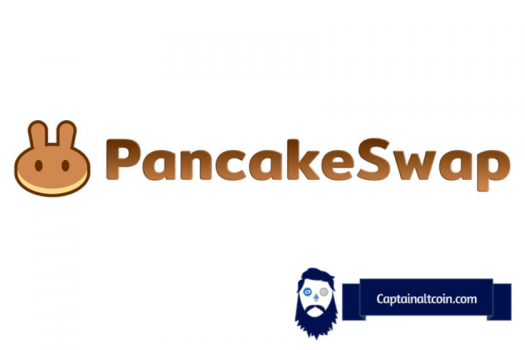 Pancakeswap Review – Is Pancakeswap Legit & Safe?
Provide liquidity and earn other coins
Low Fees and Fast Transactions
No KYC Requirement
Audited and Secured
PancakeSwap is a new automated market maker (AMM) and decentralized exchange (DEX) listed on the Binance Smart Chain (BSC) and offers users several innovative ways to earn from their crypto holdings.
The Evolution of BNB
---
BNB was launched in 2017 through an Initial Coin Offering (ICO) between June 26 and July 3. It is used for transactions on Binance.com. The token was priced at 1 ETH for 2,700 BNB or 1 BTC for 20,000 BNB during the first ICO. The introduction of the Binance Smart Chain elevated BNB to a proof of stake token for the new Proof of Staked Authority (PoSA) consensus powered by delegators and validators.
Currently, BNB supports several projects on Binance Smart Chain and can be used in DEX trading, liquidity pools, DeFi, and as payment for NFT marketplaces.
The rise of aggregators
---
DeX aggregators are the latest innovation in the DeFi space, opening up more opportunities for traders to earn by tapping into the liquidity and receiving better pricing. While 2020 was a turbulent year for most industries, it wasn't the case for the decentralized finance (DeFi) crypto market. On the centrally, this DeXs space flourished in 2020 with an increased inflow of funds in DeXs projects and also an increase in innovation.
Decentralized exchanges offer improved security and privacy compared to their centralized counterparts. PancakeSwap runs on Binance Smart Chain (BSC), the new smart contract-enabled parallel blockchain on Binance Chain. PancakeSwap is the leading liquidity provider for BEP20 tokens with more than $115 million in pooled liquidity for a range of crypto assets.
DEX aggregators are basically financial protocols that allow crypto traders to access a variety of trading pools on a single dashboard. Closely related to aggregators are automated market makers (AMMs) that have been making inroads in the DeFi space. AMMs allow crypto holders to trade their coins in a permissionless and automatic way by using liquidity pools as opposed to traditional buy-sell markets.
👉 AMM supplies their tokens to liquidity pools where they get rewards for supplying liquidity to the pools. The more digital asset a liquidity pool has, the more it is easier to trade on decentralized exchanges.
On AMM platforms, users trade against a pool of tokens also called a liquidity pool as opposed to traditional markets where users trade as buyers and sellers. A liquidity pool is therefore simply a shared pot of tokens where users supply their tokens and earn rewards.
AMM platforms are open-source and allow any ERC-20 tokens holder with the internet to participate in supplying liquidity
Below is a detailed review of the PancakeSwap exchange work;
What is PancakeSwap?
---
PancakeSwap is a Binance Smart Chain-based DEX and an automated market maker that runs on in-built algorithms and uses permissionless and automated liquidity pools. The PancakeSwap was motivated by a growing trend in DeFi that involved the use of food tokens. So far food-based tokens launched include BakerySwap and SushiSwap to name a few.
PancakeSwap is a food-based token with a penchant for breakfast foods and rabbits. It is very similar to Ethereum's SushiSwap but has improved features that allow holders to earn rewards. PancakeSwap is backed by the CAKE token, a BEP-20 token listed on the BSC.


PancakeSwap exchange is the leading AMM platform on the BSC and offers lower fees and faster transactions compared to DeFi projects on Ethereum. AMM are exchanges that allow users to collect yields by trading their digital assets against liquidity pools. In this case, the token holders lend their coins to liquidity pools and receive liquidity tokens in return. The acquired liquidity coins can be staked back to earn more returns, also called the compounding effect.
What can you do on PancakeSwap?
---
PancakeSwap is designed to execute a number of functions including;
Trading BEP20 tokens
Users can offer liquidity to exchanges in return for rewards
CAKE token holders can stake their liquidity
Users can stake their liquidity power tokens to more rewards
Compound CAKE tokens to earn even more CAKE tokens
Access a variety of staking platforms to maximize total yields
PancakeSwap Advantages
---
Below are advantages of using PancakeSwap;
Earn more Tokens
---
Like many DEXs, PancakeSwap has its own native coin called CAKE and users can earn these CAKE tokens in a number of ways. The CAKE token can be staked in liquidity pools to earn liquidity tokens or used in the SYRUP pool of PancakeSwap which also generates more rewards. Additionally, the token can be used in other assets listed on the Binance Smart Chain. Generally, PancakeSwap users are able to diversify and increase their earning potential thanks to the multi-channel investment instruments offered.
Low Fees and Fast Transactions
---
One of the major concerns on Ethereum-based projects is the high transactions fees charged to move tokens in and out of the protocol. In addition, Ethereum has grown exponentially in recent years causing network congestion that leads to slow transactions.
PancakeSwap's reliance on the BSC network and BEP-20 tokens as opposed to the Ethereum network gives it an upper hand and allows it to offer high transaction speed and lower transaction fees. Averagely, fees on PancakeSwap range between $0.04 and $0.20 compared to Ethereum where fees are in the highs of $20 with a transaction speed of up to five minutes.
No KYC Requirement
---
Centralized financial systems are known for conducting long and tedious backgrounds checks on their clients that unseal almost all users' privacies. These checks are in line with regulatory requirements for Know Your Customer and Anti-Money Laundering (KYC/AML).
On the other hand, decentralized exchanges like PancakeSwap are open and transparent and have in-built security and verification features that replace the need for long KYC procedures. PancakeSwap is open-source meaning it can be accessed by anyone anywhere in the world. The exchange currently has more than $600 billion in liquidity.
Audited and Secured
---
To further secure users' assets and build trust and transparency, PancakeSwap has undergone an extensive audit of its business and operations from cyber-security firm CertiK. Users can therefore rest assured that they are dealing with a trustable and reliable exchange. PancakeSwap has also integrated CertiK in its platform to offer the following security levels;
Security Oracle
CertiK Shield
DeepSEA
The CertiK Virtual Machine
Trading on PancakeSwap
---
A large percentage of CAKE tokens are traded on PancakeSwap although a significant number also trades on Binance. Users can also buy the tokens directly from Binance and transfer to their own CAKE and BEP-20 compatible assets. It is from the wallets that they can stake their assets to earn rewards.
Read also:
PancakeSwap Fees
---
In AMM systems, users contribute liquidity to liquidity pools and receive rewards also called liquidity power tokens. It is these liquidity tokens are the ones that entitle the holder to a portion of the trading fee generated from trades completed on the platform.
Traders on PancakeSwap pay a small of 0.2%, out of which 0.17% is sent to liquidity providers where the remainder is stored in the PancakeSwap Treasury where they are used to maintain price stability through changes in demand-supply.
PancakeSwap Supported Wallets
---
PancakeSwap users can choose from several wallets listed like MetaMask, MathWallet, WalletConnect, TokenPocket, and Trust Wallet. MetaMask is an ERC-20 wallet but can also be reconfigured to store BEP-20 assets.
CAKE Token Distribution
---
PancakeSwap users can buy their CAKE tokens and transfer them to their PancakeSwap portfolio. CAKE is PancakeSwap's native token. Additionally, users can earn CAKE tokens by being liquidity providers or staking their crypto assets in liquidity pools. Below are the current emission rates for CAKE tokens;
Emission rate
---
Stakers on PancakeSwap earn 40 CAKE per block. However, with 15 CAKE per block are burned, the net reward falls back to 15 CAKE per block. The total daily emissions as per the latest available figures stand at 1.2 million CAKE with 450,000 of these burnt every day. The net daily emission rate, therefore, stands at 750,000 CAKE.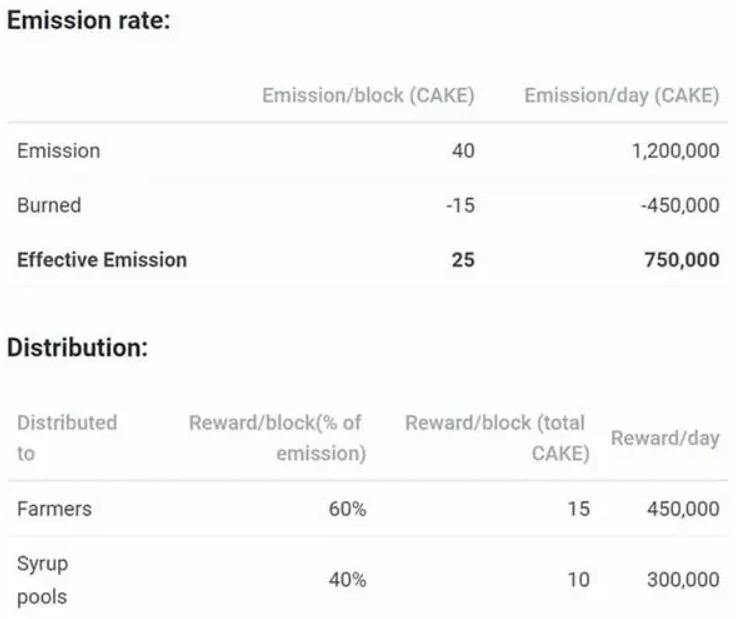 Distribution
---
The tokens stored in the treasury are distributed as follows;
60% of the rewards from each block or 15 CAKE goes to farmers
40% of each block reward or 10 CAKE goes to CAKE holders
450,000 CAKE are allocated to farmers every day
300,000 are allocated to CAKE holders every day
All these rates keep changing subject to governance proposals from CAKE holders who participate in governance by giving their own proposals or voting on other members' proposals.
Additional deflationary measures in place include;
100% of CAKE raised in IFOs is burned
10% of CAKE spent on lottery tickets is burned
09% of CAKE harvested from farms is sent to the dev address, then burned
How to Provide Liquidity and earn CAKE?
---
Step 1: Click on the "Pool" tap to access the various pools available on the PancakeSwap platform. Click on "Add Liquidity" to continue.
Step 2: Select CAKE, and then enter the amount to be staked.
Step 3: Click on "Approve CAKE" in the list to confirm the transaction.
Step 4: Nest click on "Supply" followed by "Confirm". You will be asked to confirm the transaction again after which you click "Send" to send the funds to the platform.
Step 5: A confirmation message will be sent after completing the transaction.
Step 6: You will receive Liquidity Provider (LP) tokens which give you a share of the fees that the Pancake Swap exchange earns.
How to stake CAKE?
---
To stake CAKE tokens, users need to first buy them together with some BNB and transfer them to PancakeSwap-compatible wallet. After connecting their wallet, users "Pools" tab on the left side of the PancakeSwap site in order to access the various liquidity pools listed. You can select from the listed pools and stake your CAKE to earn more CAKE tokens or other BEP-20 tokens. Below is a summary of the steps followed;
Step 1: Visit the Home Menu and click on the Menu button again. Then, tap on "Staking".
Step2: A list will be displayed. Scroll down and click on Approve staking of the CAKE tokens.
Step 3: Press the + sign to enter the number of CAKE tokens to be staked and then confirm the number in a pop-up that comes.
Step 4: Your CAKE tokens will be staked and you will get SYRUP Pool rewards for use of the tokens. The accumulated tokens can be harvested or compounded to earn more rewards.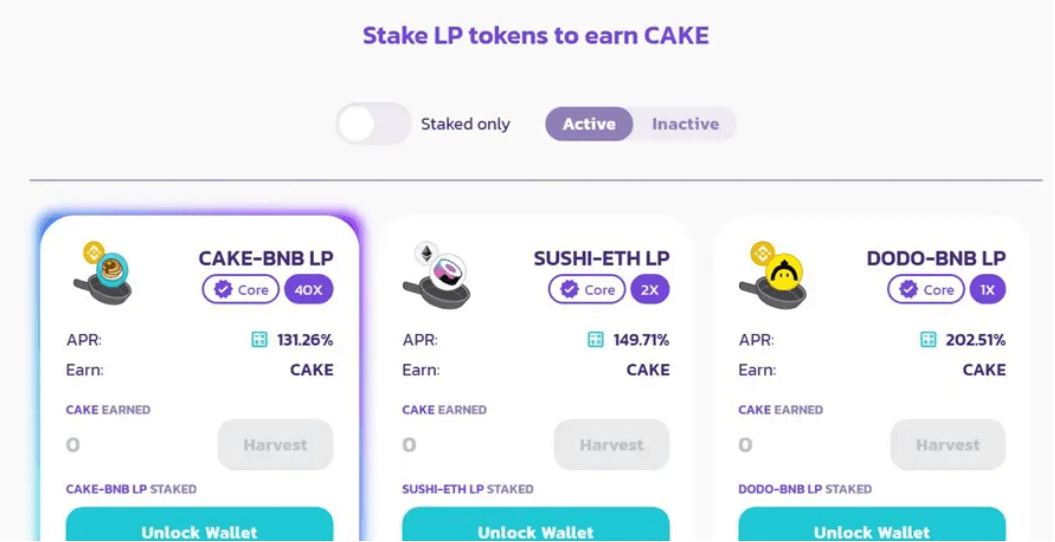 How to stake SYRUP?
---
PancakeSwap can also stake CAKE tokens to get CAKE tokens and SYRUP tokens in return. Additionally, SYRUP holders can stake their coins and earn tokens of other cryptos listed on the Binance Smart Chain like XVS, TWT, and ALPHA tokens.
How to Stake LP Tokens?
---
PancakeSwap users can stake LP tokens by first connecting the appropriate wallet that holds their assets. You can then select the tokens you intend to stake and enter the amount to add to the liquidity pool. Approve and confirm the staking transaction. The transaction will be minted and its thread displayed on the dashboard. Below is a summary of steps to follow;
Step 1: Click on PancakeSwap on the upper left to go to the Home Menu. Next, click on "Menu" to show the list of options available.
Step 2: Click on "Farm" to access the PancakeSwap "Kitchen" and click on the corresponding LP tokens you have supplied
Step 3: Choose the CAKE-BNB FLIP Farm. Approve it first in order to proceed.
Step 4: Press on the + sign to input the amount of LP tokens you want to Stake. Confirm the transaction. You will immediately earn CAKE tokens.
Using PancakeSwap
---
Using PancakeSwap starts with mastering its websites and the various features available. The feature-rich website can be confusing especially to new users but the learning is very short. Users can access all features by connecting their wallets which unlocks other wallet-specific features. This includes access to the various returns offered by the listed pools and farms where token holders can stake their tokens.
Adding liquidity
---
The first thing when using PancakeSwap is to add liquidity. It is a fairly simple process but new users may need some guidance or adequate learning. To add, click on "Liquidity" found in the "Trade" section in the left sidebar. Next, click on "Add Liquidity" and select the token pair you intend to add to the pool.


Farming
---
All operations on PancakeSwap rotate around farming to earn yields.  To stake your accumulated tokens, click on the "Farms" tab located in the left sidebar. This section lists the various ways for token holders to earn from the exchange with around 69 liquidity pools listed.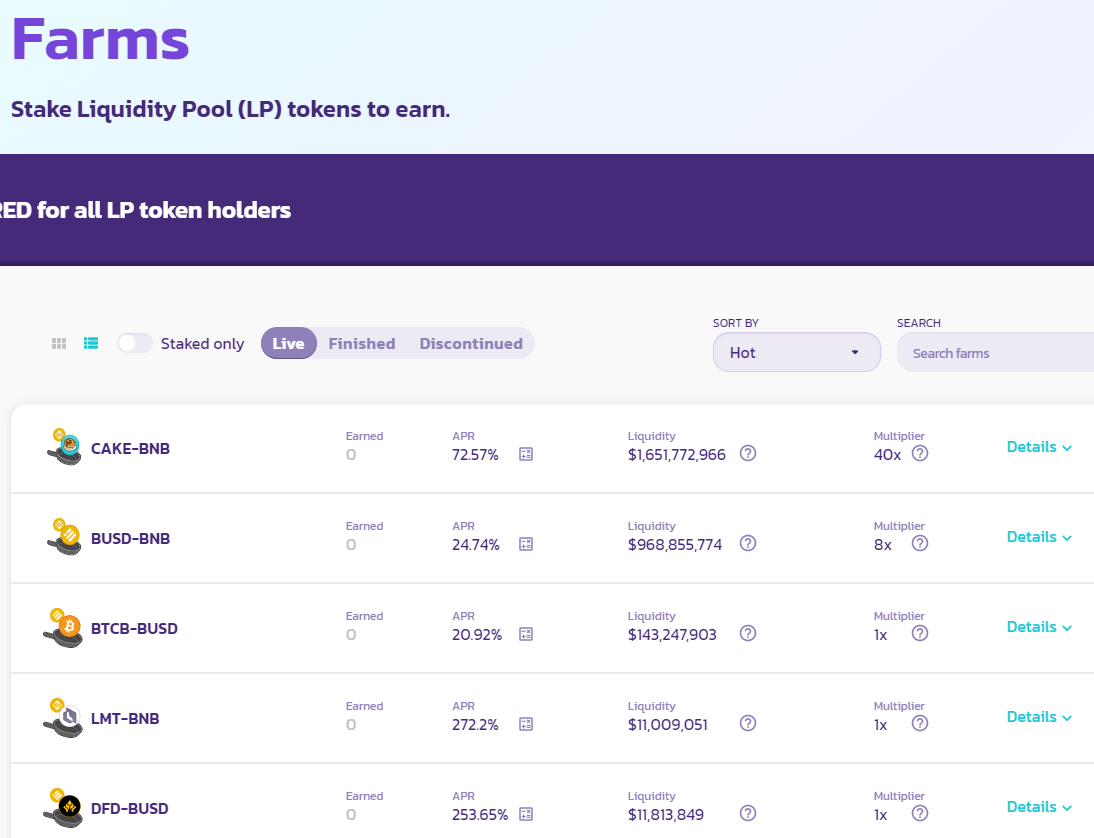 Users need to approve the transfer of tokens to the pool in order to supply liquidity to that pool. The approval allows smart contracts to withdraw the funds on their behalf. Link to your connected wallet by clicking on Approve Contract and confirming the transaction. Users can redeem their earned rewards by clicking on harvest and moving the tokens to their wallets.
Users earn rewards in CAKE tokens, which can in turn be used as governance tokens, staked back to earn more rewards or use the tokens to participate in a deflationary lottery at PancakeSwap. It is important that the user gets hands on the various AMM pools and how they work plus the available arbitrage opportunities offered by the various pools. In addition, take note of the risks involved like the risk of impermanent loss which can be very risky when pooling highly volatile un-correlated assets.
Users can also stake their CAKE tokens in SYRUP pools that pay between 43.33% and 275.12% APY in rewards. The SYRUP pools also allow users to take in other assets and earn CAKE tokens.
Pools available for farming include;
DAI-BUSD LP
LTC-BNB LP
ZEE-BNB LP
BRY-BNB LP
SWINGBY-BNB LP
DODO-BNB LP
SUSHI-ETH LP
CAKE-BNB LP
Lottery
---
PancakeSwap holds a deflationary lottery where anyone with at least 10 CAKE can participate. There are four lotteries every day with each lasting six hours. Tickets to each lottery cost 10 CAKE and assigned the buyer random digits ranging between 1 and 14. To win the lottery jackpot, the four assigned digits must match with the four numbers in the winning ticket.
Apart from the full jackpot, users can also win smaller rewards if two or three of their numbers match with the jackpot number with three numbers winning 20% while two numbers win 10% of the jackpot. Multiple winners who win using the same number do not have to share the win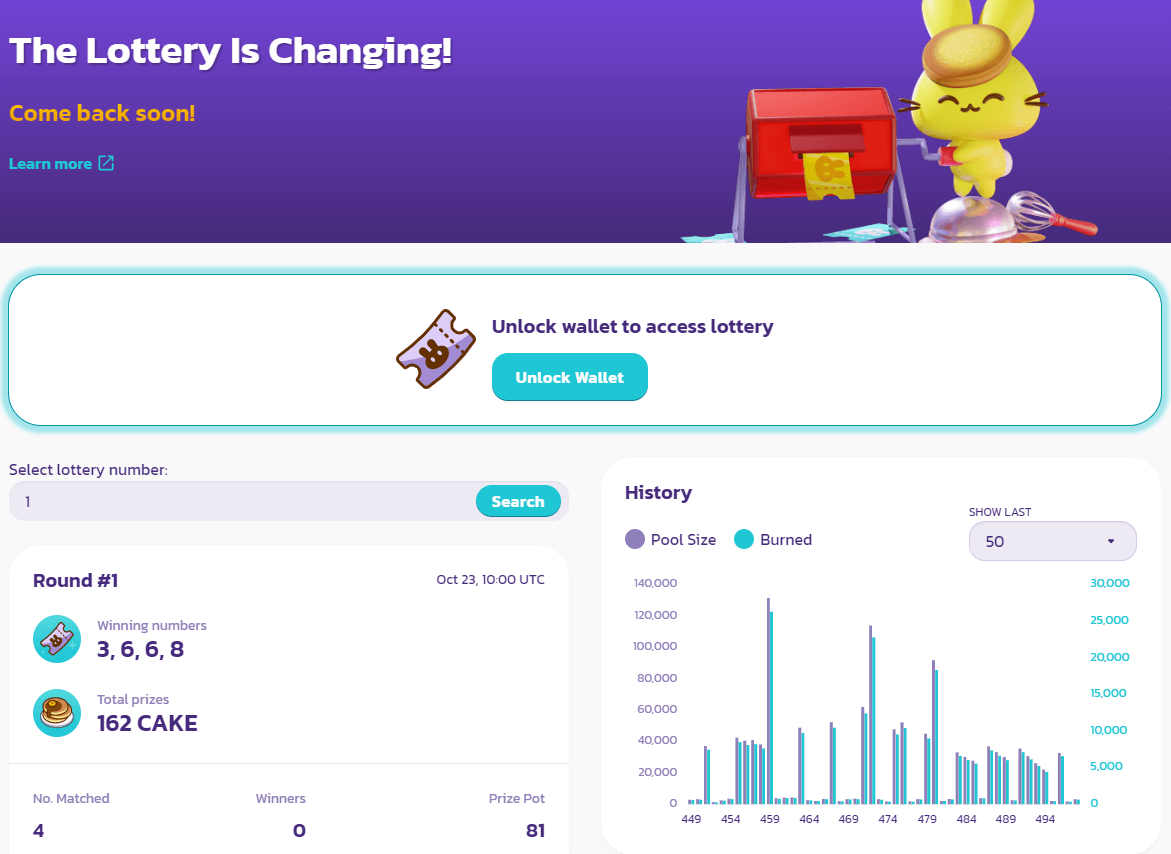 Non-Fungible Tokens
---
In addition to staking CAKE, farming yields, and participating in the lottery, users also stand a chance to win PancakeSwap's special non-fungible tokens. NFT winners can keep their tokens on the exchange or can trade them immediately to get more CAKE. Winners for the NFT are selected randomly and every round of competition requires participants to register. New NFTs to be won are occasionally added to the Collectibles page of PancakeSwap.
Teams & Profiles
---
Initial Farm Offerings (IFO) are used by new token issuers to distribute the tokens among new users who are yield farming at PancakeSwap. To get access to IFO, users need to commit LP tokens from one of the pools selected. Upcoming IFOs are listed in the IFO tab in the left sidebar of the website.
The CAKE Token
---
The CAKE token was in September 2020 during the launch of PancakeSwap. At that time, the token was priced at around $1.37 from dropping to $0.25 after some initial volatility. The token has been climbing and is expected to pick up even more steam in the years to come.
The token reached an all-time high of $21.41 before dropping by almost half a week later to $11.72. The drop was a result of large sales in the crypto industry which has continued since the start of the year.
Is PancakeSwap safe?
---
Since its launch, five more than five months ago, no complaint or red flag has been raised against PancakeSwap and the exchange seems to be going on well. To protect members' assets and build trust and transparency, the exchange hired CertiK to audit its codes and the results released indicated that the exchange's code is secure.
PancakeSwap Roadmap
---
PancakeSwap has come up with a to-do list meant to guide its operations and attract more users to the exchange. This is a list of trading features and strategies the exchange has been implementing in the last five months. These include;
Fixed-term Staking
Binary Options
NFT-based Gamification
Margin Trading
Lending & Borrowing
Conclusion
---
PancakeSwap is the largest and most used AMM for staking and yield farming. The exchange has more than $650 million in trading volume. PancakeSwap is currently the largest project running on BSC and is expected to maintain this momentum even as DeFi continues to gain ground.
Still, the addition of PancakeSwap to a BSCis a big step in the right direction as it allows users to participate in DeFi without worrying about high transaction fees and slow speed of transaction. While the sector is still volatile and dynamic, the PancakeSwap team is striving to build an open and transparent platform that offers a variety of options to earn from crypto assets. There is also an emphasis on improving users' experience to improve the platform's usability even among new users.
FAQs
---

CaptainAltcoin's writers and guest post authors may or may not have a vested interest in any of the mentioned projects and businesses. None of the content on CaptainAltcoin is investment advice nor is it a replacement for advice from a certified financial planner. The views expressed in this article are those of the author and do not necessarily reflect the official policy or position of CaptainAltcoin.com