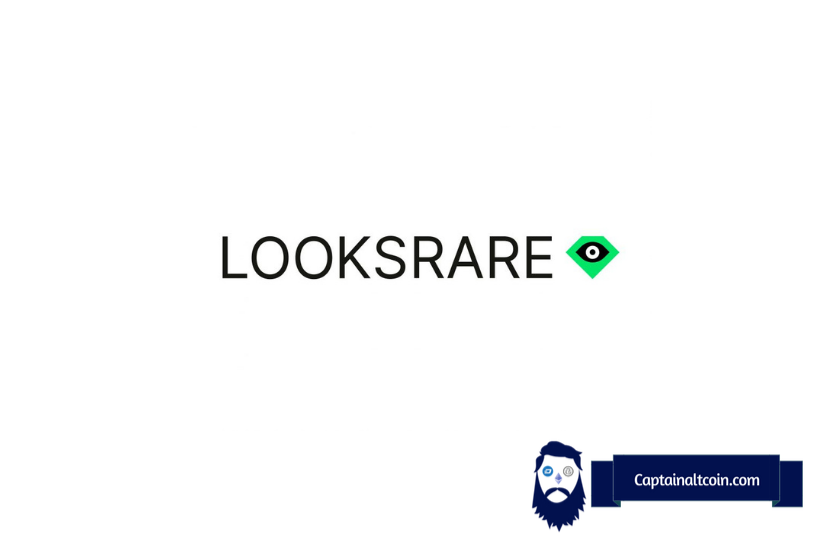 Ever since the rise in popularity of NFTs, Opensea has been the topmost and the largest NFT marketplace. Yet, the majority of its users are displeased by its ineptitude to satisfy the community. Recently, it was challenged by a new community marketplace known as LooksRare.
In the year 2021, the recorded NFT trading volume was $21.7m. In the following year, there was a huge increase from $21.7m to $14bn. Just a few days after LooksRare was launched, boom!!! It outpaced Opensea's trading volume. It recorded sales of over $100m of NFTs the day after its official arrival with just a few thousand users. Awesome!
LooksRare is a Non-Fungible Token (NFT) marketplace that gives back or rewards users for using the platform, giving all, including traders, collectors, and creators, the opportunity to earn LOOKS Rare Token.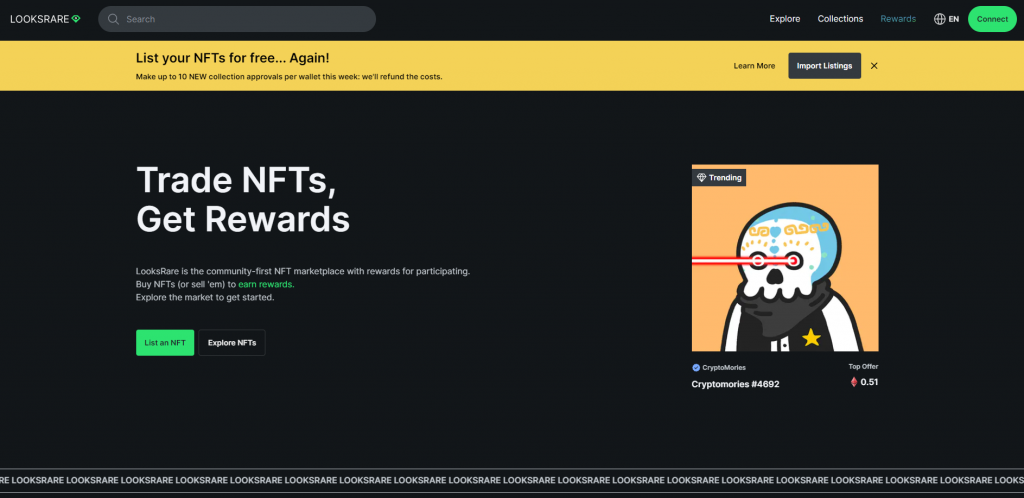 To purchase LooksRare, you need to first buy and use Ethereum. To use Ethereum, you may need a Coinbase wallet to access your ETH. LooksRare supports over 100 wallets such as MetaMask, Atomic Wallet, Argent, TrustWallet, Rainbow, the list goes on.
The platform is designed to benefit its community. It offers its users a sweet reward and a smiling airdrop just for using their platform. The platform promises to offer users new features at any time. Here is a list of some of the features to be implemented:
With just a click, users can place an offer on every NFT in a selected collection through the collection offer feature. Whoever sees the offer and holds an item of the collection can accept the offer. Once the seller accepts the bid or offer, it will be withdrawn automatically from the items in the selected collection.
Moreover, the multi-cancellation feature saves users the gas fee by allowing them to cancel several orders in a single transaction.
Users can buy any non-fungible token (NFT) with a specific attribute in a collection with the trait offer feature.
With LooksRare, you are permitted to trade non-fungible tokens (NFT) and earn LOOKS. LOOKS tokens, the platform's currency, are offering incentives for users who trade non-fungible tokens (NFTs) on Opensea. However, it was said to be an attempt to attract Opensea's users.
Also, LooksRare allows payment in ETH, WETH, or the combination of the two.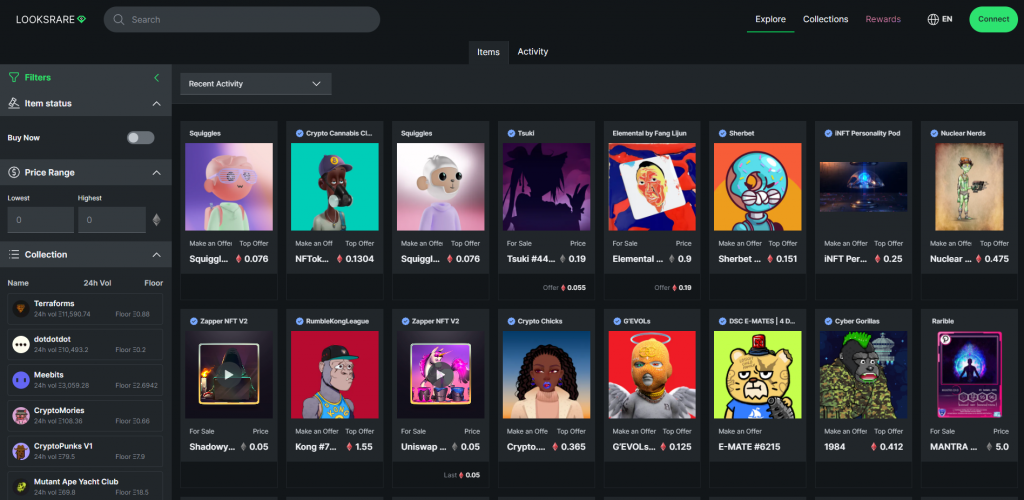 WHAT IS THE ROLE OF LOOKS TOKEN?
---
Generally, cryptocurrency tokens are multipurpose. They can be used for investing, storing value, and trading. LooksRare's native currency is the LOOKS Token. This ERC- 20 token (available on the Ethereum blockchain) increases the trading rewards that an individual gets from buying and selling NFTs on the platform. LooksRare is allocating 120m (around $400m) of its token to its community. As a result, it continues to grow in terms of popularity.
Do you know? You can earn extra LOOKS by Staking the LOOKS token you get from the LOOkS airdrop. This means you can simply leave your LOOKS Tokens staked to get them automatically compounded. You can also choose to either stake your LOOKS tokens or swap them for different cryptocurrencies.
What happens if a staker decides to unstake his LOOKS? He gets the original amount of LOOKS + the added rewards.
All the collected transaction fees are combined at the end of every repeated 6500 Ethereum block period and then paid back to LOOKS token stakers, and each staker can earn up to 761.04% APR. So the more you transact, the more WETH to be earned and the more dollars you receive. You can buy LOOKS on Uniswap v2, Horbit, Huobi Global, etc.
WHAT ARE THE FEES ON LOOKSRARE?
---
A sales fee of 2% in WETH is being collected on all non-fungible token (NFT) sales except for private sales. A user will have to pay; (1) the 2% trade fee charged by the platform and (2) the Standard Ethereum gas fee on any trades. Therefore, every time you claim your WETH rewards, you pay gas fees.
LooksRare does not charge on private sales. Therefore, the volume produced by private sales is not in any way added to the WETH earned by those who stake their LOOKS.
LOOKS AIRDROP- WHO CAN RECEIVE IT?
---
Anyone who has a minimum of 3ETH trading volume of NFT on opensea, either by buying or selling over a period of six months, is eligible to claim the $LOOKS. The airdrop is available on www.LooksRare.org
To claim your airdrop, proceed with these steps below:
Go to the website www.LooksRare.org
Ensure your ETH wallet (web3) is connected
Verify your eligibility using the Check Now button found at the top of the homepage.
If your eligibility is confirmed, you'll need to put a minimum of one non-fungible token (NFT), either ERC -721 or ERC – 1155, for sale on the web.
Once that is done, you can now claim your airdrop using the Claim Tokens button.
Suppose you desire to earn more; just head to the Rewards page to stake your LOOKS and start earning trading fees. You can also choose to swap your LOOKS token for another form of cryptocurrency. Recently, LooksRare announced a $400m airdrop to attract people to use their platform instead of Opensea.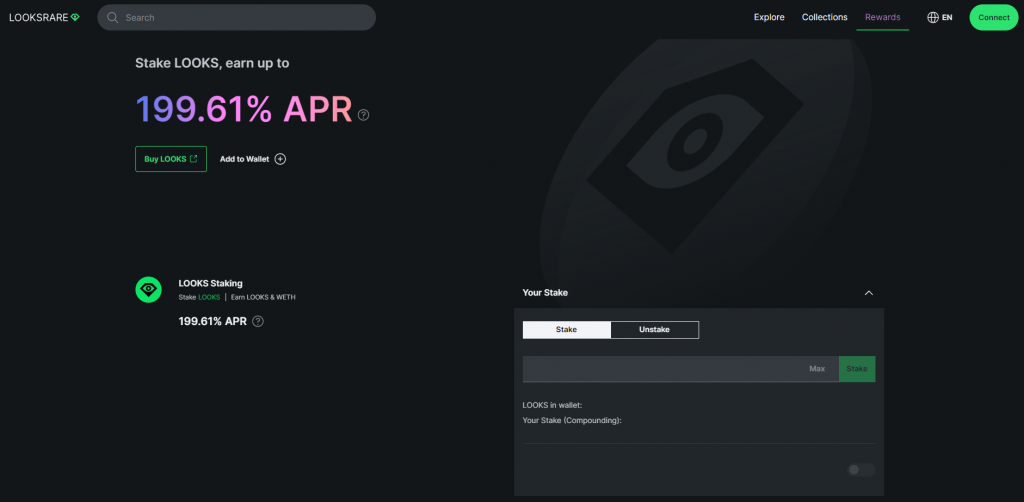 To boost your ETH volume and to stand the chance of receiving the LOOKS airdrop, just keep trading NFTs on opensea regularly. Your ETH volume determines how close you are to getting more LOOKS.
You can claim your WETH rewards as many times as you want in a day. However, remember that you pay gas fees each time you claim your reward.
Read also:
LOOKSRARE VS OPENSEA
---
LooksRare is a community-first marketplace that focuses on satisfying and rewarding its community, including the users, collectors, and creators. Opensea tends to benefit its team more than its users.
LooksRare gives back to users for buying or selling on their platform. It has captured the attention of many with its native token (LOOKS), thereby besting Opensea, which has failed to respond to the noise from NFT traders to release a token.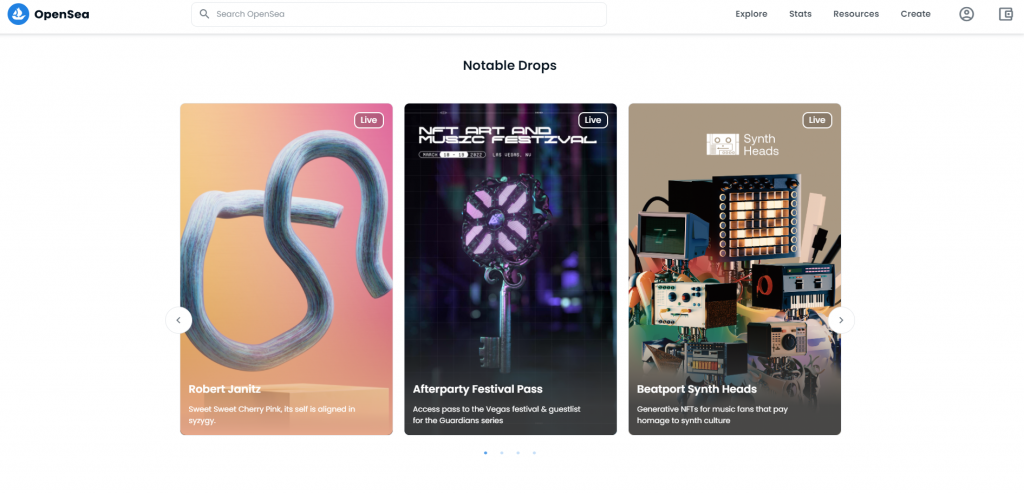 LooksRare offers zero fees on all private sales, and it has a standard fee of 2% (in WETH) on NFT trades which is 0.5% lesser than Opensea's.
There has been grumbling about Opensea being a centralized system that sucks up all of its accumulated trading fees. LooksRare, on the other hand, distributes 100% of its transactions fee to the stakers.
On LooksRare, a user can make an offer on every NFT in a choice collection. If that would be done on Opensea, the user must place a different offer on every item in a selected collection.
For quite some time, NFT creators and Opensea users have been looking forward to receiving their payments quickly. LooksRare does just that. It does not delay in paying its creators as soon as the NFT is traded. It takes Opensea up to a week or more to grant payment royalties to collection owners and NFT creators.
With the number of users and transactions, LooksRare is obviously behind Opensea. Though the insignificant number of users is not a criterion for determining the platform's financial performance. After all, trading volume is the ground for the generation of fees. Talking of trading volume, LooksRare is head and shoulders above Opensea. A Few days back, LooksRare sales volume soared Opensea's five times!
This NFT marketplace is still a newbie undergoing development, yet it has got community support. Hopefully, it continues to offer better services to attract more active users to the platform.

CaptainAltcoin's writers and guest post authors may or may not have a vested interest in any of the mentioned projects and businesses. None of the content on CaptainAltcoin is investment advice nor is it a replacement for advice from a certified financial planner. The views expressed in this article are those of the author and do not necessarily reflect the official policy or position of CaptainAltcoin.com