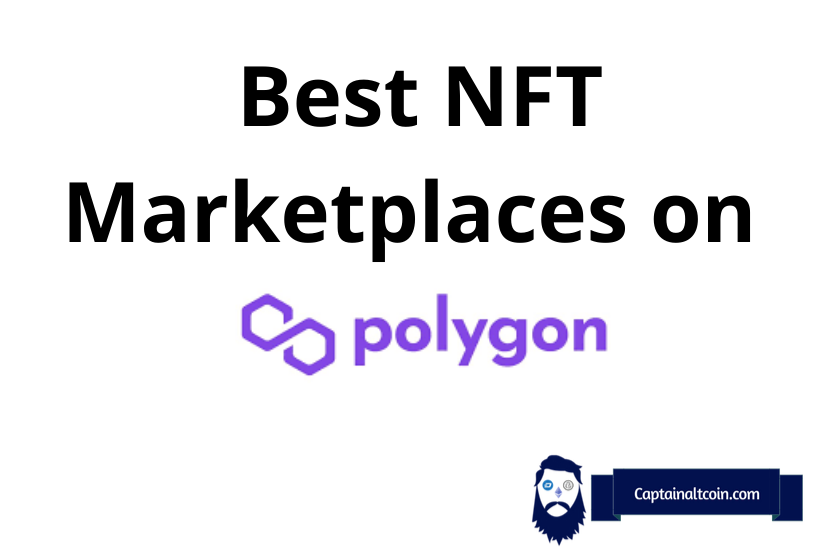 NFT (Non-Fungible Token) represents a digital asset that can't be copied or modified, stored on select blockchains like Polygon, Ethereum, Solana, etc. NFTs are particularly suited as a secure record of property ownership that can't be replicated, like the rights to digital art, music, short videos, etc.
Trading with NFTs can be quite an experience. With so many NFT marketplaces at hand, choosing which one is the best marketplace for you can be challenging. That's why in this article, we are going to show you the Best NFT marketplaces on the Polygon blockchain in hopes of assisting you in discovering the right one.
Best NFT marketplaces that support Polygon blockchain
---
In this article, we will take a look at some of the best NFT marketplaces on one of the largest blockchains – Polygon network. So let's get started.
OpenSea
---
OpenSea is considered one of the most influential and most successful NFT marketplaces in the world. It is the first and largest digital peer-to-peer marketplace for NFTs and crypto collectibles. OpenSea supports more than 240 payment methods, including stablecoins. It offers cross-blockchain support across Polygon (MATIC), Ethereum (ETH), and Klatyn (KLAY).
On OpenSea, you will find almost every kind of NFT. With more than 600K+ users, 80M+ NFTs, and 2M+ collections, it offers various categories from art to collectibles to utility-based NFTs. Bored Ape Yacht Club, CryptoPunks, and many more projects are available for you to trade, buy, sell, or just browse around.
They have an excellent user interface and very helpful statistics. If you have just a basic knowledge of how to use the internet, then navigating through OpenSea will be no problem for you.
At the time of writing, OpenSea has a total trading volume of 10B+ USD. For each sale on OpenSea, a 2.5% fee is charged.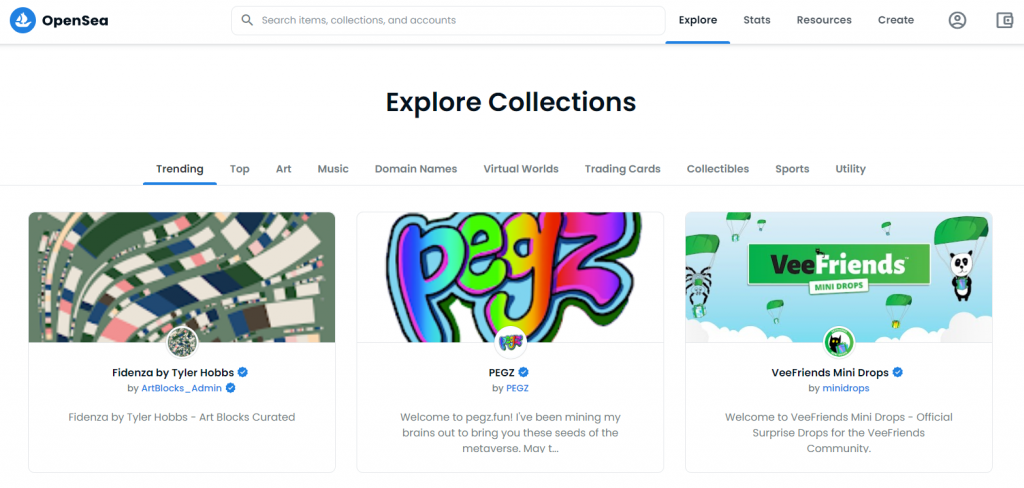 Refinable
---
Refinable is a next-generation NFT marketplace. It allows you to buy, sell, trade, collect, and create any type of digital content at a very low cost and with ultra-fast speed. Refinable offers cross-chain support across Polygon, Ethereum, Binance Smart Chain, and Solana.
Refinable aims to establish a trustworthy platform. You can trade valuable and limited pieces of various digital assets, including digital art, collectibles, gaming items, and many more.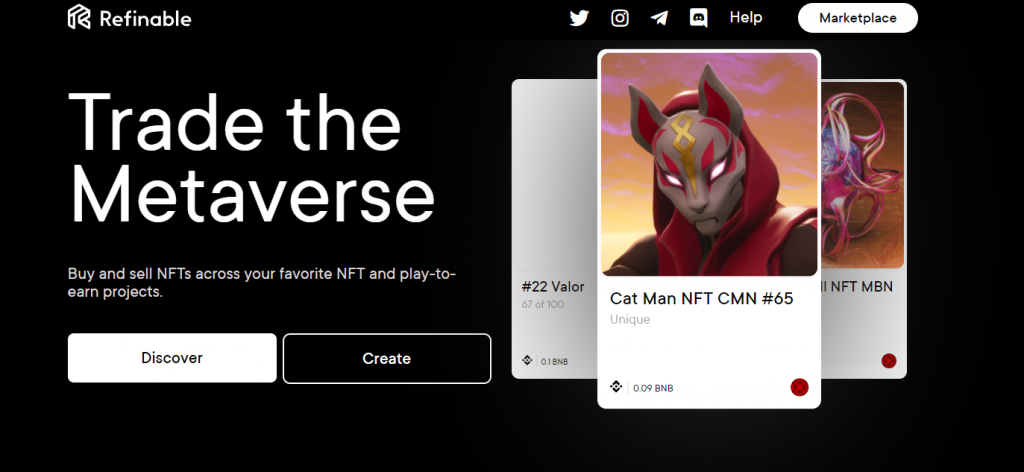 Refinable uses their $FINE token as a utility and governance token. $FINE is a BEP20 token on Binance Smart Chain. If you hold verified amounts of $FINE, you will have extra benefits.
With Refinable, not only that you can create NFTs, but also you can trade NFTs using leverage.
Refinable is backed by the Binance exchange and the famous YouTuber and entrepreneur Mr. Beast.
NFTrade
---
After Opensea, NFTrade is the largest NFT marketplace by volume on the Polygon blockchain. As the number of NFTrade users is increasing by the day, they currently have almost double the volume of earlier mentioned Refinable.
NFTrade is an exchange platform and cross-chain aggregator that allows users to create, buy, sell, swap, and farm NFTs across Polygon, Ethereum, Binance Smart Chain, and Avalanche.
NFTrade includes the following Features and Services:
NFT aggregator – all NFTs are just a click away from you,
Multi-chain + Cross-chain – with NFTrade, it is easy to switch between earlier mentioned blockchains and trade with low-fee,
NFT Farming – you can put your idle tokens to earn collectible NFTs,
NFT Launchpad – NFTrade gives you access to the new and largest NFT projects,
Escrowed P2P Swaps – with their Escrow Mechanism, you can trade NFTs securely,
Social Features – they have a big community where you can interact, share your experiences, and present your NFTs.
PlayDapp
---
PlayDapp is a blockchain dApp game portal that operates on Polygon and Ethereum. Using PlayDapp, you can play P2E games in order to earn rewards in the form of PLA tokens and NFTs. It also provides a C2C Marketplace.
PlayDapp's vision is to bring all non-crypto gamers into the world of blockchain games through their PlayDapp platform. To this day, they have 4 games that you can play, and they have many more games in development. Their most famous game you've probably heard of is Along with the Gods: Knight of the Dawn (available on Google Play).
The native token of PlayDapp is the PLA token. PLA token serves as the primary fungible token for the processing of transactions from users.
ZestyMarket
---
Zesty Market is a monetization platform that operates on the Polygon (MATIC) network. Zesty Market allows tokenization of digital advertisement spaces into a non-fungible token.
You can rent that NFTs to advertisers as ad space and take the profit from the rental. Zesty generates revenues from fees.
Zesty Market aims to give creators and advertisers a connection method without the interference of centralized platforms. Advertisers can create ad campaigns and rent open ad spaces created by the content creators.
Zesty Market supports two wallets MetaMask and Coinbase Wallet. This enables you to integrate anonymous, easy, reliable, and most importantly, secure transactions and global payments.
Treasureland
---
Treasureland is a unique multi-chain NFT trading market. After the recent integration with the Binance Smart Chain and Polygon network, gas prices are lower, and transactions are faster. With Treasureland, you can mint (turn a digital file into a digital asset or crypto collectible) your artwork and post it for sale on the BSC.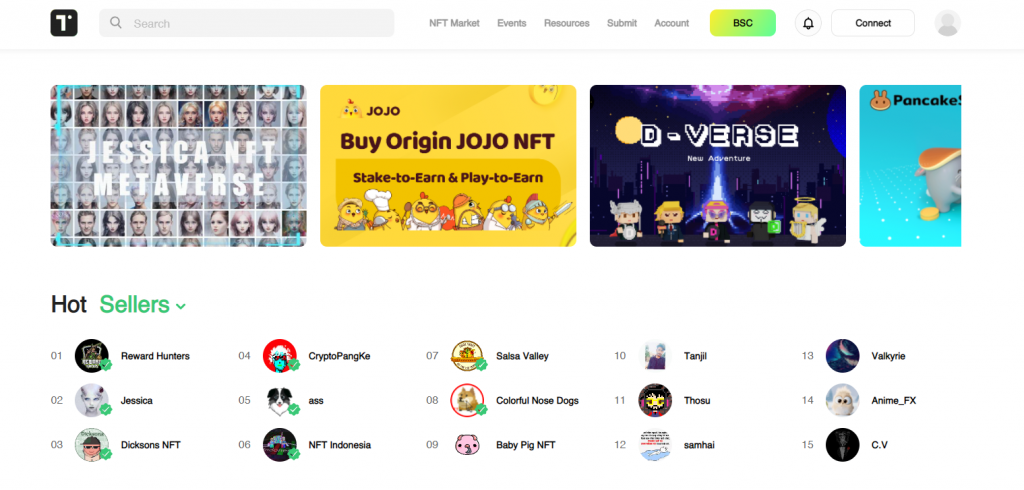 Treasureland's mission is to connect NFT users (creators and consumers) in a decentralized way and build the blockchain world's eBay.
When you are trading at Treasureland Marketplace, they will probably charge you a fee. We couldn't find any info about fees on the Treasureland. Treasureland supports various wallets like Metamask, Trust Wallet, Math Wallet, Token Pocket, etc.
Coinvise
---
Coinvise is an open platform where anybody can create a token and build a tokenized community or DAO around the token. Their primary focus is on creating tools that not only help you launch a token but also create rewards for getting contributions.
Coinvise infrastructure allows you to create, collect and earn social tokens and NFTs. It enables you to mint and swap your virtual cryptocurrencies intrinsic to the value they provide.
Coinvise supports two wallets: WalletConnect and Coinbase Wallet.
Conclusion
---
Polygon is relatively a new ecosystem. But, with more than 100 non-fungible tokens and NFT Dapps on Polygon, we can conclude that Polygon's NFT ecosystem is quickly evolving. Using Polygon provides faster transactions and reduces gas fees with the same security and interoperability that the Ethereum blockchain provides.
Given some more time, there will be a lot more projects on Polygon for sure. Everyone will benefit from a thriving ecosystem such as Polygon.
FAQs
---
If this text was interesting, also read some similar articles that we have prepared for you:

CaptainAltcoin's writers and guest post authors may or may not have a vested interest in any of the mentioned projects and businesses. None of the content on CaptainAltcoin is investment advice nor is it a replacement for advice from a certified financial planner. The views expressed in this article are those of the author and do not necessarily reflect the official policy or position of CaptainAltcoin.com