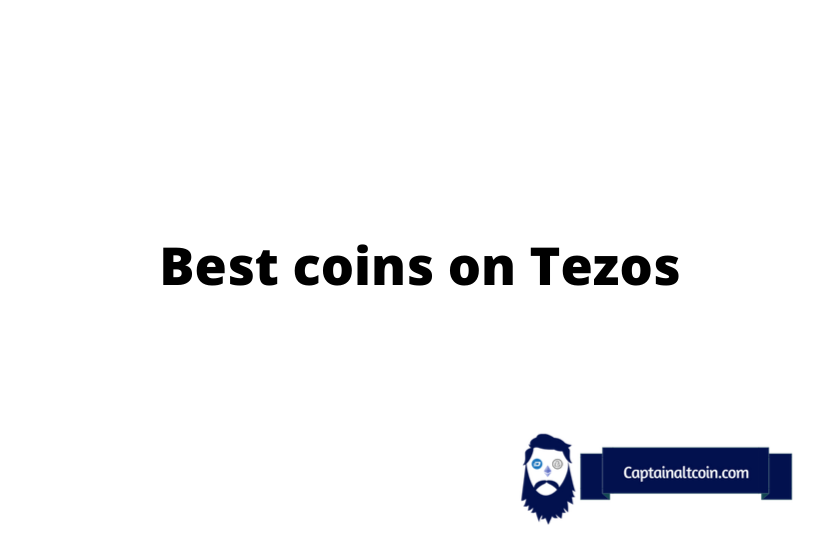 Intro
---
It is amazing how many alternative blockchains there are in the crypto world nowadays and what is even more exciting is the number of good projects developed inside these blockchains. One of the blockchain networks that is definitely worth investigating is Tezos.
Tezos is a blockchain network that is closely associated with its native token – Tezos (XTZ). The tokens on Tezos can't be minted since the blockchain uses a Proof of Stake consensus protocol.
In the past, the first and most popular blockchains (such as Bitcoin and Ethereum) put significant development and decisions in a centralized way. This is probably the main reason why Tezos was developed – to make the decision-making process inherently present allowing its stakeholders to make big decisions.

In fact, the whole network is based on smart contracts, similar to Ethereum. However, the main difference is that Tezos can improve over time without there ever being a danger of a hard fork and this is where Etehreum had a lot of issues in the past.
👉 Tezos uses a specific system called Network Shell. Network shell is an agnostic native middleware that helps the development team to create a blockchain network that can change, improve, upgrade, and amend by following a set of rules.
Tezos's native token (XTZ) is in the top50 coins in the world as per the Coinmarketcap platform. It had its all-time high at the beginning of October in 2021.
In this article, we will investigate the best projects on the Tezos blockchain. So, without further ado, let's jump into details.
Note: Keep in mind that these are only my opinions based on my thorough investigation of the best project on the Tezos network. In any case, please do your own research before deciding whether you want to use some of them or not.
At this point, it is good to note that all opinions and suggestions written in this article are not considered financial advice.
Best projects on Tezos blockchain
---
As noted above, the focal point of the article will be on the best projects on the Tezos blockchain. Believe it or not, there are more than 150 projects which are currently operating on the Tezos network. However, 6 of them stood out, so let me explain each one.
Tezfin
---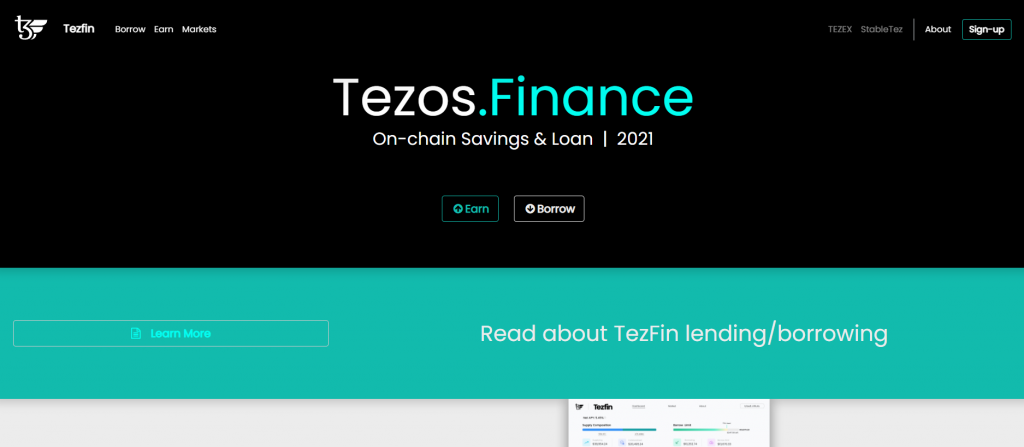 Tezfin was launched in the early stages of 2021 so it is a new project. Tezfin is actually shortened of Tezos Finance. It is officially the first decentralized on-chain lending platform (conceptually similar to Compound or Aave) that will operate on the Tezos blockchain.
The main feature of Tezfin is the earning service. You can collect earnings (APY) by simply depositing the coins you hold to Tezfin.
Similarly to earning interest when you deposit to your bank savings account. However, your coins will be staked in the distributed pool of trustworthy (and independent) bakers.
The second important feature of Tezlin is the borrowing service. You can borrow your coins under bond terms that are blockchain-enforced. You can borrow the coin you need through a Tezos-based smart contract.
The coins you can stake or borrow on Tezlin are Tezos (XTZ), ETHtez (ETHtz), Kolibri (kUSD), tzBTC, BTCtez (BTCtz), KALAM, Plenty, etc.
But, what are the main purpose and ultimate goals of the platform? By allowing the users to stake, lend, or borrow coins on Tezos, they are far more likely to invest their coins into the Tezos blockchain (mostly for trading purposes) and to keep their money in the Tezos DeFi ecosystem so that they do not go to Non-Tezoslending/borrowing platforms anymore.
Smartlink
---


Yet another exciting project on Tezos is called Smartlink. It is a Trust-as-a-Service system, providing a decentralized escrow payment system for Web 3.0. enabling users to buy and sell products and services using cryptocurrencies.
Based on Smartlink's website, the goal of the platform is to create a sustainable ecosystem of decentralized and scalable applications in order to bring the needed infrastructure to new economic standards.
One of the features of Smartlink is a decentralized Escrow 3.0. For those not familiar with the term, Escrow is a smart contract where the funds are held until conditions are fulfilled by both parties (buyer and seller for example).
Smartlink's NFT marketplace is a feature that is "coming soon" where you will be able to find collectibles, digital art, freelancers, and in-game assets.
Moreover, you can buy and sell cryptocurrencies such as SMAK (the platform's native token) and XTZ. You can also stake SMAK with APY of 20% or 36% which is a very nice percentage, to be honest.
Wrap Protocol
---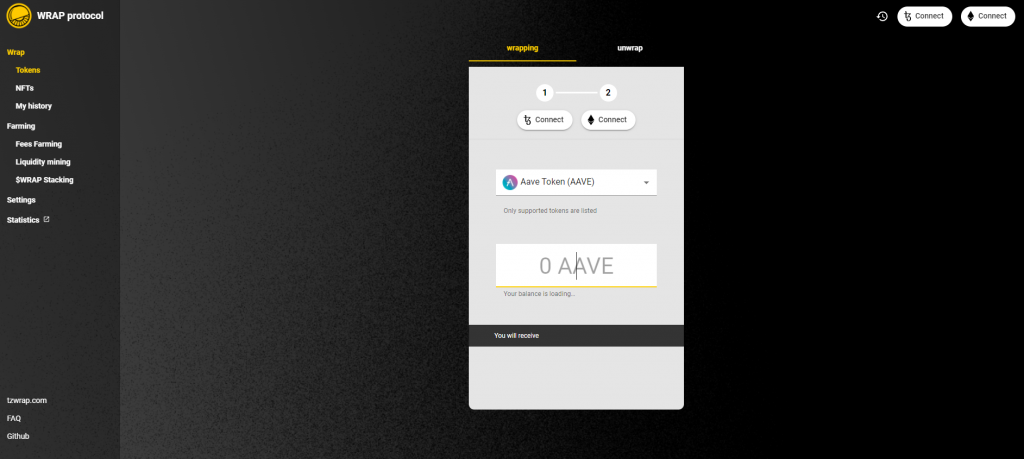 Wrap Protocol is one of the most important projects operating on the Tezos blockchain. In fact, Wrap Protocol serves as a bridge between Ethereum and Tezos and allows users to migrate their ERC20 tokens to FA1.2 tokens.
The protocol was launched in April of 2021 on both Etehreum and Tezos mainnets. The goal of Wrap Protocol is to increase the volume and variety of crypto assets on the protocol.
The best way to understand Wrap Protocol is by providing an example – let's imagine you have 100 DAI on the ETH network that serves as ERC-20 tokens. You can then send tokens to Wrap Protocol and request to wrap them. After 1 hour, you can request Wrap to send your wDAI to Tezos address. wDAI is an FA2 token that is pegged to DAI. Now, you can use your wDAI tokens on the Tezos blockchain.
The coins available for wrapping on Wrap Protocol are AAVE, BUSD, CEL, COMP, CRO, DAI, FTT, HT, HUSD, LEO, LINK, MATIC, MKR, OKB, PAX, SUSHI, UNI, USDC, USDT, WBTC, and WETH.
Harbinger
---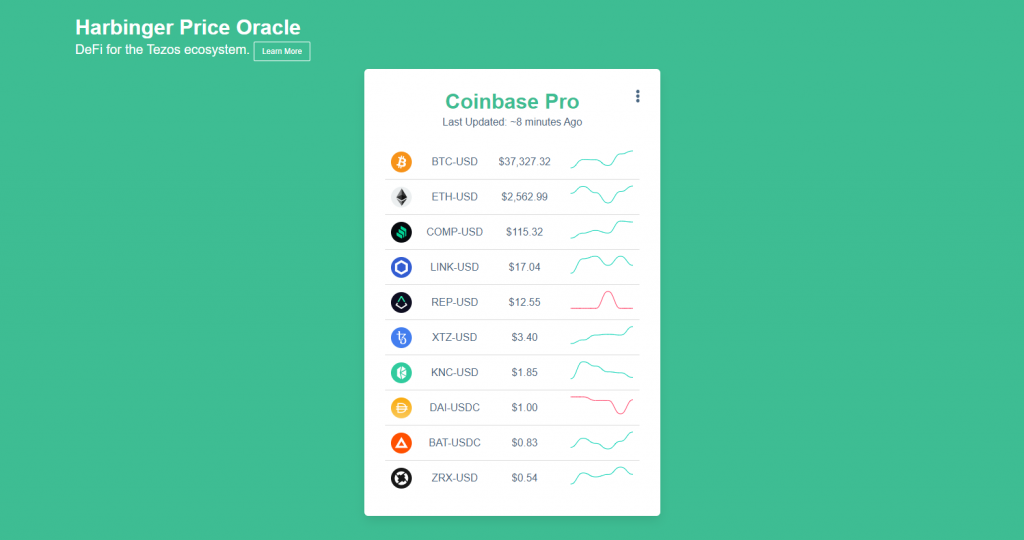 Harbinger is the next Tezos project we will explain. It is a project that delivers signed price feeds based on real-time market data from multiple exchanges.
All on-chain data will be sent directly to the Tezos network in order to make it "DeFi ready" for future applications.
Furthermore, we can actually define Harbinger as a set of tools and contracts that offers all users to become a poster. If you are a poster, you can deploy a price oracle on the Tezos blockchains and it will be published cryptographically signer prices. Also, it includes a reference signer that some exchanges can deploy in order to provide a signed price feed compatible with Harbinger.
The inspiration for Harbinger came from Compound's Open Price Feed, but with some significant changes. Harbinger offers a simple-to-use interface so it is suitable for beginners. However, my suggestion is not to use Harbinger if you are a beginner in the blockchain world since it offers highly advanced features.
Dexter
---
Dexter is one of the most popular decentralized exchanges on Tezos. The main purpose of the exchange is the swapping of Tezos tokens (XTZ and FA1.2 tokens). Dexter establish smart contracts so that there is no requirement for the involvement of centralized things such as order books for transactions.
Users can exchange the native Tezos coin (XZT) with any other token supported by the platform called FA1.2 (similar to ERC-20 tokens on the ETH network). However, Dexter supports only two types of FA1.2 tokens – the wrapped Bitcoin tzBTC and the pegged dollar USDtz. The trading fee for all transactions is 0.3%.
Dexter was founded by camlCase – a tech-based company that is focused on developing projects on the Tezos network. It was launched in September of 2020. When it comes to investments, Dexter is supported by two venture capitalists; LIGO (smart contract language developer) and the research and development company, Nomadic Labs.
Kukai Wallet
---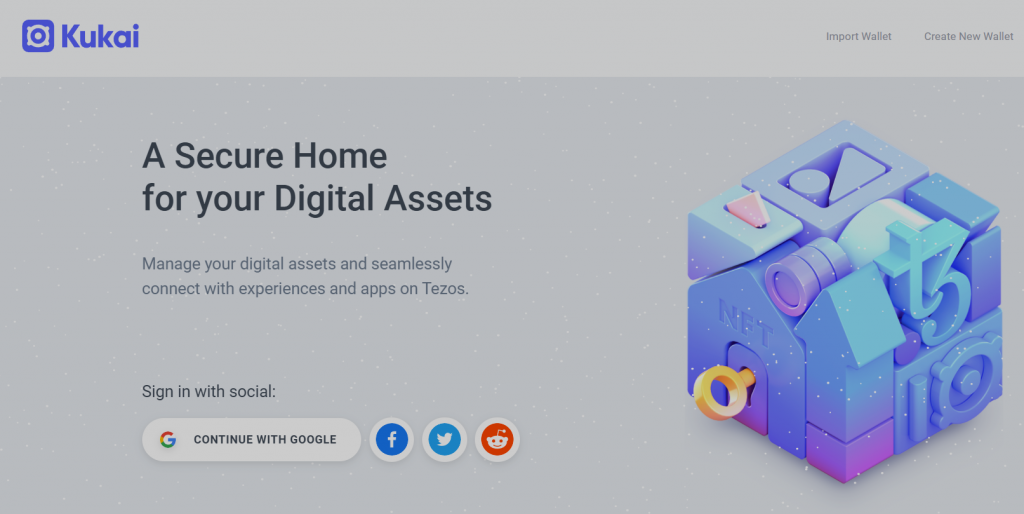 Kukai wallet is one of the best and most popular digital wallets on the Tezos blockchain. It allows users to store, transfer, and delegate Tezos tokens to validators in order to create passive income.
You can use the Kukai wallet when you want to interact with dApps in the Tezos ecosystem. Kukai offers the easiest and the fastest way to buy, sell, and even gift NFTs in the whole Tezos ecosystem.
In order to deposit funds to your Kukai wallet, you have to first buy Tezos on some of the exchanges that trade it (such as Binance, KuCoin, Huobi, Coinbase, Kraken, and many more). You can store Tezos or any other FA1.2 token on your Kukai wallet. Moreover, Kukai allows its users to sign offline which highly increases the security and safety of your funds.
Read also:
Read also:
FAQ
---
Let's look at some frequently asked questions when it comes to the Tezos network.
What coins are on Tezos?
---
The native coin of Tezos is XZT. FA2 and FA1.2 are the two key token standards in Tezos (similar to ERC-20 tokens on the ETH network).
How many projects there are on Tezos?
---
Believe it or not, there are over 130 projects operating on the Tezos network at the time of writing (January of 2022). Upon our thorough investigation of projects built on Tezos, we came to the conclusion that the best ones are Tezfin, Smartlink, Wrap Protocol, Harbinger, Dexter, and Kukai wallet.
Please read our article on the best NFT marketplaces on Tezos, best Tezos wallets, and the staking on Tezos.

CaptainAltcoin's writers and guest post authors may or may not have a vested interest in any of the mentioned projects and businesses. None of the content on CaptainAltcoin is investment advice nor is it a replacement for advice from a certified financial planner. The views expressed in this article are those of the author and do not necessarily reflect the official policy or position of CaptainAltcoin.com