DigiFinex Review – Fees, Supported Coins & Countries, Payment Methods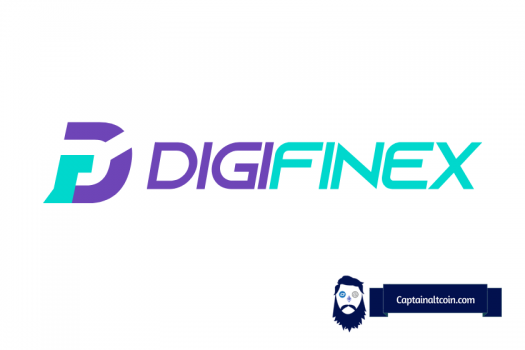 DigiFinex Review – Fees, Supported Coins & Countries, Payment Methods
It supports a vast array of fiat currencies for buying and selling cryptocurrencies. When this article was written, there were 43 fiat currencies supported on the platform.
There are many cryptocurrencies supported on the platform.
It offers many activities through which traders can earn passive income. Thus, even if you don't know how to trade, you can still make money on the platform.
It has a relatively straightforward fee structure. You know how much you are paying and the reason for the payment.
It has mobile applications which run on all the major operating systems.
Every crypto trader must be familiar with the concept of crypto exchanges. Whether you are a DeFi adherent or prefer something more centralized, you can't but pass through a crypto exchange at one point or the other. That is why it is good to know more about these exchanges to choose the one best suited for you.
We take a look at one such cryptocurrency exchange, Digifinex, in this article. The purpose is to expose its good and bad sides, including some features you may not be aware of. At the end of our discussion, you will be able to make a well-informed decision about whether or not to sign up for this cryptocurrency exchange. Let's start.
WHAT IS DIGIFINEX
---
Digifinex is a cryptocurrency exchange that allows users to buy, sell, trade, save, and use cryptocurrencies. To put it another way, it is a crypto exchange. It was founded in 2017 in Seychelles, East Africa, and is currently headquartered in Singapore. According to Coinmarketcap, it is one of the top 100 crypto exchanges globally, with a liquidity of over $2 billion. The exchange is owned by Digifinex Limited.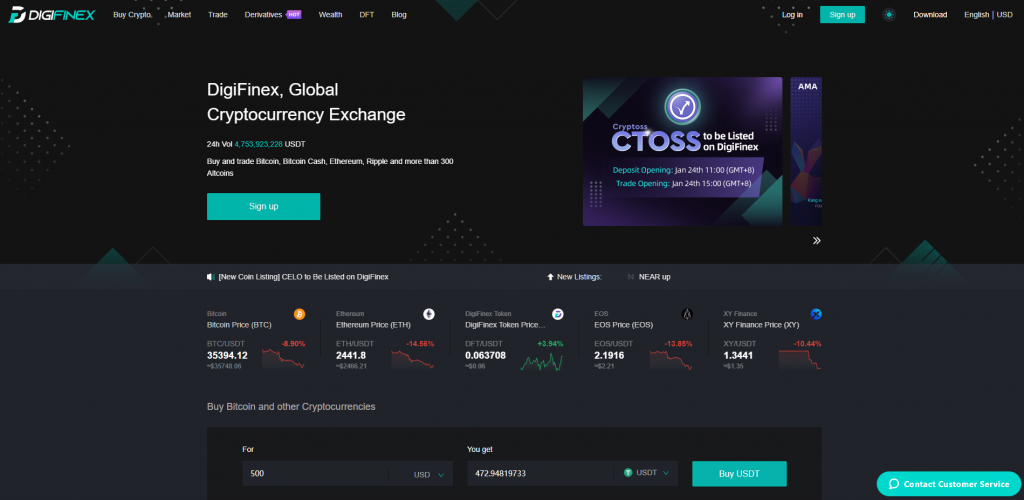 In brief, these are the features that stand out about the exchange:
It supports more than forty fiat currencies as of writing.
It allows users to purchase crypto from their bank accounts using credit cards and other payment means
It is regulated in Australia and Singapore
It has two native tokens, namely, DFT and DRV.
The crypto assets are held in hardware wallets with optimal security, called cold wallets.
Its fiat assets are held in physical vaults.
Users must complete KYC verification before using mos functions of the exchange.
It has mobile applications on the major operating systems.
SERVICES AND FEATURES
---
Buy Crypto for Fiat with Credit Card
---
As an exchange, this is one of the expected functions. Digifinex enables seamless fiat to crypto conversion using credit and debit cards powered by Visa and MasterCard. There is a purchase limit of $20,000 for this feature, and it is further extended by advanced KYC verification.
To enable users of the platform to buy crypto with fiat seamlessly, Digifinex employs three payment processing giants, Simplex, Wyre, and MercuryO. They all support buying crypto with bank card and bank transfer, but MercuryO goes further by supporting Google and Apple Pay methods.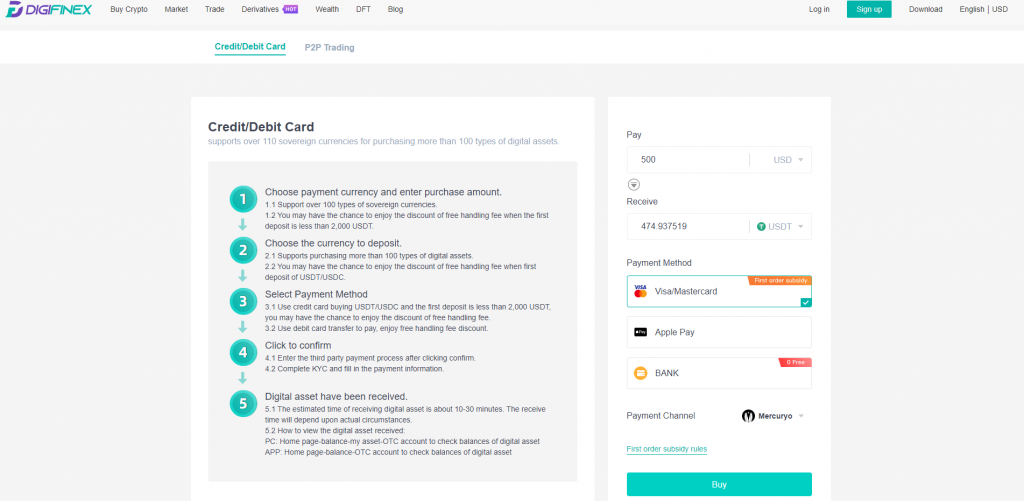 TRADE
---
SPOT: This is where you can trade the supported cryptocurrencies against one another. The exchange supported 223 coins in 280 markets when this article was written. The spot trading interface is user-friendly, too, with a basic chart that conveys important trade metrics. Bitcoin, Ethereum are just some coins you can trade on Digifinex.
MARGIN: Digifinex allows margined trading up to 5X leverage. If you're just signing up on the exchange, you will get a brief tutorial when you click on margin trading. Also, you can choose among limit order, market order, and stop-limit as the order types. Apart from 5X leverage, the only other leverage type is 3X.
INDEX TRADING: This is a set of financial tools that measure the performance of a group of shares from an exchange or company. There are different examples of indices that are traded. The more common examples are Germany40(which tracks the price performance of the top 40 stocks in the Frankfurt Stock Exchange), US500, US TECH 100, FTSE100, etc. You can't trade those on Digifinex, but you can trade ETFs (a type of financial tool similar to indices)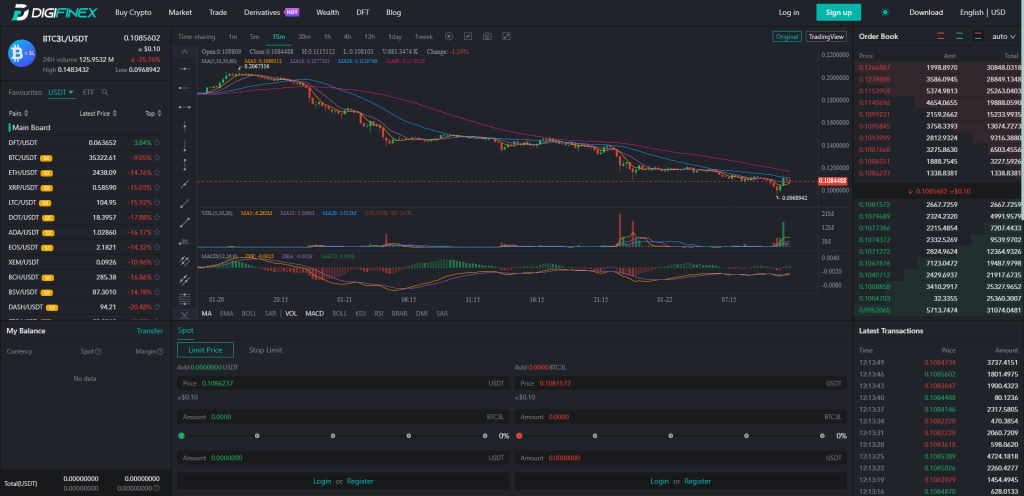 PERPETUAL SWAPS
---
Also known as derivatives, this trading tool closely tracks the price movements of underlying assets, allowing traders to benefit from those price movements without having to own the underlying asset. There are two forms of perpetual swaps on Digifinex:
WEALTH MANAGEMENT
---
Digifinex provides ways for users to earn annualized returns on some products without having to trade. There are about four ways for users to earn passive income via Digifinex's wealth-building program. They are
FLEXI-EARN: Here, users do not have to lock their assets before earning. The APR is between 3-10%
STABLE EARN: You need to lock your assets to earn here. The assets locked are singular cryptocurrencies, and they are usually locked for about three months.
ADVANCED EARN: Here, crypto assets are mixed in order to generate returns. The APR is usually a maximum of 50% with a lock period of around 90 days
SPECIAL EARN: It is an innovative feature where your assets are traded in low-risk conditions. The APR is usually much lower but guaranteed.
DIGIFINEX SUPPORTED COINS
---
When this article was written, Digifinex supported 223 different cryptocurrencies. These coins range from popular ones like Bitcoin, Ethereum, LUNA, SAND, ATOM, FTM, LINK, TRX, DOT, FIL, MATIC, SOL, AVAX, XRP, CRV, etc; to less popular ones like GRT (Golden Ratio Token), VYNK Chain(VYNC), ABBC Coin, Blue Sparrow Token, among others. The coins are traded in about 280 market pairs.
DIGIFINEX DEPOSITS AND WITHDRAWALS
---
The main deposit methods for fiat currencies are deposits via bank cards using any of the integrated payment processing platforms(Simplex, Wyre, or MercuryO). You can also deposit through Google Pay or Apple Pay if you use MercuryO. The deposit and withdrawal fee is either 3.5% of the amount or $10 (whichever is higher). The maximum amount you can deposit at once is $20,000 worth
For Cryptocurrency withdrawals, the fees applied are similar to the network fees for the particular coin, with some slight additions. Deposits are free but limited to 0.2 BTC worth until you complete KYC verification.
DIGIFINEX TRADING FEES
---
SPOT TRADING FEES
---
The exchange offers a flat 0.2% trading fee for both maker and taker orders. However, more discounts are offered for users of the platform who hold certain amounts of DFT, the platform's native token. The discounts vary based on how much DFT they hold. Also, there is a 25% fee deduction regardless of how much DFT you hold. See the table below for more details:
| | | | | | |
| --- | --- | --- | --- | --- | --- |
| LEVEL | 30-DAY TRADING VOLUME | DFT LOCKED | MAKER | TAKER | 25% DFT FEE DEDUCTION |
| Regular User | 0.00 USDT | 0 | 0.15% | 0.2% | 0.15% |
| VIP 1 | 100,000 USDT | 100 | 0.12% | 0.18% | 0.135% |
| VIP 2 | 1,000,000 USDT | 500 | 0.1% | 0.16% | 0.12% |
| VIP 3 | 5,000,000 USDT | 2,000 | 0.08% | 0.14% | 0.105% |
| VIP 4 | 20,000,000 USDT | 10,000 | 0.01% | 0.12% | 0.09% |
| VIP 5 | 200,000,000 USDT | 30,000, | 0.008% | 0.1% | 0.075% |
| VIP 6 | 500,000,000 USDT | 100,000 | 0.006% | 0.08% | 0.06% |
MARGIN TRADING FEES
---
For margin and perpetual trading, the fee is a flat rate of 0.05% which is further discounted for DFT holders. Also, there is a Digifinex special privilege if you close your trade before 10 a.m the next day. In such cases, the funding fees are waived.
DOES DIGIFINEX HAVE MANDATORY KYC?
---
Digifinex complies with Anti-Money Laundering regulations by requiring KYC verification from users before they access most of the website's functions. However, you can still make trades up to a limit of 0.2 BTC worth of daily transactions before you're mandated to complete KYC verification.
To do KYC verification, go to account security on the app and click Identity Verification (KYC). It then brings you to a page where you can verify your identity in the following steps
IDENTITY VERIFICATION: Here, you submit your ID documents. Only International Passports and government-issued ID cards are accepted.
VIDEO SELFIE: To confirm that you're really the owner of your ID documents
PROOF OF ADDRESS: You can use a bank statement, a utility bill, a driver's license, a credit or debit card statement, or a letter from a reputable public servant as your proof of address. It has to contain your address and has to have been issued no more than three months ago.
After all of the information is submitted, the KYC application will be approved within 24-72 working hours.
DIGIFINEX SUPPORTED COUNTRIES
---
Even though it is based in Hong Kong, Digifinex is available to several countries worldwide. However, it is not universal. Their services are restricted in some countries, namely, The United States of America, Singapore, China, The Balkans, Cuba, The Democratic Republic of Congo, Iran, Iraq, North Korea, Sudan, Syria.
DIGIFINEX NATIVE TOKEN
---
Digifinex's native token is known as DFT and is the central figure around which main parts of Digifinex exchange are built. Holders of the DFT token are able to partake in various services and privileges on the platform. These include
Better fee discounts when they lock a specific amount of DFT on the platform.
Additional staking and airdrop rewards when they lock their tokens
25% fee discount in addition to the discounts that come from locking DFT on the platform.
They can also apply to be OTC merchants.
They get front seats when new projects are about to be listed on the Digifinex platform.
DFT can also be used out of the exchange platform. It can be used in Singapore to pay for jewellery, in South Korea to pay for food and drinks, and as deposits for the Digifinex global ambassador or partnership programme. 
The token is also used to include users in the DFT Superstar program, which is a special program with extended benefits
When this article was written, DFT traded at $0.05 with a current circulating supply of over 137 million tokens and a maximum supply of 2.1 billion tokens.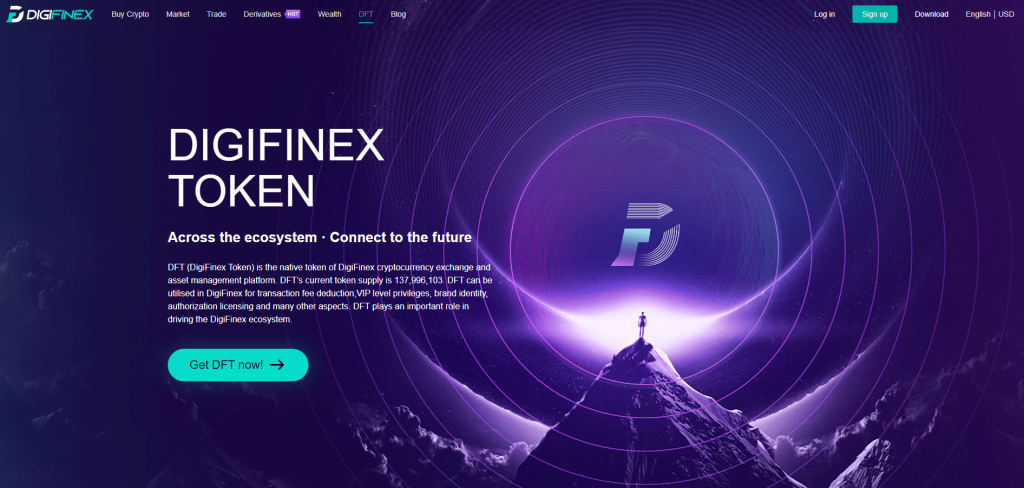 There is another token that is associated with the Digifinex ecosystem. It is known as DRV and is the native token for DigiDeriv, the derivatives-trading arm of the Digifinex platform. It is mainly gotten as a reward for mining, referrals, and trading competitions. One of the main ways of getting DRV tokens is by means of swap mining. Swap mining is a mechanism where you're rewarded with DRV tokens as rebates for performing swaps on DigiDeriv.
IS DIGIFINEX LEGIT AND SAFE
---
Consider the following points:
Digifinex scores highly in terms of security. For one thing, it has the following two licenses to boast of

License by the Australia Regulated Digital Currency Exchange Service Provider.
The exemption of provision of digital payment token services in Singapore by the Monetary Authority of Singapore (MAS).
These licenses foster trust in the exchange as a legit exchange.
It employs the best storage procedure for storing cryptocurrencies. Thus, coins are stored in cold wallets which are free from any sort of online penetration by hackers.
Its fiat currencies are stored in physical vaults to limit the probability of being stolen from the banks
It enforces KYC regulations on its users for its users before they can access most of the functions of the website. However, it would be better if it enforced KYC regulations before allowing users to take part in any activity on the platform.
It also encourages user accountability by means of two-factor authentication before approving withdrawals.
CONCLUSION
---
Even though Digifinex is not the top crypto exchange in the world presently, it still packs a bunch because of the various features it offers. Its most appealing quality seems to be that it allows users to make passive income without having to trade by means of its wealth management programs. Therefore, you can stake, mine, and lock your crypto assets on the platform and expect rewards. Also, the platform offers massive discounts for holders of its token as well as airdrop and staking rewards.
That being said, one should still be cautious before trading on the platform(or any other platform for that matter). This is because cryptocurrency trading comes with certain risks, requiring that you only invest money you can afford to lose.
Read also:
FREQUENTLY ASKED QUESTIONS
---
PROS
It supports a vast array of fiat currencies for buying and selling cryptocurrencies. When this article was written, there were 43 fiat currencies supported on the platform.
There are many cryptocurrencies supported on the platform.
It offers many activities through which traders can earn passive income. Thus, even if you don't know how to trade, you can still make money on the platform.
It has a relatively straightforward fee structure. You know how much you are paying and the reason for the payment.
It has mobile applications which run on all the major operating systems.
CONS
The services of the platform are not available to people from certain countries.
The payment options on the platform are limited.
The customer care service leaves much to be desired.
It doesn't allow you to store fiat directly on the website. You can only use fiat to purchase crypto.

CaptainAltcoin's writers and guest post authors may or may not have a vested interest in any of the mentioned projects and businesses. None of the content on CaptainAltcoin is investment advice nor is it a replacement for advice from a certified financial planner. The views expressed in this article are those of the author and do not necessarily reflect the official policy or position of CaptainAltcoin.com