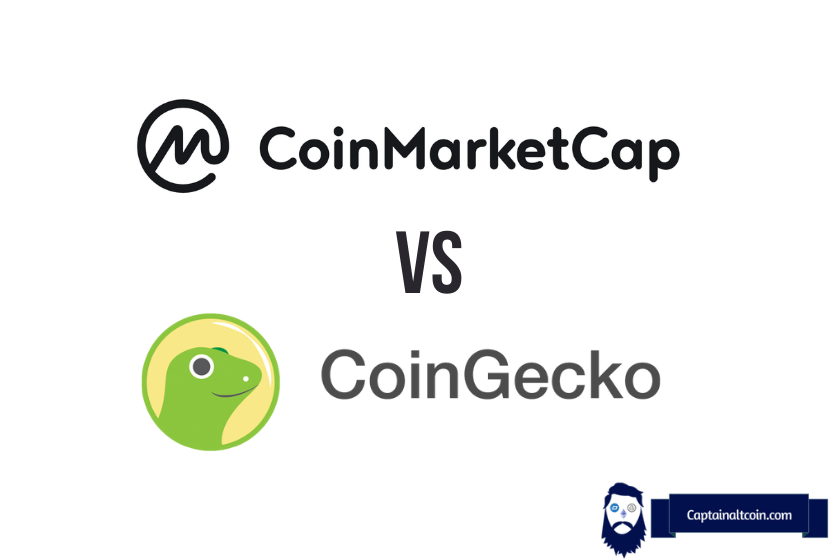 Similar to the traditional finance market, the cryptocurrency industry also hugely relies on data for day-to-day analytics. With cryptocurrency becoming mainstream, there is a need to better understand this sector that has been nascent for a long.
The fintech industry is also increasingly recognizing the value of digital currencies. The integration of the two sectors will to some degree depend on the proper use of data from both sectors.
Platforms that help aggregate data from the cryptocurrency markets are becoming crucial sources of information and data on the movement of prices, state of the market, exchange trading volumes, the market capitalization of assets, listed coins, and trading pairs.
As the cryptocurrency industry continues to grow and evolve, market analytics platforms are also adding new metrics and refining existing ones. Below we give a detailed review of two of the leading cryptocurrency market analytics platforms; CoinMarketCap and CoinGecko.
CoinMarketCap
---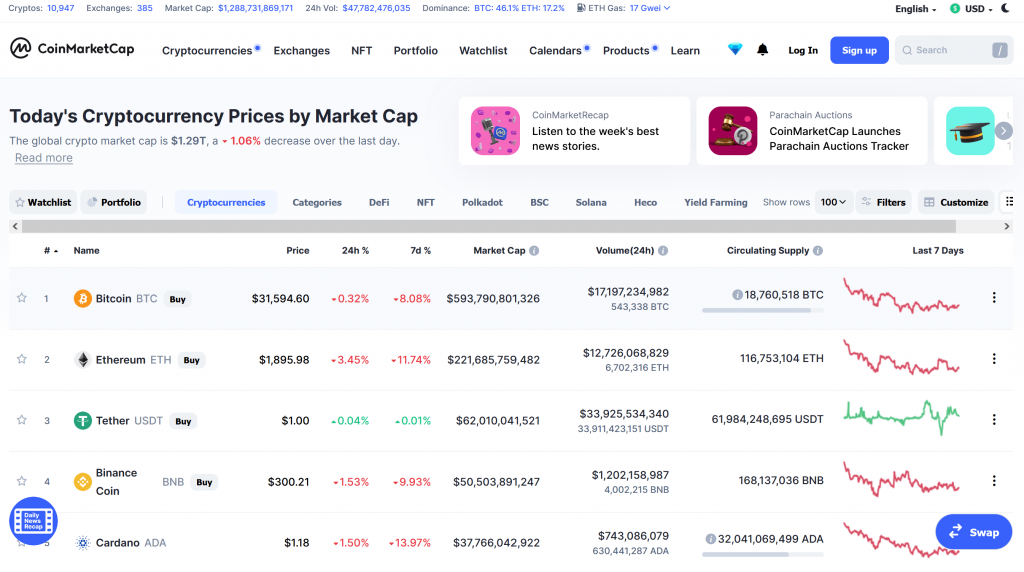 CoinMarketCap is the leading market aggregate and pricing tracking platform for cryptocurrencies in the world. The company's main aim is to empower retail users with the right, unbiased, accurate, and high-quality information for informed decision-making. The platform has listed thousands of coins and tokens where users can track prices, profits, losses, and portfolio valuation.
CoinMarketCap was founded in 2013 and has quickly become the world's leading source of information for users, companies, and the media who use it to compare thousands of crypto assets.
CoinMarketCap was acquired by Binance Capital Mgmt in April 2020. Binance is the world's leading cryptocurrency in terms of trading volume, number of users, and listed cryptocurrencies.
CoinGecko
---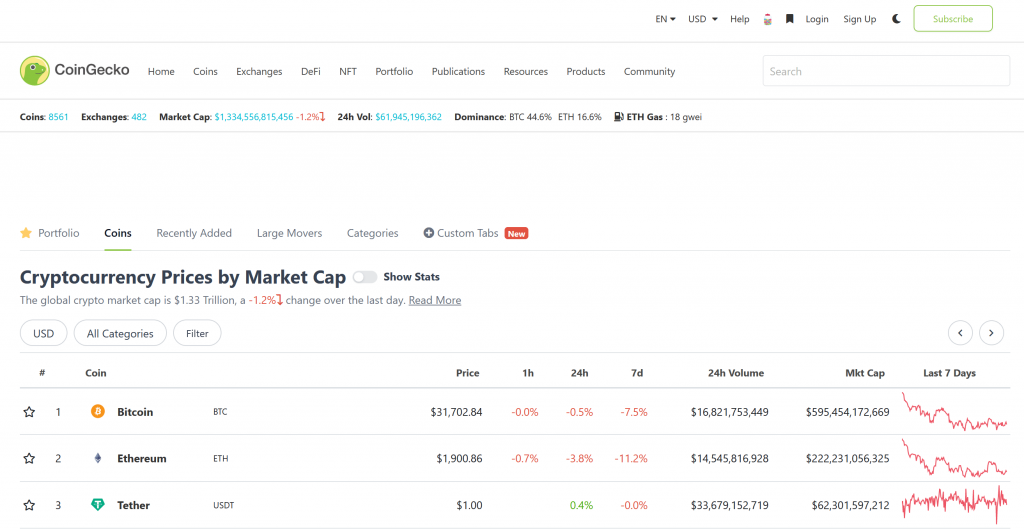 CoinGecko is a cryptocurrency data aggregator used to track price, volume, social and developer stats. The platform was launched in 2014 by Bobby Ong and TM Lee and has partnered with Humboldt University in Berlin and Western University in Canada to offer cryptocurrency research.
The company has $3 million in annual revenue and tracks more than 3,587 tokens from more than 259 cryptocurrency exchanges.
Popularity
---
CoinMarketCap (CMC) has 37 million web visitors as of February 2021 while CoinGecko had 8.33 million according to data on SimilarWeb. Available data shows that the two platforms are growing in terms of monthly traffic although CMC is growing much faster than CoinGecko.
With the acquisition by Binance, CoinMarketCap plugged into an already established online audience, a move that is expected to further boost its traffic. CoinMarketCap is also expected to benefit from improved development thanks to Binance's strong financial resources.
The two platforms have mobile apps which have around the same usage and online rank. This is mainly because CMC's app was launched in April 2019 a year after CoinGecko had launched its app.
Crypto-Asset Ratings
---
CoinGecko allows users to sort assets using different criteria using filters. The platform also displays the ticker and the price dynamics of various assets for different periods- last hour, 24 hours, a week, and 30 days. CoinGecko users can also access Total Supply volume.
On the other hand, CoinMarketCap's main interface is not so detailed and only shows prices for a 24-hour period. However, there is a separate list where users can access other metrics.
Exchange Rating by Volume and Liquidity
---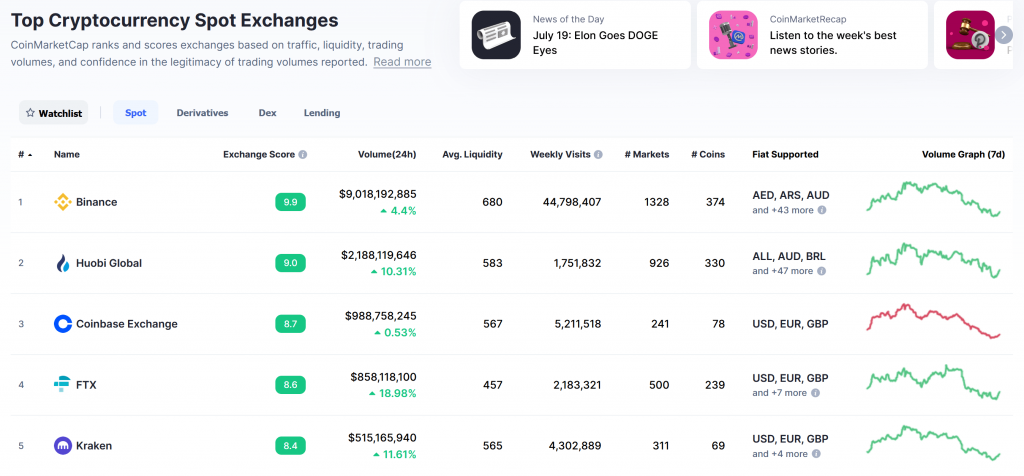 While many price-tracking platforms have tried to present real trading volumes of different assets, the problem is still not solved fully with discrepancies in data displayed on different platforms. CoinMarketCap has three rating versions;
· Top 100 by Adjusted Volume; this includes the Trade-to-Mine mining model which rewards active traders with tokens. It also has volumes of spot trading platforms where there is no zero-fee trading
· Top 100 By Reported Volume; this displays volumes of all spot trading platforms
· Liquidity sorts all platforms by liquidity.
Liquidity is the most important metric for investors and traders. There are a lot of parameters that go into calculating liquidity including distance from mid-price, order-book depth changes, and market order sizes.
CoinMarketCap automatically and randomly polls market pairs every 24 hours and the results in the calculation. A few pieces of information on the liquidity available on the CoinMarketCap website include;
· Liquidity makes it easier to buy and sell assets
· Due to volume fluctuation on many cryptocurrencies exchanges, volume is not very effective when determining liquidity in the market.
⚡️ CoinMarketCap has a list of most liquid platforms which include some of the leading cryptocurrency exchanges. Using liquidity is, therefore, a better representation of the market compared to volume-based metrics
CoinGecko provides an in-depth analysis of the crypto market
---
In addition to measuring and tracking tokens and coins by their market size and cryptocurrency trading exchanges by trading volume, CoinGecko also tracks other parameters like community growth, open-source code development, and the project's code progress among others.
CoinGecko started as a crypto data aggregator tracking metrics for developers and communities. The platform tracks developers like Gitlab, Bitbucket, Bitbucket, and Github and communities like Facebook likes, Twitter followers, new posts, and comments, and Reddit subscribers. The move to track developer and community stats is meant to give an all-around view of any cryptocurrency.
CoinGecko's Trust Score for ranking cryptocurrency exchanges
---
Because of massive data manipulation in the cryptocurrency market, it is impossible to measure liquidity using trading volume. To combat fake exchange volume, CoinGecko recently launched a feature called "Trust Score", which involves sorting exchanges by Trust Score as opposed to relying on total 24-hour reported trading volume.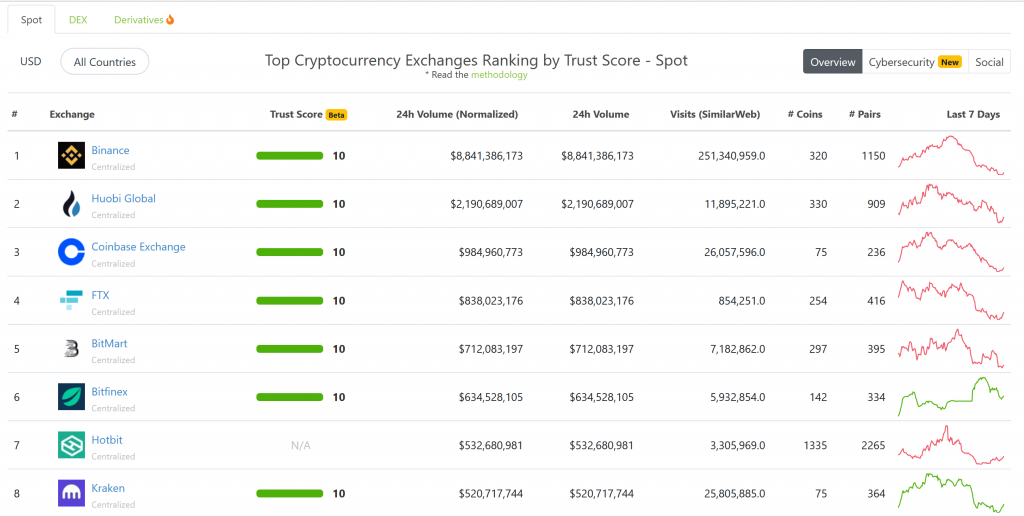 The Trust Score combines web traffic and order book analysis with normalized exchange volume and came into effect on May 13, 2019. CoinGecko relies on users' trading volume from the Bitwise 10 real-volume exchanges and normalized exchange volumes from SimilarWeb traffic analysis.
The platform also measures the bid/ask spread and capital needed to move the order book by 2%. This is done for in-depth order book analysis.
The Trust Score, when combined with other metrics offers a better overview of the real liquidity of any trading pair on any exchange. Other metrics that CoinGecko offers include hot and cold wallet analysis, trade history analysis, crowd-sourced reviews, cybersecurity analysis, social media data, and API quality evaluation.
Track ICO details
---
CoinGecko allows users to track details of upcoming ICO, make comparisons, and make investment decisions. Users can access these ICO by clicking "Coins" where the platform has listed over 2000 coins and tokens with their market cap, 24-hour price change, percentage score for the community support, percentage score for developer activity, and percentage score for the public interest.
CoinGecko Features
---
Below is a summary of CoinGecko's distinctive features;
· CoinGecko Website; CoinGecko has a website that shows a detailed list of all cryptocurrencies. In addition to the list, the website also displays a graph that gives each crypto's trading data over 7 days.
· CoinGecko Mobile App; the price and portfolio-tracking platform is accompanied by a mobile app available to both Android and iOS users.
· CoinGecko API; CoinGecko API offers Free API to commercial users for integration in their websites and blogs.
· CoinGecko Beam; this feature was launched in November 2018 and is mainly aimed at improving trust and transparency among users. Users also use it to get and follow project updates from various developers.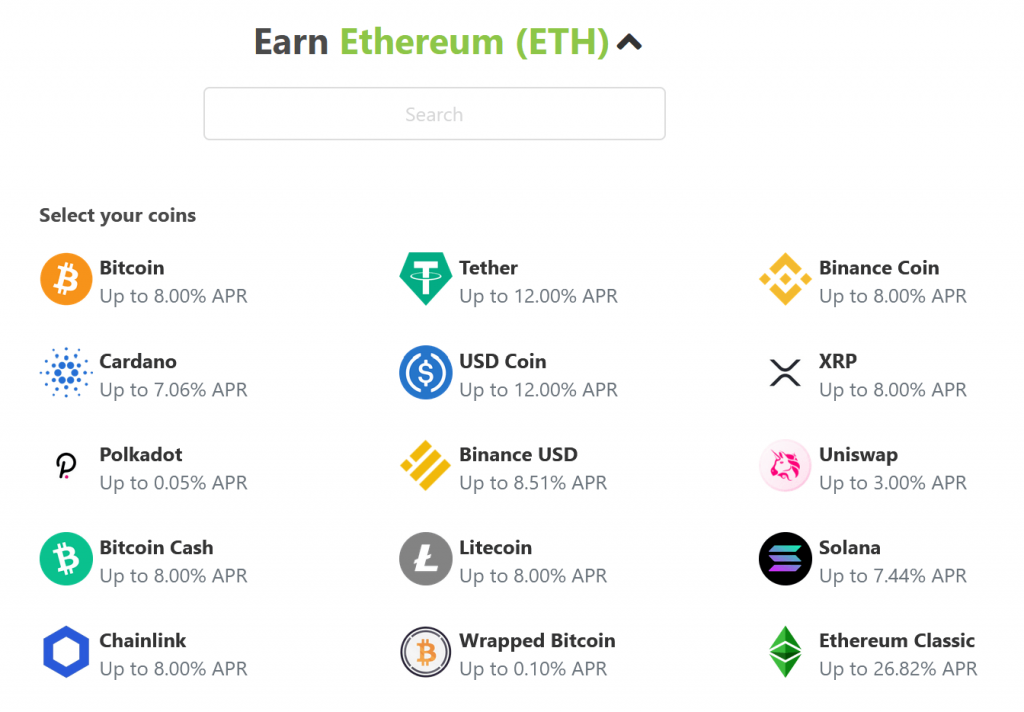 · CoinGecko Earn; Coingecko Earn was launched in March 2020 and consolidates together working circumstances and lending requirements from various lending platforms. These include safety audit reviews, profitability requirements, and threat assessments of various platforms.
A reliable source of information in an unregulated industry
---
To keep its users informed and position itself as a one-stop source of crypto data and information, CoinGecko publishes quarterly reports to highlight the state of the cryptocurrency industry. These reports offer additional insights, trends, and challenges that affect cryptocurrencies.
The company's main agenda is to remove the uncertainty that has gripped cryptocurrency markets and enable investors to make informed data-backed decisions.
Summary of CoinMarketCap features
---
CoinMarketCap's main objective is to offer accurate, up-to-date, and unbiased data on digital currencies. The platform offers various pieces of data including market capitalization, changes in the exchange rate over the last 24 hours and 7 days, volume, and supply in circulation.
Like its peer Coingecko, CoinMarketCap also offers other types of data mainly to boost users' knowledge of the crypto industry and stay up to date with current affairs in the industry.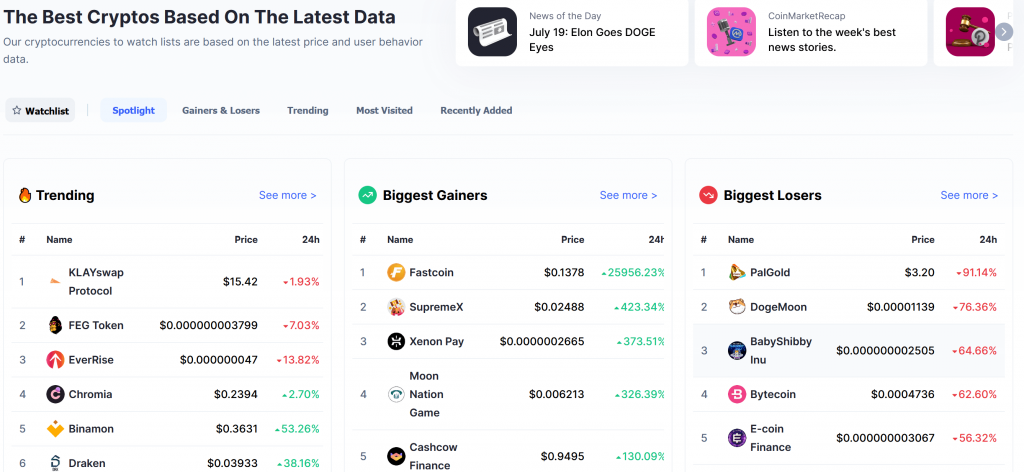 Advantages of the CoinMarketCap platform
---
· It offers comprehensive and transparent cryptocurrency ranking
· Offers a large pool of cryptocurrencies to compare
· It is a trusted source of information on the cryptocurrency industry
· Offers real-time presentation of data
· Users are able to use filters and other personalization tools for better results
· The platform offers additional analytical tools
· It is accompanied by a mobile which makes it accessible anywhere
· There are no costs associated with the use of the platform
Read also:
Conclusion
---
With the cryptocurrency market still growing, data and information are expected to play a key role in the dissemination of knowledge about the nascent industry. The end goal is to bring cryptocurrencies as close to being mainstream as possible. While CoinMarketCap and Coingecko are the pioneers of crypto price and portfolio tracking, they certainly won't be alone as more platforms emerge.

CaptainAltcoin's writers and guest post authors may or may not have a vested interest in any of the mentioned projects and businesses. None of the content on CaptainAltcoin is investment advice nor is it a replacement for advice from a certified financial planner. The views expressed in this article are those of the author and do not necessarily reflect the official policy or position of CaptainAltcoin.com