BitOffer Review – Fees, Supported Coins & Countries, Payment Methods, Leverage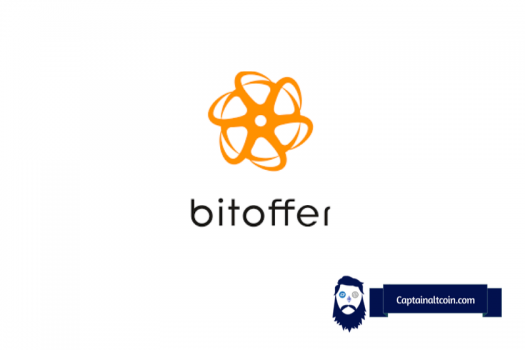 BitOffer Review – Fees, Supported Coins & Countries, Payment Methods, Leverage
Multilingual Customer Support
Competitive fees
User-friendly interface
KYC is optional
Welcome bonus of $50 for new users
Hong Kong has been one of the main crypto centers for a long time. In 2019, it introduced a new member – BitOffer.
BitOffer is primarily a financial derivatives trading platform, and it offers some innovative services that many traders may find useful. Some of its main features are spot trading, ETFs, dual-currency investments, and quantitative investments.
This guide will provide a detailed overview of what BitOffer is, how it works, and what are the advantages of this new platform. After going through the guide, you will have an easier time deciding whether it is the right platform for your trading needs.
BitOffer Overview
---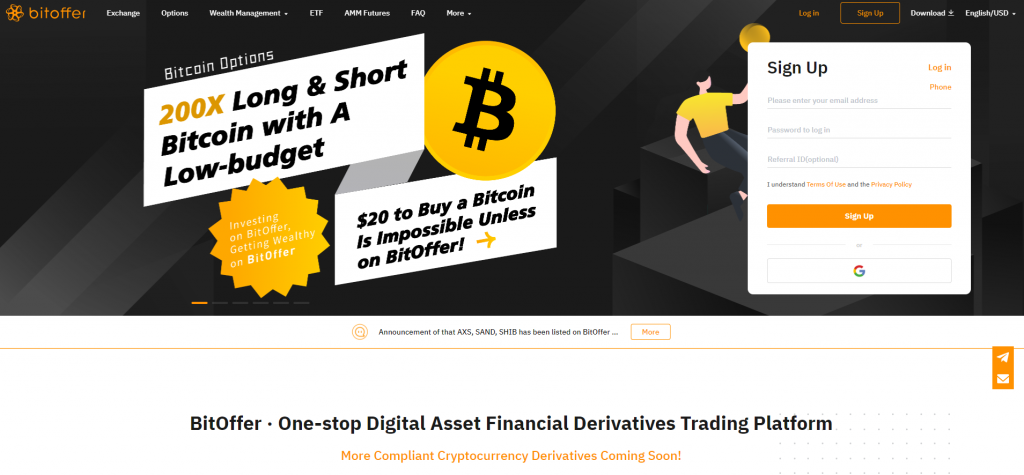 As one of the newer trading platforms, BitOffer has mainly focused on making a name for itself as a financial derivatives cryptocurrency exchange.
There are a number of things that make BitOffer stand out among competitors. It also offers dual-currency and quantitative investments aside from the usual features. Also, there are ultra-modern diagrams and advertisements displayed on the platform 24/7.
However, one of the main advantages of BitOffer is the benefits that it offers for newly registered users. There is a $50 welcome bonus for each new user that wants to start trading. As a community member, you are also provided with market analysis, bonus campaigns, and multilingual customer support.
Let's check out the other details.
Services & Features
---
Spot exchange
---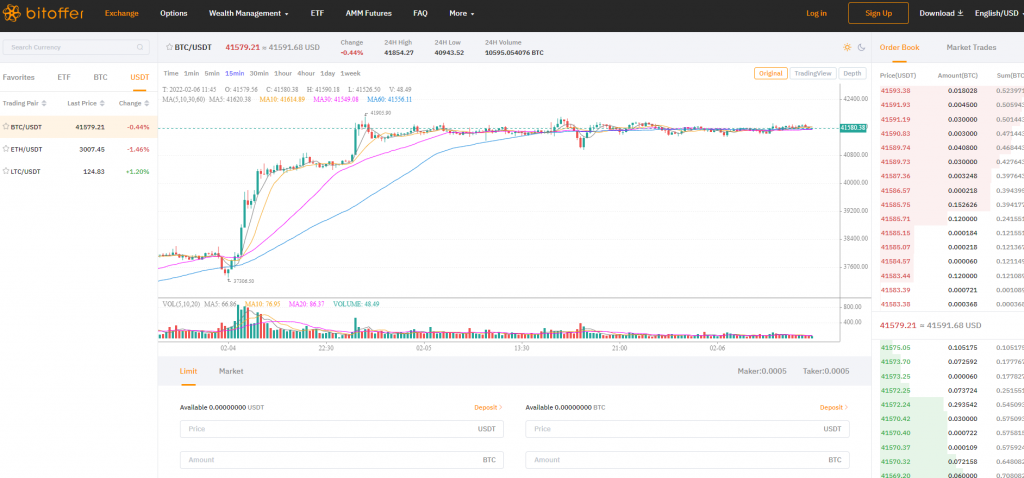 Spot trading is purchasing and selling tokens and digital coins at a spot price. Traders make a profit by following market fluctuations and trading the tokens they own in spot markets. This type of exchange includes lower time frames and increased profit through smaller trades.
An increasing number of crypto exchanges have started to implement this feature onto their platform since it ranks fairly popular among traders. BitOffer includes spot trading, and it supports direct trading among BTC, ETH, LTC, and other major cryptocurrencies.
Options
---
The Options feature on BitOffer provides, well, plenty of options.
Jokes aside, BitOffer is the first platform to release American Bitcoin Options that doesn't charge margins and fees. Also, it supports up to 1000x leverage without any liquidation. As a result, users of the platform are able to use smaller amounts to bet for leveraged profits.
The Options feature is quite an effective derivative as well. You can use it to minimize the risks of futures and spot trading.
AMM Futures
---
Automated Market Makers (AMM) have been long speculated to be one of the pivotal new technologies of decentralized exchanges. It has probably been one of the most exciting DeFi innovations in the last few years.
It is essentially futures trading but with the use of market-making patterns (AMM). Traders who use this feature can complete leverage trading but also produce liquidity to make a profit from market-making. Currently, it is one of the most used methods for providing on-chain liquidity for different tokens.
The main difference between AMM futures trading and standard futures trading is that AMM futures are directly linked to liquidity pools. This means that there won't be any orders issued when the price order gets on the same level as the slippage limit. This is in line with protecting traders' rights. Also, AMM futures include a price oracle that can help prevent fake prices.
One of the main benefits of using AMM futures is that the pricing power isn't in the hands of crypto "whales."
ETF Fund
---
BitOffer has a professional financial team that manages the ETF fund service. Investors can hold ETFs either short-term or long-term, with the option of day-trading as well.
The platform also includes an interesting APAM (Automatic Positions Adjusting Mechanism) feature. The ETF Fund feature can bring anywhere from 3x – 17x more profits compared to spot trading.
Quantitative Fund
---
One of the most unique and innovative features on the platform, Quantitative Fund, is one of the main reasons BitOffer has gained so many users in such a short time.
This feature was actually a result of a partnership between BitOffer and Goldman Sachs. It works by providing investors with capital and interest to help them gain a 20 % annualized yield. It guarantees crypto assets growth in a much more stable way than traditional finance.
Dual Currency
---
The Dual-Currency service works as a non-principal protected investment product. It's suitable for investors that don't have a lot of knowledge of market fluctuations. No matter if the market pumps or dumps, investors are guaranteed to make stable returns.
The average daily returns vary from 0.2 % to 1 %, and it also includes different tenors to help create a flexible investment plan.
BitOffer Supported Coins
---
BitOffer doesn't have a very wide range of supported cryptos compared to other crypto exchanges. Currently, it supports 11 coins. These include Bitcoin, Cardano Coin, DAPS Token, Dash, Ethereum, IOStoken, IoTeX Token, NEM Coin, OmiseGo Coin, Tether, and Waltonchain Coin.
BitOffer Deposits & Withdrawals
---
Fees
---
The withdrawal fee of BitOffer is considered extremely low, roughly 40 % lower compared to the GIA (Global Industry Average). The fee stands fixed at 0.0005 BTC for Bitcoin withdrawals.
Methods
---
Depositing fiat currencies on BitOffer can be done through wire transfers while credit cards still aren't supported.
BitOffer is still regarded as an "entry-level exchange" as it accepts all fiat currency deposits. Although there isn't a credit card deposit option, it is still a great platform for new crypto asset investors to gain experience.
Limits
---
The information on deposit/withdrawal limits on BitOffer is still very limited on the official website.
What we were able to find out is that for users that haven't finished the verification process, the withdrawal limit stands at 1 BTC per 24 hours.
BitOffer Trading Fees
---
Trading fees on BitOffer are the same for both takers and makers – 0.0005 BTC.
While this kind of fixed fee is fairly common for withdrawals, it's a tad unusual to see it as a trading fee. It's because trading fees are percentage-based in most cases.
This kind of trading fee doesn't have to mean that it's good – it depends on the trade size. However, if you are the type of investor that makes larger trades, you can save an impressive amount of money.
Also, you should note that the trading fees can vary depending on the type of trading you indulge in.
Spot Trading Fees
---
For spot exchanges, there aren't any trading fees included.
However, there is a fixed withdrawal fee which is in line with standard trading. It's 0.0005 BTC for Bitcoin withdrawals.
Keep in mind if you decide to withdraw BTC, make sure you deposit BTC on the platform as well.
Options Fees
---
The Options trading feature on BitOffer doesn't charge any trading fees. Additionally, there is also no margin.
Futures Fees
---
AMM Future fee rate is fixed at 0.02%. Also, there is a crypto market maker commission rate that is set at 70 %.
Does BitOffer require KYC?
---
When it comes to technical security, BitOffer does a great job. There is a strong risk control system, and it includes KYC authentication.
However, the KYC verification is optional – you don't have to use it if you don't want to.
Remember, KYC verification is always recommended to ensure the maximum security of your user account.
BitOffer Supported Countries
---
While there isn't an official list of supported countries on BitOffer's official website, we know that the platform supported China, Korea, Vietnam, Japan, and other Asian countries when it was launched in 2019. While this list has surely expanded in the last 3 years, there is not much information regarding other supported countries.
Are US Investors Allowed on BitOffer?
Even with the small amount of information about supported countries, we do know that US investors are allowed to trade on the platform.
Although, this doesn't mean US citizens won't run into any sorts of problems because of their residency/citizenship. If this is the case, it's best that they do their own problem assessment.
How to Start with BitOffer?
---
The signup process at BitOffer is pretty simple and straightforward.
Follow these steps to open an account on BitOffer:
1. Press the "Sign Up" button at the right corner of the official website
2.      Fill out the registration form with the required details (Email, Phone Number, Password, etc.)
3. Check your Email for the verification link
4. Click on the verification link
5. That's it! You have successfully joined the platform!
Does BitOffer Have a Native Token?
---
BitOffer currently doesn't have its own Native Token.
Is BitOffer Legit and Safe?
---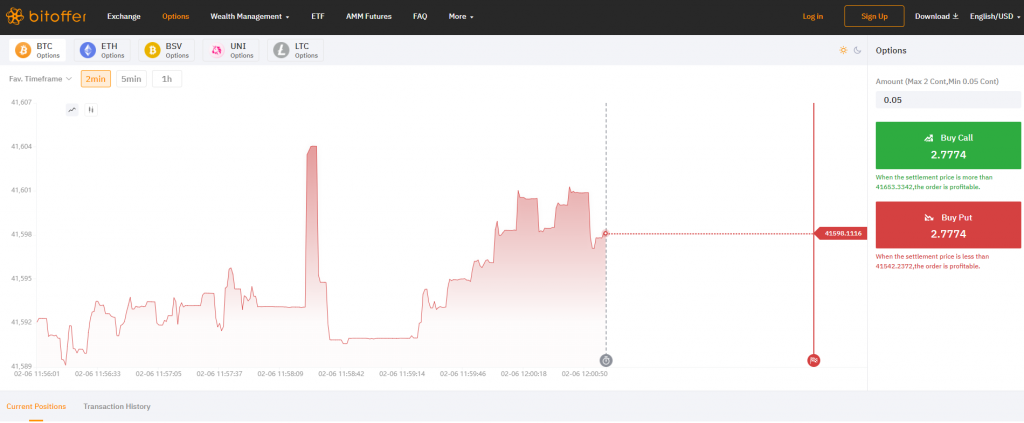 Ever since it was launched, BitOffer has been regarded as a legit and reliable platform for its users. While there are some negative reviews you can find online, the complete overview of this platform suggests that it's safe for traders to join.
Is BitOffer Regulated?
---
BitOffer is a regulated platform, and it is licensed for crypto trading.
When it was launched in 2019, Hong Kong SFC issued the Type 1 License to the platform.
Conclusion
---
Taking into consideration everything that we have mentioned, there is no doubt that BitOffer is currently one of the most innovative crypto platforms in the community. Also, it has huge potential to grow even more in the next years, so it's definitely a platform worth keeping an eye on.
With quite a few unique features and low fees on its sleeves, BitOffer can be beneficial for both new and advanced crypto traders.
If you take a look at their official website, BitOffer has some interesting goals for the future. For example, they want to use "STO" to solve digital crypto asset pain points problems.
This could result in a unique, transparent, and efficient blockchain financial system – making it one of the bests in the crypto community.
Of course, we will still have to wait and see how these goals pan out in the future.
FAQs
---
If you are not fond of BitOffer, here is a list of other crypto exchanges that can be good alternatives:
PROS
Multilingual Customer Support
Competitive fees
User-friendly interface
KYC is optional
Welcome bonus of $50 for new users
CONS
Trading volume has room for improvement
Limited amount of supported cryptos

CaptainAltcoin's writers and guest post authors may or may not have a vested interest in any of the mentioned projects and businesses. None of the content on CaptainAltcoin is investment advice nor is it a replacement for advice from a certified financial planner. The views expressed in this article are those of the author and do not necessarily reflect the official policy or position of CaptainAltcoin.com