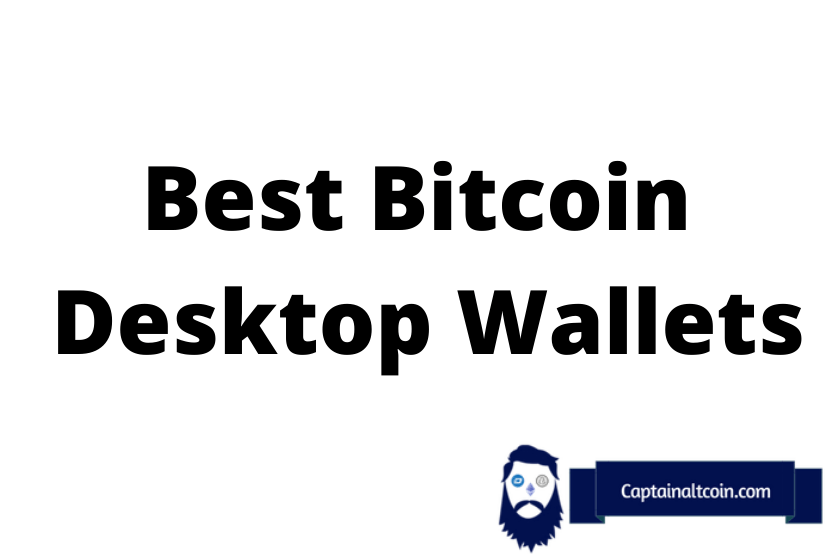 Desktop Wallets Overview
---
Everybody knows about Bitcoin. From your old aunt to the postman, all the world knows about this financial revolution. And the best thing is, now more than ever, millions are buying and using Bitcoin. But a lot of people are still confused about the functioning of this relatively new technology. More specifically, just where is it stored? 
Well, Bitcoins are stored on a software program called a Bitcoin Wallet. It's not a physical place like you probably already guessed, and the wallet holds a private key (password) that corresponds to the Bitcoin address of that wallet. Bitcoin wallets allow for easier Bitcoin transactions, be it the sending and receiving, and give factual ownership of the Bitcoin in the crypto wallet to the user. There are many types of Bitcoin wallets, and the four main ones are desktop, mobile, web, and hardware. 
Bitcoin wallets are also called digital wallets. As an example, a trader must open a Bitcoin wallet so he can start trading. A Bitcoin wallet is similar in concept to a physical one. The only difference is that instead of storing the physical currency we use every day, it stores relevant information such as the private key we use to access a Bitcoin address and transact.
Wallets are a must if you are holding Bitcoin, not as a speculative asset but because you intend to use it as a currency. It provides more security and allows you to transact freely.
Today we will be looking more specifically at desktop wallets. They are installed on your computer and have the goal of functioning as an address you can send Bitcoin through. To steal a desktop wallet, you would very probably have to steal the computer, and that's not exactly easy, which makes them inherently more secure than a mobile wallet which is a lot easier to steal. But also less secure than a hardware wallet, which is your best option for storing a lot of Bitcoin.
Bitcoin investors need to know how to best use and store their coins. So without further ado, let's get into it, starting with the best Desktop wallets to check out.
Atomic Wallet
---
Atomic Wallet (cold wallet) excels at being extremely easy to use and a great way to store your Bitcoin. This cold wallet is a multi-currency wallet and allows you to store up to 500 different coins in one single interface.
This cold wallet also comes with a feature called Atomic Swap that allows you to exchange digital assets without having to use an exchange, which makes it very convenient. And for altcoins this cold wallet do not support these features, Atomic Swaps provides third-party built-in services such as Changelly and ShapeShift to exchange your coins.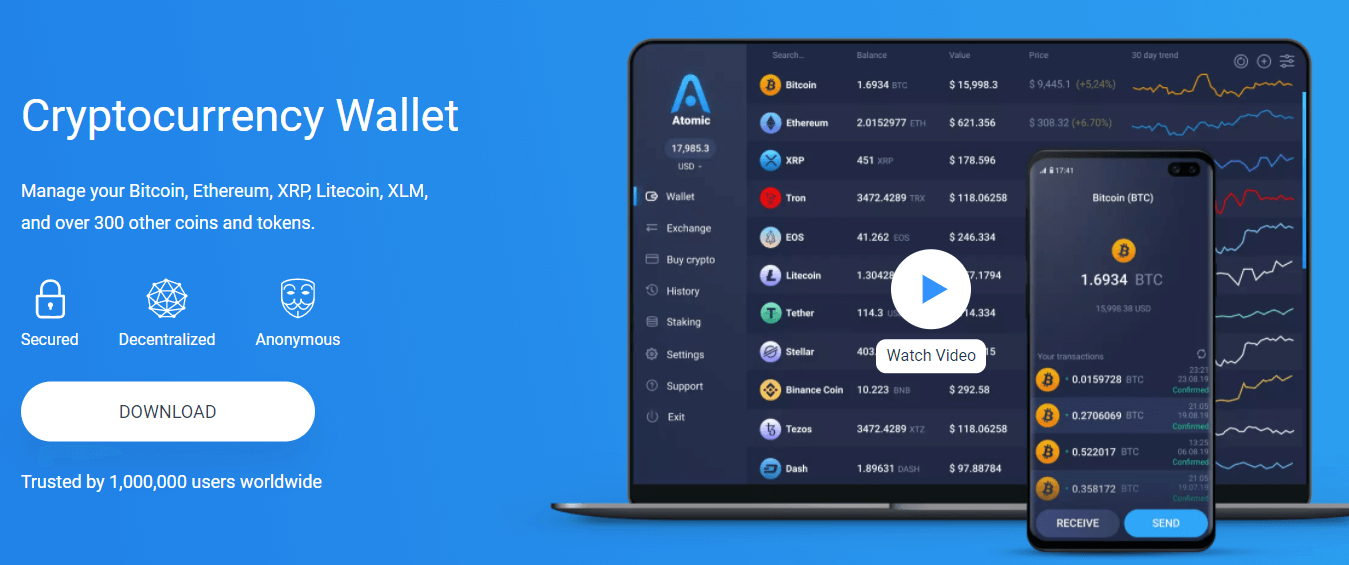 Exodus
---
Exodus (hot wallet), a platform launched in July of 2016, is quickly growing in the crypto (digital asset) wallet space. And not surprisingly, this hot wallet is the wallet most suited for beginners and easiest to use.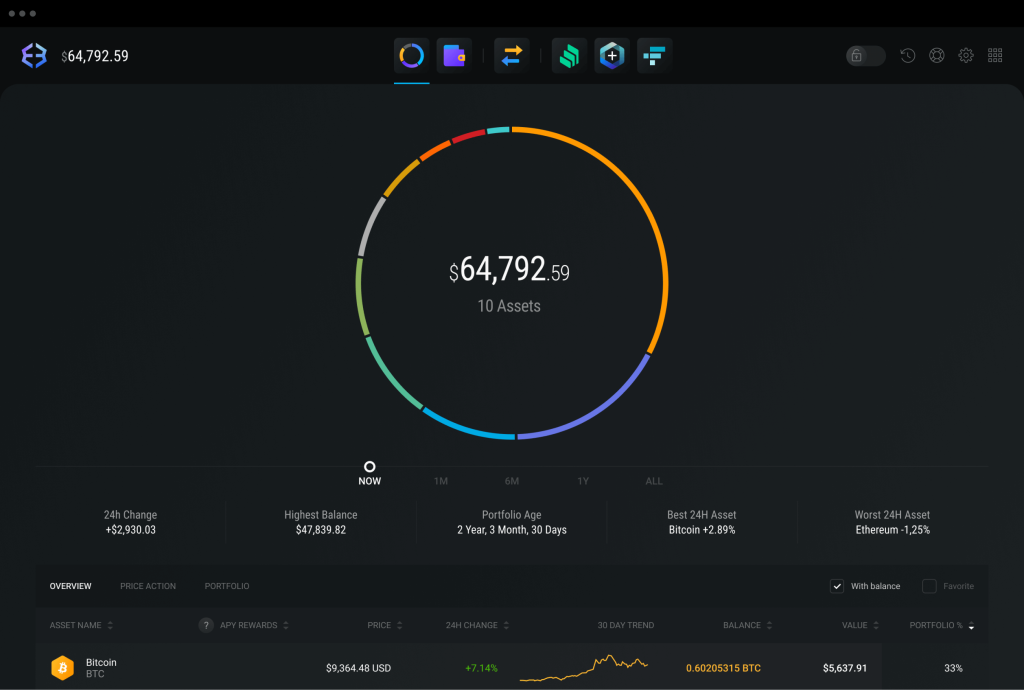 On the downside, though, this hot wallet is not open source. And that's potentially a big deal for a lot of crypto enthusiasts. It essentially means that the code is not available to the public, so the developer could insert code that hurts and takes advantage of the customer without him knowing. And it's pretty clear why transparency is vital when it comes to money. But like we said before, if you are storing a lot of Bitcoin, just use a more secure hardware wallet, never put what you're not willing to risk on a desktop wallet.
The platform allows you to store a lot of coins other than Bitcoin, like Ethereum, Litecoin, Dash, and more. This hot wallet is available for Mac, Windows, and Linux.
Electrum – The All-Around Winner
---
Electrum is probably the best desktop wallet out there. It's open-source, so the code has been reviewed by its users so to assure that nothing shady is going on and clients aren't being taken advantage of with malicious intent.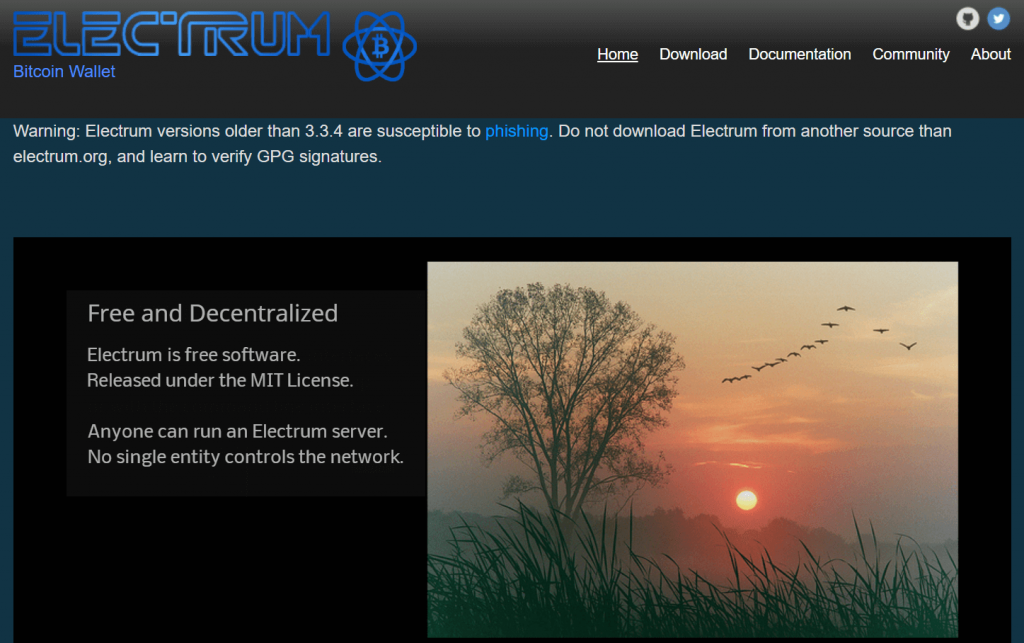 A huge plus of Electrum is that when the Bitcoin network is crowded and the cost of transaction fees skyrockets, Electrum allows users to replace the fee that has already accrued but has not yet been confirmed on a transaction. It also offers address tagging, fee adjustments, encrypting, and signing or verifying messages. 
But one thing that could be considered a downside to some is Electrum has an ugly interface. It looks like it's straight from the '90s. And it could prove challenging for people new to Bitcoin to understand how it works, so it's not ideal for beginners.
Bitcoin Core – A full Bitcoin node
---
Most of the Desktop wallets are known as SPV or lite wallets. What this means is that it does not fully copy the blockchain to verify a transaction, these types of wallets rely on computers that compose the network to provide them with the necessary information. Bitcoin Core works differently, it is something known as a "full node". This just means that once the wallet is downloaded, you also download all of the blockchains. This is, as you may have already guessed, very time-consuming, considering the blockchain's size is often hundreds of gigabytes. But once it's downloaded, you'll be able to independently verify all transactions on the network without relying on anyone else, better safe than sorry.
Bitcoin Core is such a hassle to set up, so consider subscribing to it only if you think it's worth giving up the convenience for some extra security.
Guarda
---
Guarda offers multi-platform cryptocurrency wallets for the web, desktop, and mobile. It offers good security measures and is extremely easy to use. It can also be synched with a hardware wallet such as Ledger, which is, like I said before, the best option for storing huge amounts of crypto assets.
It offers support for a wide range of crypto assets, more than 40 in fact, and also thousands of tokens. The only evident flaw I see with Guarda is that they charge relatively high fees. Free wallets need to make revenue somehow, that's why they have to charge a crypto exchange fee or fee for transactions.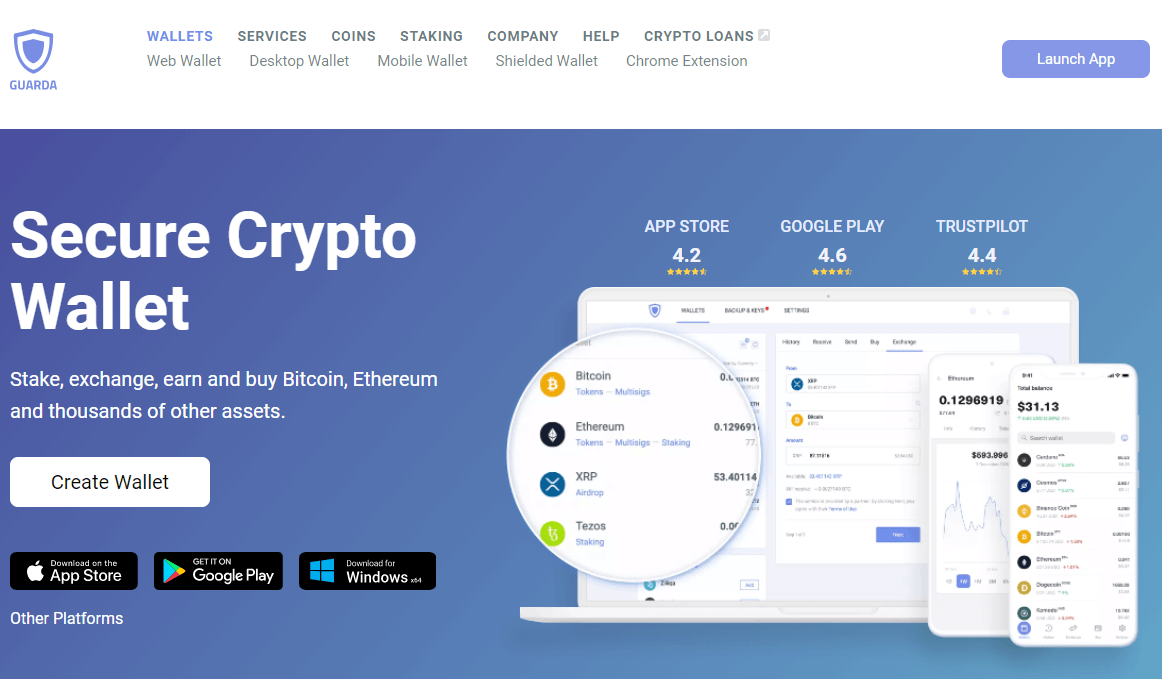 Copay – A Multisig Bitcoin Desktop Wallet
---
Copay is owned and was created by BitPay, a giant among the Bitcoin payment service providers. It's a multisig crypto wallet, and it's available for almost all major platforms, be it mobile devices or desktops. Multisig adds a layer of security and allows you to set a specific number of people to sign off on each transaction to broadcast it to the whole network. The feature is great for extra security against theft and an affordable alternative to the more expensive hardware wallet. And yes, Copay is indeed open-source, and we all love to see that. 
Green Address
---
The GreenAddress Wallet is relatively easy to use and accessible to all traders, from beginners to experts. It is open-source, which is a great way to ensure that customers are not being taken advantage of with malicious code. It also has some solid security features, such as Multisig, so your funds are in safe hands.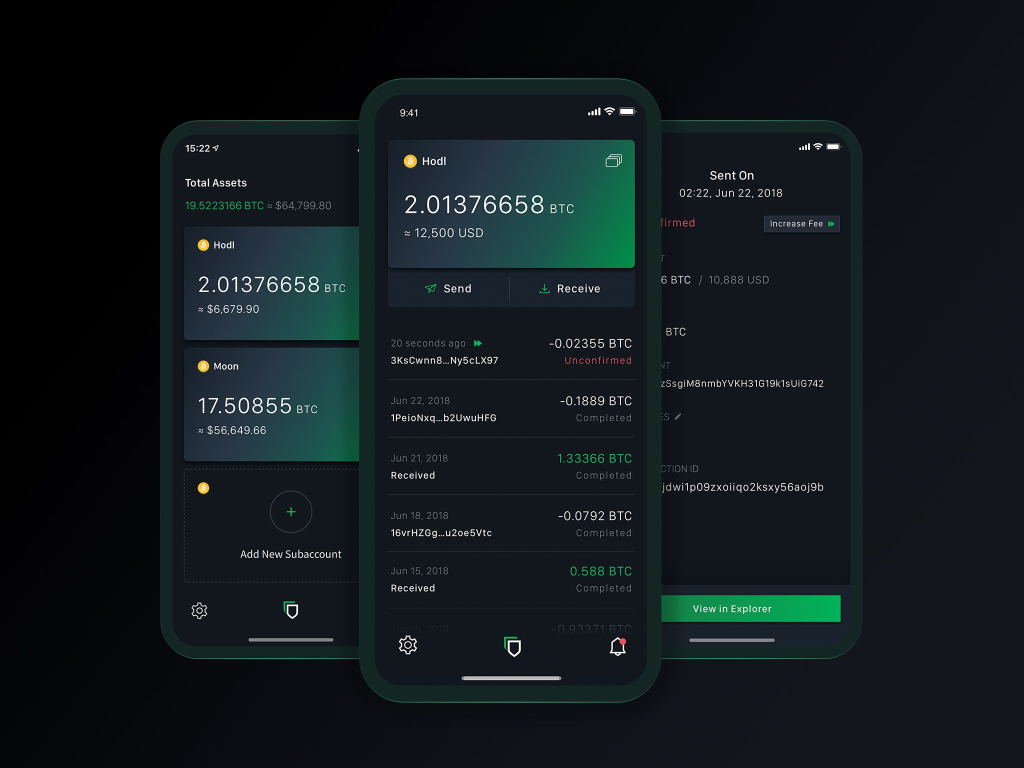 MultiBit HD
---
MultiBit HD is a desktop wallet that allows you to open multiple wallets at a time and synchronize with the network particularly quickly. It's an open-source project which makes it extra safe. 
Read also:
Security Tips for Desktop Wallets
---
Always set up a password to protect your funds
---
Set a password and make sure it's secure. It is a proven fact that three-quarters of people use the same password for over ten different accounts. You may be one of them, but you don't need me telling you why that's a terrible idea, do you? Hackers are really smart at figuring them out.
Store your recovery phrase on something that is water and fireproof
---
On top of the password, you will be given by the crypto wallet provider a backup recovery phrase, typically of 14 words. You can use this phrase as the last measure when you forget your password or just want more security. You must write it down on a piece of paper and store it in a water and fireproof place so that it won't get destroyed even in the worst-case scenario.
DO NOT store a lot of coins on your desktop wallet
---
Desktop wallets are not that secure. Your computer may get stolen and your account broken into or hacked. They offer more security than a mobile wallet but less than a hardware wallet which is what you should use if storing a lot of Bitcoin. Use a desktop wallet just for amounts you can afford to lose.
Use a VPN when transacting on a desktop wallet
---
Most desktop wallets are already secured with protocols such as the 2FA (two-factor authentication). But it is always a good idea to have some extra security, such as using a VPN to hide your IP address when you log into the wallet. If in the unlikely but possible eventuality you get hacked, believe me, you will wish you had used a VPN 
FAQs
---

CaptainAltcoin's writers and guest post authors may or may not have a vested interest in any of the mentioned projects and businesses. None of the content on CaptainAltcoin is investment advice nor is it a replacement for advice from a certified financial planner. The views expressed in this article are those of the author and do not necessarily reflect the official policy or position of CaptainAltcoin.com