Jubi Exchange Review – Fees, Supported Coins & Countries, Payment Methods, KYC Process


Jubi Exchange Review – Fees, Supported Coins & Countries, Payment Methods, KYC Process
Jubi added so many tokens and coins that did not find a place to call home before Jubi took over and listed them
What is Jubi?
---
Jubi was an exchange that started way back in 2013, however, it stopped its business and restarted back up again in 2020. This new takeover team has provided some newfound blood for the exchange. Mainly focusing on providing volume for the brand new projects, it became a bliss for new projects and a graveyard for failed ones.
Today we are going to take a look at the pros and cons of using the Jubi exchange, but if you ever find yourself using it that usually means they just listed a new coin that you were waiting for. Not many people use Jubi because they love the exchange, most people find their way there because some new token or coin they are shilling got listed at Jubi as the first-ever exchange. This pace to get new coins listed made them what they are today.
A great method for marketing purposes, but also taking the risk of many failed projects. You may have heard the Squid token chaos and the aftermath, well it was listed and promoted here as well. This shows while this "list as many new coins as possible" method is great for their volume, but vetting could provide to be crucial for their future as well.
22/07/2023 Update
Reports of fraudulent activity and scams associated with the Jubi exchange have been mounting, leading us to recommend its avoidance for future transactions. The evolving landscape of cryptocurrency trading now offers reliable and efficient alternatives in the form of Decentralized Exchanges (DEXes).
Platforms such as
Apex Pro
and
dYdX
have emerged as superior options, boasting robust user interfaces, competitive low fees, and the significant advantage of users maintaining control over their keys. This control elevates the security of your assets, a paramount consideration in the digital trading space.
We invite you to explore these decentralized exchanges and experience firsthand the enhanced security and ease of use they offer over traditional centralized exchanges (CEXes). Empower your cryptocurrency trading journey today with the safety and user-friendly experience provided by
Apex Pro
and
dYdX
.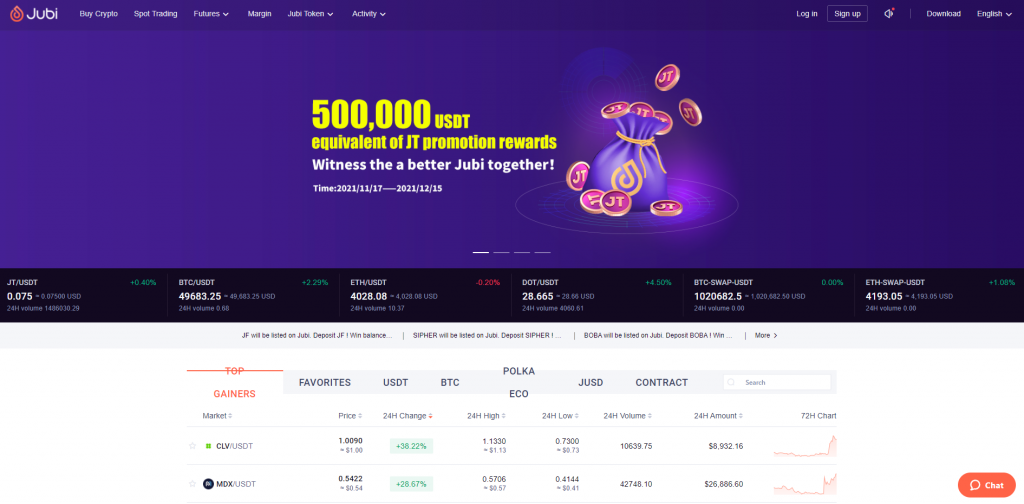 Services & Features
---
Spot Exchange
---
The spot part of any exchange is the most crucial part. You usually get to see the biggest volume here, and it provides what you need to know about the core of the exchange. With around 4+ million dollars or so known volume, it is definitely not a big exchange at all. It needs to increase this by a hundredfold in order to actually be worth a competition to any other exchange.
However, their purpose is to provide liquidity to low cap gems as their goal which means what they have is more than enough already for them. They have 17 or so BTC pairs, few other pairs on Polka and JUSD (their own stablecoin). However, the main bread and butter comes from their USDT pairs which is a lot and provides a good amount of volume for low cap coins that they list. Certainly not a shiny bright light in the crypto exchange world, but they haven't given any reason to doubt them so far neither.

Margin Trading
---
Jubi has only 5 coins for margin trading with a limited leverage rate, so it is certainly not focusing on that part of the exchange. With low liquidity, it also provides a challenge to sustain a trade or even invest a big amount as well. However considering where they are coming from, how they started and restarted, and their approach?
Then we could say that maybe margin trading is not where we should judge them. If you are dealing with margin trading you are probably using Binance or some other website already and wouldn't look at Jubi for a better way. So even though they severely lack any positives in this regard, it is also unfair to judge them for it as well.
Futures Trading
---
Futures is somewhere in between Spot and Margin trading for Jubi. It is not as high volume as Spot as can be expected from Futures almost anywhere, but it is not as bad as Margin neither. It provides over two dozen options with USDT and BTC future pairs. The volume is still not a huge amount, but at least it could be said that there are some people who use it for the future side of it as well.
So it is certainly something that you could check while you are there. Even if you are not there for the future, knowing that you could do that whenever you want to is certainly a big plus for the exchange and the user. They are not lacking in the number of offers they provide so far for their size. The only thing that lacks is still volume because Jubi doesn't have that big amount of volume people look for in an exchange.
Jubi supported coins
---
There are around 75 coins listed in Jubi, from the known ones such as BTC, ETH, BNB, and the likes, however, it also has many unknown and small ones as well. Safemoon for example is in the middle of this, why? Because it is definitely wildly known, it got very popular for a while but it never really reached the levels community expected it to reach.
One of the earliest exchanges that ever listed Safemoon was Jubi, which gained them a lot of new customers as well. With 75 coins listed at Jubi, it would be easier to keep track of what they have now and what they may have in the future directly at their own website. However, if you want to check them on another web page to track how they are doing, then Coinmarketcap and Coingeckodon't have their data. The only place we could find was https://coincodex.com/exchange/jubi/ to check Jubi data.
Jubi deposits & withdrawals
---
Fees
---
Trading pairs have a %0.2 maker and taker fee at the very start. After trading with some volume you get to drop it to as low as %0.1 as well. This is usually typical amounts in almost every exchange, nothing too extraordinary about it. There are some that charge a bit higher with %0.25 and some that drops to %0.05 with bigger volume. However %0.2 is certainly what people come to expect from most exchanges with the fee structure.
Methods
---
This is the most important thing about Jubi. They do not only offer deposits and withdraws with crypto, which you can do as you wish just like anywhere else but that is not the only thing about them that makes this place more legit. They also allow fiat currency deposits as well.
They have received a legal exemption to work within Singapore, which allowed them to be perfectly legal and based in Singapore. It is a Singapore-based company so it made sense for them to work within fiat currency as well. You could have bank transfers to and from the exchange directly. This makes them a little bit different from many other exchanges.
Does Jubi have mandatory KYC?
---
Jubi does have a KYC system implemented however it is not mandatory to fill the form out. You will be limited with volume, both on trading and also withdraw function. You will be not getting any of the promotions, and basically, you will be locked out of half of the benefits KYC people are getting with it.
It also doesn't look great on Jubi's front that their "user agreement", "privacy" and "legal statement" pages at the bottom of their website don't go to any page. We could neither confirm nor deny that there is any official response to KYC directly from Jubi because we can't read their User Agreement page. Not a red flag since you could request it, but definitely not professional looking neither.
Jubi supported countries
---
All the regular laws that are applicable for your nation regarding crypto are in works with Jubi, and they do not create any excess problems for people. If the nation you live in allows you to trade at Jubi then you are free to do so, if it doesn't then Jubi doesn't stop you either but warns people that they will share your KYC if the government asks. This means they do not have a prevention method, but definitely a redemption method in place. Check with your own laws first before you decide to trade at Jubi to see if you are allowed or not, you will not get anything out of Jubi for this.
Are US investors allowed to trade at Jubi?
---
Technically speaking there is two meanings of "allowed" in this regard. If we are talking about allowed as in can they? Then yes, there is nothing stopping them from trading at Jubi and Jubi will not stop them. However, would that be against US laws to trade at a Singapore-based crypto exchange not filing the required paperwork in the USA? Obviously not. This means any American could trade at Jubi but at their own risk because legally it is not allowed for them to trade at any place the US government hasn't approved.
Does Jubi have a Native Token?
---
Yes, Jubi exchange also has Jubi Token as well. It is a token similar to BNB where the owners of Jubi end up using it for paying half of the maker-taker fee. This way you get to spend less money for trading and they create a reason for their token to be bought and used. Certainly not an original idea, but it is also not a bad idea neither.
The coin itself is not a significant deal in the coin comparison world, it is not even in the first 5000 at Coinmarketcap. This shows that people do not really care for it overall globally. Nevertheless, if you are planning on trading at Jubi, it would be wise to cut down the fees by half using Jubi Token. This is not to mean that it would be a good investment, what you do with your money and what you invest into is only based on whatever you want to do.
This is not investment advice and we can't say you should or should not invest, this is simply saying there is a utility for it. If you would like to trade here, then buying it to use for a %50 discount on trading is a great reason to buy Jubi token, it is even encouraged since over time those fees get to become a huge amount. But this is only for when you want to trade. If you want to invest, then you should do your own research about the future price predictions regarding this token.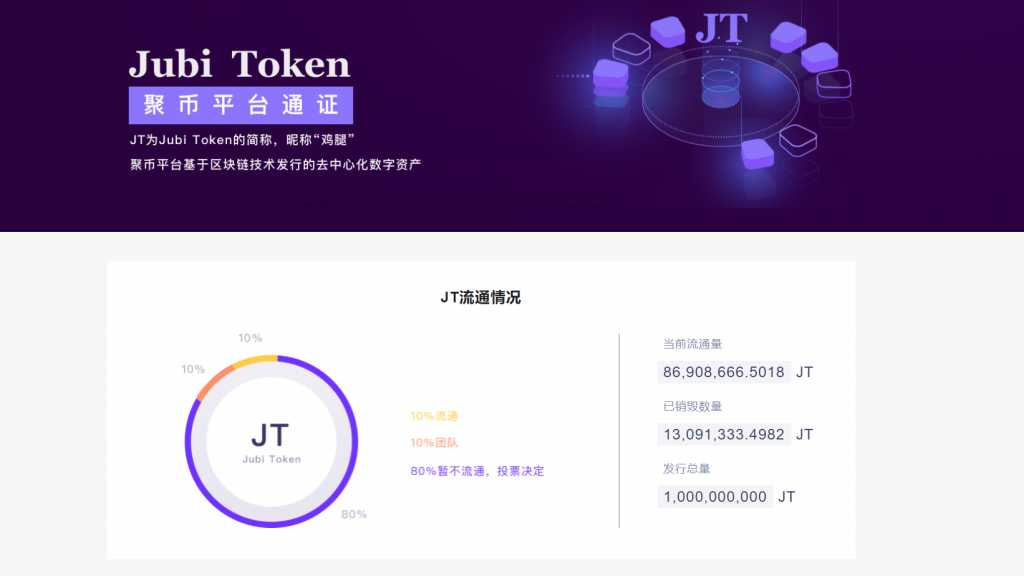 Conclusion
---
Jubi is not a place that we would suggest as the main trading exchange for anyone. We wouldn't say something as common as BTC-USDT should be done here as your main go-to exchange. However, they have their silver lining with all these coins and tokens that they list as well. This means that we also can't say you will never have a Jubi account neither.
Back in 2017, they just shut-down their business only to restart it again in 2020. Keep this in mind as they might do it again.
They have created a system where you may use Binance or some other big name for almost every trade you do, but your life may take you to Jubi once in a while as well. This is what they want, not for you to trade here every single day, but have periods where you come in trade something, and leave until the next one. They know they can't be as big as Binance or Coinbase or similar level exchanges, so they carved a very niche and effective piece for themselves.
Visit Binance Now Visit Coinbase Now
If you are not fond of Jubi exchange, make sure to check out our guides on other cryptocurrency exchanges:
FAQs
---
Deposits & Withdrawal Methods
7
PROS
Jubi added so many tokens and coins that did not find a place to call home before Jubi took over and listed them
CONS
Mainly focusing on low volume tokens
It stopped its business in 2017 and restarted again in 2020. Nobody can guarantee that they will not do the same again

CaptainAltcoin's writers and guest post authors may or may not have a vested interest in any of the mentioned projects and businesses. None of the content on CaptainAltcoin is investment advice nor is it a replacement for advice from a certified financial planner. The views expressed in this article are those of the author and do not necessarily reflect the official policy or position of CaptainAltcoin.com