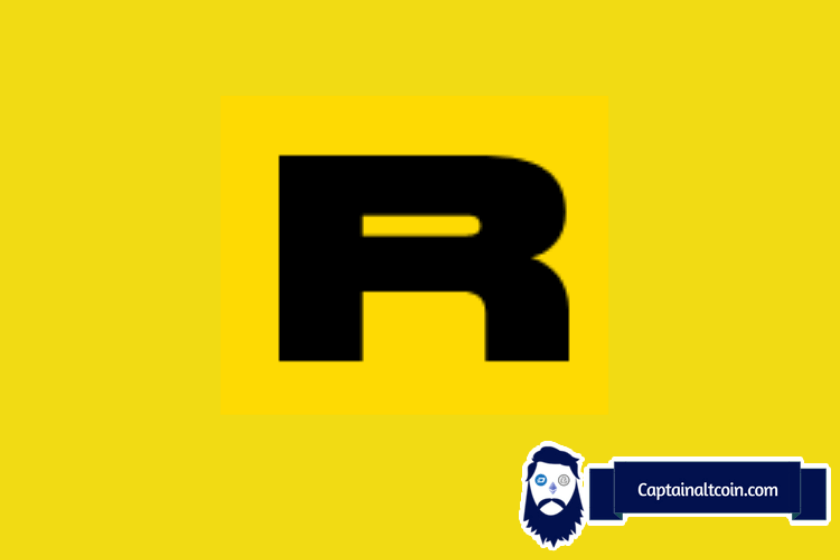 What is Rarible?
---
Rarible is software used by digital artists and content creators to issue and sell crypto assets whose value is pegged to their digital work. In addition to being a marketplace for artists' digital assets, Rarible is also a distributed network in Ethereum that allows the trading of the assets without middlemen.
In the past, there have been several attempts and concerted efforts to protect property rights and monetize creative works. Non-fungible tokens or NFTs are digital representations of unique works and other collectibles. There are dedicated exchanges that emerged purposely for trading NFTs.
Launched in early 2020, Rarible allows users to mint, buy, and sell non–fungible token collectibles. The open-source platform is open to everyone-musicians and non-musicians alike. In addition, anyone can create and list digital assets even without coding skills.
The non-custodial platform allows users to maintain full control over their assets as the tokens are not held in the exchange's digital wallets or bank accounts. Additionally, the Proof of Provenance granted by Rarible assigns Intellectual Property (IP) rights to the artwork owners.
Rarible Focus
---
The main focus of Rarible is to create a self-listing platform for artists and creators. The platform will allow artists to create and list NFTs with no fees charged. The platform is borrowing from Uniswap which has been in the industry for some time, allowing artists to cryptocurrencies on their platform without long and time-consuming procedures.
Rarible intends to do the same with NFTs. In addition to being quick and simple, the self-listing process also increases diversity in the supply of NFTs including digital art, trading cards, and collectibles.
Using the Rarible NFT Marketplace
---
In addition to creating their own unique NFTs from their digital works, Rarible users can simply browse the platform to collect offers on the creator's works. After creating NFTs, creators can list them for sale, gift them to others, or simply keep them for themselves.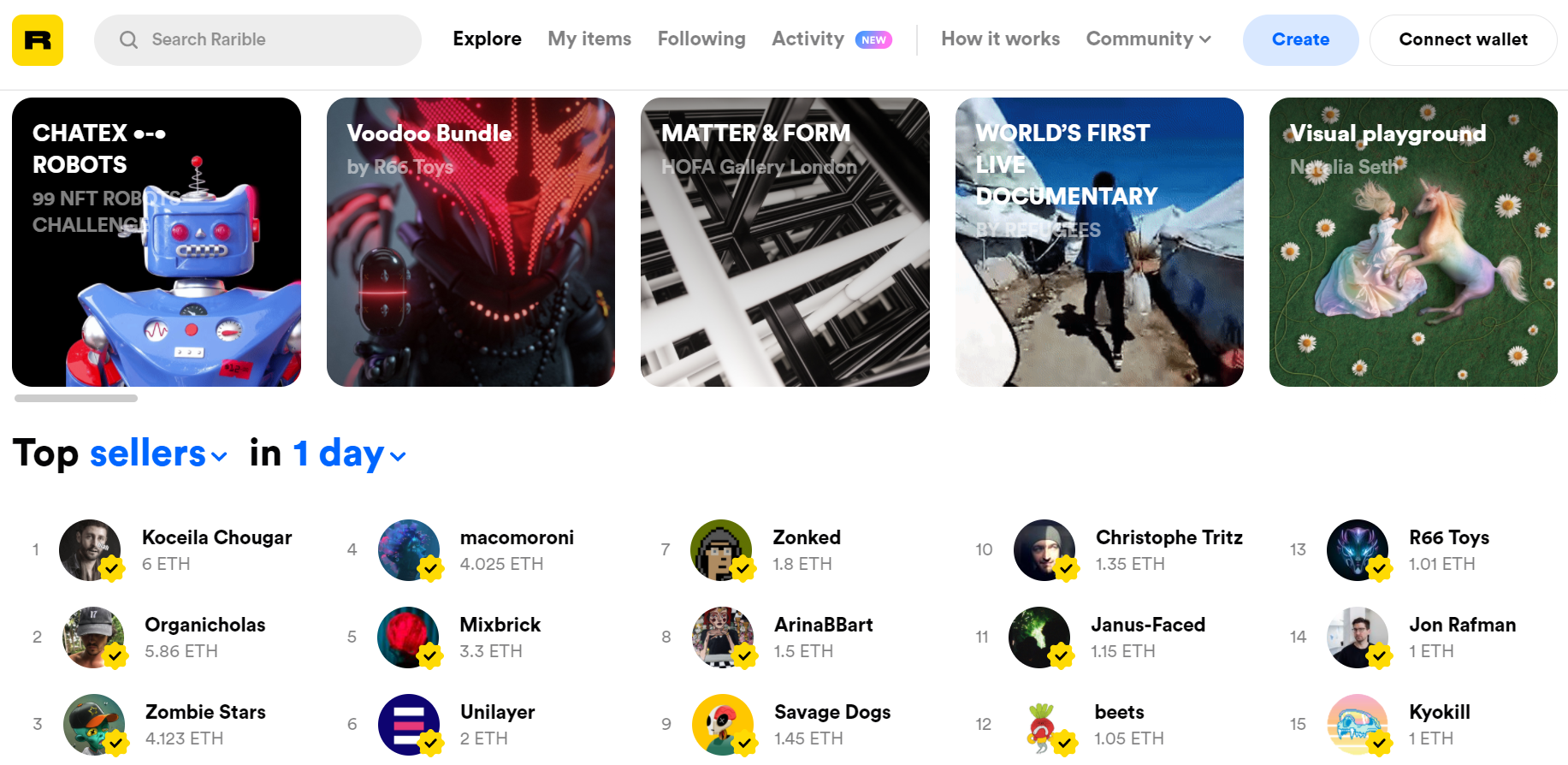 Rarible only lists ETH tokens hence users need to connect crypto wallet that are compatible with Ethereum. These include Metamask, WalletConnect, MyEtherWallet, Coinbase Wallet, and Fortmatic.
With the Ralible platform, artists can create their own unique digital arts without any coding skills. Being an open-source platform, anyone can create and list NFTs or buy those listed by others. Transactions are completed in the native RARI tokens and also ETH.
NFT Minting Platform
---
Minting an NFT simply means creating a non-editable and tamper-proof file that can be listed on a blockchain. This file cannot be deleted by another person and is viewable by the public. NFTs are minted on the Ethereum blockchain although they can also be minted on other blockchains.
Creators can mint NFTs on Rarible by simply paying the required gas fee. A unique feature of Rarible is that it allows everyone to create NFTs as opposed to other platforms where only digital artists can tokenize their works.
However, being open to everyone has also opened loopholes for scammers although the platform seems to be aware of this fact. Rarible has put in place a strong KYC process meant to vet artists and only ensure only genuine projects are listed.
Rarible has been able to attract big names in the celebrity world among them actress Linsey Lohan, rappers Soulja Boy and Mike Shinoda of Linkin Park, and billionaire Marc Cuban. Lohan's piece entitled "Bitcoin Lightning" and is listed as an NFT on Rarible sells for 33 ETH, which is worth around $59,000.
Here's how to create your own NFT on Rarible
---
Anyone can create and list their NFT digital art on Rarible which acts as store of value. Below are simple steps to follow when creating NFTs on Rarible;
Visit Rarible and create an Ethereum-compatible crypto wallet. You can create the digital wallet by simply clicking on 'CREATE' at the top right of the page
You can choose between minting a single NFT or an NFT with several types.
Upload for encrypted music, video, or image file
Give all product details like name, price, description, and royalties among other details
Create the item
Sign and pay for gas fees to complete the process
Rarible Governance
---
Rarible's ultimate goal is to evolve into a fully Decentralized Autonomous Organization (DAO) with users making all governance decisions. The platform intends to develop a self-moderating community of traders and users.
Rarible introduced RARI digital token primarily to provide governance on the Rarible platform. The community has the power to shape the future of the platform with power to curate and moderate the creation of NFTs on the platform. Users can also vote on the addition or removal of features on the platform.
Read also:
Rarible Governance Principles
---
As part of its visionary plan to build a vibrant community, the development team has put in place principles under which the community is supposed to operate.
Radical Inclusion
---
The Rarible platform allows all RARI holders, be it creators or collectors to propose changes that improve the platform. Users can use their power to vote on platform upgrades and generally make the platform a better place for the whole community. The idea is aimed at entrenching community inclusion and engagement.
Self-Expression
---
The Rarible platform encourages free speech and self-expression, giving community members the power to determine the direction that community takes. Members can freely express certain concerns, suggest the addition of new features and upgrading existing ones, and even disagree with other community members. The platform hears and counts every member's opinion.
Positivity
---
While members make proposals and exercise their community powers at individual levels and at personal discretion, the end goal is to create a community that benefits all users. In this regard, members are encouraged to make proposals and engage in deliberations that contribute to the positive development of the platform. Members should be resourceful and propose strategies to improve the Rarible platform.
Responsibility
---
In addition to proposing positive and helpful ideas, users need to ensure they proposed are well articulated. The platform encourages members to come up with solid actionable and practical solutions that can easily be implemented.
Transparency
---
In its effort to develop a fully decentralized autonomous organization (DAO), Rarible encourages users to be very transparent in all their comments and submissions. This includes revealing their true names and RARI tokens held. It is all in the spirit of a transparent community.
Rarible Project Fundamentals
---
Given the fact that it is a new project is an emerging NFT ecosystem, evaluating the fundamentals may not be that easy. The industry is still in its infant stage, very dynamic and highly unpredictable.
Rarible is determined to curve its own space by giving everyone the power to create unique artworks and connect with buyers and other creators. Art and technology are completely two different worlds that is why the platform was designed to cater for everyone-even those with no technical skills. The power to freely participate and contribute to decision-making further entrenches community inclusivity and improves engagement among members.
The project is among the first among NFTs to release its own native token as it moves towards becoming a DAO. It is the RARI token that is used for governance on the platform to further develop the community and the marketplace.
Rarible is also connected to the DeFi ecosystem through the yInsure project at Yearn Finance Rarible. The yInsure project has made it possible to issue insurance in the form of tokens and further created connections between and NFT and DeFi communities.
yInsure and Rarible
---
Also referred to as Cover, yInsure is a smart contract cover or tokenize insurance coverage on a number of DeFi activities. It is an extension of yEarn, a yield aggregator project developed purposely to consolidate the various Ethereumbased money projects. yInsure consists of three components;
Cover Vaults; where assets used to settle claims are stored
Covered Vaults; where assets that the 'cover holder' wants to be insured are kept
Claim Governance; which represents the claim arbitration process
The insurance policies created using yInsureare NFTs can be listed on trading platforms like Rarible, a trend that is quickly gaining popularity in crypto circles. Interest in yInsure NFTs has been growing from the very time the platform announced it was adding support for tokenized insurance policies.
In addition to selling their tokenized insurance policies, users also have access to Marketplace Liquidity Mining where they can earn RARI rewards for selling on the platform. This way, traders are even encouraged to stack their tokens to earn rewards.
The yield-staking strategy has created a synergy that has bridged the Rarible and yEarn communities. While DeFi and NFTs pioneered yInsure, the idea is expected to be picked up by other users as they continually uncover its possibilities. The rate of adoption will certainly be determined by the value created by the two ecosystems.
The Team
---
The Rarible platform is a product of Alexei Falin and Alexander Salnikov. Alexander Salnikov is the project's Head of Product and is in charge of all Rarible- related activities. Before the creation of Rarible, Alexander worked on several other projects and crypto startups among them Humaniq.
Alexei Falin graduated from the University of Southern California and co-founded Sticker.place before he co-founded Rarible. Sticker.place is a marketplace dedicated to iOS 10 sticker packs. There are 21 accounts on LinkedIn that have registered as Rarible employees, the majority with positions in communications, PR, and community development.
The RARI Token
---
Rarible is the first NFT project to create its own native token and the first governance token released on the NFT network. The Rarible team launched the RARI token with a total supply of 25,000,000 tokens. Of the total, 60% will be mined on the Rarible marketplace with 75,000 RARI tokens released to the marketplace every week, 30% has been set aside for the development team and investors, and 10% airdrop.

RARI Token Utility & Tokenomics
---
As a utility token, RARI is used to execute several functions on the Rarible platform;
Governance; RARI tokens carry voting powers used by the holder to vote on system updates and determine other issues in the Rarible ecosystem. Holders can vote and direct development efforts on the platform, set trading fees, and add new features.
Curators; using RARI tokens, Rarible is working on a self-moderating community of the token holders.
Featured Artwork; RARI token holders can vote to determine which artwork should be listed in the marketplace.
How to Acquire RARI
---
RARI tokens cannot be bought on the Rarible platform but users can buy the tokens from other platforms like 1inch Exchange, SushiSwap, and Poloniex. Marketplace Liquidity Mining is the best way to get RARI tokens. In this process, 60% of the total token supply that was not allocated to investors and the team was airdropped. 75,000 RARI tokens are distributed through Marketplace Liquidity Mining every week.
Of the total tokens released weekly, half goes to buyers while the other half is dedicated to marketplace sellers. The more users buy and sell, the more they accumulate RARI tokens, a strategy used to increase the level of activity and engagement on the platform.
While there are several forms of assets or yield farming, Marketplace Liquidity Mining seems to be working well for Rarible by helping increase the level of activity and engagement on the platform.
The RARI token has been bullish since the start of the year and currently trades at around $23.50 after starting the year at around $2. The token reached an all-time high of $42.05 on March 14, 2021.
Rarible Fees
---
Each NFT Marketplace charges relevant fees for facilitating the sale of NFT tokens. The fee is always a percentage of the total sale and is always paid by the token buyer. The fee charged is similar to what art galleries that display artworks like painting and in turn charge a fee.
Rarible users pay around 2.5% of each sale as a commission to the marketplace. The platform does not charge a listing fee but only takes a percentage of each completed sale. The creator of the NFT can also choose to take a percentage of the final sale. For instance, if a user purchases NFTs worth $100, he will pay a total of $102.50 inclusive of the fee.
RARI token price prediction 2021-2025
---
The RARI token is currently priced at $31.9 and this price is expected to rise to $237.460 in 2026. The token has a market cap of $111.48 million.
Royalty payments
---
A key feature of NFTs is the ability to continue generating revenue for the creator on all future sales. The creator can set a percentage of future sales which is collected by issuing a token. This is one of the key features attracting artists to the platform. Rarible is even better as it is designed to pay out royalties immediately.
Rarible Payment Methods
---
Several NFT marketplaces accept various forms of payment among them credit cards, debit cards, and PayPal. However, Rarible does not support any of these payment methods hence users need to have a previous holding of the cryptos supported by Rarible to be able to use the platform.
Is Rari a good investment?
---
Rarible users earn tokens on the platform by creating tokenized digital arts listed as NFT tokens. With this, Rarible users get a percentage of future sales of their assets, which is paid out in form of tokens. As opposed to traditional platforms, creators are paid their tokens immediately. For instance, a piece of art listed with a 20% commission means the creator will be earning 20% of all future sales of the asset.
Can Rarible be Trusted?
---
Rarible is a real marketplace currently with thousands of users who can create and sell their own NFTs on the platform. The marketplace has created an opportunity for users to create their own unique assets. In addition, the marketplace is a nice place for creators, buyers, and sellers of unique digital assets to congregate hence creating a community of Rarible users.
However, not much is known about the project's founders with just a few of their details available online. In addition, the project does not also have a whitepaper that would make it easier to get all information behind the product and know where it is headed.
Rarible Risks
---
The Rarible team still has work to do to minimize risks before the platform becomes mainstream. Key improvements should especially center around improving security by confronting scammers. Rarible is especially dealing with the problem of wash trading where users have multiple accounts and buys art with all of them purposely to earn more RARI tokens. This trend risks devaluing the project if it happens on large scale.
In July 2020, Rarible was delisted from Nonfungible.com , a NFT economy analytics site over increased wash trading on the platform. The project is yet to be listed back.
Rarible continue to put in place measures to combat wash trading with a focus on locating and blacklisting wash traders on the network. The effort to root out bad actors needs to be an ongoing exercise given the platform is open source and anyone can access and use it.
Why is Rarible So Hot Now?
---
Rarible has been trending and has picked up a lot of interest in recent weeks. First, the platform recently managed to secure funding from CoinFund, a New York-based blockchain investment company. The money will go towards developing Rarible's blockchain-based, non-fungible token (NFT) marketplace platform.
Rarible has also introduced new key features like "yInsure Finance", NFT-based insurance from the yEarn Finance. The project is also working on launching additional features, all aimed at building a strong Rarible community.
The Rarible team is working on the introduction of an NFT market index to allow investors to track and invest in the most valuable arts and collectibles. This, according to Rarible founder Alexander Salnikov, will be a way for investors and users to bet on the entire NFT platform.
The project team intends to launch a complete suite of new functionalities among support for a mobile application, social media features, various types of content, and possible support for fractal ownership. In addition, the team is introducing various incentives to encourage users to list their NFTs on the marketplace.
Conclusion
---
Rarible has already curved out its space in the crypto sector and currently one of the projects watched closely especially. The integration with DeFi is likely to make Rarible one of the top projects in 2021 and beyond.
The platform may however need to address a few thorny issues key among them wash trading before it can become fully mainstream. In addition, the platform will need to come up with a whitepaper or roadmap highlighting its future plans with an aim to building trust and transparency with its users.
FAQs
---
PROS
It is open-source making it widely and easily accessible
It is non-custodial meaning creators can maintain ownership and control over their assets
Artists can create and mint digital assets with coding knowledge
Peer-to-peer trading NFTs with low costs
CONS
Bad actors can unfairly access RARI token through wash trading
The project does not have a roadmap or whitepaper highlighting its future plans
Only supports tokens of Ethereum blockchain network

CaptainAltcoin's writers and guest post authors may or may not have a vested interest in any of the mentioned projects and businesses. None of the content on CaptainAltcoin is investment advice nor is it a replacement for advice from a certified financial planner. The views expressed in this article are those of the author and do not necessarily reflect the official policy or position of CaptainAltcoin.com