FTX NFT Marketplace Review – How To Use It (Fees, Wallet)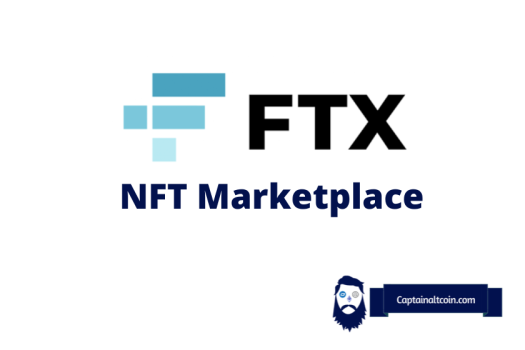 FTX NFT Marketplace Review – How To Use It (Fees, Wallet)
Low fees
Easy to use
Listed projects are guaranteed to be popular
What is FTX NFT Marketplace?
---
FTX, one of the most popular crypto derivatives crypto exchanges, has recently launched a new NFT marketplace on the platform. The launch came with the company's CEO inviting users to create their own NFTs. The marketplace is available on both the FTX International and the FTX.US sites and Users can trade as well as create (mint) new NFTs on the platform. 
Sam Bankman-Fried, CEO of the company tested the feature by minting his artwork that consists of the hand-scribbled word "Test" on a white background. The NFT sold for a whopping $270,000. 
FTX marketplace came at a time when the NFT space is booming, the spamming incident proves just that. Soon after the launch, the marketplace was spammed by the users posting fish pictures which led to the imposition of a $500 fee to submit NFTs. This high cost was, however, met with criticism by the creators and soon the price was reduced to $10.
Why create NFTs?
---
Whether you think NFTs are overhyped and getting too much attention leaving other projects neglected or you think NFTs are the next big thing in the crypto space, you cannot deny the fact that they indeed have some great uses.
At the moment, NFTs are most popular among artists and their followers. Because NFTs provide ownership to someone, digital artists can sell their art pieces as NFTs to fans who would love to have a sense of ownership of their favorite art.
One other interesting use of NFTs coming up recently is in the gaming space. The in-game assets are minted as NFTs, allowing the players to easily trade them on any marketplace and get some real-world value out of their time invested in the game.
What makes the FTX NFT Marketplace different?
---
FTX NFT marketplace is different from most other marketplaces in some ways. The platform is not a curated marketplace and allows anyone to trade and mint NFTs. Users aren't locked on the marketplace they purchased their digital assets like they are on a lot of other platforms. It allows for trading tokens in an open market.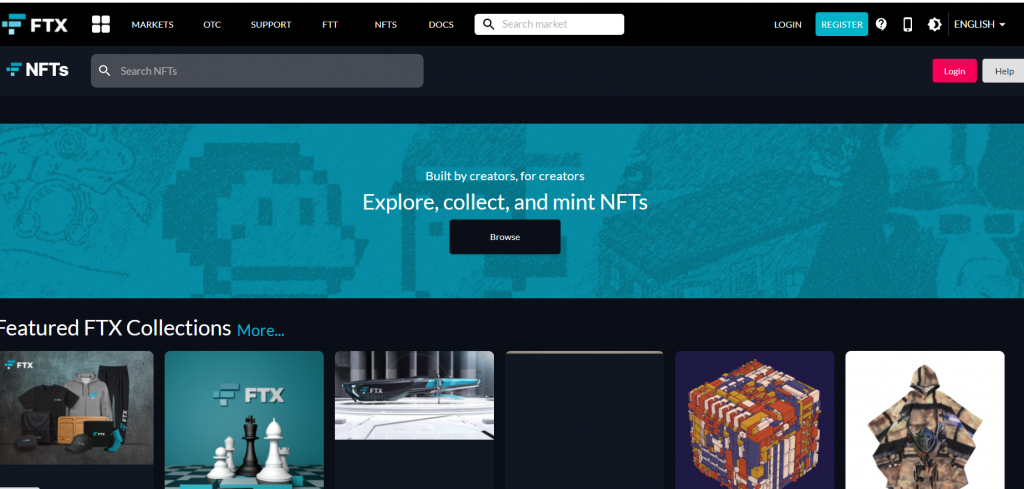 Moreover, the FTX NFT marketplace allows users to buy, sell as well as mint NFTs cross-chain across the Ethereum and Solana blockchains. The cross-chain trading across the blockchains will be done using smart contracts that connect the two chains.
How to create your own NFT
---
So you decided to create your own NFTs, but don't know how? While there's no one size fits all option, the following steps will guide you in the right direction:
Decide what you want to mint as NFTs. NFTs simply store information about the content on a blockchain. Any digital content and even physical things can be made into NFTs. Today, however, NFTs of digital multimedia files are the most common ones around.
Decide the blockchain you want your NFT on. Different chains have their advantages and shortcomings, for example, Ethereum is the most common one and sees a lot of activity, but the gas fee tends to be very high. Solana, another blockchain, has very low fees but is quite new in the space.
You will most probably need some crypto for the fees, so keep that handy.
Choose your wallet if you want to store your NFTs after you mint them. Metamask and Trust wallet are some of the good ones.
Choose a marketplace. Depending on the blockchain, today there are many marketplaces to choose from that lets you mint NFTs. Marketplaces like FTX NFT Marketplace even give you the freedom of trading cross-chain between Ethereum and Solana.
You'll need to create an account on the marketplace of your choice.
Go ahead and upload your files, mint your NFTs and trade them.
How to buy an NFT on FTX
---
If you don't already have an account on FTX, go ahead and sign up for a new account. You may need to complete KYC.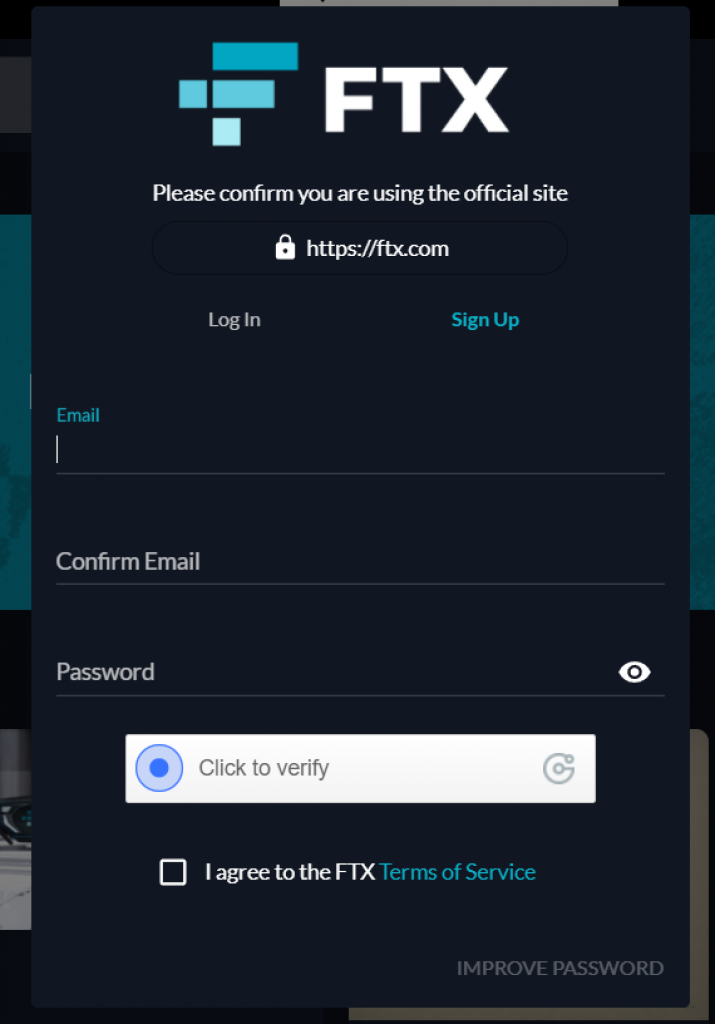 Deposit funds in your account.
Go to the NFT page of FTX by going to the menu and selecting NFTs.
Now browse through and find an NFT that you like.
Once you find an NFT you like you can buy it from there or place a bid if it is an auction.
How to Sell an NFT on FTX NFT Marketplace
---
Before you can sell an NFT, you need to have it on your FTX NFT wallet so go ahead and deposit the NFT or mint a new one on the marketplace itself.
Once you have your NFT in your FTX NFT wallet, you can select it and from there you can either choose 'Sell NFT' which allows you to set a sell now price, or 'Auction NFT' which allows you to set an initial price and days and hours to run the auction for.
How to mint an NFT on FTX?
---
Follow these steps to create your own NFT on FTX:
Go to the NFT homepage on FTX and clock on 'Mint'.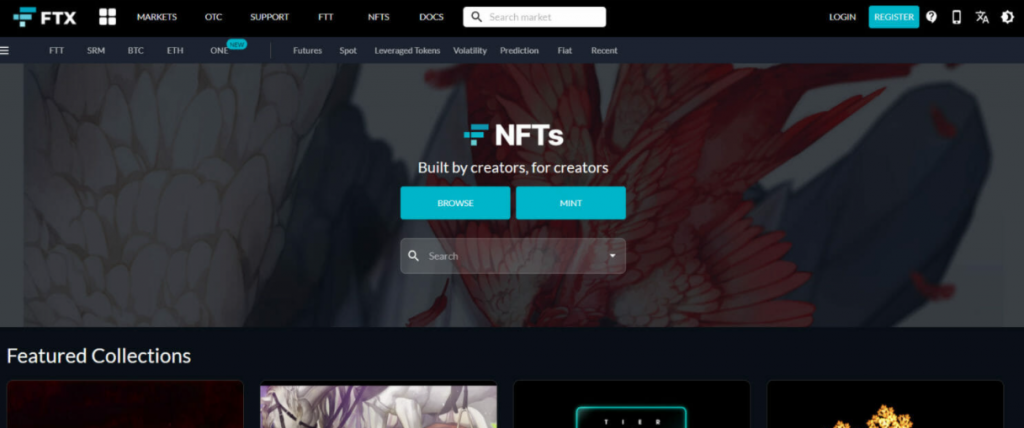 Fill in the fields with relevant information.
Issuer: Public name for the creator of this NFT.
Collection: Name for the category of this NFT.
Name: Name for the batch of NFTs that this NFT belongs to.
Description: A description of this specific NFT.
Attribute (Optional): The attribute of your NFT and corresponding value.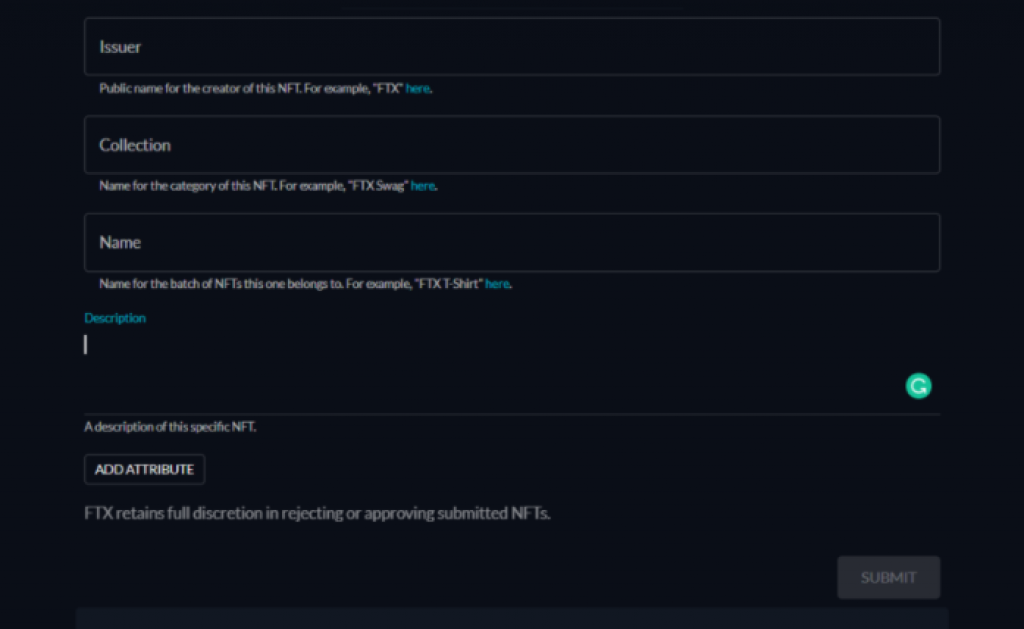 Upload your NFT by selecting Choose File.
Once you submit, you'll need to wait for the team to approve your NFT submission.
Once the NFT is approved, you will have your successfully minted NFT.
FTX NFT Marketplace Fees
---
Fees are slightly different based on whether you are on the FTX international of FTX US.
For FTX international, there's a 5% fee on each sale or trade.
For FTX US, there's a 2% fee on each sale or trade. Listing/minting your own NFTs will cost you $1. 
In addition to the fee, royalty specified in the NFT will also be deducted. FTX caps maximum royalty at 40%.
FTX NFT Marketplace Payment Methods
---
Purchasing and bidding on NFTs can be done using cryptocurrencies, ACH bank transfers, wire transfers or credit cards.
NFTs that are minted on the FTX marketplace can be listed in either ETH, SOL, or USD.
Read also:
FAQs
---
Here are answers to some of the frequently asked questions.
PROS
Low fees
Easy to use
Listed projects are guaranteed to be popular
CONS
Not available for US customers

CaptainAltcoin's writers and guest post authors may or may not have a vested interest in any of the mentioned projects and businesses. None of the content on CaptainAltcoin is investment advice nor is it a replacement for advice from a certified financial planner. The views expressed in this article are those of the author and do not necessarily reflect the official policy or position of CaptainAltcoin.com